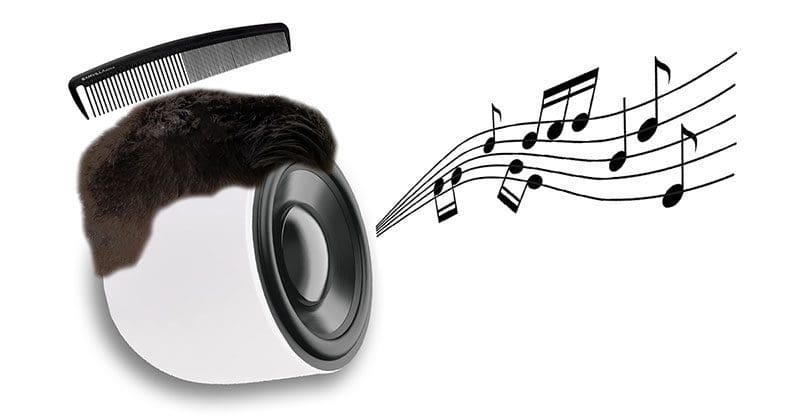 Speaker pods and build-outs on A-pillars are becoming increasingly common in custom car audio installations. While some of these solutions look cool, the laws of physics can work against these cosmetic efforts to degrade the performance of your car stereo system. The subject of speaker installation could (and should) fill a book. In this article, we'll look at the benefits and drawbacks of mounting speakers in a way that's not flush with the surrounding surfaces.
Speaker Directivity
Before we dive into our discussion of speaker pods, we need to have a quick reminder about speaker directivity. At frequencies where a sound's wavelength is below 1.75 times the speaker cone's diameter, sound emanates equally in all directions. Crucial to this discussion is an understanding that the description "all directions" includes the area behind the speaker.
By way of an example, let's look at a 2.5-inch midrange driver. Let's assume for simplicity that the cone has a diameter of 2.5 inches. As such, a 5.4 kHz tone would have a wavelength equal to the cone's diameter. A sound with a wavelength that's 1.75 times the cone's diameter would have a frequency of about 3.1 kHz. As we stated, sounds with frequencies at or below 3 kHz will radiate in a spherical pattern from the speaker's center, including areas behind the speaker.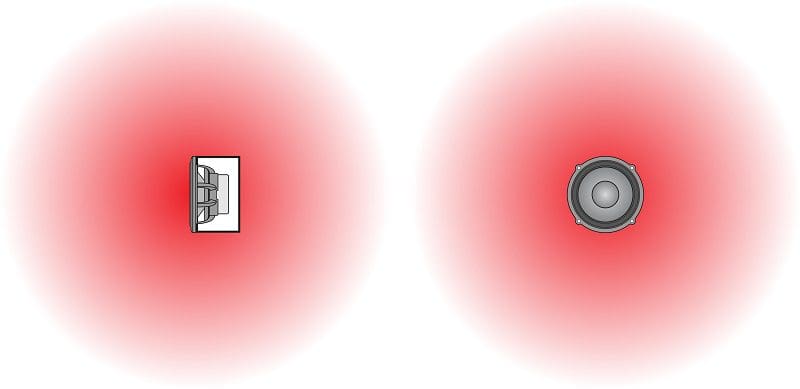 Sound Reflections Can Wreak Havoc with Your Music
Car audio system design combines a multitude of talents. The Product Specialist designing your audio system needs to have a firm understanding of the available speaker mounting options in your vehicle to create a speaker installation solution that will meet your expectations. The technician working on your car needs to know how to optimize each speaker's performance in those locations to deliver measurably accurate performance. There's no doubt that perfect execution is a combination of a thorough knowledge of the laws of physics and some artistic style.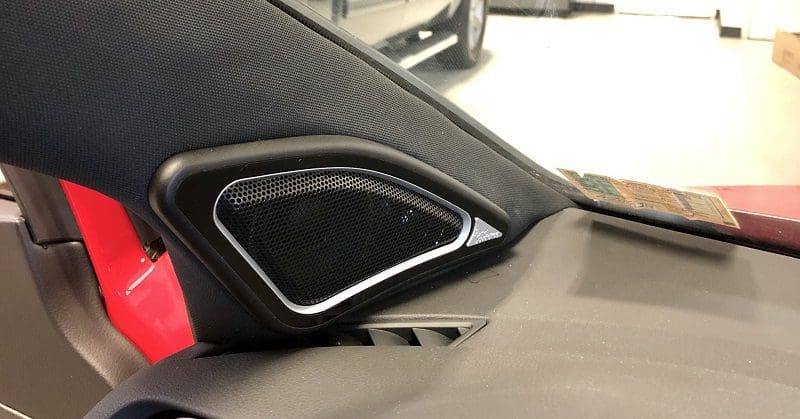 If you look at home speakers, you'll see that each driver is typically mounted flush with the enclosure's front baffle. This decision doesn't happen by accident. Because sound radiates rearward from the cone, it will bounce off this mounting surface. All these reflections combine with the speaker's energy directly radiated, and both signals eventually arrive at your ears. When the baffle is even with the speaker, the results are quite predictable and usually acceptable.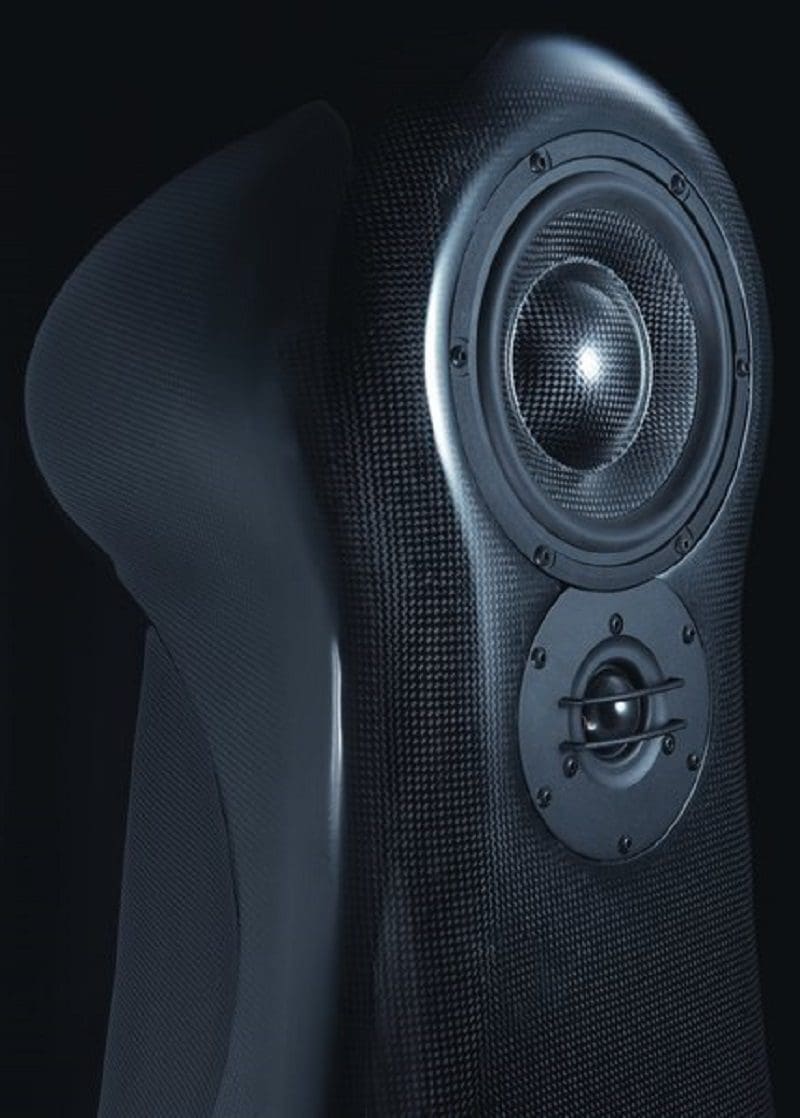 What would happen if the speaker stuck out an inch or two in front of the baffle? The sound reflecting off the baffle may not add to the sound coming directly from the driver at all frequencies. This difference in pathlengths causes cancellations at some frequencies, making the speaker system very difficult to calibrate with an equalizer.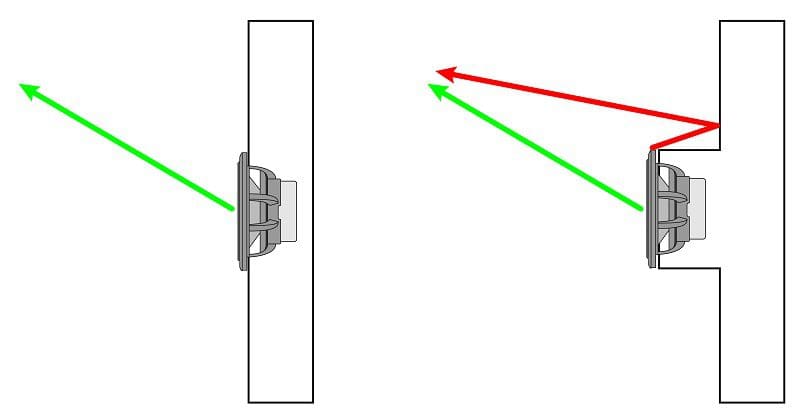 Calculation Frequency Response
Despite the belief that delivering great sound in a car or truck is magic, it's easy to predict the frequency where reflections can become an issue in a car audio system. Imagine if a speaker pod is sitting 3 inches in front of your car's windshield. This location results in the sound bouncing off of the glass traveling an extra 6 inches before it combines with the energy radiated directly from the speaker cone.
If we look for a frequency where one half of a wavelength is equal to our 3-inch distance, we find that at 2.26 kHz, the sound is one half-wavelength out of phase with the original source when it sums back together after reflecting off of the glass. At this frequency, the sounds will cancel each other out. The result is a notch in the frequency response of the system. This acoustic cancellation repeats at 6.7 and 11.3 kHz. Those last two will be inaudible as comb filtering at frequencies significantly above 1 kHz is difficult to perceive because the Q is of the notch is very high.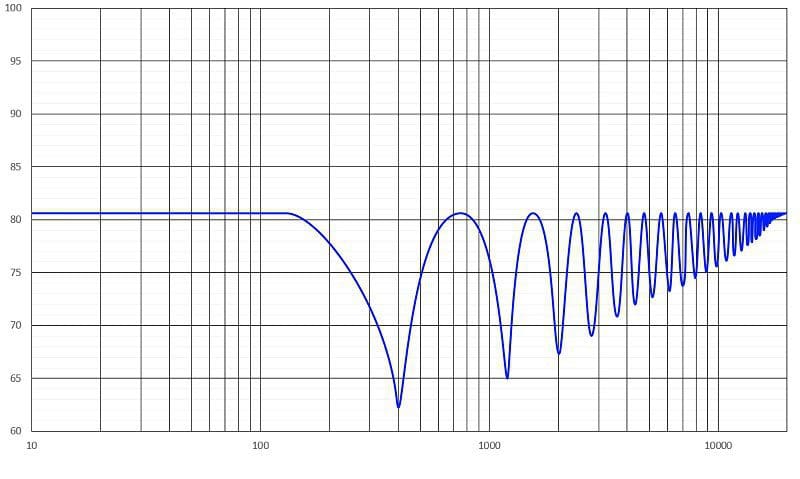 This phenomenon doesn't just happen with midrange speaker pods on your dash. Without some compensation, differences in sound arrival times between the left and right speakers or front and rear speakers can produce the same effect. In home audio, placing a speaker so that the driver is 8.5 inches in front of a wall will produce the 400 Hz, 1.2 kHz and 2 kHz dips you see in the image above. The same thing happens at the frequency where sound created by the speaker bounces off of the floor and combines with the sound coming straight from the driver.
If you are working with a car stereo shop to design an audio system upgrade for your car or truck, it's not difficult to minimize the effects of comb filtering by having your speakers mounted as flush as possible with the vehicle. Where there are front-to-rear or left-to-right pathlength differences, implementing signal delay or an all-pass filter in a signal processor from a company like ARC Audio, Audison or Audiotec Fischer can dramatically improve the way your music sounds. Placing your speakers in pods away from door panels, the windshield, side windows and the dash might not be an idea that's as good as it seems.