Table of Contents
Marine Audio Radios and Audio Sources
Marine Digital Signal Processors
Marine Audio System Installation
Whether you enjoy spending a day cruising the rivers and lakes, skiing at the end of a tow rope, or just hanging out with friends on a sandbar or at the dock, a great marine audio system in your boat can make your time on the water much more fun. Marine audio system upgrades have never been more popular. Dozens of reputable manufacturers offer high-quality audio products for boats that sound great and are designed specifically to withstand prolonged UV exposure and getting splashed. Let's look at the products available to upgrade the sound system on your boat or personal watercraft and dive into the importance of proper marine audio system design and installation.
Marine Audio Radios and Audio Sources
Whether you have a jet ski, wake surfing boat or a yacht with multiple cabins, you'll need a source unit or radio to enable you to enjoy your favorite music. Boat radios are available in a variety of shapes and sizes. The most common boat radio format is based on a single-DIN car radio chassis with a face that is roughly 7 inches wide and 2 inches tall. Many of these radios have upgraded front panels that include weatherproofing features to make them resistant to damage from rain and being splashed by waves. When you're shopping for a radio for your boat that will be installed where it's exposed to the elements, make sure it has at a water intrusion rating of at least IPX5.
Almost all modern boat radios include Bluetooth transceivers that allow you to stream music from a smartphone or digital media player. Bluetooth audio streaming support also provides access to popular services like Pandora, iHeart, Tidal and Spotify. In the case of a genuinely marine-specific radio, the Bluetooth transceiver rarely includes support for hands-free calling or phone book access. If this is necessary for your needs, you might need your installer to get creative with a radio designed for cars and trucks.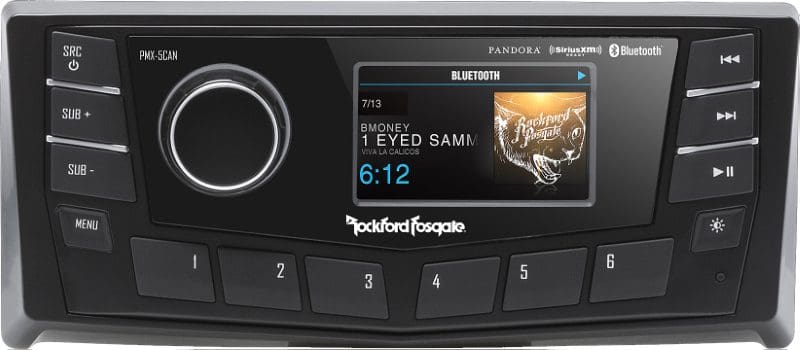 Most new radios also include a USB connection to play digital audio files stored on a memory stick. It's crucial to bring a USB memory stick along with you when you're shopping to test the radios you're considering. Not every radio will play every type of digital audio file, and some radios are limited to the total number of tracks they can access from a storage device or the total number of files in a folder. Large-capacity memory sticks might have to be formatted in a way that isn't compatible with the radio. Test before you buy, and you won't be disappointed.
Almost every marine radio includes an AM and FM receiver, and many can also tune in to any of the seven NOAA Weather Radio channels. If you take your boat out on the ocean or the Great Lakes, monitoring the weather is essential. Also ask your installer about the antenna options for your boat, as they are crucial for receiving terrestrial radio stations.
Another popular option for marine radios is support for SiriusXM satellite radio. Being able to pick from almost any genre of music, especially when you're far from urban areas, is an excellent option for marine entertainment systems. In nearly every case, adding SiriusXM to a radio requires the purchase of an add-on tuner module and an accompanying service subscription.
Several radios can interface with multifunction displays from Garmin, Lowrance, Simrad and Raymarine using the NMEA 2000 CAN Bus network protocol. With one of these radios, you can change stations or adjust the volume directly from your chart plotter or navigation system without needing the radio to be visible at the helm. Some companies have interfaces that add this connectivity to a conventional radio design, or you can choose a hide-away unit with no display or controls that connect to the display.
The available remote-control options are important in choosing the right source unit for your boat. If you have a smaller fishing boat, being able to adjust the volume from anywhere on the vessel isn't a huge issue. If you have a small cruiser, you might want a remote on the swim platform and another at a nav station. Wired remotes are available with and without displays. If you want to change sources, a remote with a display is handy. You can also choose from smartphone control solutions and radio frequency remotes from some brands. Talk to the shop performing the installation, and they can let you know what's available to make using your marine entertainment system easier and more convenient.

Preamp outputs are another vital consideration in choosing a marine source unit. These connections on the radio's chassis allow your installer to add external amplifiers to the system. If you want quiet background music to play during dinner or a glass of wine with friends, high-powered amplifiers aren't necessary. If you're towing a skier or sailing in 10+ knot winds and want your music to drown out the engine or waves, an amplifier is necessary. Likewise, if your sound system includes a subwoofer, you'll need an amplifier to drive that large speaker. Almost every marine radio has preamp outputs to add additional amplifiers. Typically, higher-quality radios offer a stronger (higher voltage) signal that can help keep noise out of your system.
If you have a boat with wakeboard tower speakers, speakers on the swim platform, or speakers in the cabin, you may want a radio with multi-zone support. This feature gives you dedicated volume control for each listening area so everyone on board can enjoy their music at a comfortable level. You might not want the wakeboard tower speakers playing during dinner, or you might not want the speakers in the cabin to be loud while you're underway. A radio with multi-zone volume or level controls is the perfect solution. Several companies offer external equalizers with multi-zone level controls. Some of these stand-alone units even include a microphone for talking to a skier.
If there isn't room for a full-size radio on your boat, many companies offer compact solutions that take up very little space. You can also use a hide-away Bluetooth receiver and your smartphone to serve as the source unit. These hidden solutions are popular in personal watercraft audio upgrades.
When searching for a marine source unit, choose one that won't drain your battery. Many marine radios have "two-wire" power connections rather than the three-wire constant, ground and accessory connection you'd find with a car radio. These "two-wire" radios typically use non-volatile memory to store station presets and radio settings if the power is removed while the boat is in storage. If you aren't going to be using the boat every couple of days, ask the retailer how much power the radio draws when turned off.
Ultimately, one of the most critical steps to take before buying any radio for a boat is to try the radio on a display board. Be sure you understand precisely how the device works. Try changing sources, adjusting the volume of different audio zones, or choosing a specific song from a memory stick or smartphone. If you plan to use Bluetooth, make sure your device pairs easily and reconnects automatically when power is cycled. Remember to try a USB stick with your music on it. Finally, make sure the radio has the features you want.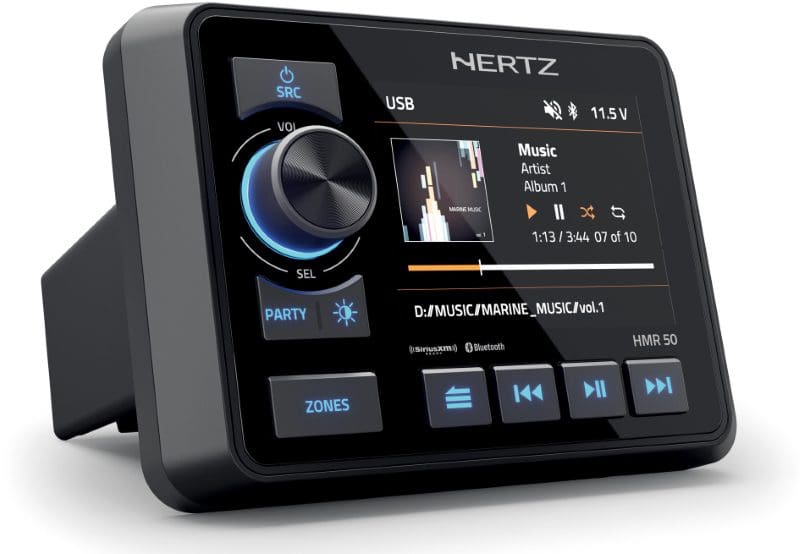 Marine Radio Product Spotlights
Sony MEX-M72BT Marine Radio Receiver with Bluetooth Product Spotlight
Sony DXS-M80 High-Power Marine Digital Media Receiver Product Spotlight
Marine Audio Speaker Upgrades
It goes without saying that you can't have a great audio system without great speakers. Speakers are the most important consideration in any sound system, as they are the only link between your ears and the electronic components of your sound system. You could purchase the best radio and amplifiers on the market, but if your boat's audio system doesn't have good speakers, it won't play loudly or sound clear.
Choosing marine speakers is like selecting speaker upgrades for the interior of your car. You want to pick solutions that sound great across a range of volume levels. One advantage of boat speakers is that they're available in a variety of sizes, from the most common 6.5- and 7.7-inch models up to 8.8-inch designs. Larger speakers have the benefit of being more efficient. Speaker efficiency describes how much sound is produced per unit of power from the amplifier. It's especially important for marine applications because more efficient speakers can play louder while consuming less power from the amplifier and the boat's electrical system. If you're out on the lake or river with the engine shut off, the audio system's play time is limited by how much current it draws and the capacity of the batteries on the boat.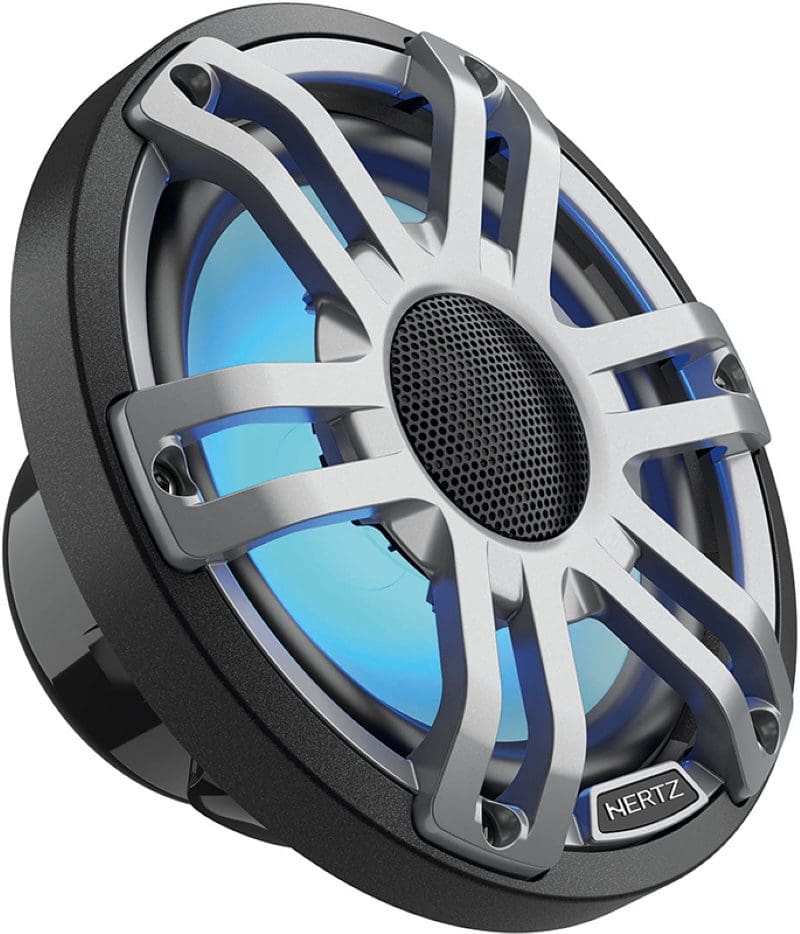 Most marine speaker upgrades are coaxial designs with a dedicated woofer and tweeter. Some entry-level speakers have no tweeter and include a small secondary cone attached to the woofer called a whizzer. Many consumers erroneously equate speaker power handling specifications with quality. Power handling specifications are numbers that describe how much energy the speaker can handle without being damaged. The information doesn't describe frequency response or linearity, so it isn't a good way to judge speakers. Before making a purchase, you should audition speakers on a display in a car audio retailer showroom or, if possible, on a boat.
Reliable marine speakers require a design that's completely waterproof. In the case of a coaxial design with the tweeter mounted on a post that extends up through the center of the woofer, there must be a rubber seal that will ensure that water won't enter the motor assembly. More and more marine speakers use a tweeter mounted on a bridge above the woofer. This design allows the woofer to have more surface area, which makes it more efficient. You'll also want to choose a speaker with a grille that includes provisions to allow water to drain correctly and not be trapped between the grille and the speaker's cone. The speaker should have an integrated rubber gasket on the mounting surface that will ensure a tight seal against your boat's fiberglass hull. You don't want water leaking in around the speaker.
Another important consideration in purchasing a reliable marine speaker is to choose one constructed with materials that can handle prolonged exposure to the UV rays from the sun. We've all seen inexpensive plastic lawn chairs that have turned chalky or cracked after a few months outdoors. The marine speakers you choose should use materials and coatings that won't break down with sun exposure.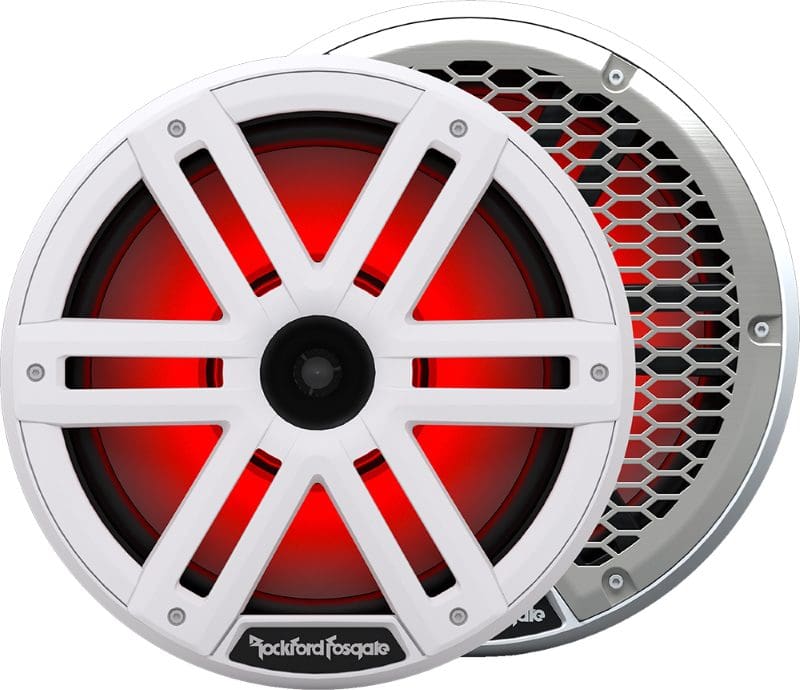 Marine Speaker Product Spotlights and Test Drive Reviews
Rockford Fosgate M2-8H RGB Marine Speaker Test Drive Review
Rockford Fosgate M2WL-8 Wakeboard Tower Speaker Product Spotlight
Hertz HMX 6.5 Marine Speaker Product Spotlight
Rockford Fosgate M2 Subwoofer and Coaxial Speaker Product Spotlight
Marine Audio Subwoofers
If you want the best sound quality from your marine audio system, you might want to consider adding a subwoofer to your boat. Most people associate subwoofers with mirror-shaking bass in a car or truck. The reality is that when configured properly, they can enhance every aspect of an audio system. Of course, when a song with a great bass line comes on, you can always turn up the sub and have a little fun. An important benefit of having a subwoofer in a marine audio system is that the smaller speakers will sound better at higher volume levels.
Most marine subwoofers are designed for what's known as an infinite baffle installation. This means the subwoofers don't need their own enclosure and will handle reasonable amounts of power when installed in the boat's hull. Infinite baffle installations are very different from what most car audio subwoofers are designed for, so the two aren't directly interchangeable. When picking a subwoofer for your boat, make sure the product specialist you're working with understands where you want it installed.
We must reiterate that subwoofers with higher power handling numbers don't always offer better performance than ones with lower numbers and distortion-reducing technologies. Purchasing speakers or subwoofers based on their power handling numbers may not result in your getting the best performance for your investment. Another consideration about subwoofer power handling has to do with efficiency. Many subwoofers rated for significant amounts of power require larger and heavier cone assemblies. These features can decrease the subwoofer's efficiency. To get the best subwoofer for your boat, audition the options at the store you're working with.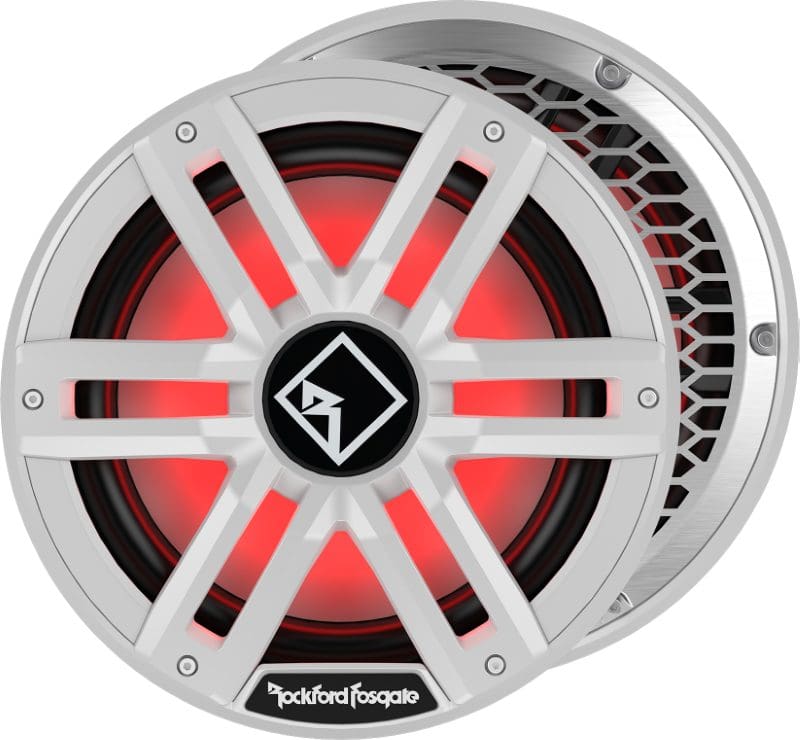 Marine subwoofers are commonly available in sizes from 8 to 12 inches. Larger drivers will offer improved efficiency, reducing the amount of current an amplifier will draw to achieve a specific volume level. Larger subwoofers also typically have a lower resonant frequency, producing more low-frequency output than their smaller counterparts. Some audio enthusiasts confuse subwoofer frequency response with "speed". How quickly a subwoofer cone can move only affects its frequency response, not how "tight" or "controlled" a subwoofer might be. Those dynamic characteristics have more to do with the distortion characteristics of the voice coil, motor and suspension design.
Here are a few things to remember when adding subwoofers to your marine audio system. First, the subwoofer will need a dedicated amplifier capable of producing a reasonable amount of power. Typically, 150 to 200 watts would be the least power you'd want to get a good amount of output from a subwoofer amplifier. To optimize the audio system's performance, either the radio or the amplifier powering the smaller speakers should have a high-pass filter or crossover to prevent bass information from going to those drivers.
Depending on the design of your boat and where you will have the shop install the subwoofer, some amount of reinforcement might be required behind the mounting surface. Many boat hulls are designed to be as light as possible while providing adequate strength to be reliable. Having the shop build up a layer of expanded PVC and fiberglass behind the mounting surface can improve the subwoofer's performance and reduce the chances of the smooth gel-coat surface cracking or fatiguing. Make sure that the shop doesn't use wood like MDF as a reinforcement, as it will absorb water and eventually degrade or rot.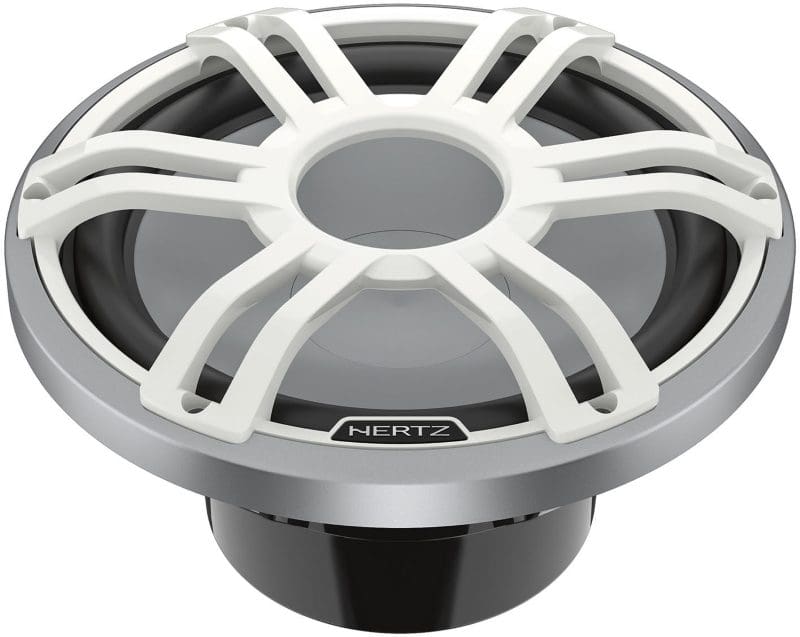 Marine Audio Amplifiers
As we mentioned, if you want to listen to music while cruising around the lake or river, your marine entertainment system will likely need an amplifier. Most boat radios can only produce 18 to 20 watts of power, though some Sony products have a 45 watt-per-channel High Power amplifier built in. Even a modest 50-watts-per-channel amplifier can make a significant difference to the clarity and output capability of the speakers on your boat. If you want to hear your music at 50 knots, you will need even more power and speakers that sound good at higher volume levels. Having an audio system on a mid-sized boat that can produce over 1,500 watts of power to speakers and subwoofers isn't unheard of.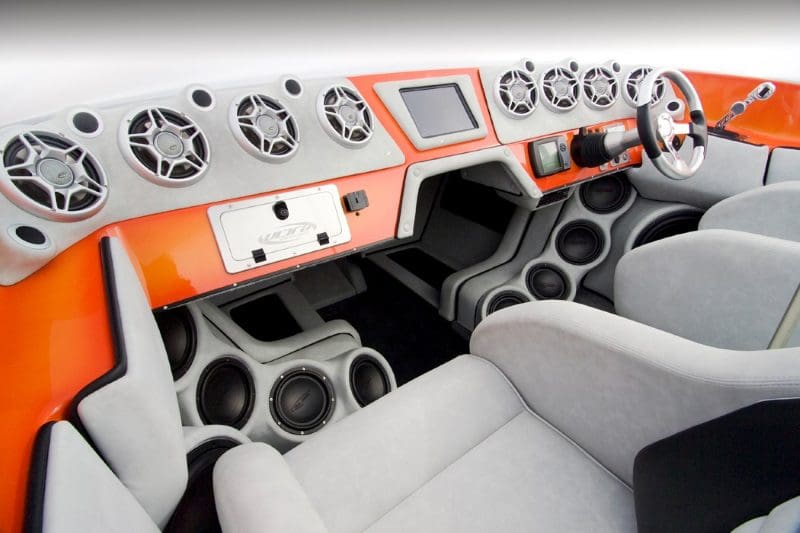 One of the most important considerations for a marine amplifier is its efficiency. You want the amp to produce as much power as possible while drawing the least current from the batteries and charging system on your boat. Increased efficiency will also extend the time the system can play when the engine is off. Amplifiers with Class D output device topologies are highly recommended for marine applications.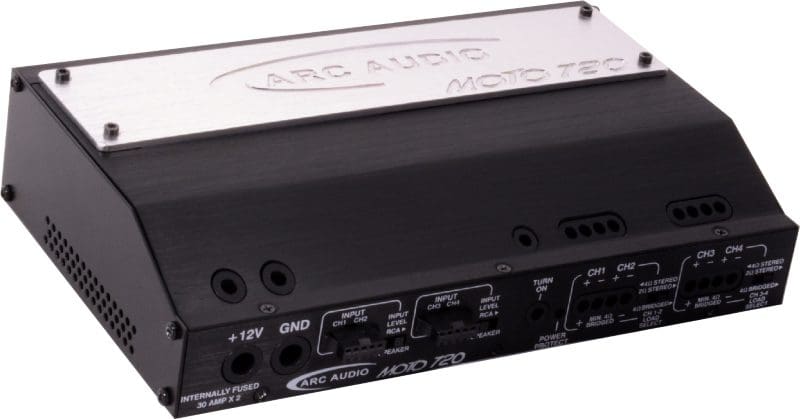 A second and equally important consideration for marine amplifiers is to choose a design that can withstand the humidity and vibration associated with this type of application. The heatsink should have a corrosion-resistant coating. The electrical connections should be stainless steel. The amplifier's bottom plate, along with all the assembly hardware and terminals, should be stainless steel or another corrosion-resistant material. The circuit board should have a conformal coating to prevent corrosion.
Amplifiers are designed based on how much power they will produce and the number of channels built into the chassis. Subwoofer amplifiers are typically single-channel mono designs. Full-range amplifiers vary from two to eight channels in marine applications. The advantage of using an amplifier with more channels is primarily the ability to have dedicated level control over specific speakers. If you have wakeboard tower speakers, speakers in a cabin, or a set on the swim platform, a radio with multi-zone volume control will let you control the level of each set independently of the others. The amplifier will need at least one pair of channels for each listening area to make those zones work.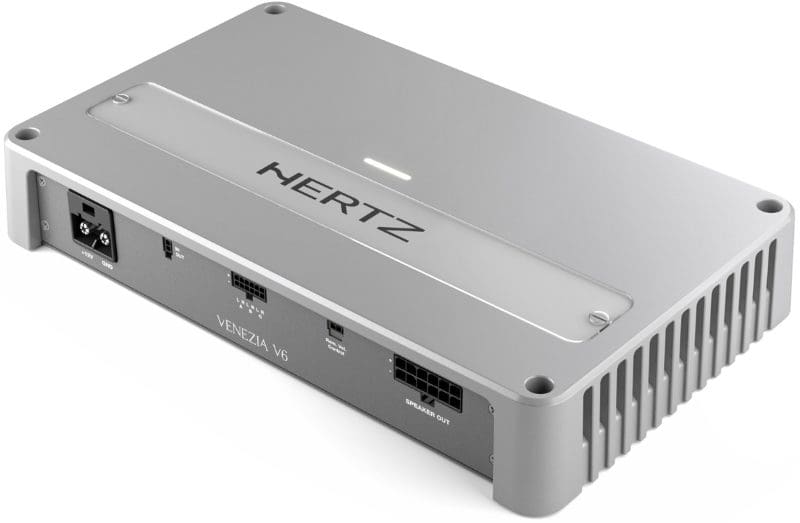 Marine Speaker Product Spotlights and Test Drive Reviews
Rockford Fosgate M2-500X1 Marine Subwoofer Amplifier
Rockford Fosgate M5-1500X5 Five-Channel Marine Amplifier
Rockford Fosgate M5-1000X1 Marine Monoblock Subwoofer Amplifier
Marine Digital Signal Processors
When it comes to getting the most out of any audio system, the speakers must be calibrated for the environment in which they are being used. Whether it's a movie theater, a concert venue, or your car, truck or boat, optimizing the output of the speakers with a digital signal processor will dramatically improve the realism of the listening experience. Regarding marine DSP solutions, you can use either a stand-alone processor between the radio and an amplifier or an amplifier with a DSP built in.
A second benefit of a DSP in a marine application is that the technician calibrating the system can create several presets or configurations. You might have one configuration for listening to music while at anchor or docked, another for when underway and a third for towing someone on a tube, wakeboard or water skis. Crossovers, equalization and even how signals are routed can all be fine-tuned for each application.
One of the most essential considerations in having a marine audio system with a digital signal processor installed in your boat is choosing a shop with the tools and training to optimize the settings. Just like an engine builder and tuner would never guess at ignition timing or air/fuel ratio, the use of a calibrated real-time audio analyzer is crucial to ensuring that your marine audio system will sound good.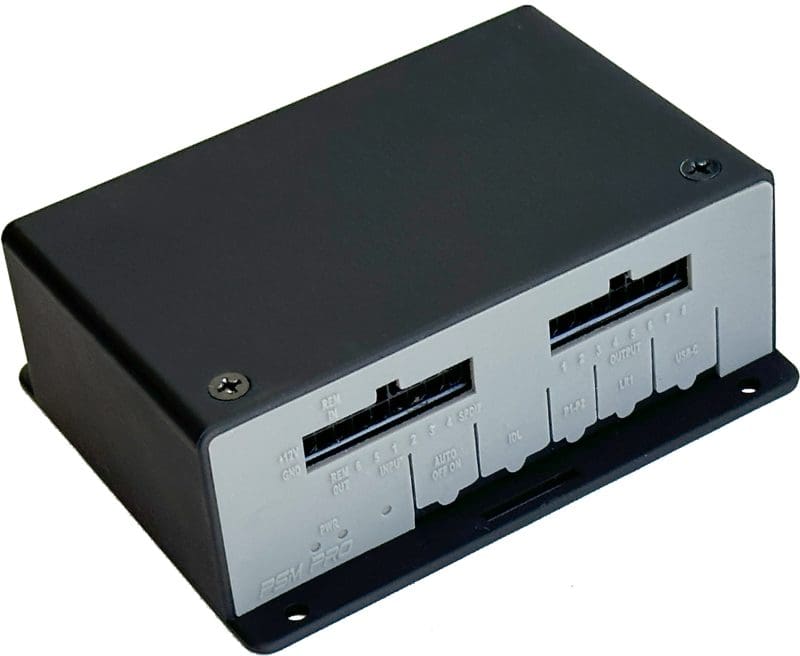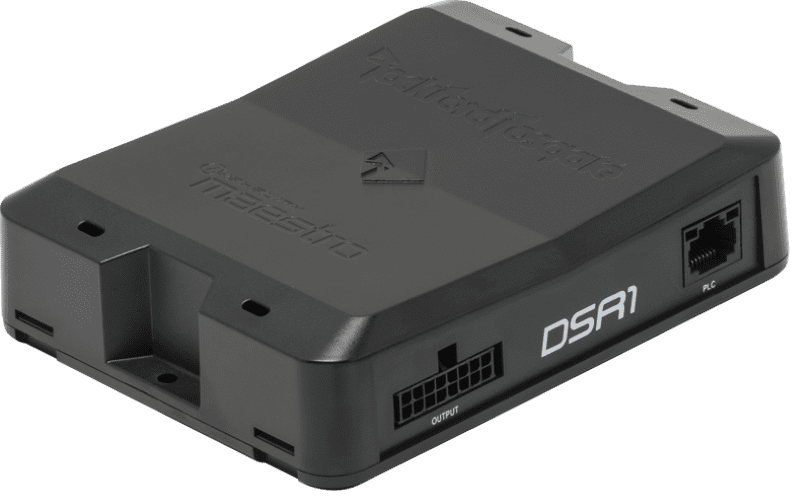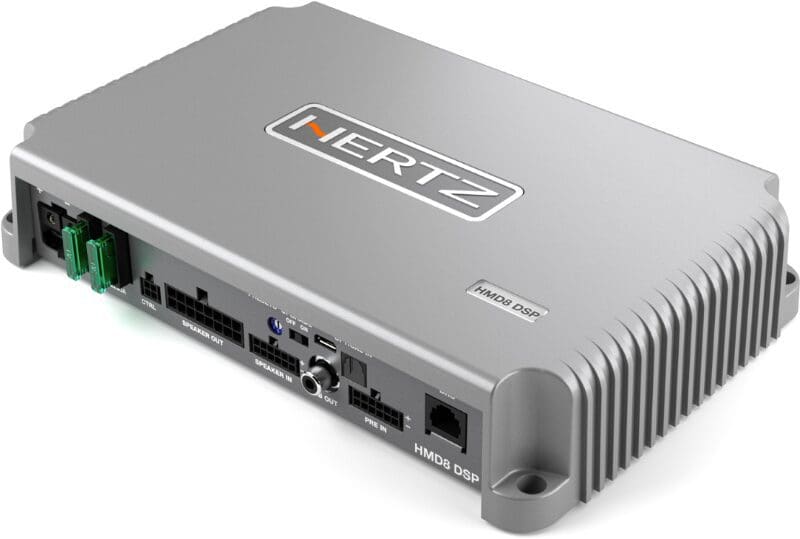 Marine Lighting Upgrades
These days, it isn't easy to find premium quality marine speakers and subwoofers that don't have RGB LED lighting built in. The same goes for wakeboard tower speaker enclosures. Adding accent lighting to your boat is a great way to personalize it. Most of these lighting options use a wireless LED controller with an RF remote or a smartphone app that connects via Bluetooth. You can set the color of the lighting to match your boat, to look cool, or even to shift through several color options.
As with any upgrade intended for a boat, make sure the lighting options you choose are designed specifically for the marine environment. The lighting should be water-resistant and use connectors that won't oxidize or corrode if wet. The installer you choose should know how to run the wiring for the lighting so that it doesn't interfere with the performance of the audio system, a two-way radio, navigation or a fish finder. All these devices should be tested with the lighting on and off to ensure that there won't be any interference or performance degradation.
In-water lights under the swim platform are another popular lighting upgrade. If you're considering having someone install lighting that requires modifications to your boat's hull, ensure that you're using premium quality products that won't leak. We strongly recommend shopping for products in this category based on reputation and quality rather than the lowest price.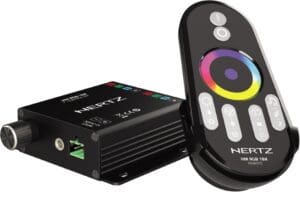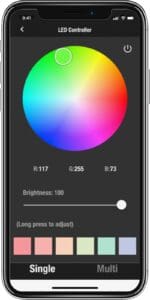 Marine Audio System Installation
Perhaps the most critical aspect of upgrading your boat's entertainment system is choosing a shop with extensive experience working on boats. Not only are they more likely to offer reliable, high-performance products, but they have technicians who know how to integrate them safely and reliably to maximize their performance. You can start the retailer shopping process by visiting their website. They should have up-to-date photos of their work, with details about their projects.
If you're impressed with what you see, the next step is to visit the store. If your boat is small enough, take it with you. That way, they can inspect it to make appropriate speaker, amplifier and source unit suggestions. If your boat isn't easily transported, the shop will likely have a team of mobile technicians that can do the work you want at your home, cottage or marina.
The store should have marine radios, amplifiers, speakers and subwoofers on display that you can audition. The product specialist you're working with can suggest models that fit your needs and price range. Remember, entry-level products don't sound as clear and detailed in most cases and typically can't play as loudly as more expensive solutions. Buying an inexpensive set of speakers and playing them at the absolute limits won't yield an enjoyable listening experience. If you have to wait a bit to purchase the products you really want, it will be worth it in the long run. The system will sound much better and be more reliable.
One part of the installation you don't want to overlook is the wiring. Choose power and speaker wire that is designed specifically for marine applications. This wiring will typically feature tinned copper cable construction. You want to avoid copper-clad aluminum, especially in saltwater applications. Don't skimp on quality interconnect cables and wiring for amplifiers and speakers.
The last thing you'll want to ask about before agreeing to book your installation is the materials they use. Aside from perhaps teak or something similar used as an accent, wood should never be used in a marine installation. Composite materials like Starboard, ABS or PVC should be used for amplifier mounting panels. All speakers and subwoofers should be installed using stainless steel fasteners. The long-term performance and reliability of your audio system investment depend on proper system design, installation, configuration and calibration.
Upgrade Your Marine Audio System Today
Whether you're listening to background music while enjoying dinner or doing stunts at the end of a tow rope, having a well-designed and -installed marine audio system is the icing on the cake. Drop by a local specialty mobile enhancement retailer today to learn about the solutions and upgrades available to make your day on the water the best it can be.