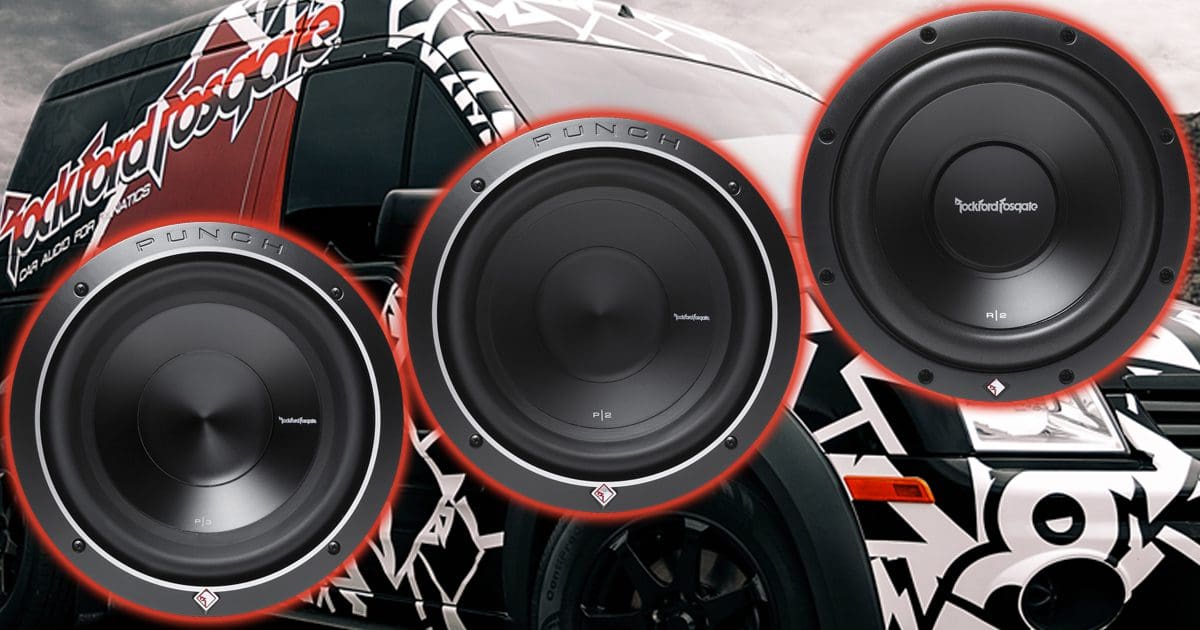 Designing a subwoofer system for a car or SUV can be tricky. We've talked about the need for retailers to quantify a customer's expectations while working within their budget. The shop designing the upgrade should also verify that the system will function reliably. Some components in this process include ensuring that there are enough subwoofers, a powerful enough amplifier and a properly designed enclosure, and that everything is integrated into the vehicle correctly.
For consumers, deciding how much bass is enough requires balancing the available space in the vehicle with your budget. You might want a pair of 15s and a 2500-watt amplifier, but your budget might only allow for a single 10 and a 250-watt amp. Many enthusiasts fail to consider that not all subwoofers offer the same output per watt of power. The "better" the sub is in terms of power handling, the less efficient they typically are. Let's look at the how and why of picking the right sub for a given amplifier.
Comparing Subwoofer Efficiency
We'll choose a selection of 10-inch subwoofers from Rockford Fosgate for this discussion because they have more to choose from than most companies. We'll model everything in a vented enclosure tuned to 32 hertz with a net internal volume of 1 cubic foot. We'll start with the affordable Prime Series R2D2-10. This is a 4-ohm single voice coil subwoofer with a 250-watt power handling rating.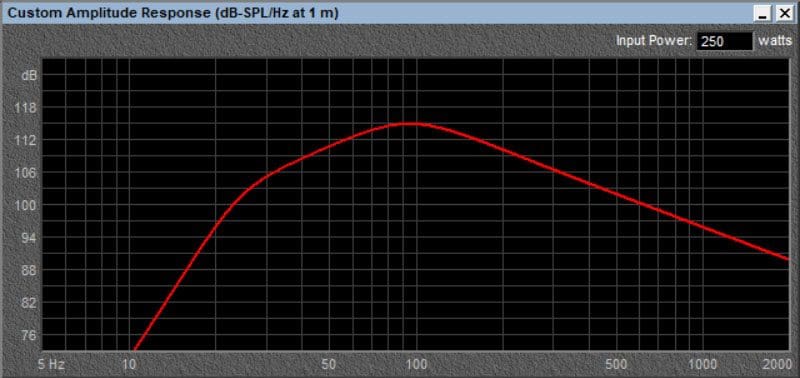 As you can see from the chart above, this sub can produce about 113.7 dB SPL of output at 70 hertz when driven with 250 watts.
Now, let's move to a subwoofer that can handle a little more power. For the following example, we'll model the Punch P2D2-10 subwoofer. This 10-inch sub is rated to handle 300 watts of power.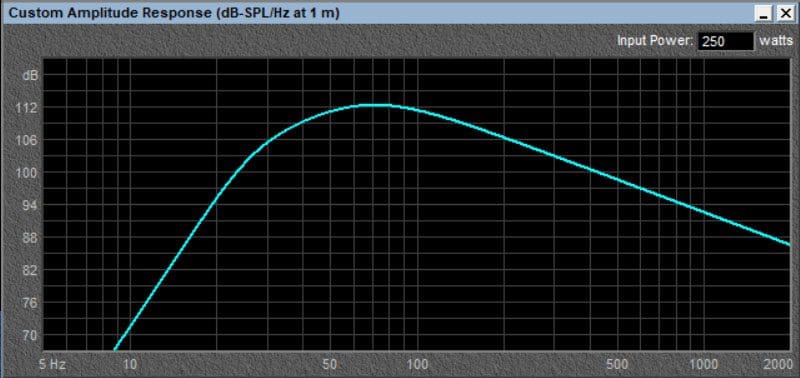 This graph shows a bit flatter response, but the output at 70 Hz is down at 112.3 dB SPL when driven with 250 watts. Based purely on math and assuming the driver will increase its output linearly, the P2D2-10 would need 345 watts at 70 hertz to play as loudly as the more efficient, "less powerful" Prime Series sub.
Now let's kick things up another notch and add the P3D2-10 to the mix. This is a 10-inch subwoofer rated to handle 500 watts of power continuously.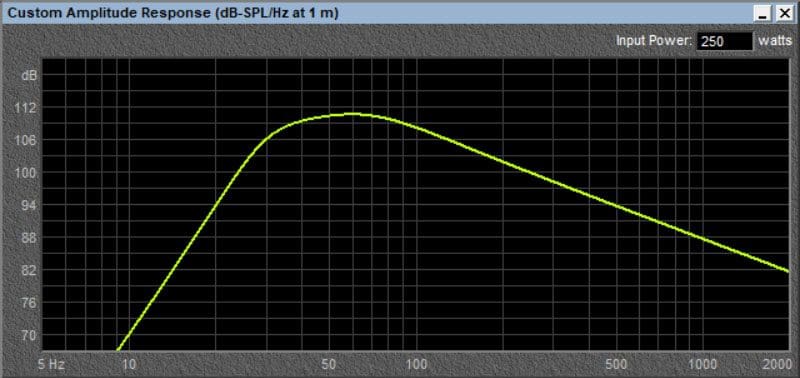 At 70 hertz, the P3 sub produces 110.3 dB SPL. To match the output of the Prime Series S1S4-10, this sub will require 547 watts of power at 70 Hertz.
If we overlay all the graphs, we see that all three drivers produce a similar output of about 109.5 dB SPL around 44 or 45 Hertz. If you have a digital signal processor in your audio system (and you really should), you can tame the extra higher-frequency output of the lesser drivers to produce a nice, flat response curve.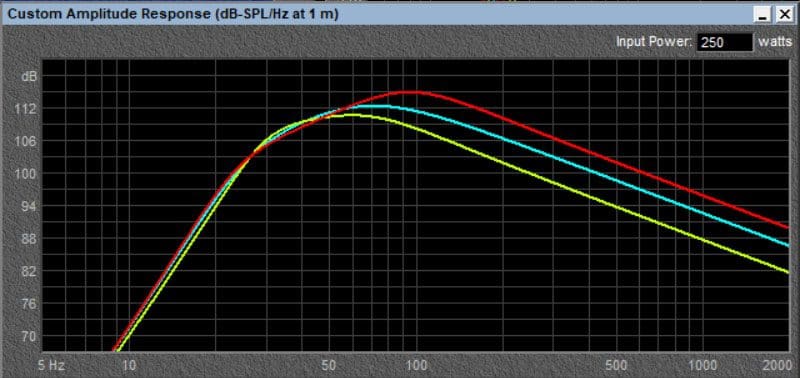 If about 110 dB (which would be louder in a vehicle) is adequate, then there's no need to move to a subwoofer that can handle more power. What if you want it louder? What if you want the most bass possible from a 500-watt amplifier instead of a 250- or 300-watt amp? Will the Punch P3 play louder with more power? Absolutely!
This graph shows the output of each subwoofer when driven with its maximum rated power, which is 250, 300 and 500 watts, respectively.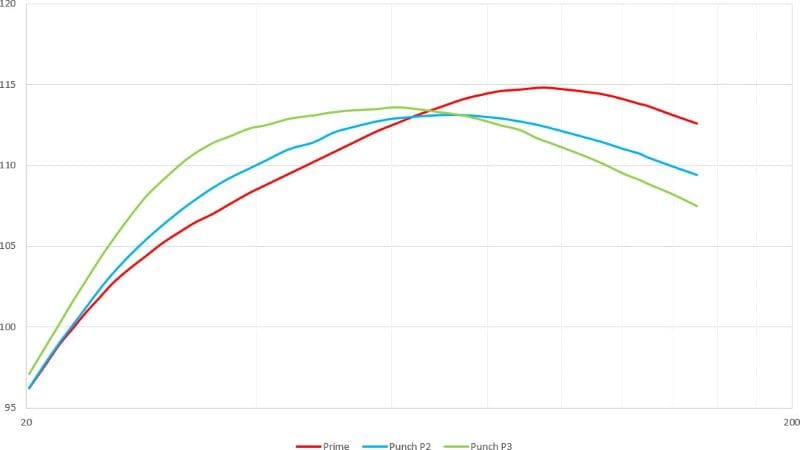 It's clear that the P2 sub will play louder than the Prime if you give it more power. Likewise, the P3 will play louder than the other drivers with 500 watts of power.
What Affects Subwoofer Efficiency?
We should look at a few factors that affect how a subwoofer converts power from your amplifier into sound. The topic is quite complex, but we'll keep things simple and look at the key contributing factors.
Newton's first law states that "an object will not change its motion unless a force acts on it." The second law states that "the force on an object is equal to its mass times its acceleration." Current from a subwoofer amplifier flows through the voice coil in a subwoofer to create a magnetic field. This field will oppose or attract the field created by the stationary magnet and cause the cone to move forward or rearward.
Keeping Newton's second law in mind, we should look at the difference in cone assembly weights. The Prime subwoofer has a moving mass (Mms) of 89 grams. The P2 subwoofer has an Mms of 157 grams, and the P3 subwoofer has an Mms specification of 244 grams. It stands to reason that it takes more power to move more weight, right? Well, that's exactly what's happening. A lower-mass cone assembly can respond faster for a given magnetic field strength.
A second consideration is maximum cone excursion. Two factors limit how far the cone of a subwoofer can move forward or rearward without creating a lot of distortion: the height of the voice coil relative to the top plate and the suspension's design (spider and surround). If the cone moves forward and not all of the voice coil remains in line with the top plate, the strength of the force driving the cone will drop off dramatically, and distortion will be produced. Likewise, distortion will be created if the cone moves and the spider becomes stiff and prevents linear motion at the end of the travel.
The length of the voice coil could be increased to allow for more excursion, but that will increase the moving mass (cone, dust cap, voice coil and former and half the suspension), which, as we have just demonstrated, reduces efficiency.
Subwoofers with higher power ratings often have stiffer suspensions to control cone motion at high excursion levels. It doesn't take a rocket scientist to understand that it will take a stronger magnetic field (which is the result of delivering more power to the subwoofer) to move the cone the same amount if the spider and surround are stiffer.
Why You Might Want a Higher-End Subwoofer
If efficiency isn't a huge concern, there are some valid reasons to invest in a higher-end subwoofer. Speaking specifically about the Rockford Fosgate brand, they add performance-enhancing technologies like their Inductive Damping Heat Sink on the high-end Power Series drivers. Technologies like this improve the consistency of the magnetic field in the forward and rearward directions to reduce distortion. The result is bass that's more accurate and musical.
You may find that these larger subwoofers want (or need) a bigger amp, but that's the trade-off for their improved distortion performance. Many companies don't have the technology required to implement performance-improving features in their premium subwoofers. Many are just a collection of more extensive, heavier parts.
When it's time to upgrade your car audio system, drop by a local specialty mobile enhancement retailer and ask about adding a subwoofer system. Whether you're after a single 10 in a small vented enclosure or a pair of 15s to fill the back of your SUV, they will have an option to deliver the bass you want without putting too much load on the electrical system in your car, truck or SUV.