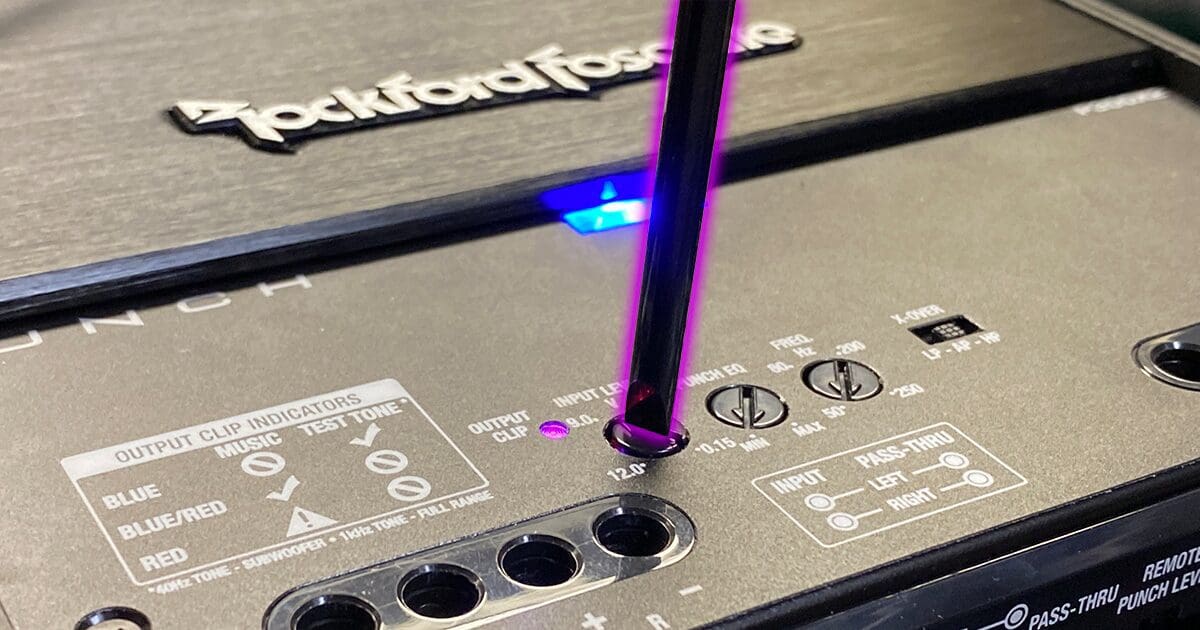 The confusion around setting amplifier gains baffles a significant number of car audio enthusiasts. I can't even count the number of systems I've heard that are plagued with tons of background noise or hiss when music isn't playing. Unfortunately, those same people also seem to be pretty hard on their gear and have replaced many subwoofers, speakers and tweeters. So let's have a look at what happens when you crank up the gain on your amplifier.
Why Do Car Audio Amplifiers Have Gain Controls?
Car audio source units can typically produce between 1.8 and 5.0 volts of output when the volume is maxed out, and it's playing a recording that reaches the maximum recording level of 0 dB. That means car audio amplifiers need an adjustable input so that source units from either range can still drive the amp to produce all the voltage it can. An amp needs more gain for a 1.8-volt signal to produce 100 watts than it does when provided with a 5-volt signal.
A sensitivity control might require a way to reduce the amp's gain a little extra for those applications where it's being used for midrange drivers or tweeters in a four-way system without a digital signal processor. These speakers don't need much power to keep with midbass and subwoofers, so turning the amp down to balance the overall output is a necessity.
What's Wrong with Cranking the Gain Control?
Professional installers take several considerations into account when setting the sensitivity control on an amplifier. The system might need a tiny bit of gain overlap if it's to be capable of playing loudly with quiet recordings. We wrote an entire article on gain overlap not too long ago. The installer also needs to understand the client. If the owner will have the bass on the deck boosted all the time (which will likely make it distort), then the gain control might need to be set a little lower. If the application is an SPL competition, the installer will likely want to set the sensitivity (another name for the gain control) to wherever the system produces the most output with the given source material.
When the signal going into an amplifier is adequate to exceed the clean power production capabilities of the amp, the output will be clipped and will include a LOT of distortion. To be clear, distortion in and of itself doesn't damage speakers. Too much power is what starts to cause problems. Most good quality Class AB amplifiers can produce almost double their rated power per channel when pushed hard into clipping. If you have a 50-watt per channel amp on a 60-watt speaker, cranking the gains and the volume might produce 80 or 90 watts. Plus, there will be a lot of unwanted high frequency content in the signal. No part of the speaker is going to enjoy that experience.
Source Unit Output Voltage
Years ago, Alpine launched a series of source units that offered 4 volts of preamp signal when most competing products offered 2 or 2.5 volts. They accompanied the launch with a marketing campaign that implied your audio system would play louder with one of their radios installed. That was a mistake. It's true, but it wasn't the right message. The extra preamp voltage means the gain controls can be turned down, and the amp will still produce the same power. More preamp voltage doesn't mean an amplifier can make more clean power.
So, why worry about where the gains are set?
Let's say you're conscious about not pushing your amplifier to the distortion point. You pay close attention to making sure the music isn't garbled. So, why worry about where the gains are set? The answer is noise. No, not Cardi B; I'm talking background noise and hiss. When there's no music playing, you shouldn't hear anything from any speakers. No buzzing, ticking or hissing.
I was doing some experiments in my lab to compare the distortion characteristics of an amplifier vs. its output level. I was graphing total harmonic distortion and noise vs. the amp's output voltage. I adjusted the sensitivity control, and the idea for this article hit me. Allow me to explain.
The graph below shows the output of one channel of the Rockford Fosgate P300X2 amplifier I reviewed in early 2022. The horizontal scale shows the output of the amp in decibel volts. 0 dB refers to 1 volt of output. An output level of 10 dB would be 10 volts, and 20 dB would be 20 volts. Driving a 4-ohm load, those voltages correlate to 0.25, 25, and 100 watts. Just as with the measurements I took when I reviewed the amp, it produces just over 26 dBV, which is 100 watts per channel – right on its specifications.
With the amplifier sensitivity turned up, the amp made full power with a 0.125-volt signal. With the amp turned down, I maxed out the capabilities of my audio analyzer with an 8-volt signal. This amp will accept signals as high as 12 volts on the RCA inputs so that they can be used with the speaker outputs of a factory-installed radio.
If you look at the graph below, you can see how the added noise from the increased sensitivity setting affected the signal.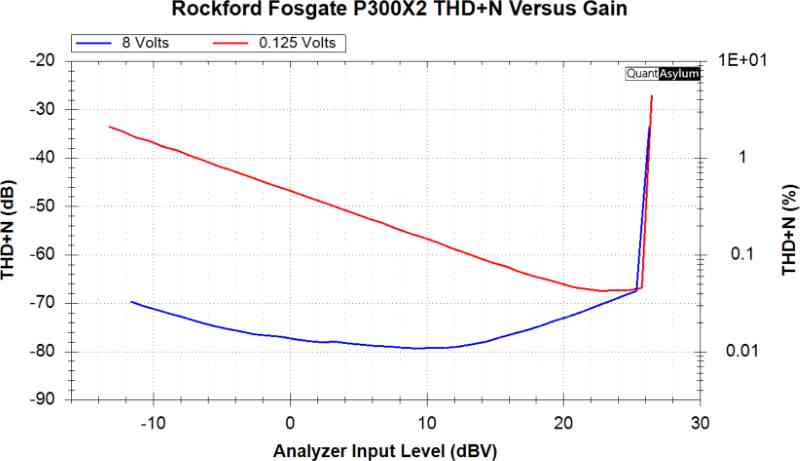 With the gain turned down to the 8-volt setting, noise and distortion remain below -68 dB right up to where the amp reaches clipping. With the gain cranked up, well, the red trace shows there's an extra 30 dB of noise at low volume levels. Who wants to hear hiss or static between songs while listening to music?
This sort of difference in noise based on sensitivity control setting is completely normal for any car audio amplifier. Given that there's a gain difference of 35 dB, the fact there is a noise floor that's 20 dB higher is quite impressive from the P300X2. Many lesser amplifiers can't replicate this performance.
Spectral Inspection of Distortion and Noise
Here are two other ways of looking at the same thing. The first graph is the spectral analysis of the amp with the sensitivity control at 8 volts. You can see that the noise floor is nice and low, around -110 dBV.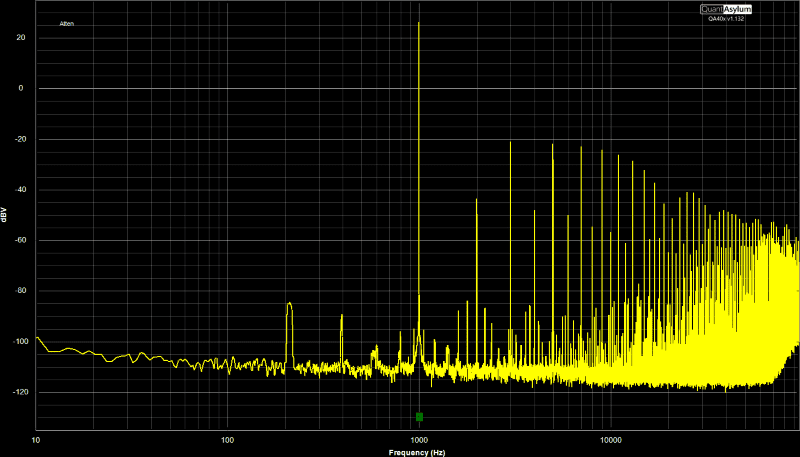 This second graph shows what happens when we crank up the gains.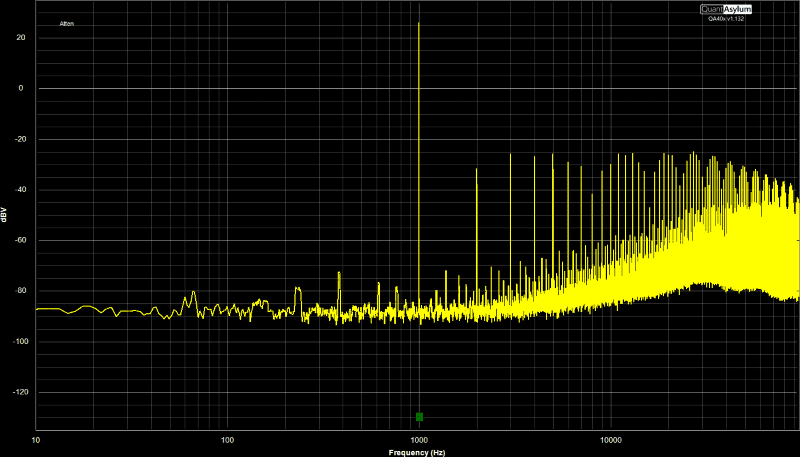 You can see that the noise has jumped to -90 dB.
There's no source unit of any quality that would produce only an eighth of a volt at full volume with a loud recording. As such, there's no reason to have the volume turned up that high. The peak (which represents the power produced by the amp) is still at 20 volts, which is 100 watts. More noise, no more power.
Make Sure Your Installer Understands System Gain Structure
Part of shopping for a retailer to work on your car or truck is qualifying their capabilities. Audition a few of the systems in their demo vehicles or show cars and listen to their display boards. If you hear a lot of hiss and noise when music isn't playing, the amplifier is either noisy or the gain controls aren't set properly. Neither is good.