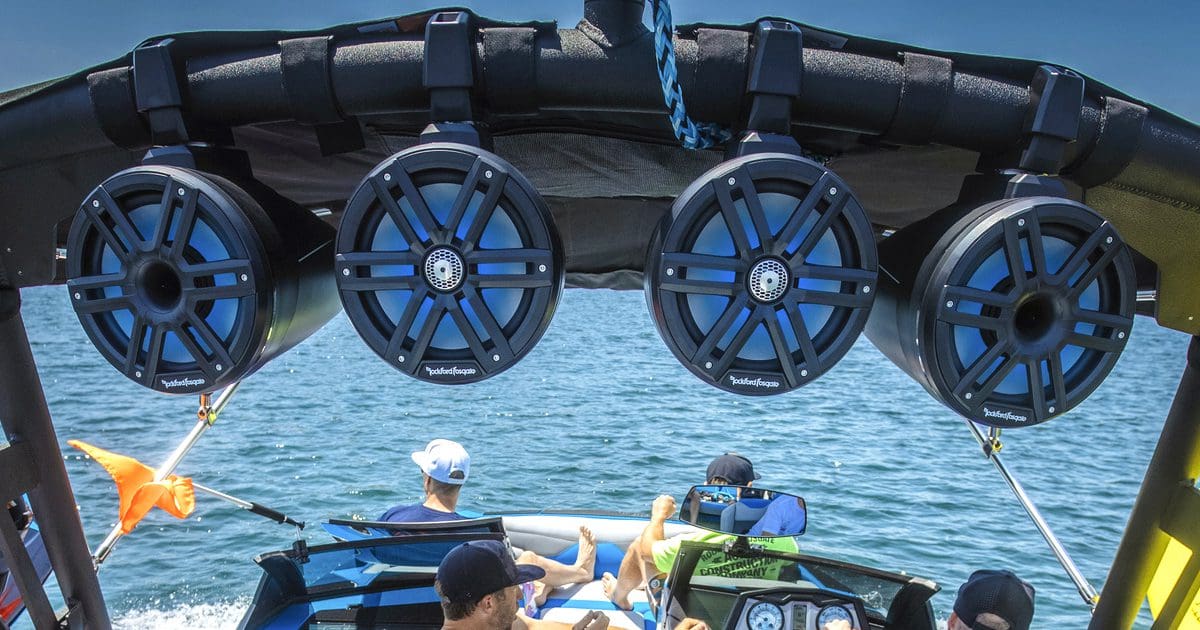 Whether you're waterskiing, wakeboarding or towing friends on a tube, having great music to accompany your time on the water makes a day of fun even better. When it comes to wakeboard tower speakers, the powersports audio fanatics at Rockford Fosgate have the perfect solution to ensure that everyone on the boat and at the end of the rope can hear your favorite jams. Let's look at the Rockford Fosgate M2WL-8 wakeboard tower speakers and the PMX-RGB LED lighting controller.
Wakeboard Tower Speakers Done Right
The M2WL-8 are Rockford Fosgate's second generation of wakeboard tower speakers. The kit includes a pair of enclosures loaded with the 8-inch M2-8 coaxial drivers. In addition, a set of universal tower bar clamps are included, along with inserts to work with bars from 1.5 to 3 inches in diameter. The clamps allow the speakers to be rotated by 360 degrees for each alignment during installation. Stainless steel grilles are mounted to the speakers out of the box but can be removed quickly to reveal the white, sport-style, twin-six-spoke grilles in behind. Finally, the speakers include Rockford Fosgate's Color Optix RGB LED illumination system, and the rear of the enclosures boasts the new 3DIL RGB-illuminated Rockford Fosgate logo. The tower speakers are also available in black as part number M2WL-8B.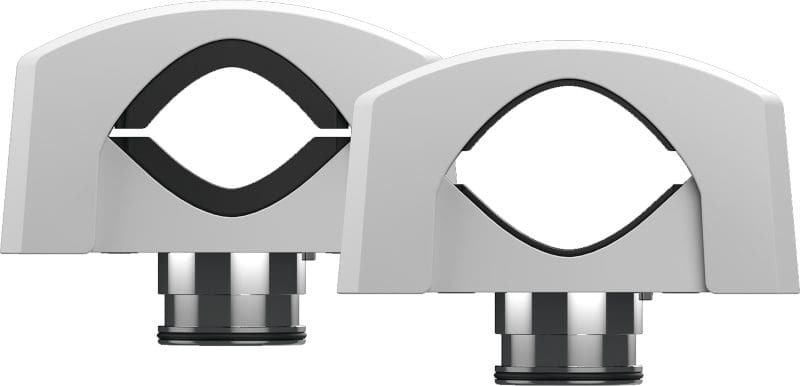 When it comes to marine speakers, there are three important product selection criteria: performance, longevity and style. Rockford Fosgate uses Klippel testing during the speaker development process to ensure that all of their drivers operate as linearly as possible. This design verification and testing process translates to speakers that deliver clearer and more detailed sound, especially at high output levels. In addition, the speakers are rated to handle 250 watts continuous and an impressive 1,000 watts of peak power, thanks to the large-diameter voice coils and high-quality crossover networks.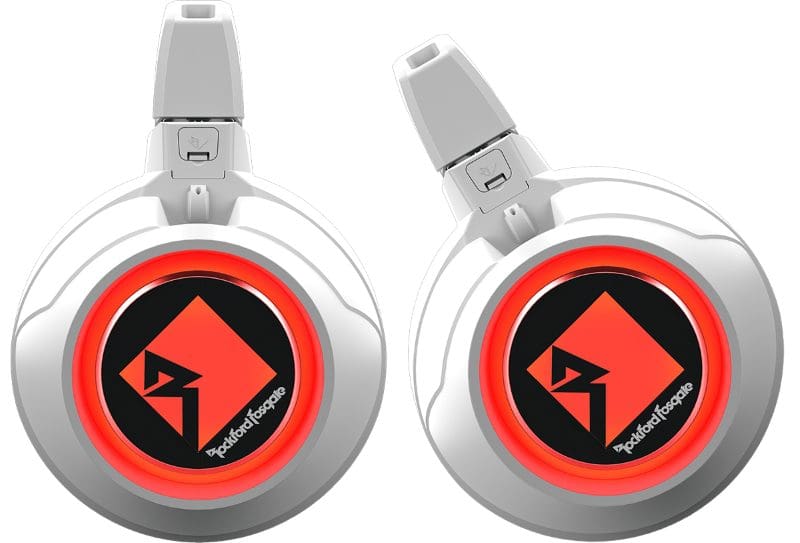 The M2-8 speakers are based on a PA66 glass-fiber-reinforced chassis for rigidity and thermal stability. At the heart of each speaker is a 1-inch voice coil wrapped around a high-temperature Kapton former. The voice coil is centered by a linear spider made from an aramid-polyester composite. The woofer cone is mineral-filled polypropylene with UV inhibitors and is bounded by a UV- and salt-resistant thermoplastic elastomer surround. The surround and cone benefit from Rockford Fosgate's Vertical Attach Surround Technique, which allows for up to 25% more effective cone area than conventionally designed drivers. The tweeter in each speaker is made from what Rockford Fosgate calls laminated PXNX, and they have a dome profile with a 1-inch voice coil and dual neodymium magnets.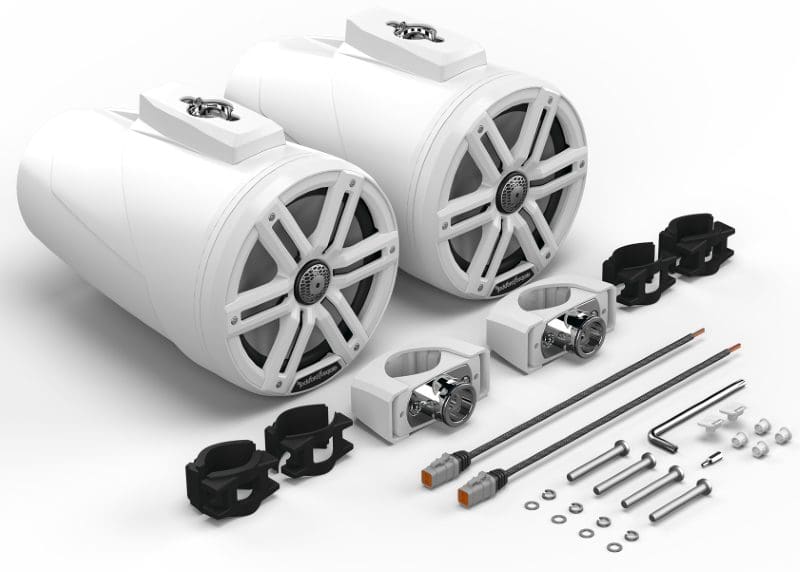 Marine Speakers Made to Last
In terms of longevity, the M2WL-8 meets all the water- and UV-resistance requirements to bear the Element Ready moniker. The speakers are IPX6 water-intrusion rated, and the enclosures are molded from UV-resistant ASA plastic for rigidity and to keep weight down.
Rockford Fosgate's attention to detail includes dual water-resistant Deutsch/Amphenol DT-Series connectors with silicone gaskets. One connector is in the center of the clamp, and the second is behind the mounting hardware access port. The speakers can be mounted directly to many tower brackets without a clamp, and the dual-connection options keep wiring simple and clean in every application. Speaking of mounting, a concealed security Torx fastener keeps everything rock solid, even when you're pounding across the tops of waves and wakes.
Great Sound with a Cool Look
The Color Optix RGB LED lighting works with the RMX-RGB wireless controller module. Using the free RFConnect app on your Apple iPhone or an Android device, you can set the illumination color on the speaker cones and 3DIL logo to almost anything under the rainbow. You can even adjust the brightness or choose from 30 color scrolling patterns. In terms of attention to detail, the Diamond R logo on the 3DIL can be rotated, so it's upright, no matter what angle the speakers are installed.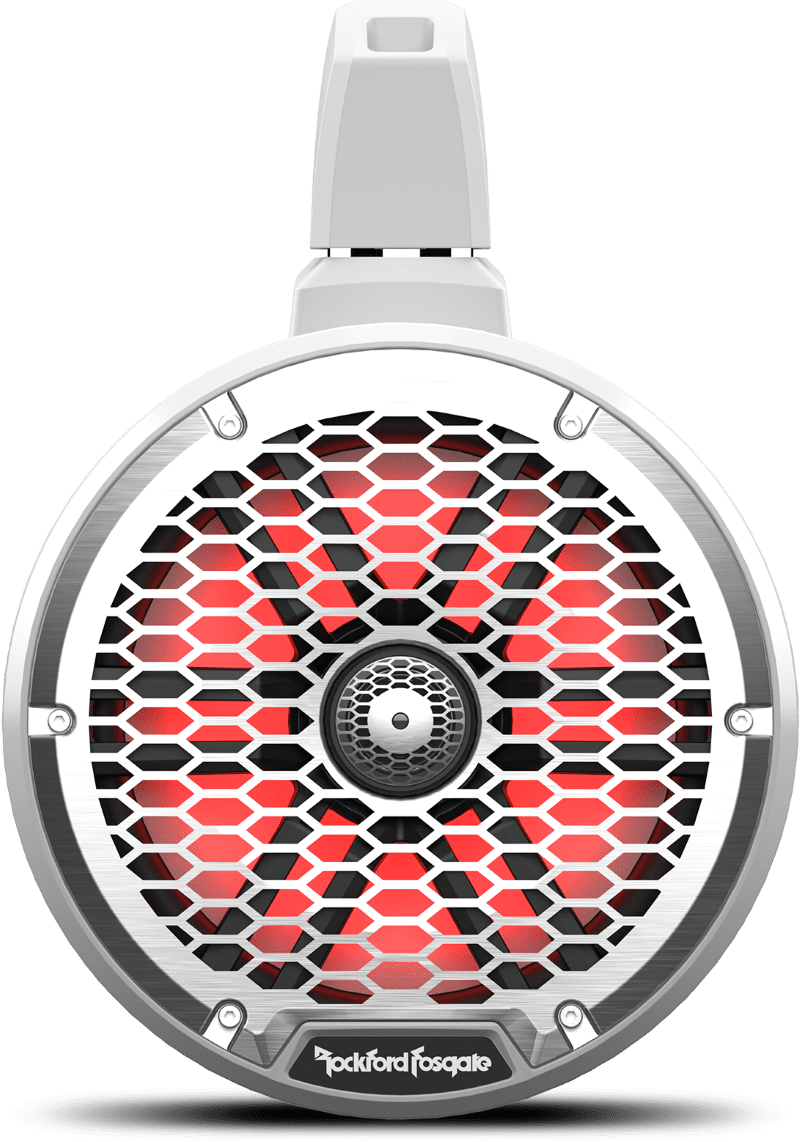 Upgrade Your Wake Boat with Rockford Fosgate
If you want a set of wakeboard tower speakers that will sound amazing, look cool and last for years, drop by your local authorized Rockford Fosgate retailer and ask about the M2WL-8 system. They'd be happy to provide you with a quote to upgrade your boat. For more information on these tower speakers, visit the Rockford Fosgate website and be sure to follow them on Facebook, Instagram and of course YouTube.