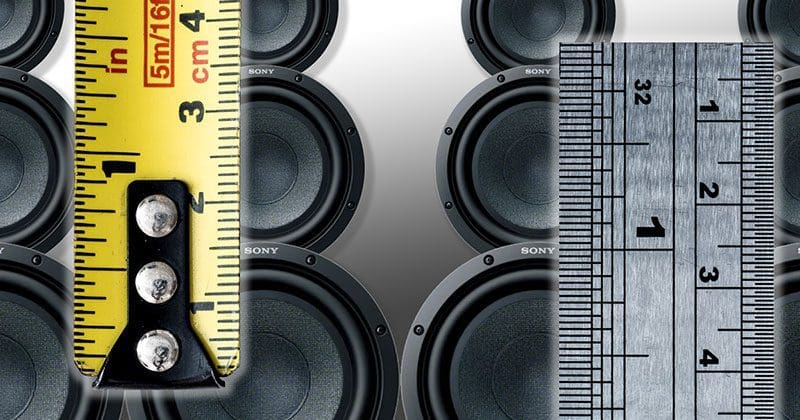 When choosing a subwoofer system for your car or truck, picking the right products can be the difference between accurate and musical bass or a sloppy, boomy mess. Over the decades, small subwoofers have gained a reputation for being described as faster than those with larger cone diameters. Is woofer speed a thing? Can we measure it? Don't fret; we'll explain what you're hearing.
Subwoofer Diameter vs. Frequency Response
Each high-quality subwoofer on the market is optimized to play a certain range of frequencies. For most companies, the engineers balance the design so that there is a good mix of efficiency and low-frequency extension.
Changes to the weight of the woofer cone and voice coil will dramatically affect how low a speaker will play. The graph below shows a 6.5-inch subwoofer and a 6.5-inch midrange, both with similar power handling ratings and excursion capabilities of about 9 mm.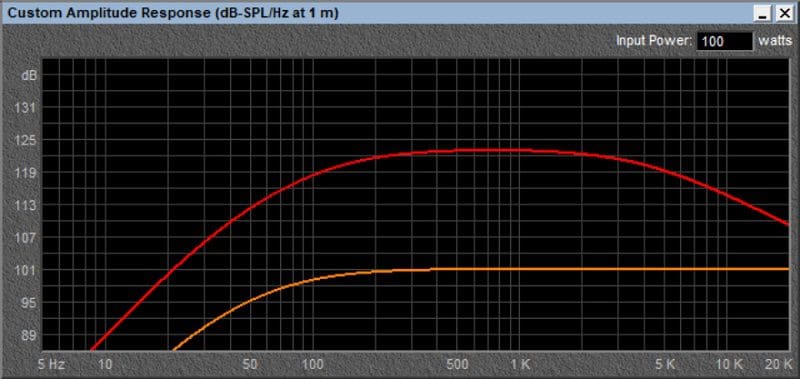 The subwoofer output is down 3 dB at about 79 Hz, where the midrange starts to roll off at just over 130 Hz. The subwoofer cone assembly weighs about 50 grams, whereas the midrange cone assembly is about 20 grams. As is clearly evident, a heavy cone assembly will play lower, but you sacrifice efficiency. In order to play bass frequencies at high levels, you need speakers with more surface area. This is one of the main reasons why subwoofers are typically quite large.
The graph below shows the output of five different-size subwoofers from the same brand. Each subwoofer in this simulation is getting 150 watts of power.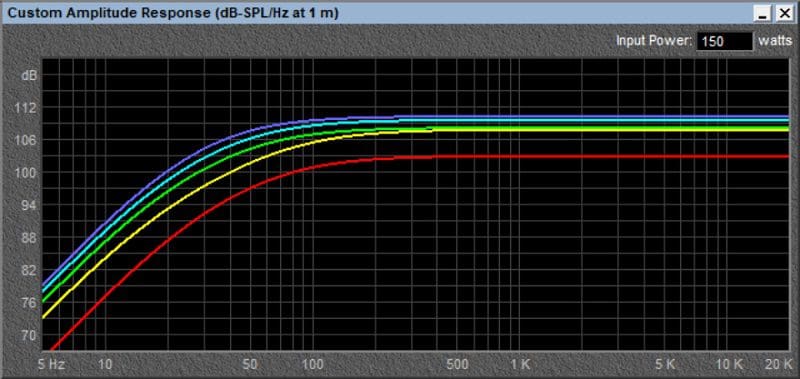 It's clear to see that efficiency increases as the subwoofer size gets larger. What's harder to see in this graph is that the low-frequency cutoff gets lower as the subwoofer size increases.
The graph below shows the same five subwoofers with their outputs normalized to the same level. The -3 dB points are 80 Hz for the 6.5-inch, 85 Hz for the 8, 59 Hz for the 10, 54 Hz for the 12, and 46 Hz for the 13.5-inch woofers.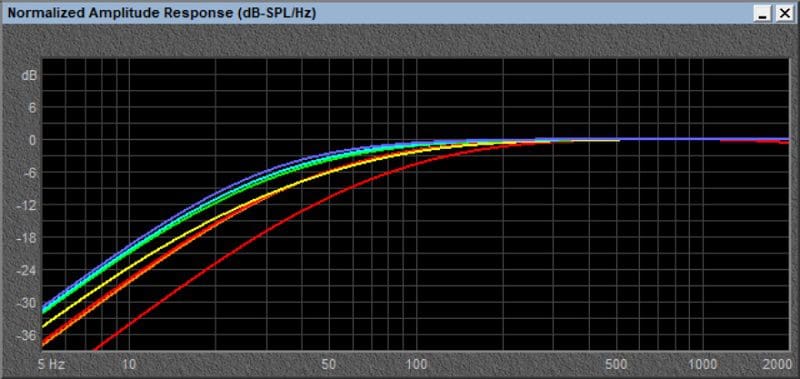 Frequency Response vs. the Perception of Speed
Maybe you've heard stories and jokes about someone building a system with a 15-inch sub for deep bass and a pair of 10-inch subs for "fast bass." If all the drivers are being used below 80 Hz as subwoofers, then there's no need to mix and match sizes.
If you're listening to a recording of a drum kit and are hoping for a perfect recreation of the original sound, you need a subwoofer system that plays flat to just under 40 Hz to capture the fundamental of a kick drum. To play the floor tom accurately, your subwoofer needs to play down to about 60 Hz.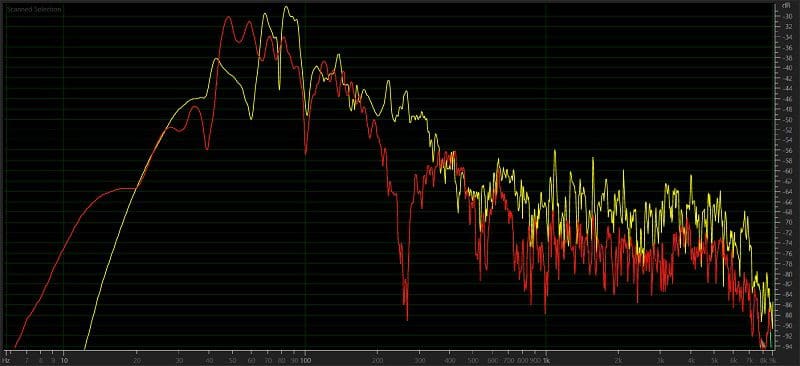 Imagine if you cut off the subwoofer at 60 Hz with a steep high-pass filter and attempted to play the kick drum recording. It would sound more like the tom with more emphasis on higher-frequency content. This is what happens when you compare the output of a small subwoofer with a larger one where the system hasn't been equalized to deliver the same response. You won't hear as much deep bass from the smaller speaker, so there will seem to be more emphasis on higher-frequency instruments.
This is the same reason why sealed (acoustic suspension) subwoofer enclosures are perceived as being "tighter" than vented (bass reflex) enclosures. The vented enclosures play louder and lower, changing the overall balance of the system.
Speaker Speed – What's That?
In absolute terms, a small speaker can move faster than a larger speaker. This is the reason we have large woofers and small, lightweight tweeters. A speaker's "speed" limit determines its upper-frequency response limit, not how accurately it can reproduce low frequencies. You'd never use a 12-inch subwoofer as a tweeter. So, yes, a big sub isn't "fast enough" to be used as a tweeter. However, if you shave off a bunch of weight, it can move back and forth faster, and it becomes more efficient. Many PA systems and pro-sound speakers use 12-inch midrange drivers. 
The Importance of Proper Equalization
When a professional installer finishes an installation, he or she will usually set the equalizer on a DSP as one of the final steps. Assuming the subwoofers in the system have the excursion capability, and there's enough amplifier power, they will tune the system to deliver flat bass response, usually down to 30 Hz. In a scenario like this, most subwoofer systems, even with different-sized speakers (not in the same system, please), will sound similar. So, is subwoofer speed a thing? No, it's isn't. If you try to use a subwoofer as a midrange, well, then, you have system design problems.
If you're planning on upgrading your car audio system, drop into your local specialty mobile enhancement retailer and talk with them about picking the best subwoofer for your car or truck. They can help you choose a size that will deliver the low-frequency output you want for the space available in your vehicle.