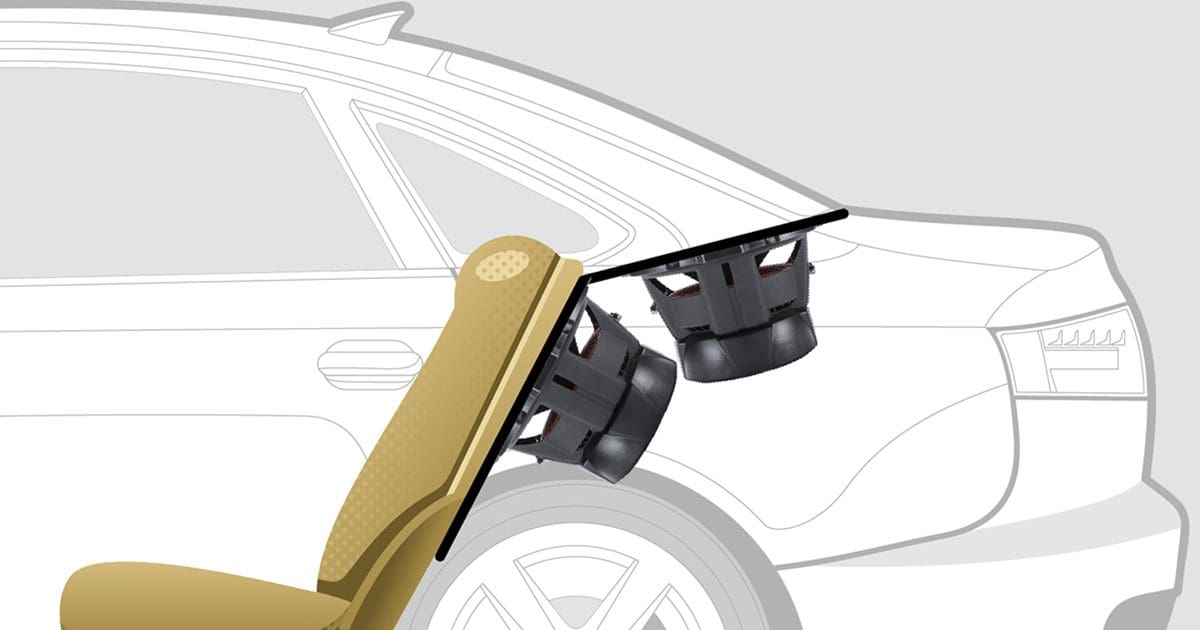 When it comes to car audio subwoofer upgrades, infinite baffle installations have been around for as long as subwoofers have existed. The science behind a subwoofer installation that doesn't use a compact enclosure is quite simple. As with any subwoofer system design, some benefits and drawbacks need to be considered. Strap on your thinking caps; we're diving in!
What Is an Infinite Baffle Subwoofer Installation?
Most of us are used to looking at acoustic suspension (sealed) and bass reflex (vented) enclosure options for the subwoofers in our cars and trucks. Enclosures with passive radiators are a version of a vented enclosure, so they fall under the same category. An infinite baffle subwoofer system uses the trunk of a sedan or coupe to prevent the sound coming off the back of the subwoofer from mixing with the sound from the front. To be clear, a trunk, in this reference, is not the same as a hatchback's cargo area. Your installer must seal the area behind the rear seats and under the parcel shelf, then mount the subwoofer on this baffle. Separating the trunk from the vehicle's interior is crucial as we don't want any energy on one side of the baffle to mix with sound energy on the other.
Over the decades, many companies have offered subwoofers designed for these installations. The Kicker Freeair, JL Audio IB series and the OZ Audio H series are some classic infinite baffle subwoofers that we older car audio folks remember. Most companies that offer high-performance marine subwoofers still have models designed to be used without a compact enclosure. Many factory-installed subwoofers use infinite baffle installations as they add very little weight to the vehicle.
Classically, these subwoofers designed for infinite baffle applications had a stiffer-than-normal suspension that helped to control cone motion without the added compliance of an enclosure. As a result of that, the Qts value of these drivers was higher than a sub designed for a small enclosure. With that said, any subwoofer or speaker can be used in an infinite baffle application – with some performance limitations.
Benefits of Subwoofers without Enclosures
If your installer has to build an enclosure for the subwoofer you want to use in your car, that will add some weight. It's not uncommon for a well-constructed enclosure with a pair of high-performance subwoofers to weigh well over 60 pounds, with many approaching 100 pounds. Added weight in your vehicle is the enemy of fuel economy, acceleration, handling and braking performance. An infinite baffle installation may require a single sheet of wood to seal the area behind a seat. It's not without some additional mass, but it might be less than a typical enclosure.
Every subwoofer enclosure can be modeled as a high-pass filter using Thiele/Small parameters and software. The primary purpose of an enclosure is to prevent the front and rear waves from mixing and canceling each other. The second purpose of an enclosure is to add compliance to the cone assembly, so it isn't damaged at high power levels. A subwoofer used in an infinite baffle installation has barely any compliance-based low-frequency filtering applied to it. As such, they can produce impressive amounts of infrasonic energy and are pretty efficient relative to an acoustic suspension design.
Finally, because there is no enclosure, there is no additional compliance that might cause the subwoofer to continue to resonate after the audio signal stops. This phenomenon is quantified by the Qtc value of a subwoofer system. As we've mentioned in other articles, a Qtc of 0.5 is considered ideally damped and will deliver the best transient response with good low-frequency efficiency. Enclosures with a Qtc of 0.707 are considered a Butterworth response and have a flat frequency response in the upper range with minimal low-frequency cut-off and acceptable transient performance. Above 0.707, power handling and efficiency increase while transients and low-frequency output performance are degraded. Most car audio enthusiasts who want a "sound quality" subwoofer system shoot for a Qtc around 0.7.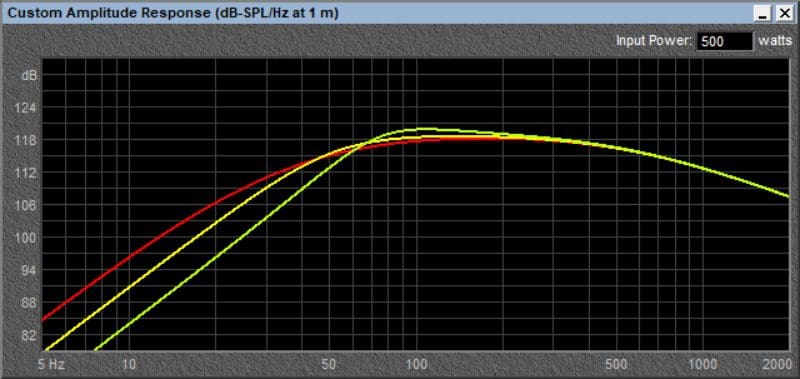 It's straightforward to see that the high Qtc enclosures dramatically reduce low-frequency output. The green enclosure is predicted to produce 103.7 dB SPL at 30 hertz when driven with 500 watts of power. The yellow enclosure produces 109.1 dB SPL at the same frequency and power, while the red enclosure produces 111.0 dB SPL. The red enclosure would only need 93 watts to produce the same output as the tiny green enclosure. For reference, for the 10-inch driver we used in this simulation, the red enclosure has a net internal volume of 6.95 cubic feet, the yellow enclosure has a volume of 0.77 cubic foot, and the green enclosure is tiny at 0.25 cubic foot.
Effectively, the 9-cubic-foot enclosure isn't an enclosure. It is large enough that it has almost no effect on the subwoofer's frequency response. I added a 20-cubic-foot enclosure simulation to the graph, and the response is effectively the same through the audible range.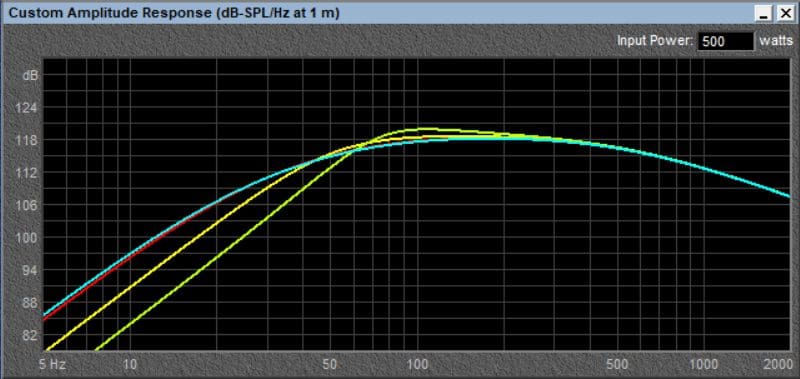 This would be a simulation of an infinite baffle application for this subwoofer. If you love those deep organ pedal notes and synthesizer beats, then this is a great option – maybe.
The Primary Issue with Infinite Baffle Enclosure
Do we ever get something for free when designing a subwoofer system? This infinite baffle application produces excellent low-frequency output, but at what cost? The answer is power handling. Recall that we put subwoofers in enclosures to help limit cone travel. You don't want the voice coil former smashing into the back of the T-yoke or ripping the spider off the voice coil former, right? Designing a subwoofer enclosure that will sound great, offer excellent low-frequency extension and handle significant amounts of power is a tricky balance.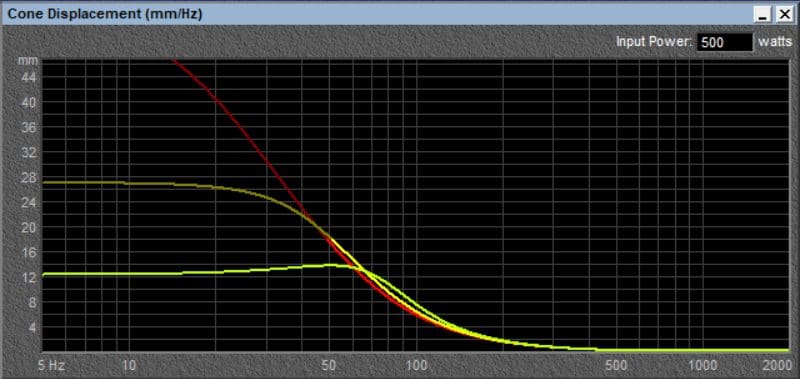 The above graph tells us that this driver, which has an Xmax specification of 17.6 millimeters, will reach its excursion limit at around 50 hertz when driven with 500 watts of power for the red and yellow enclosures. The subwoofer may be damaged if played with that much power at lower frequencies. The ultra-compact dimensions of the green simulation add enough compliance that the driver never bottoms out with 500 watts of power. Checking power handling at different drive levels and frequencies is crucial in designing a subwoofer enclosure.
Here's the same graph with the input power reduced to 220 watts. We can see that the yellow and green enclosures are safe in terms of preventing the driver from bottoming out.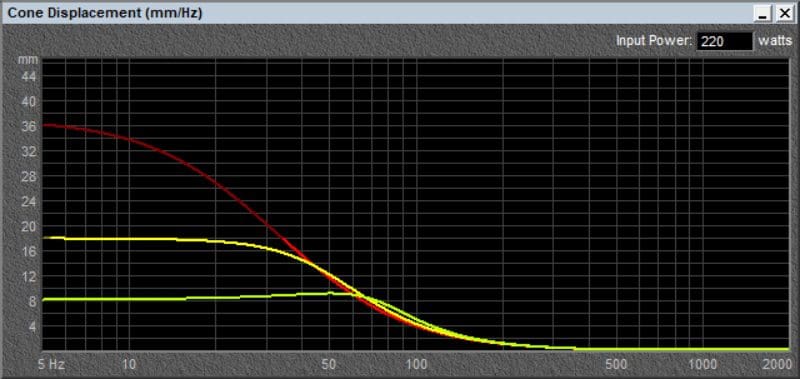 So, how much power can this 10-inch subwoofer handle in an infinite baffle application?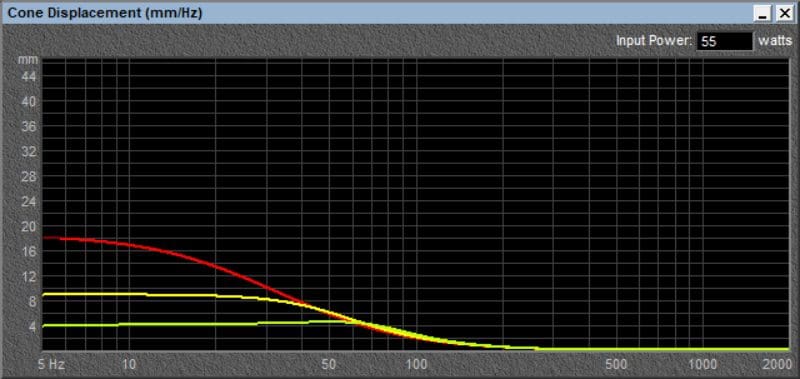 Depending on whether or not your amplifier or signal processor has an infrasonic filter, you are limited to between 55 and 60 watts of power and very low frequencies before the sub will bottom out. You can probably get away with 100 watts with most music without any problems. Driving the sub with 100 watts of power is still enough to produce 104 dB of output at 30 Hz, and this doesn't take into account the transfer function/cabin gain of the vehicle, which should add at least another 10 dB. You aren't going to set any SPL records, but it should be loud enough for most listening situations. You can always add another driver or three to increase the output capability of the system.
When considering driver excursion and sound quality, remember that distortion increases with cone excursion levels. If you want to listen to your music at high volume levels, use more drivers, so they don't have to work as hard. Two 10s would be better than a single 10. Two 12s of equal caliber would be better than two 10s.
Infrasonic Filters Can Help
If you don't need to reproduce the very lowest of frequencies, implementing an infrasonic filter in a digital signal processor is a great way to limit subwoofer cone excursion in an infinite baffle application. The advantage of adding a low-frequency high-pass filter in a DSP is that you can monitor the subwoofer's response on an RTA and quickly adjust the crossover frequency and slope to deliver a smooth in-car response curve.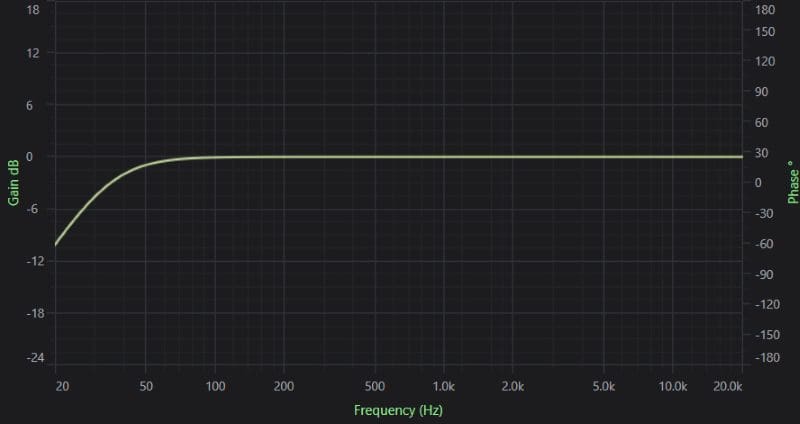 Is an Infinite Baffle Subwoofer System Right for Me?
If you consider yourself one of the stereotypical bassheads, then an infinite baffle car audio subwoofer installation is likely unsuitable. That said, four 15s or a pair of 18-inch drivers in this application can move a lot of air! Those same subs would be MUCH louder in a well-designed, well-constructed bass reflex enclosure. Suppose you like the bass in your car audio system to blend nicely with the midbass so bass guitars, piano and percussion sound realistic, and you have a vehicle with a dedicated trunk. In that case, an IB subwoofer solution might be perfect for you! Drop by a local specialty mobile enhancement retailer and talk to them about the subwoofer system options available for your vehicle.