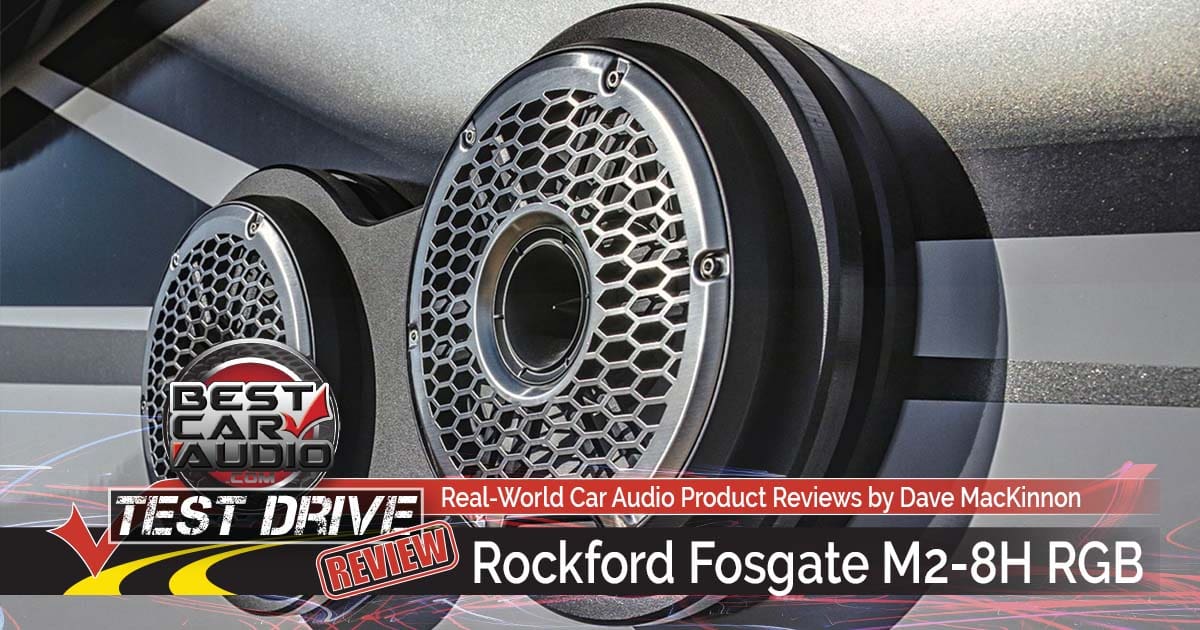 Whether you're ripping across a lake or skiing at the end of the tow rope, having great music on your boat makes your time on the water much more enjoyable. The audio fanatics at Rockford Fosgate have stepped up to the plate to ensure that boaters can enjoy the same sound quality and volume levels that have made this brand one of the most recognized in the car audio industry. For this Test Drive Review, we have a set of the M2-8H Color Optix two-way 8-inch horn-loaded marine speakers and their PMX-RGB Bluetooth LED controller in the lab.
Rockford Fosgate Marine Speakers
The marine speaker industry isn't for the meek. Enthusiasts want their music to drown out wind noise, the roar of the wake pouring off the sides of the hull and exhaust noise from the engine. Rockford Fosgate has created three series of marine products that make it easy for consumers to choose a performance level that matches their application and expectations.
The M0 series speakers are a solid entry-level option for situations where reliability, good sound quality and moderate power handling fit the application. For clients wanting more output, the M1 series increases power handling and output capabilities while adding more size options and integrated Color Optix RGB LED illumination. For those serious about their sound, the M2 series improves power handling and output capabilities even further. M2 speaker solutions are available in both surface mount and wakeboard tower options. If you really want to rock and roll, then have a look at the M2-8H 8-inch horn speaker options like the ones we have here for this review.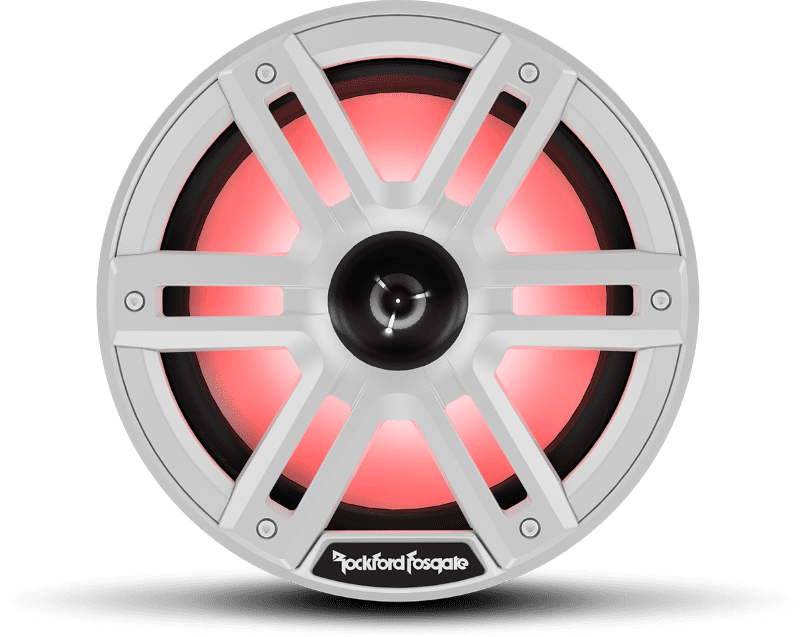 The M2-8H speaker set includes a pair of 8-inch coaxial midrange drivers that feature a 1-inch high-efficiency horn tweeter. The woofer is based on a low-mass, injection-molded polypropylene cone that's been bolstered with minerals like mica to improve damping and thermal stability for improved sound quality. The Vertical Attach Surround Technique (VAST) maximizes the cone area by minimizing wasted space around the perimeter of the driver so the woofer cone can be larger. Speaking of surrounds, those on the M2-8H are made from a thermoplastic elastomer that can withstand prolonged UV and salt fog exposure without drying out and cracking. A secondary surround at the woofer cone base prevents water from entering the motor assembly where the cone surrounds the tweeter post. If you are shopping for a coaxial marine speaker and it doesn't have a secondary surround and the tweeter post, it's not really water-resistant and isn't a real marine speaker.
Rockford includes a set of white grilles that cover the black frame on the face of the speaker. Your installer can also add a set of brushed-aluminum-finish hexagonal mesh covers for a different look. These speakers are also available with black grilles as part number M2-8HB, and those include aluminum mesh inserts as well.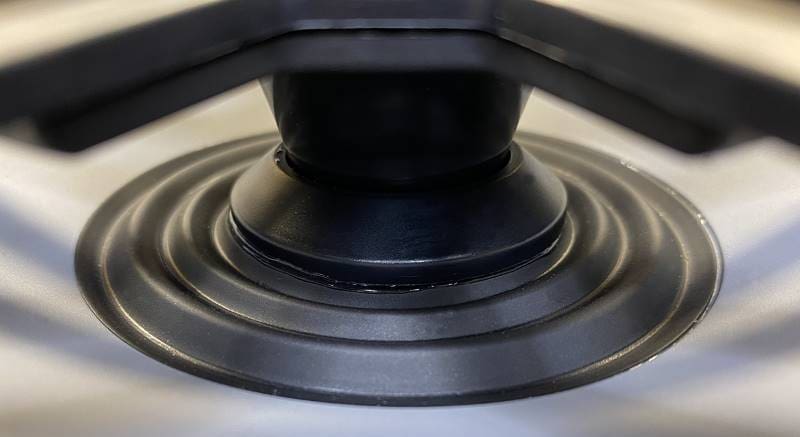 Underneath the woofer cone is a 1-inch high-temperature Kapton voice coil former that helps to ensure reliable performance at high power levels. The cone and former are bonded to a moisture- and tear-resistant flat aramid fiber spider.
The magnet assembly for the woofer is enclosed in a PA66 nylon basket. The basket's smooth, tapered shape helps prevent fishing rods, life jackets and tow ropes from catching on the speaker when it's installed in an under-seat storage compartment. The nylon used in the basket has been reinforced with glass fibers and UV inhibitors to ensure that it's rigid and well-damped and will last for years. As often happens on watercraft, tow ropes and life jackets can make a bit of a mess when they're stored immediately after coming out of the water. However, the cooling vents in the bottom of the basket have water-repelling nano-coated mesh screens that allow hot air to escape from under the spider and around the voice coil while keeping water out. This venting not only improves power handling but also the linearity of the driver at high volume levels.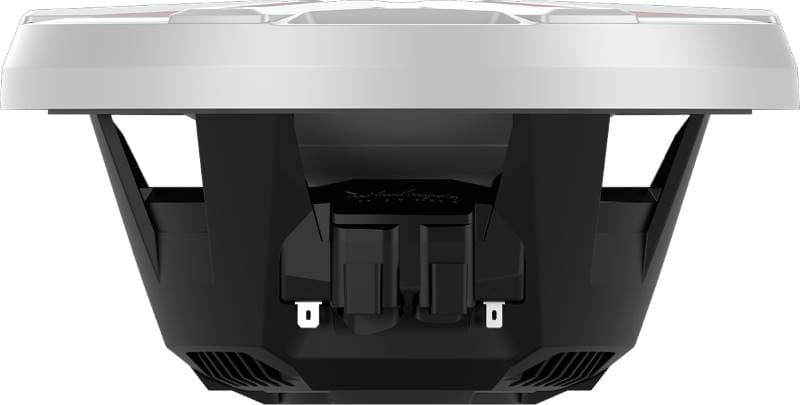 The tweeter is based around a 1-inch diaphragm that loads into an exponential horn. The outer edge of the horn is attached to the integrated support frame on the front of the speaker. The tweeter crossover is specified as a second-order, -12 dB/octave design that uses high-quality metalized polyester film capacitors. The components are integrated into the chassis to keep the installation clean, tidy and efficient. Rockford calls this their Integrated Concealed Crossover (ICC) design.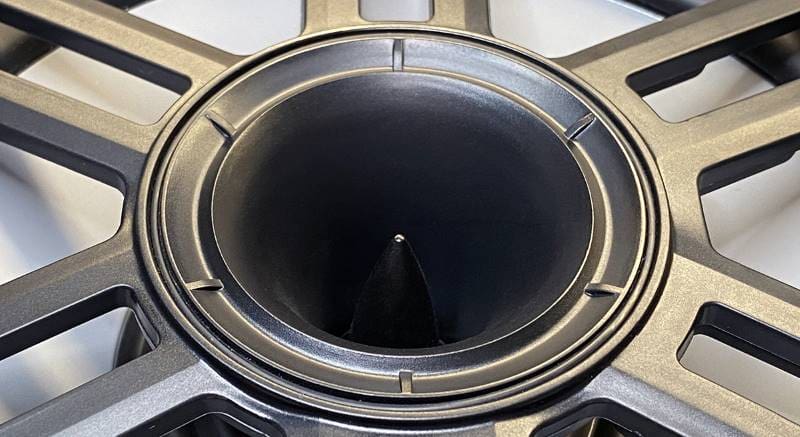 A pair of gold-plated brass spade terminals is integrated into the chassis for conventional wire connections. Rockford Fosgate has also molded a pair of Deutsch DT-Series connector sockets into the basket. The two-terminal Deutsch connector is a second connection to the voice coil. The four-terminal connection is dedicated to the integrated Color Optix RGB LED lighting.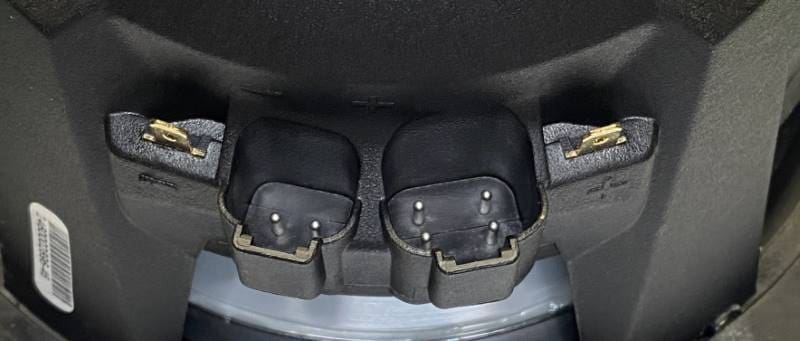 Last and certainly not least, Rockford Fosgate includes 16 corrosion-resistant mounting screws with hex heads for installing these speakers. An appropriate drill bit in the parts bag lets your installer pre-drill the fiberglass or wood for a perfect fit. Finally, they include a pair of hex-head driver bits for the mounting hardware. In all my years, I've never seen a company include two bits. This kind of attention to detail is refreshing when everyone else tries to cut costs by minimizing accessories.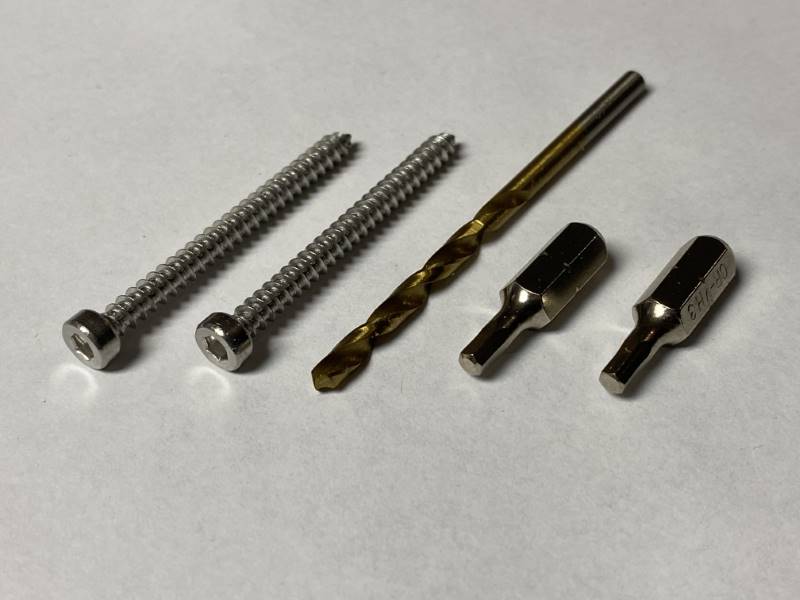 Color Optix RGB Lighting
You know that lighting is a massive part of personalizing your vessel if you are into the boating scene. The Color Optix system integrates RGB LED lights into the speaker's chassis so that they illuminate the woofer cone. A water-resistant RGB LED ring is permanently affixed around the underside of the tweeter, and the lights shine inward onto the woofer cone.
Rockford Fosgate offers an optional RGB LED controller called the PMX-RGB to power and control the lighting. This controller is compatible with both the M1 and M2 speakers and subwoofers that include the Color Optix design. The PMX-RGB can provide enough current to power eight drivers, and all the connections are IPX-7 rated for water resistance. Extension cables are available in 6-, 16- and 25-foot lengths, and a Y-adapter is also available. The controller will work with power supply voltages from 9 through 24 volts DC, making it perfect for almost any automotive, motorcycle, powersports or marine application.

The PMX-RGB works with the RF Connect app that is available for free from both the Google Play app store and Apple App Store. Once the app is installed on your smartphone, you can connect to the PMX-RGB controller using Bluetooth. Unlike most other controllers, the app itself will allow you to create the pairing to the controller. As such, you don't need to pair the connection first, then launch the RF Connect app. Pretty smart!
Once you have selected the PMX-RGB controller, you can pick a color, adjust the intensity or choose from among 30 color scrolling patterns. If the audio system on your boat has more than eight speakers, the app will allow you to control multiple PMX-RGB controllers.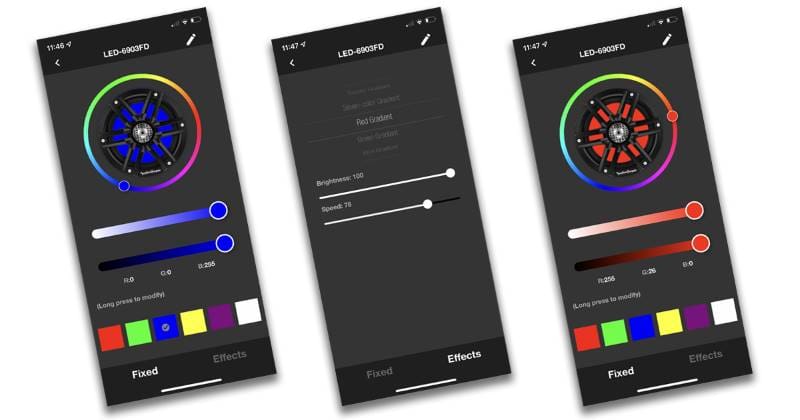 Rockford Fosgate M2-8H Marine Speaker Testing
I'll start with an impedance and phase sweep to characterize the electrical design of the Rockford Fosgate M2-8H speakers.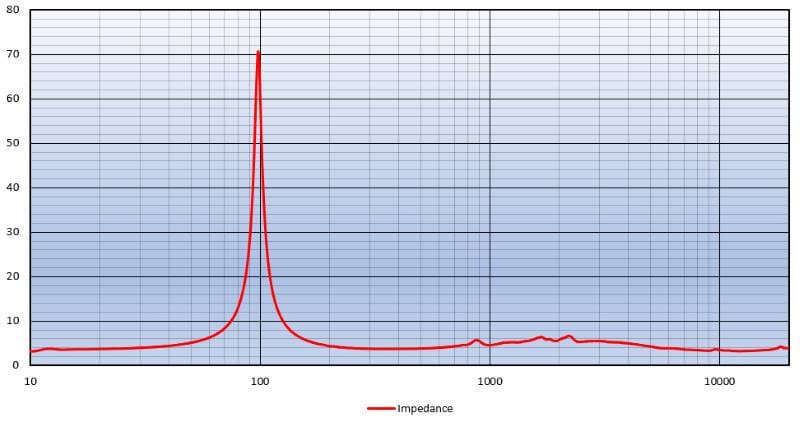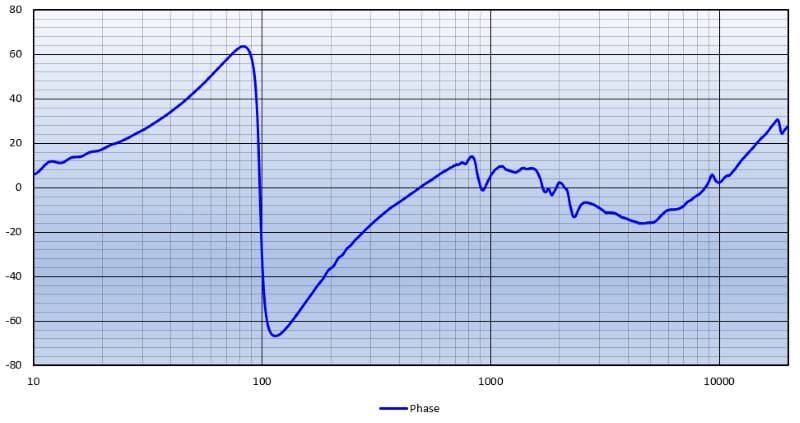 The impedance curve shows a minimum of 3.07 ohms, and aside from the typical spike around the woofer's resonant frequency, the driver presents a load that should be easy for any amplifier to drive.
Now it's time for Thiele/Small parameters. Unfortunately, as the tweeter is wired internally to the crossover and woofer terminals, I couldn't separate it from the electrical connections to measure the inductance of the driver.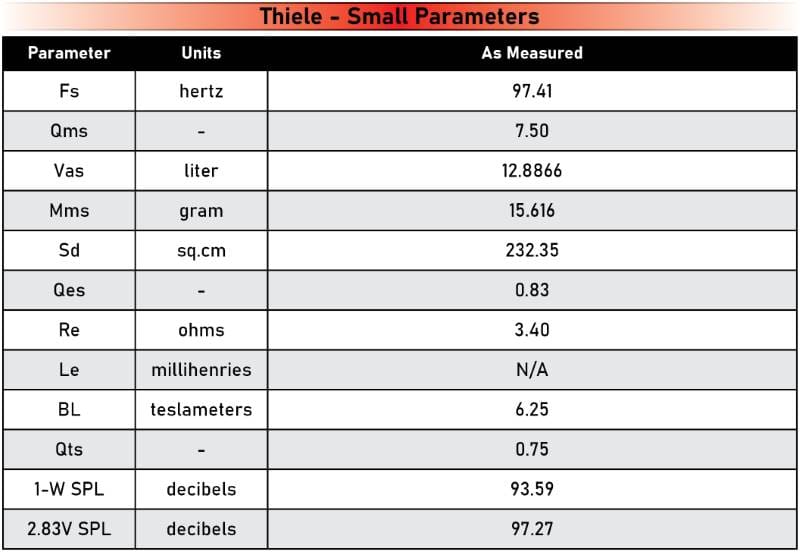 Though the impedance spike at the resonant frequency of 97.41 hertz looks massive on the chart above, the driver Qts came out at a very smooth 0.75. The high resonant frequency tells us this that isn't a woofer, but in fact, a high-efficiency midrange driver like you'd find in a public address or concert sound system. The calculated 2.83-volt efficiency of 97.27 dB further supports this observation.
Next, I made a series of frequency response measurements of the M2-8H. The chart below shows the 2.83-volt output at a distance of 1 meter.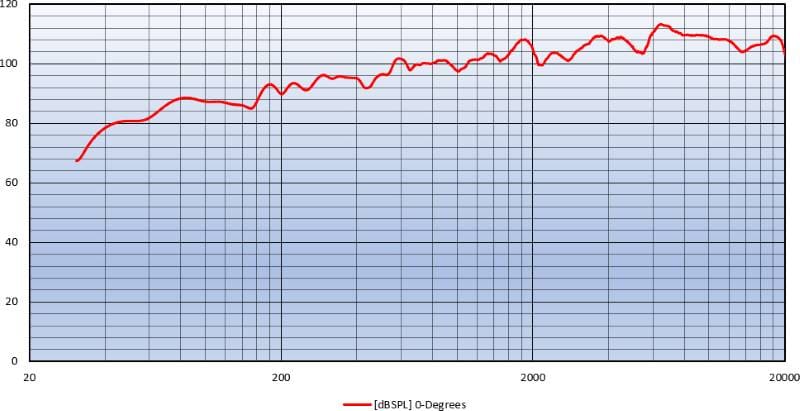 If you had any doubt that these speakers are loud, I'd like to draw your attention to the fact that everything above 90 Hz was reproduced at over 90 dB SPL when driven with 2.83 volts, and above 2 kHz, the output exceeds 100 decibels. It's also worth noting that the high-frequency extension has no trouble hitting 20 kHz.
As this driver is just as likely to be mounted on the front of a storage compartment under a seat as it is on a seat back or smooth part of the inner hull of a boat, characterizing its off-axis performance seemed like a logical next step. I took a series of eight measurements at 12-degree angles to create the chart below.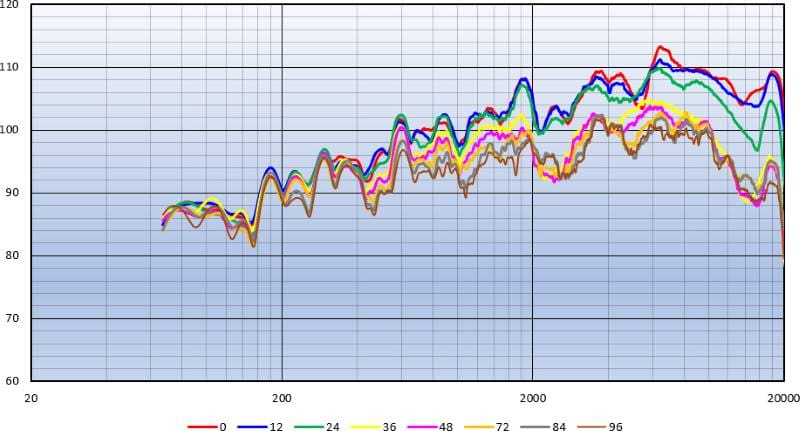 Up to about 36-degrees off-axis with the face of the driver, the sound changes very little. Impressively, the horn tweeter maintains good output to just shy of 20 kHz. From 48 to 96 degrees off-axis, there is a small attenuation in output, but the balance remains smooth to over 6 kHz. If you need a speaker that will sound good anywhere on the boat, Rockford Fosgate has hit a home run with the M2-8H.
Before we get into the listening evaluation, I should quantify the efficiency of these drivers so that you understand just how much output they deliver. The graph below shows a typical 6.5-inch car audio speaker driven with the same 2.83-volt signal and the mic at 1 meter.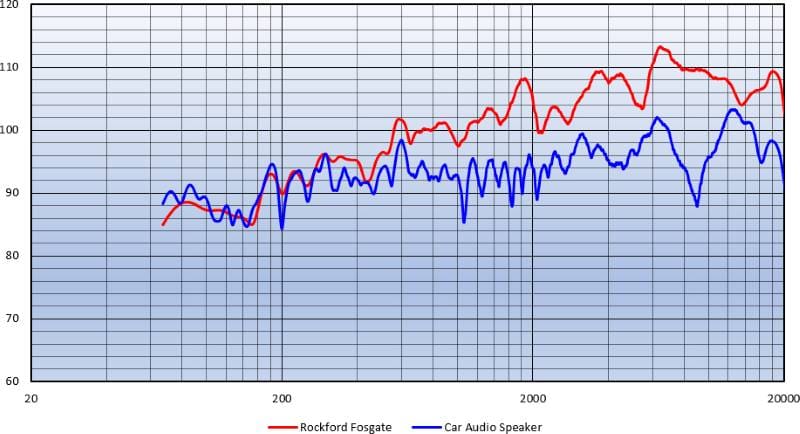 As you can see, above 250 hertz, the Rockford Fosgate speaker continues to get louder and louder. The car audio speaker still has a subtle rising-rate response, but there's easily 8 to 10 decibels more output from the M2-8H above 500 Hz. If you wanted the small car audio speaker to play at this level, you'd need to drive it with six to 10 times as much power. Think about that. The M2-8H only needs 2 watts to produce over 100 dB of output in the midrange, where the conventional car audio speaker would need 12 to 20 watts to reach the same levels. This fantastic efficiency will also reduce the power required from your amplifiers to achieve a given playback level, and consequently, an equivalent reduction in current consumption from the boat's electrical system.
Rockford Fosgate M2-8H Listening Evaluation
Usually when I'm auditioning speakers, I'm listening for minute variances in overall tonal balance that might hint at a distortion issue. While that remains the focus for these speakers, their goal isn't studio-reference performance. Nobody does eyes-closed critical listening in a boat. Being on the water means rocking out with friends and family and having fun. Adding music to the mix is just that – it's an addition, not the focus. Sure, you'll be asked to turn up the volume on a great song, and when that happens, you need a speaker set that can play loudly and clearly. So, let's see if these speakers rock. I set the M2-8H speakers up in my 2.2-cubic-foot test enclosures and connected them to a 300-watt-per-channel amplifier and a CD player.
Up first was "Believer" by Imagine Dragons. It took only a second to realize that although these speakers are large in diameter, they aren't designed to produce lots of bass output. Instead, they focus on projecting the vocals and instruments loudly. I mean, insanely loud. You could run these from a high-power radio, and the system would be impressive. Dan Reynolds' voice was clear and detailed without any of the harshness that's typically associated with PA-style speakers. Maybe bass-heads need to listen to these? Low-frequency information wasn't gone, but it was taking a deliberate back seat to make sure someone at the end of a 65-foot tow rope would be able to hear every word.
Next, I played "Pump It" by Black Eyed Peas. Sure enough, excellent clarity and presentation ensured that I could hear every word. I moved around the listening room, and the overall balance changed very little. Unlike in a car where you control the angle between the speakers and the listeners, boat speaker locations and where passengers sit are as random as the waves.
Next, I didn't play "Face Off" by Tech N9ne featuring Joey Cool, King Iso and Dwayne Johnson. Whew! Dodged a bullet there!
The last track was "Resistor" by Yello off their recently remastered album Pocket Universe. If you've listened to Dieter Meier's vocals, then you know he has a deep voice. The Rockford Fosgate M2-8H speakers start to roll off at about 125-130 hertz on the bottom end. As such, Dieter's voice didn't have that radio DJ sound that I've come to expect. Nevertheless, it was still clear, detailed and loud. This isn't a failing but a perfect example of the trade-off between output efficiency and low-frequency extension.
Rockford Fosgate M2-8H Marine Speakers
Some 8-inch coaxial speakers are better than their smaller options because they produce more bass and reduce the need for a subwoofer in a marine audio system. In the case of the Rockford Fosgate M2-8H, that extra cone area exists to improve the speaker's efficiency. I measured sound pressure levels well over 100 decibels with a single driver and only a few watts of power. Crank these up with 75 or 100 watts of power, and you will quickly be the center of attention on the lake or river. Add a couple of the matching 12-inch M2-series subwoofers, and now you've covered the entire audio frequency range. From the technical side of things, we'd suggest setting the crossover around 125 Hz between the M2-8H and whatever subs you've chosen. You don't NEED the subs; they make things better.
The tonal balance of these drivers is clearly intended for marine and powersports applications. Having the high-frequency energy required to drown out wind and water noise is essential to hearing your music when out having fun on the water. The M2-8H delivered outstanding clarity and jaw-dropping output levels. I loved that they weren't harsh or aggressive, even with their decidedly upward-tilted response curve.
If you want to be the loudest boat on the lake, drop by your local authorized Rockford Fosgate retailer and ask about the M2-8H 8-inch horn-loaded marine speakers. For more information on these or any of the superb products from Rockford Fosgate, visit their website. Be sure to keep up with their latest projects by following them on Facebook, Instagram and YouTube.