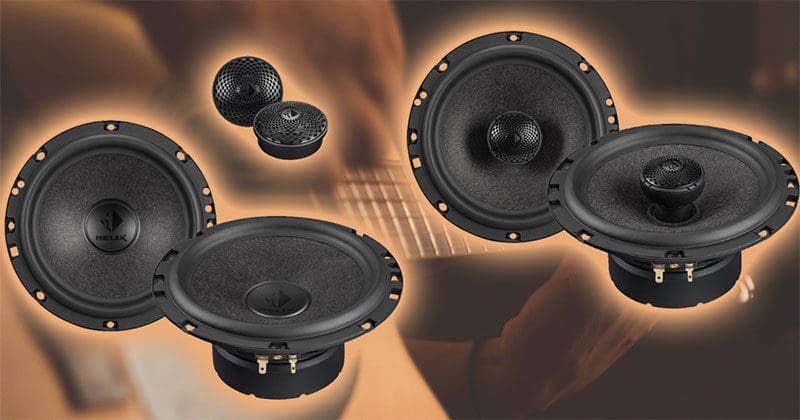 Helix, the high-performance car audio brand from Audiotec Fischer, recently introduced eight new speaker sets as its S-Series solutions. The speaker offerings cover the popular 6.5-inch and 4-inch applications in both component and coaxial solutions. Helix also offers the 6.5-inch woofers, 4-inch midrange drivers and the tweeters from the component sets, along with a set of 3-inch midrange drivers in individual pairs for use with actively filtered installations.
Helix S-Series Component Speaker Sets
The S-Series starts with the Helix S 62C.2 6.5-inch component speaker set and the S 42C 4-inch set. Both solutions include a pair of the 1-inch S 1T tweeters. These high-frequency drivers use a silk dome diaphragm paired with a compact neodymium magnet in an aluminum housing. The tweeters can be flush-mounted using the included cups, mounting hardware and grilles, or integrated into an original-equipment tweeter location when installed on their own.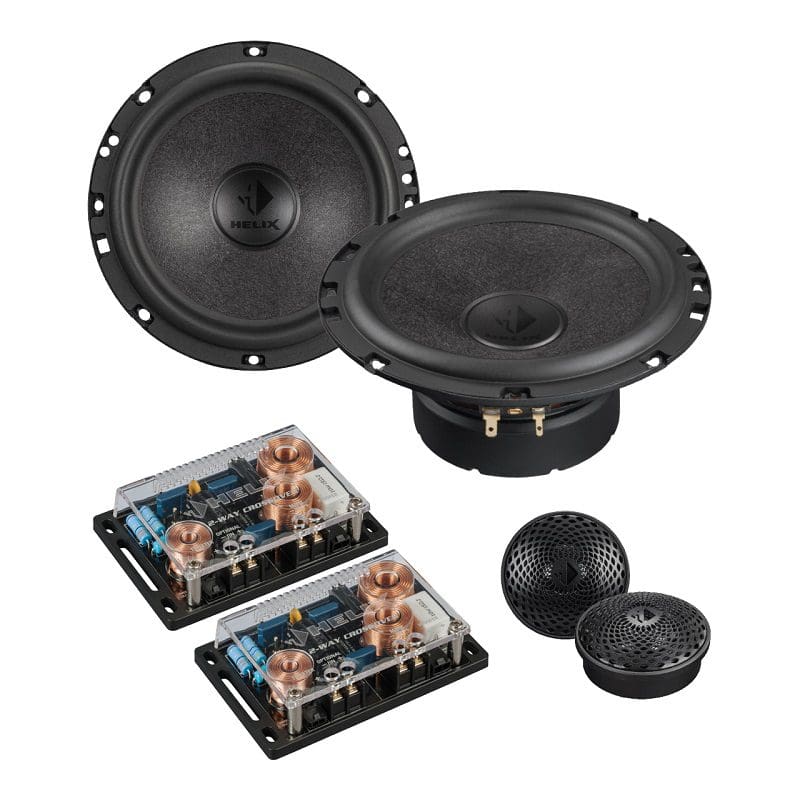 The S 62C set includes a pair of the S 6B 6.5-inch woofers. The cones feature a combination of synthetic and natural fiber paper that has been augmented with a mineral called basalt to improve thermal stability and damping. Each cone is located in the center of the stamped steel basket with a narrower-than-typical synthetic rubber surround. This compact surround increases the effective cone area and efficiency of the driver.
Helix has incorporated voice coil cooling vents into the pole piece and under the spider mounting plateau in the basket to help channel heat away from the 25 mm voice coil former. The baskets include no fewer than 14 mounting hole locations to make it easy for your retailer to integrate these drivers into a factory speaker location in your vehicle.
The S 42C set includes a pair of the S 4B mid-woofers that use the same basalt-fiber-paper cone and surround materials. Both the S 6B and S 4B use an inverted polypropylene dust cap. The stamped-steel basket design has four mounting tabs on a circular frame. Your installer can remove any number of these tabs by bending them back and forth with pliers, as might be required in an installation that only has two mounting points. These mid-woofers are rated for 70 watts of power, have a Qts of 0.88 and a maximum linear excursion spec of 3 mm in each direction. Their mounting depth is 1.83 inches.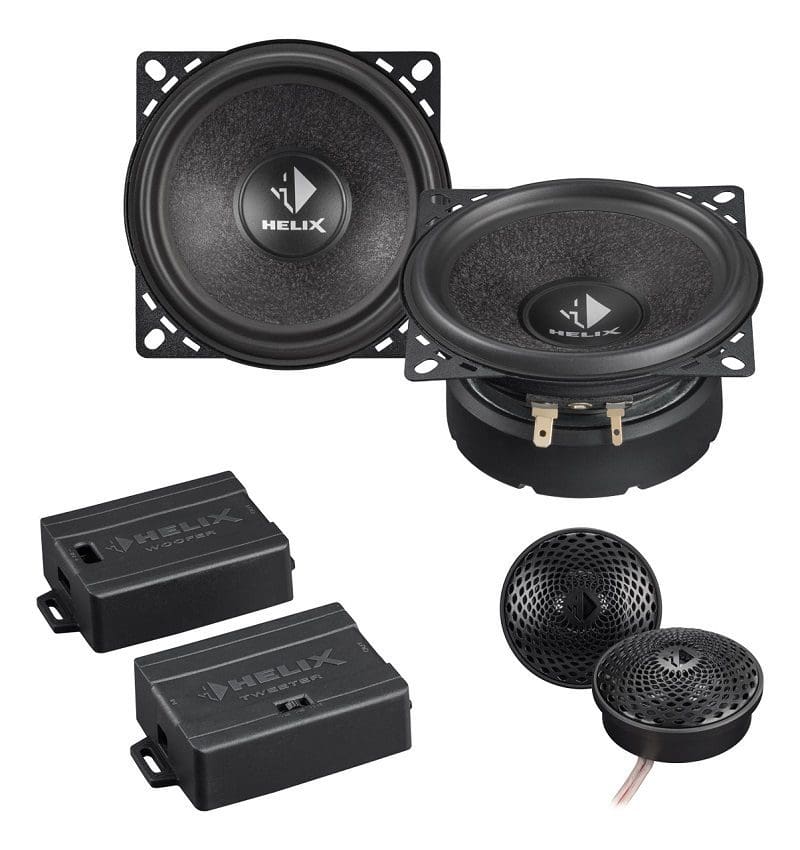 Available only on their own and not as part of a component set, the S 3M 3-inch midrange drivers once again use the same cone material and surround as the rest of their S-Series brethren. Each S 3M driver's basket is an injection-molded glass-fiber reinforced plastic design that houses a compact neodymium magnet motor assembly. Audiotec Fischer provides several enclosure options and suggested crossover points in the owner's manual. The lowest crossover point is suggested as 400 Hz with a fourth-order active filter. The drivers have a mounting depth of 1.46 inches, an Xmax spec of plus or minus 2 mm and a power handling rating of 75 watts based on the suggested minimum crossover point. The Helix S 3M speaker set includes a pair of protective grilles.
The S 62C.2 and S 42C component systems include passive crossover networks. The S 62C.2 includes the new Flex Crossover that allows for easy installation without the supplied housing. The high- and low-pass circuit boards can be separated to make it easier for your installer to conceal them in your vehicle. The crossovers use air-wound inductors and film-type capacitors. The tweeter network has a switch for -2, 0 and +2 dB output levels to help calibrate the system's high-frequency content.
Helix S-Series Coaxial Speaker Solutions
Rounding out the S-Series are two coaxial speaker sets. Both sets use the same woofer, motor and basket designs as their component-speaker brethren. They feature a silk-dome tweeter mounted on a post in the center of the driver. The S 6X uses a 25 mm tweeter, while the S 4X uses a smaller 19 mm design. Both solutions include external two-way passive crossover networks with filtering for the woofer and the tweeter. The crossover design is unique to each driver with the S 6X set using a first-order low-pass filter on the woofer and a second-order filter on the tweeter. The S 4X uses first-order filters on both transducers. Electrical connections to the integrated tweeters are made via a second set of terminal tabs on the opposite side of the basket as those for the woofers. The S 6X and S 4X are rated to handle 80 and 60 watts, respectively.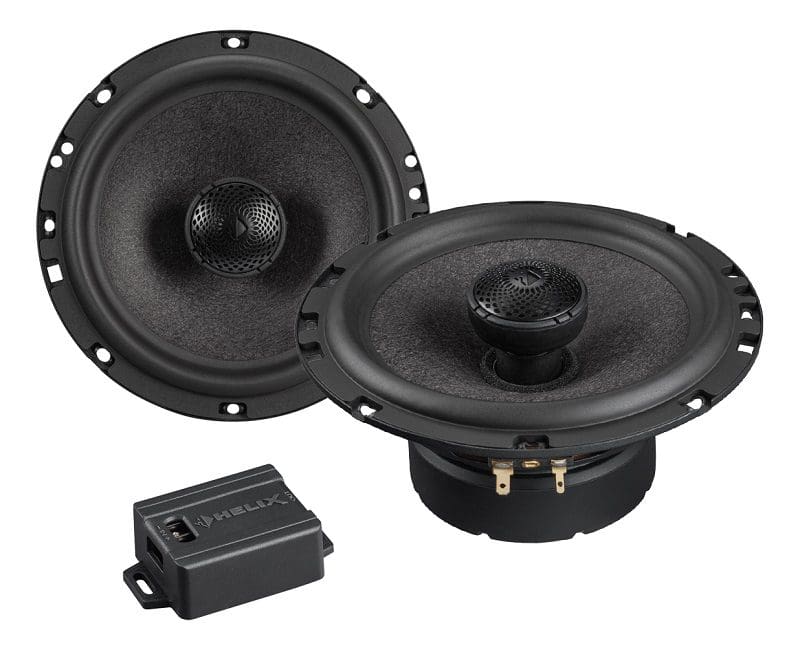 Upgrade Your Mobile Audio Experience with Helix S-Series Speakers
If you're shopping for new speakers for your car or truck, drop by your local authorized Helix retailer and ask for a demonstration of the new S-Series speakers. Whether you're after a drop-in component set upgrade or plan to have a bespoke three-way front stage solution created, S-Series drivers are an option that offers great value. For more information about Helix speakers, visit the Audiotec Fischer website, their Facebook page or YouTube channel. To find an authorized retailer in North America, visit the MSC Dealer Locator.