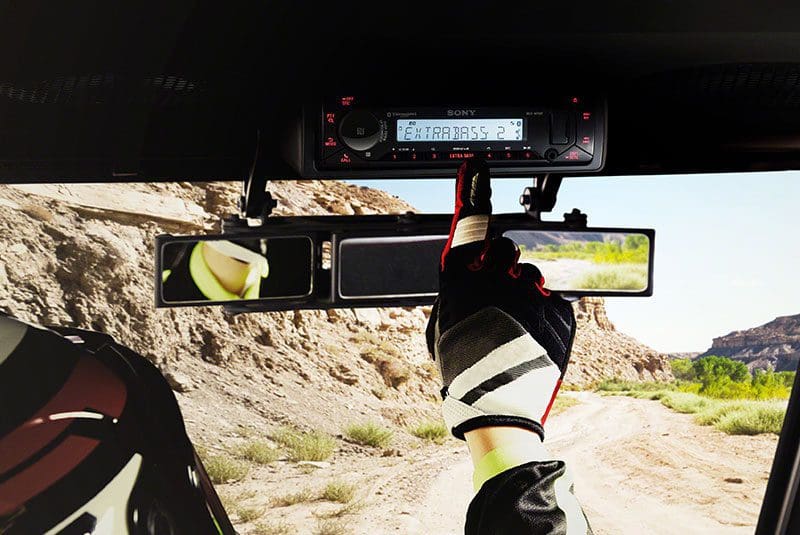 If you are looking for a marine radio to upgrade the stereo system in your boat, side-by-side or motorcycle, drop by your local car stereo shop and check out the Sony MEX-M72BT CD receiver with Bluetooth. Designed with an easy-to-use interface, this single-DIN radio has all the source and control options you need to make your time on the water or the trails a lot more fun and entertaining.
The Heart of Your Marine Entertainment System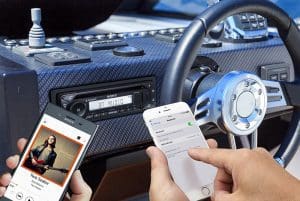 The MEX-M72BT features a high-quality AM/FM tuner that includes RDS/PTY information display, and your installer can add the optional SXV300V1 module so you can enjoy SiriusXM satellite radio. It's easy to play music or stream entertainment from your iPhone or an Android smartphone using the front-panel USB port or the wireless Bluetooth connection. The dual Bluetooth feature allows you to pair two devices simultaneously and assign one to music playback while the other can make and receive phone calls. Near Field Communication (NFC) is provided to make Android phone pairing quick and easy.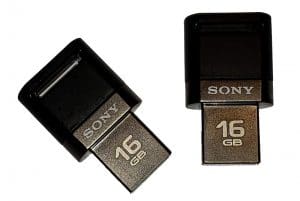 The radio is both Android Open Accessory (AOA) 2.0 and Made for Apple-compliant to ensure reliable operation. You can use Siri Eyes Free or Android Voice Recognition using the included hands-free microphone to select music, make phone calls or send text messages using your smartphone while keeping your eyes on the road.
The system is compatible with MP3, WMA, AAC and FLAC digital audio files stored on a USB memory stick, or you can connect a portable audio player or laptop using the 1/8-inch jack on the front panel. The USB port provides up to 1 amp of current to charge your smartphone while connected.
Marine-Specific Radio Features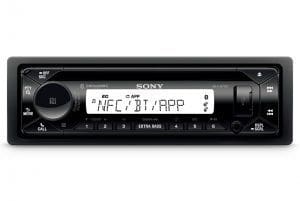 The 12-character reverse-LCD screen is easy to see in bright sunlight, and the button backlighting can be configured to any of 35,000 colors to match your dash, vehicle color scheme or your mood. While the radio isn't waterproof, the main circuit board does feature a conformal coating that helps keep moisture in the air from damaging any of the components.
The radio is designed with an ultraviolet radiation-resistant coating that meets the requirements of the ASTM G154 UV testing standard. This coating helps to ensure that the face of the radio won't fade, turn chalky or oxidize when exposed to sunlight for long periods.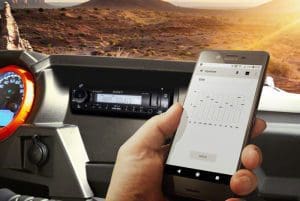 The MEX-M72BT has a remote-control input on the rear of the radio that allows it to work with compatible aftermarket marine remote controls. Your installer can also connect an aftermarket interface like the Maestro SW, PAC SWI-CP2 or AXXESS ASWC-1 to allow the radio buttons on your steering wheel or handlebars to work with the new radio. Sony includes an RM-X232 hand-held infrared (IR) remote with the radio.
While we're on the subject of remote controls, the MEX-M72BT is compatible with the Sony | Music Center app. This app allows your installer to hide the radio out of sight, and you can use your smartphone or tablet to control all of the primary functions.
Sony MEX-M72BT Audio Features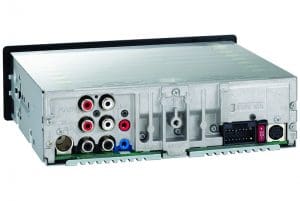 The Sony MEX-M72BT includes a four-channel amplifier rated for 20 watts RMS per channel. Front, rear and subwoofer preamp outputs will produce up to 2 volts of signal to feed external amplifiers, and your installer has the option of configuring high- and low-pass crossovers at 80, 100 or 120 Hz to optimize the performance of your sound system. A subwoofer output level control is provided to let you fine-tune your system on the fly. Speaking of system tuning, the M72BT includes a 10-band graphic equalizer with nine presets and the option to let you create your own EQ curve.
A nice touch that's not common to many radios is an input level control menu for the auxiliary input and Bluetooth sources. These adjustments let you fine-tune each input to match the radio and USB source levels for seamless operation across all functions.
Have More Fun This Summer With the MEX-M72BT
If it's time to upgrade the entertainment system in your favorite ride in the great outdoors, drop by your local authorized Sony Mobile retailer and ask for a demonstration of the MEX-M72BT. We are sure you will be impressed!