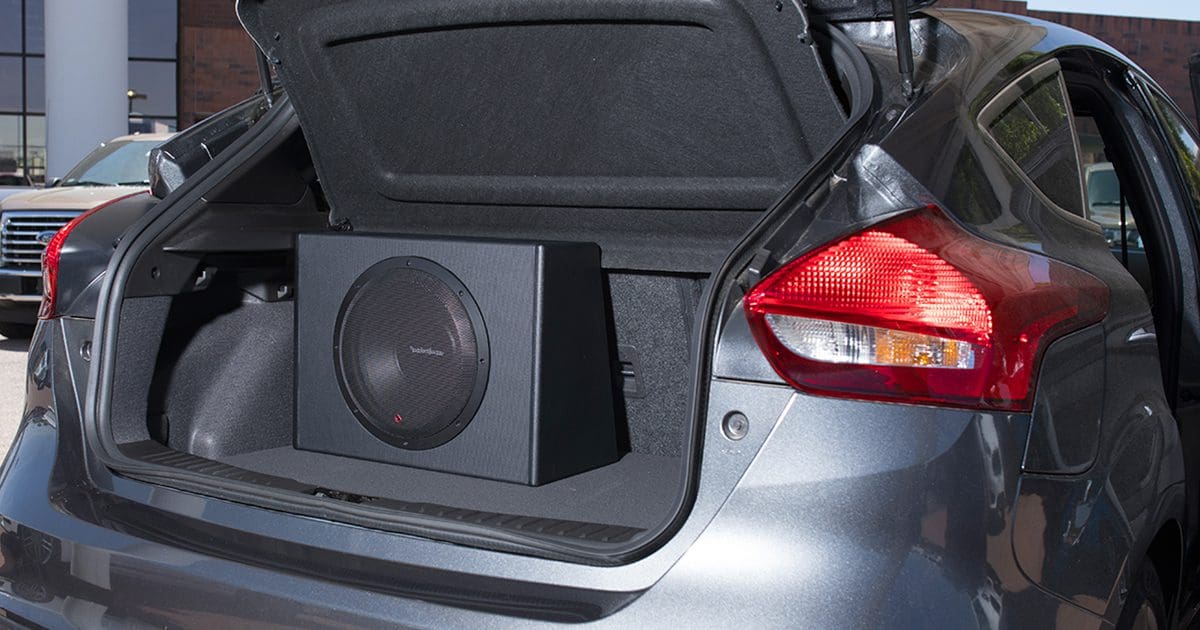 Though factory-installed audio systems have greatly improved over the last few decades, they can't hold a candle to even a modest aftermarket car stereo system unless you've got a premium vehicle. This statement is especially true in terms of subwoofers and bass performance. Most factory-installed subwoofer systems are better described as woofers. It's rare that they play loud and low enough to truly qualify as subwoofers. Though, there's an even better reason to upgrade your factory-installed audio system. Curious? Keep reading!
Speakers, Excursion and Sound Quality
Let's start with a few undeniable facts about every moving coil speaker. First, at low frequencies, cone excursion quadruples for every halving of frequency. Second, increases in cone excursion increases distortion from a speaker. Third, cone excursion increases by 50% each time you double the power. This applies to subwoofers, woofers and midrange speakers, though the distortion consideration is also true for tweeters.
A 10-inch subwoofer playing a 60 Hz test tone at 90 dB SPL might require about 5 watts of power. Assuming the output of the subwoofer system is linear (though it usually isn't), it would take 10 watts of power to produce 93 dB SPL and 20 watts to produce 96 dB SPL. So if we want the driver to play 30 hertz at 90 dB SPL output level, it needs 20 watts of power. Of course, feeding the subwoofer with 20 watts of power will result in double the cone excursion from the 5-watt level.
When we talk about distortion, we refer to adding unwanted audio information to the output signal that wasn't in the source signal. Non-linearities in a device or system typically cause distortion. Depending on the design of a speaker or subwoofer, it might add second or third-order harmonics to the output because the suspension compliance isn't even in both directions or because the motor force or inductance isn't the same as the cone moves forward and rearward. These anomalies are common to all speakers – even the expensive ones.
Small Speakers and Bass Frequencies
I've spent significant time analyzing speakers and their distortion characteristics over the past few months. My testing measures the fundamental, second-order and third-order harmonic output of various drivers and power levels. If you're curious, you can see what I learned about a Honda factory speaker and a low-quality aftermarket speaker. In all cases, the amount of distortion added to the output of the speaker increased most at low frequencies and higher output levels.
Let's look at the data from the MTX Blue Thunder woofer I tested. This would have been considered a good speaker 25 to 30 years ago. I spent some time modifying my data analysis spreadsheet to combine measurements from different drive levels. The graph below shows the fundamental output and the sum of the second- and third-order distortion measurements at nine power levels. The power ranges from 0.1 watt to just over 126 watts. The fundamental measurements are the upper traces, and the harmonic distortion are the lower traces of the same color. The measurements were all taken at 12.5 centimeters from the driver mounting surface. So, to calculate the 1-meter numbers, subtract 18 dB from the scale on the left.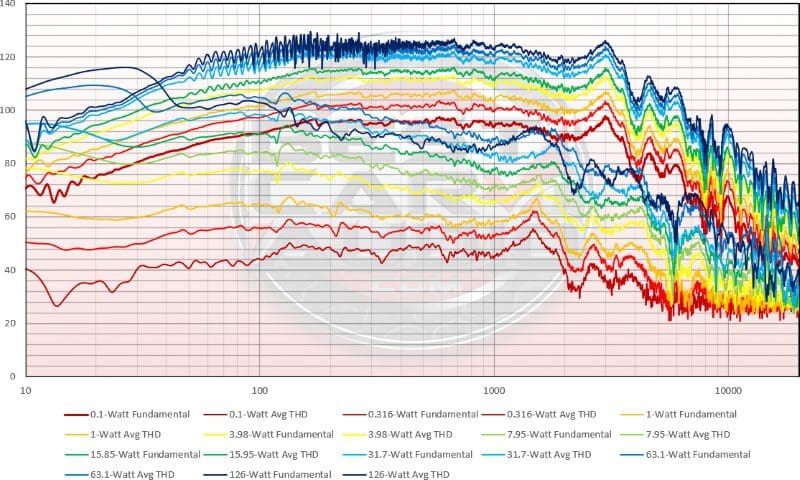 The critical takeaway from this information is that the level of distortion is louder with increased output and at lower frequencies.
Being a glutton for punishment, I further processed the data to show THD as a percentage of the fundamental output.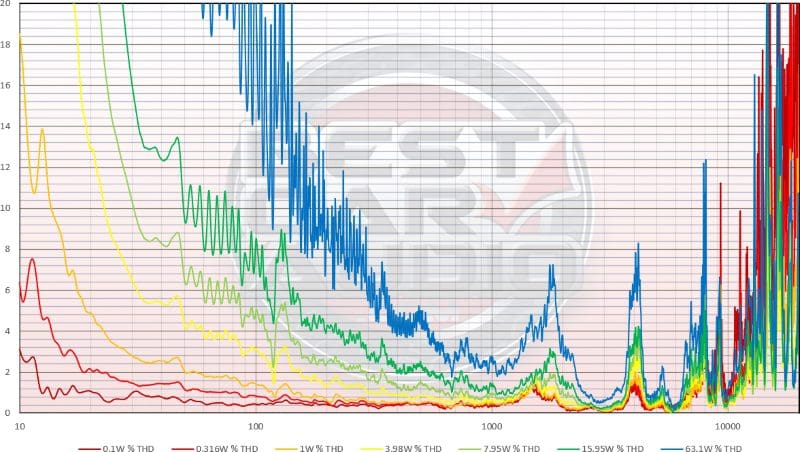 This format is likely more understandable and intuitive. Look at the burgundy trace representing 0.1 watt of power supplied to the speaker. From 20 hertz to just under 1 kHz, the total harmonic distortion is under 1%. Bumping the power to 0.316 watt for the red trace shows that distortion reaches 2% at just above 20 Hz on the bottom end. The orange trace shows that with a mere 1 watt of power, distortion exceeds 2% at around 55 Hz. With about 4 watts of power, distortion is over 2% at most frequencies below 150 Hz. Four watts isn't very much power. Things keep getting worse as the power level increases.
I must reiterate that this wasn't a low-quality woofer for its time.
If we used this speaker without a subwoofer, bass frequencies wouldn't sound great at output levels much over a watt.
Are you seeing a pattern yet?
Add a Subwoofer to Improve Clarity
If we add a dedicated subwoofer and amplifier to this audio system, the woofer would no longer have to produce significant output below 80 Hz. Even with a modest 10-inch subwoofer, we have significantly more surface area to make sound. Subwoofers are also designed so the cone has more excursion capability than a 6.5-inch woofer. These considerations reduce the amount of distortion added by the subwoofer. I've just had an idea – I suppose it's time to start testing subwoofer distortion characteristics. I'll have to ponder a repeatable procedure.
Even if you didn't want the bass below 80 Hz to be significantly louder than what would be produced by a small speaker, the sound quality would be improved dramatically. With that said, subwoofers offer much better low-frequency output. The graph below shows the predicted low-frequency response of the MTX woofer compared to that of an audiophile-grade 10-inch subwoofer in a 1- cubic-foot vented enclosure, both fed with 1 watt of power.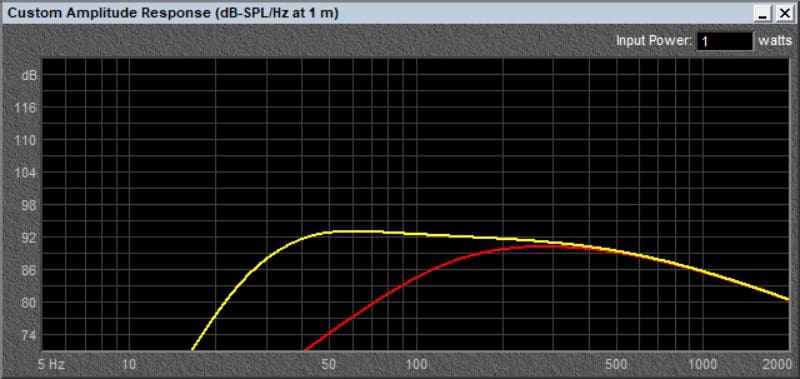 The MTX woofer has a -3 dB frequency of 120 Hz, whereas the subwoofer is at -3 dB at 30 Hz. This extension will let you hear low-frequency information that the small speaker can't reproduce. Even with the system equalized to deliver flat response down to 30 Hz, having a subwoofer will reduce the work the small door and dash speakers in your car, SUV or truck must do. The result is that the audio system will be much clearer and can play louder. If you have a radio that includes a high-pass filter for the built-in front and rear channel amplifier, this can be enough to make an audio system sound quite acceptable when a subwoofer is added.
Drop by a local specialty mobile enhancement retailer today and ask about the options to add a subwoofer system to your factory car stereo. The difference in sound quality will blow your mind.