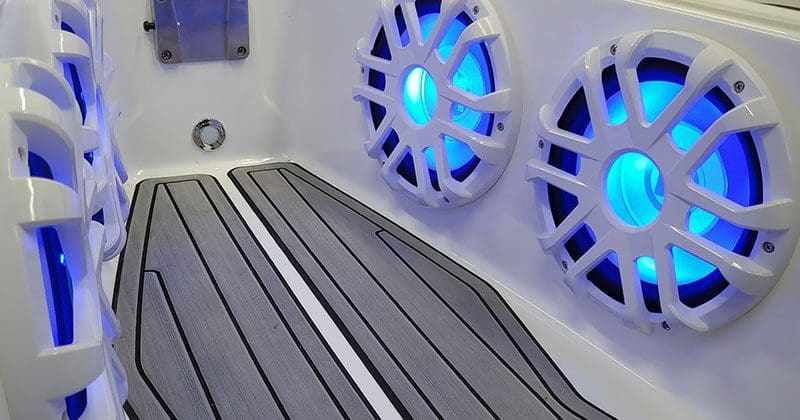 If you've looked at a new boat recently, then you know that lighting has become an integral part of marine design. Aside from the standard red and green navigation lights and a white stern light, custom lighting solutions are a huge industry, and they can make your boat look amazing! Let's look at some of the options available to make your boat stand out when the sun sets.
Required Boat Lighting
Depending on the size of your boat, there are strict rules about navigation lights, stern lights, all-around lights and, on sailboats, masthead lights if you're going to operate the vessel after sunset or before sunrise. Larger boats require additional side lights, and fishing boats need a red all-around light above a white light. The guidelines also specify that these lights need to be bright enough to be seen for at least 1 mile on small boats and 2 miles on larger craft.
Modern LED lighting can ensure that your boat is visible to other boaters. Your local mobile enhancement retailer can retrofit high-efficiency light upgrades and resolve any wiring and control issues that might be present in an older system. Likewise, LED interior lighting for the nav station, berth, cockpit, galley or head can further reduce power consumption in a cruiser or sailboat, so you don't have to worry about batteries dying.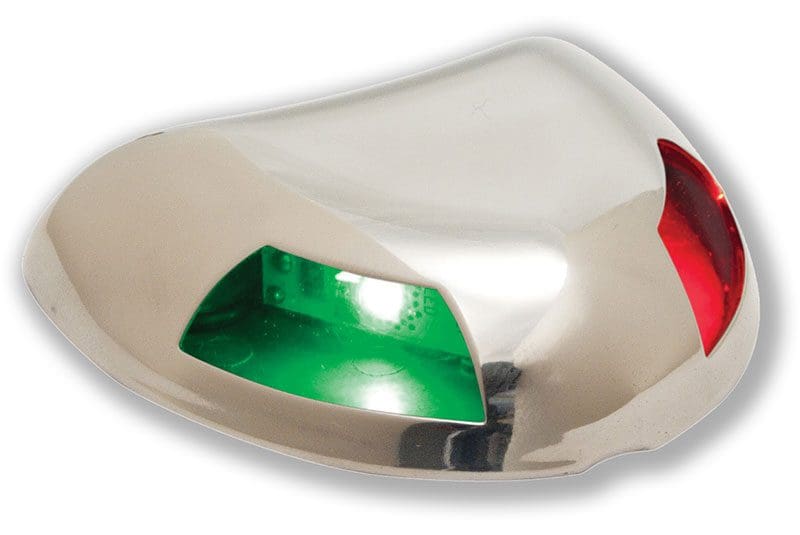 Interior Marine Lighting Options
If you're going to be out after dark, then it's essential to have lighting inside your boat so you can see objects and steps. Even if you have a small fishing boat or a little bowrider, proper illumination ensures safety. On the flip side, unique lighting installations can also add some style to your boat. RGB LED lighting under the seats, at the helm or along walkways can deliver almost any color under the rainbow.
Multicolored lighting systems use either a hand-held radio-frequency (RF) remote or work with an app on your Android or Apple smartphone using a Bluetooth connection. You can choose from millions of color combinations of the red, green and blue LEDs to create almost any color you want. Many systems include options to switch between two or three colors, or gradually flow through the entire color spectrum for a subtle change and ambiance.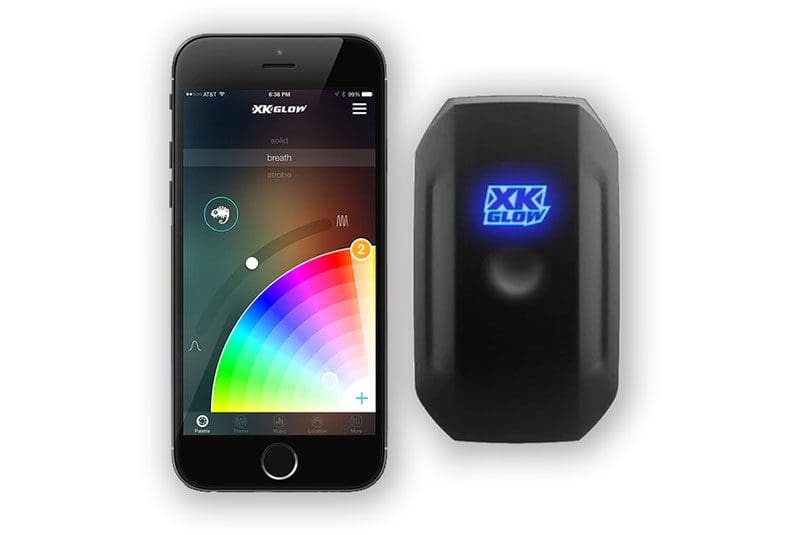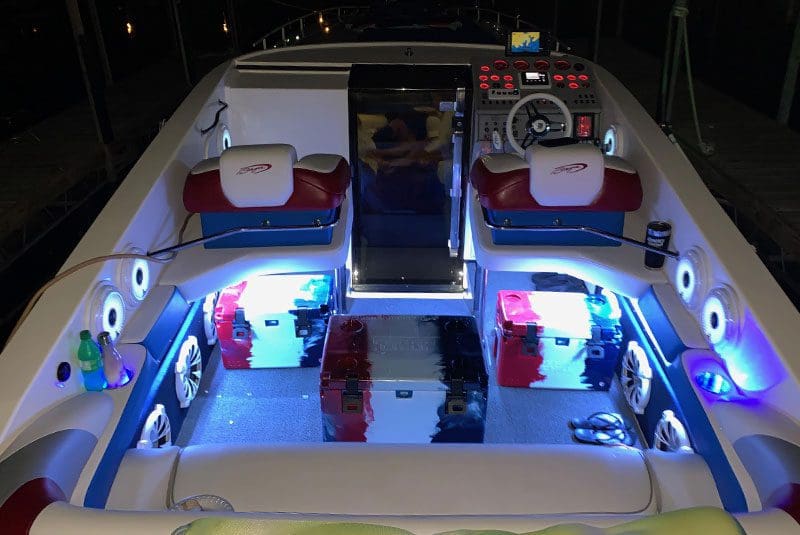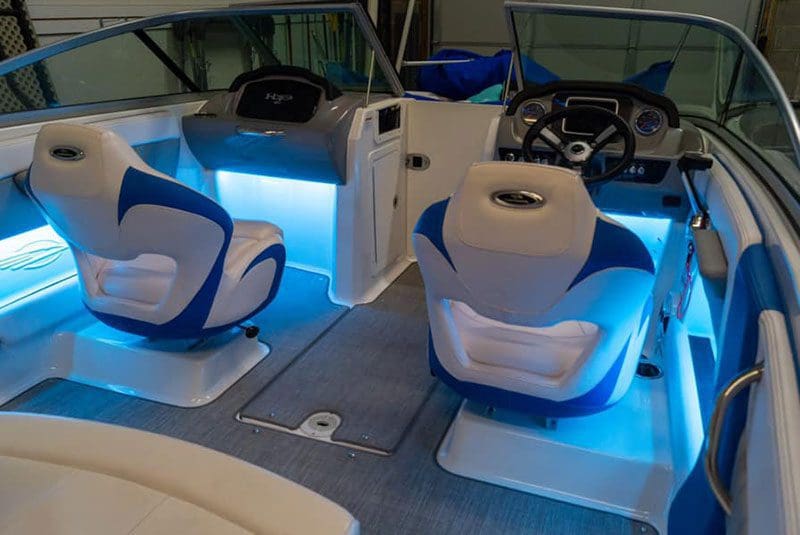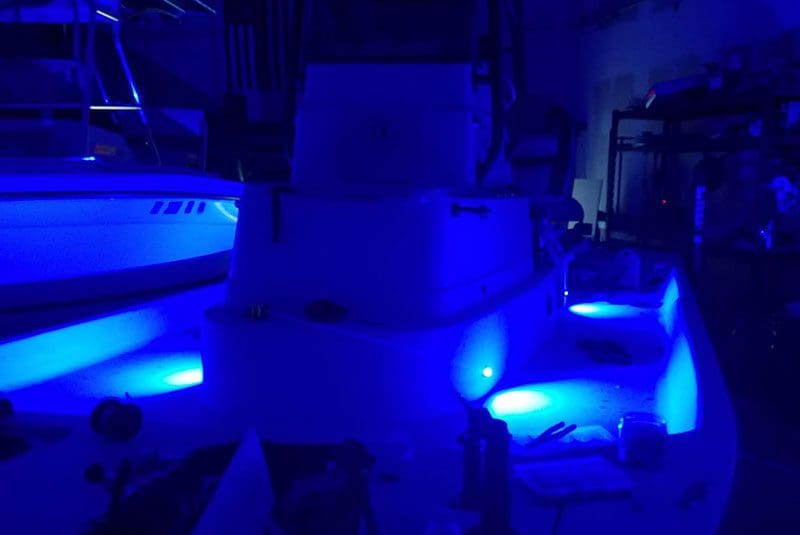 Underwater Lights
Another popular option for adding some style to your boat are underwater lights. These light pods are designed to be installed on or in the hull of your boat, beneath the waterline. In most instances, you'll see them mounted on the stern to light up the swimming area at night. Of course, installing anything that will operate underwater means you'll want to select only the highest-quality lighting solutions. We asked some industry friends about what they use. The names Shadow-Caster, OceanLED and Lumitec come highly recommended. These lights feature one-piece bronze housings and scratch-resistant glass lenses.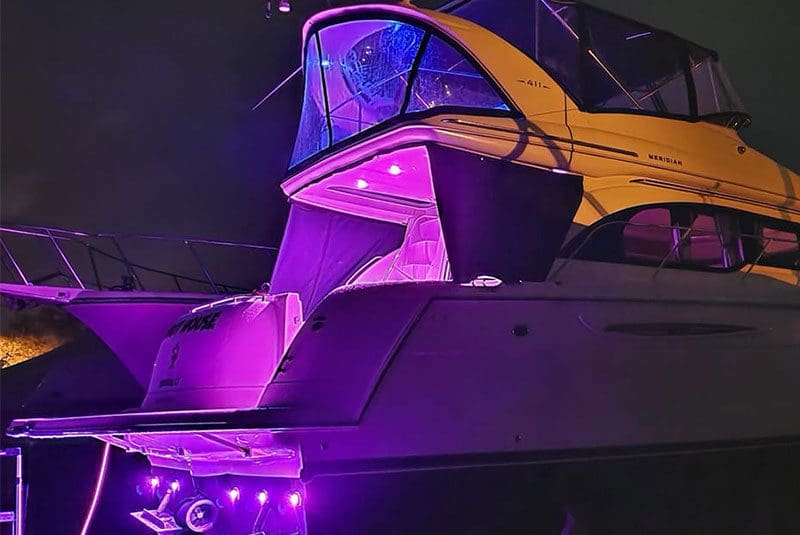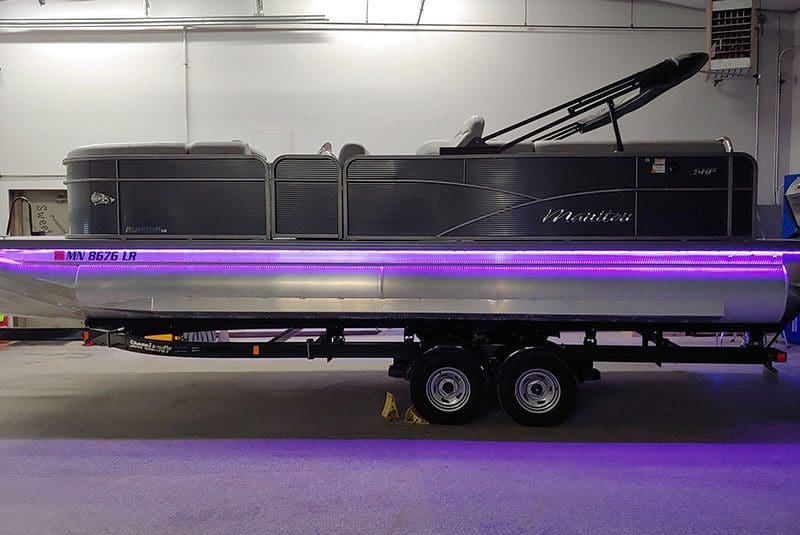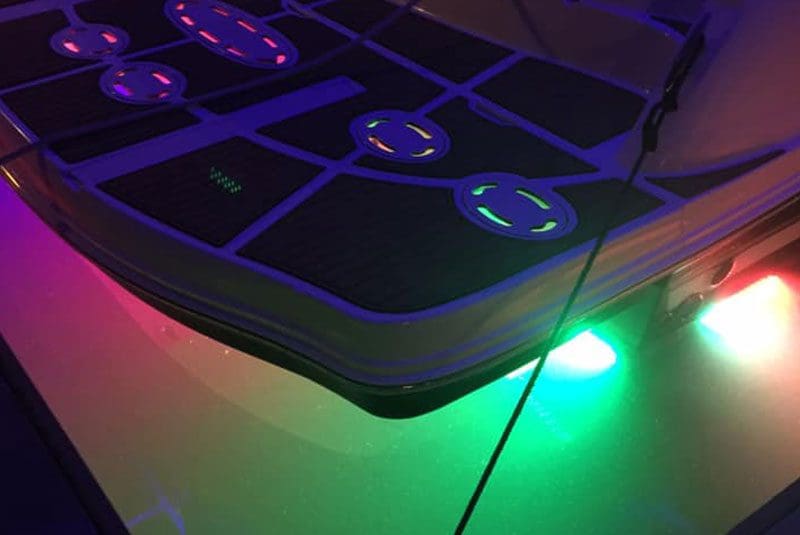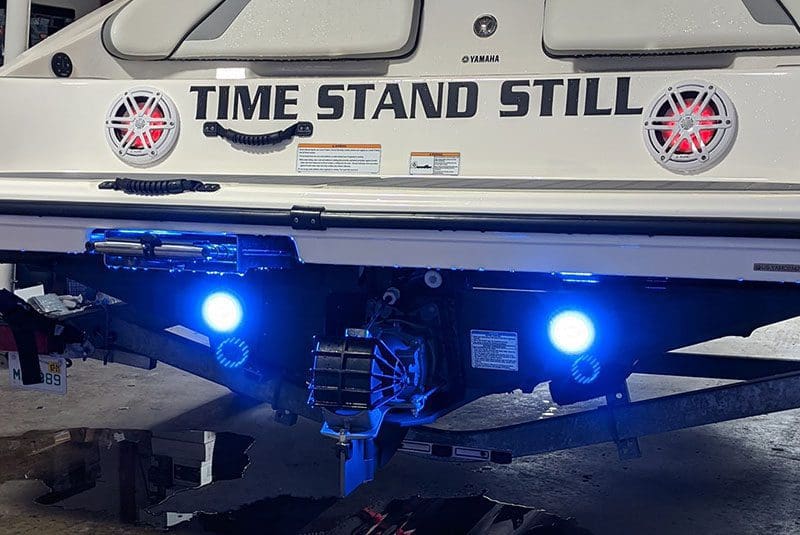 Audio System Light Upgrades
If you're upgrading the audio system on your boat, several companies offer marine-specific speakers, subwoofers and wakeboard tower speakers that feature integrated lighting. You may also want to combine the speaker lighting with lighting around the amplifiers.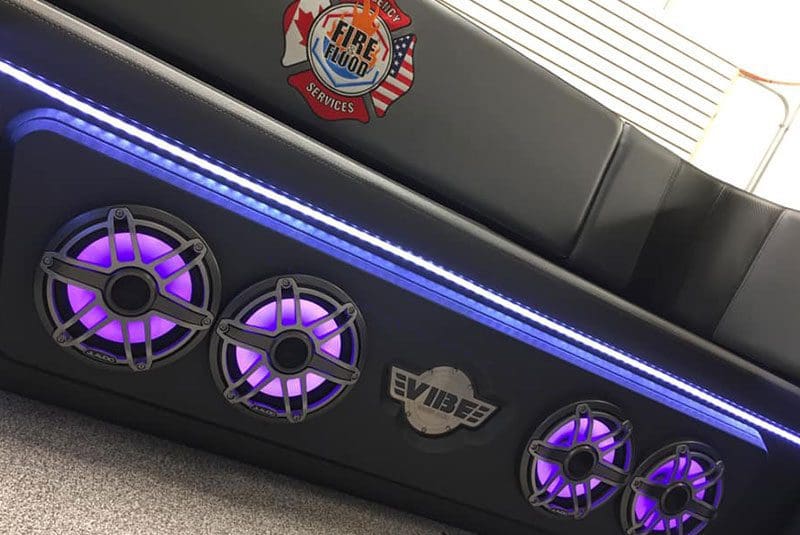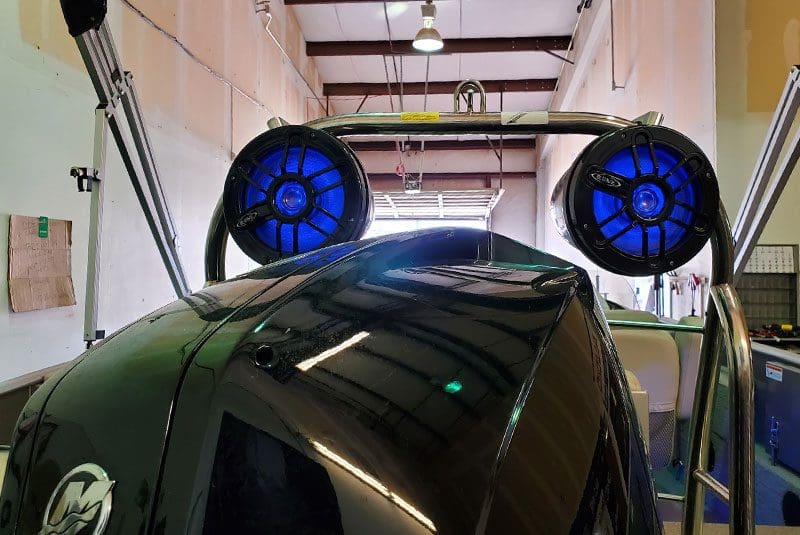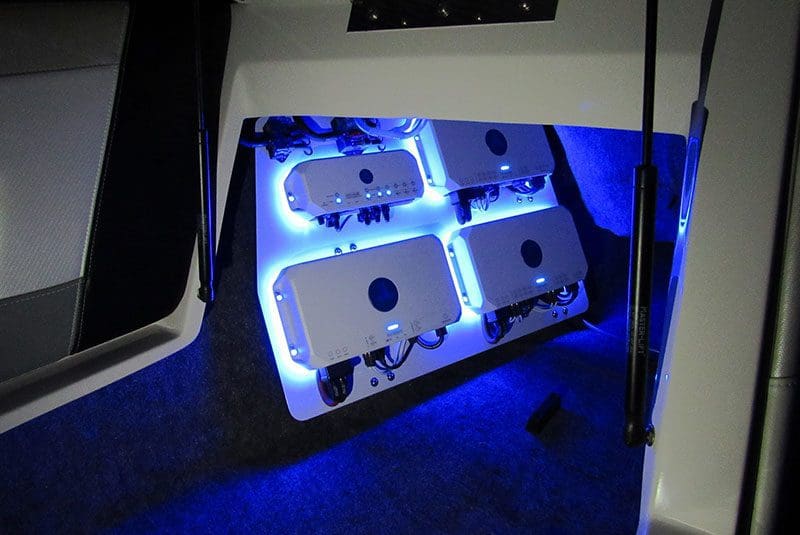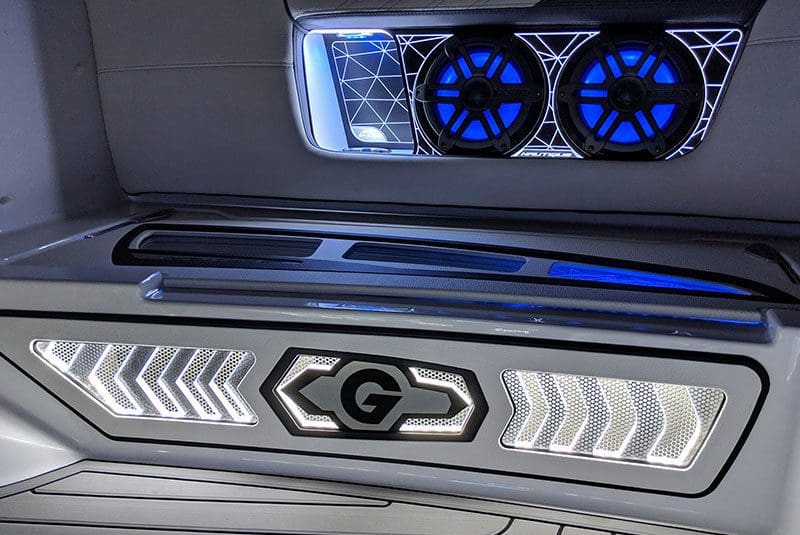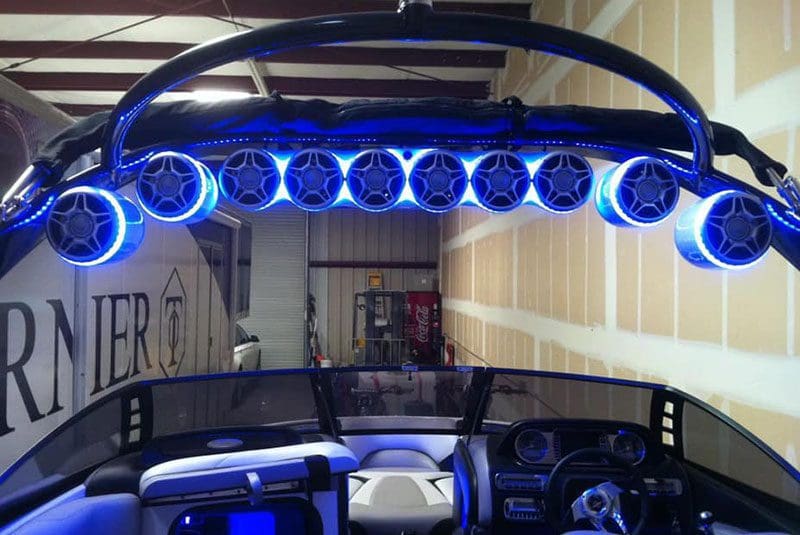 The Importance of Proper Installation
While the excitement of adding unique lighting to your boat may make you forget, we want to remind you that proper installation practices are essential to the safety of your boat. When it comes to wiring, the American Boat and Yacht Council has strict guidelines that need to be followed. Make sure your installer is using ignition-protected circuit breakers, fuse holders and battery switches. Likewise, you will want to see examples of their marine wiring practices to ensure that your boat will be safe and the upgrades they install are reliable. As with all mobile enhancement upgrades, you should be shopping for the best craftsmanship and quality, not the lowest price.
Make Your Boat Look Amazing with Custom Lighting Upgrades
If you want to add safety, efficiency or style to your boat, contact one of your local specialty mobile enhancement retailers today. If you can, take your boat to their shop so they can see what you have in mind. If your boat is too big, get as many photographs as possible. Several dozen pictures aren't too many to make sure they understand the scope of your upgrade project. Adding lights to your boat is a great upgrade that can make your time on the water after dark a lot more fun! If you'd like to learn about additional options to upgrade the entertainment system on your boat, check out our Marine Audio Upgrades article.