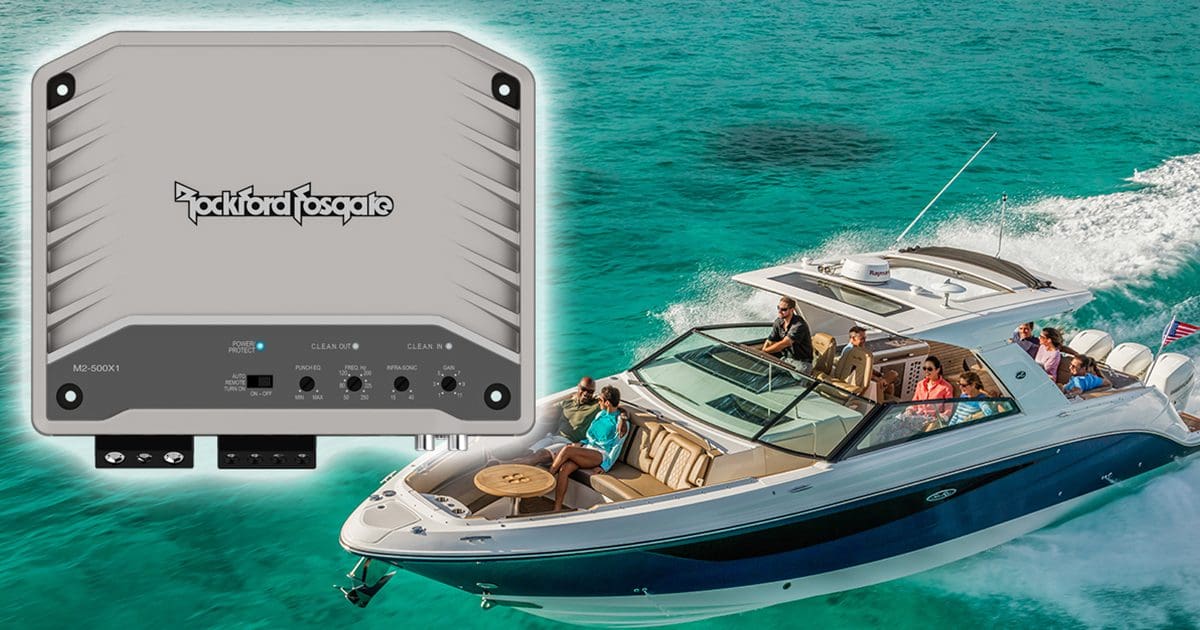 When it comes to marine entertainment systems, Rockford Fosgate speakers, subwoofers and amplifiers are among the best in the industry. If you're searching for an amplifier to power the subwoofer system on your boat, the new M2-500X1 is a great choice. This 500-watt is efficient, includes all the features you could want and sounds great! Let's check it out.
Features of the Rockford Fosgate M2-500X1
The M2 Series of amplifiers is based on the Prime Series of car audio amplifiers. The amplifiers have been upgraded with Element Ready features that improve their longevity in high-humidity applications. All the terminals are zinc nickel-plated brass so they won't corrode. The heatsink, which measures 6.5 by 8.5 by 1.9 inches, has been powder-coated with a UV-resistant gray finish that will look great for years. The circuit board has a special conformal coating that prevents the tiny traces and components from oxidization that can affect performance. This amplifier and its two-, four- and five-channel brethren are serious about reliability and performance in marine applications.
The M2-500X1 is a mono Class D amplifier designed to power subwoofers. The amp can produce a continuous 300 watts of power when driving a 4-ohm load. Power output jumps up to 500 watts when driving a 2-ohm load. Frequency response is specified as being 20 Hz to 250 Hz. The amp includes an adjustable high-pass infrasonic filter that can be set between 15 and 40 Hz, along with a low-pass filter that's adjustable between 50 and 250 Hz. Both filters use -12 dB/octave Butterworth alignments. The amp also includes Rockford Fosgate's Punch EQ circuit that allows for up to 18 dB of boost to be added at 45 Hz. If your subs didn't hit hard before adding this amp, they will after! Finally, the amplifier includes an RLC remote level control to fine-tune the bass level quickly and easily right from the helm.
Your installer will appreciate that Rockford Fosgate has included their C.L.E.A.N. input and output clip LEDs to make it easy and fast to set the amp up. The amp has a set of RCA input jacks for low-level signals up to 4 volts. If your application requires it, speaker-level inputs on a pigtail will accept up to 12 Vrms of signal. The amp also has an auto-sensing turn-on feature that will activate it when it detects that a factory-style radio connected to the speaker-level inputs is turned on. Both inputs use a balanced differential design to optimize noise rejection for clean, clear sound.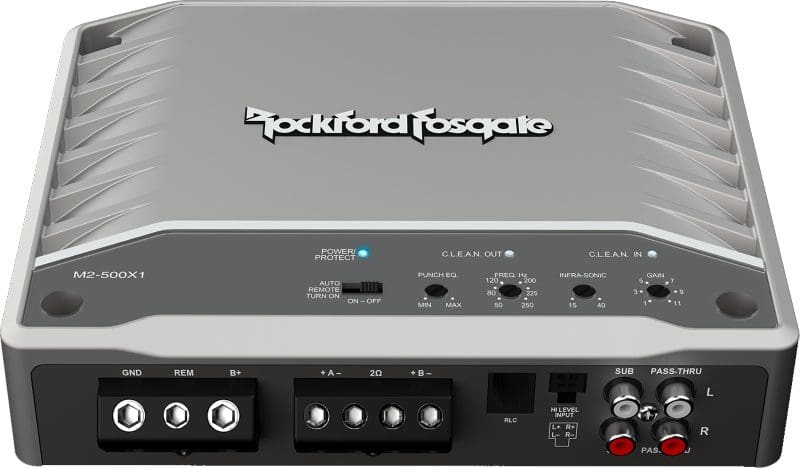 A Pedigree of Car Audio Performance
With more than 50 years of car audio experience under their belts, the Rockford Fosgate team created the M2-500X1 with many of the technologies found in the Punch and Power Series models. In addition to the C.L.E.A.N. feature, the amp includes a high-efficiency MEHSA 4 high-mass heatsink to keep all the components running cool so they remain reliable. The NOMAD protection circuit monitors the amp for shorts or low-impedance loads to keep things safe. The M2-500X1 uses a loosely regulated power supply design called P.O.W.E.R. to maximize power production when the supply voltage increases. Finally, the amplifier and all the associated specifications comply with the ANSI/CTA-2006 standards for power rating. There are no "If Lightning Strikes" (ILS) numbers on Rockford Fosgate gear.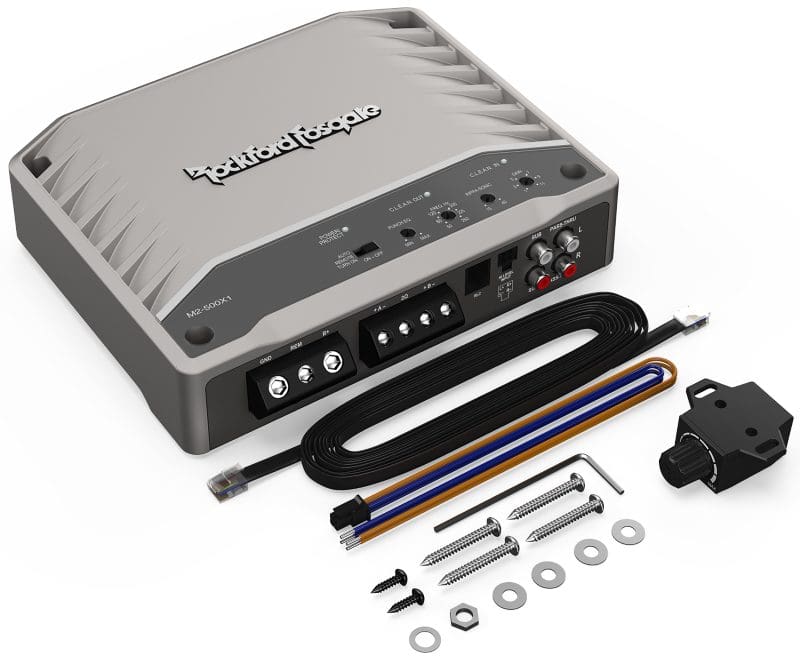 Upgrade Your Marine Audio System with Rockford Fosgate
If your boat needs great bass, drop by a local Rockford Fosgate retailer and check out the fantastic M2-500X1 500-watt mono Element Ready amplifier and the impressive M2 Series of 10- and 12-inch subwoofers. You can find a retailer near you using their dealer locator on their website. To learn more about the M2 Series of marine audio products, check out their Facebook page, Instagram feed and their amazing YouTube channel.