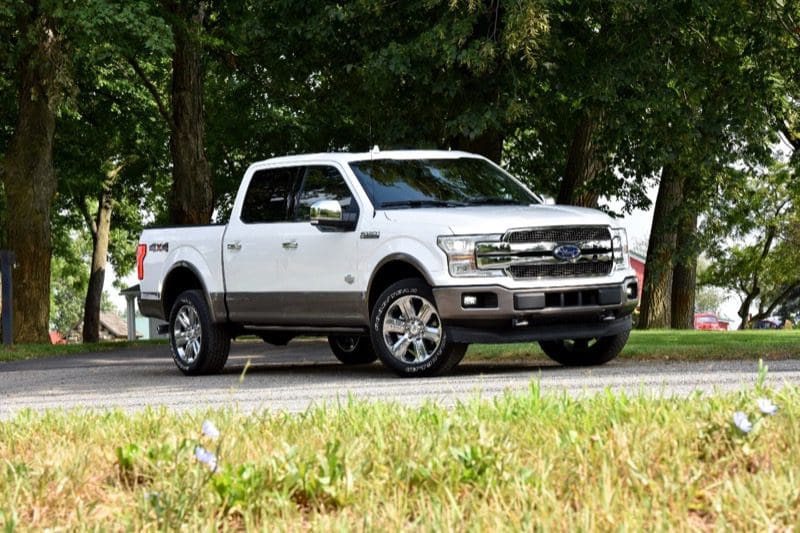 So, you need a pickup truck for work, play and going out on the town. There are choices from all the major manufacturers, but Ford makes a really good case with the F-150 for why they should get your hard-earned dollars. And dollars you will spend on the luxury pickup segment. All manufacturers will allow you to crest $60K with their fully-loaded half-ton pickup trucks. What was once a strictly-for-work vehicle has become the new luxury ride for a lot of American families — particularly small business owners who can use their pickups for client meetings, office duties and, well, to pick stuff up!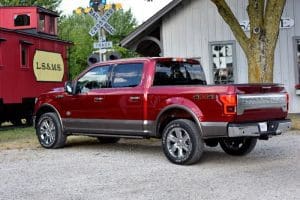 The F-150 is available with three engine flavors. My tester was equipped with the top-of-the-heap 3.5 liter EcoBoost twin-turbo V6. There is also a 5.0 liter V8 (surprisingly the mid-level choice for those diehard enthusiasts who have to have a V8) and a 2.7 liter EcoBoost V6. Even though it sounds counter-intuitive, buyers looking for performance should skip the V8 and head right for the 3.5 liter EcoBoost.  Mated to the new 10-speed automatic transmission designed with help from down-the-street competitor GM, the 3.5 EcoBoost provides unbelievable acceleration for a truck and smooth applications of power. The transmission always seems to find the right gear.  Bonus: real-world fuel economy came in at 17.2 MPG on my tester. I was really impressed, especially coming from a vehicle with the aerodynamics of a shed, an interior bigger than most trendy Brooklyn apartments and an 8-foot bed that can move the contents of two of those said apartments. One of my friends asked where the bathroom was when he hopped into the carnivorous SuperCrew interior.
My tester was all about towing. The large tow mirrors will allow you to keep an eye on your cargo load and easily see potential objects in the blind spots. The driver's side mirror has an adjustable rake so you can send it farther away from the body of the pickup truck to really keep an eye on long and cumbersome loads. You probably have seen the commercials for Pro Trailer Backup Assist that allows you to turn a knob (versus the steering wheel) and look at the center screen to make launching your boat a breeze instead of a chore.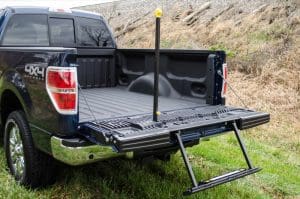 One unusually thoughtful feature is the integrated tailgate step. To make it easy to climb into the bed, you can press a button on the tailgate to deploy a step and grab rail. Our tester also included spray-in Ford-branded bedliner from the factory. But it would be a shame even in the loaded Platinum model to not add a slick bed cover or tonneau cover. Anyone driving the Platinum edition is going to have cargo worth protecting.
On the safety front, the F-150 is the only half-ton pickup available with optional forward collision warning coupled with automatic emergency braking. Luckily, I did not need to try it out. The vehicle's computer system will even take into consideration if you are towing something to try and keep emergency maneuvering under control. Drivers shopping for this important safety feature should consider the Ford over comparable Ram or Silverado models. However, don't count out the competition to quickly integrate emergency braking with automatic stop in the next model year.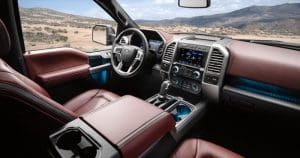 One place where Ford nails it is the SYNC 3 infotainment system. Linking your phone is a breeze, and now Apple CarPlay and Android Auto are ready to roll from the factory. For those who want to take it to the next level of gadgetry, you can even link up the system to Alexa and query your infotainment system in case you want to order something while traveling down the highway.
The audio system is a new partnership for Ford — Bang & Olufsen. The B&O system is good, but we would not compare it to a high-end aftermarket offering. However, it is an improvement over the Sony-branded system in previous models. The B&O's weak link is a small subwoofer located behind the rear seats. A mobile electronics retailer can figure out a more appropriate subwoofer to integrate into the B&O system for truly impressive sound.
Overall, the F-150 Platinum is almost too nice a place to be for a pickup truck. A heated steering wheel. Heated and cooled front seats. Heated rear seats. Massaging front seats! Even a twin-panel moonroof that extends to both the front and rear sections of the cargo area. There is no wonder the F-150 is the sales leader in the red-hot pickup segment. Ford extends that lead into the luxury pickup segment as well.