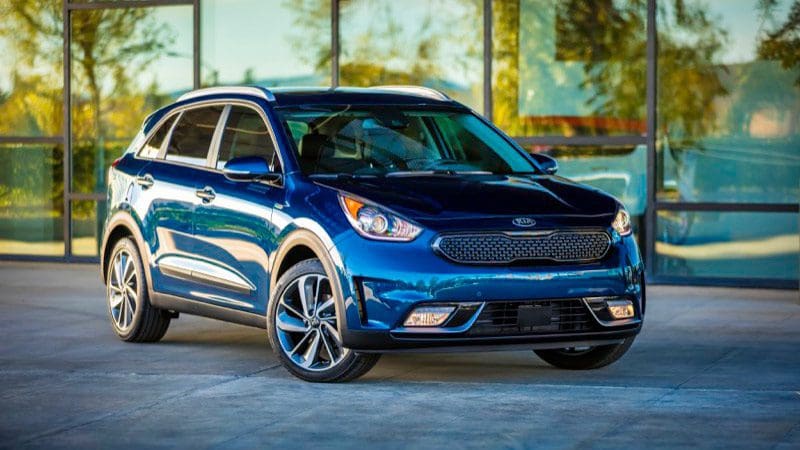 While a lot of Americans aren't quite ready for full-electric vehicles because of range anxiety, hybrid vehicles have proven their effectiveness. The Toyota Prius and Honda Insight led the charge (so to speak), and now we are getting hybrid offerings from manufacturers we did not expect. For example, Volvo is looking to hybrid-ize its entire fleet by 2019. Moreover, standard hybrid drivetrains are great because of their familiarity to the end user. Plug-in hybrids are wonderful until you move into an apartment complex and have to park the vehicle in a lot without power. In a standard hybrid, you just fill up the gas tank and let the vehicle's computer figure out the optimal fuel consumption. Kia's Niro is the latest foray the company offers in the world of hybrids. It is a smart choice. We tested Toyota's Prius Prime, which looks the part of a space-age hybrid, but the Niro goes for the look of a CUV. No one would know it is a hybrid unless they saw the badge or detected the lack of noise when creeping away from a stoplight. To some customers, that is important.
Rather than use the typical CVT, the Niro uses a six-speed, dual-clutch automated gearbox that is supplemented by an electric motor/generator. Typically, these set-ups are slightly more harsh than a traditional automatic transmission using a torque converter, but that is not the case here. In fact, the Niro is one of the most "regular-car"-like hybrid vehicles out there. The computer works at seamlessly blending the torque from the gas engine and electric motor for a smooth application of power that does not feel weird. Purportedly on the base model, the Niro offers the best fuel economy of any conventional hybrid, coming in at 50 mpg combined. My Touring model tester wears more aggressive footwear and weighs slightly more, so I achieved about 42 mpg overall. Which is pretty darn good for a vehicle that behaves like a car and looks like a little crossover!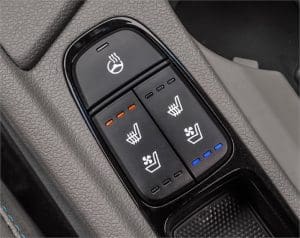 On the interior end, the Touring is loaded. For those who would never consider a Kia, take a closer look at the feature set: The Touring includes heated and cooled front seats, Apple CarPlay and Android Auto built-in, as well as built-in navigation, all for $32K. Heck, there are even memory seats! If you want those features in, say, a Mazda CX-3, well, you can't get them all! Cooled seats are a rarity in this segment (or any vehicle below $60K). However, it is possible to get them as an aftermarket option. Ask your local mobile electronics retailer about the Degreez by Katzkin line.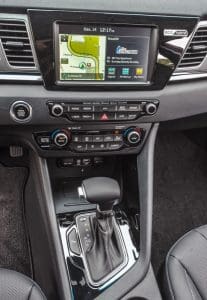 The infotainment in the Niro works well. The 8-inch screen is clear, and the button layout is similar to an Audi's. For people with compatible phones, there is even Qi wireless charging onboard, located on a small pad in the center console. If you choose a lesser LX model, your local retailer can also add Qi. The Harman Kardon sound system featuring Clari-Fi technology is a winner. There are eight speakers and a small subwoofer to help get the party started. Imaging is done well and you can tell the Harman engineers sat down with the Kia designers to get it dialed in. However, you must step up to the Touring model to get it. Customers can save about $10K to get into the LX model, and then pick and choose features in the aftermarket to get the exact vehicle they want.
Overall, I enjoyed my time spent with the Niro. The only hiccup I had was hitting a pothole in NYC and wishing I had a spare tire. As with most hybrids, you are left only with a mobility kit of tire foam that sometimes does not do the trick. However, Kia Roadside Assistance was pleasantly helpful … right down to asking about the clearance of the parking garage to make sure a tow vehicle could get there and get me back in service quickly. For those looking for a vehicle that sips gas and offers loads of practicality, check out our new hero, the Niro!