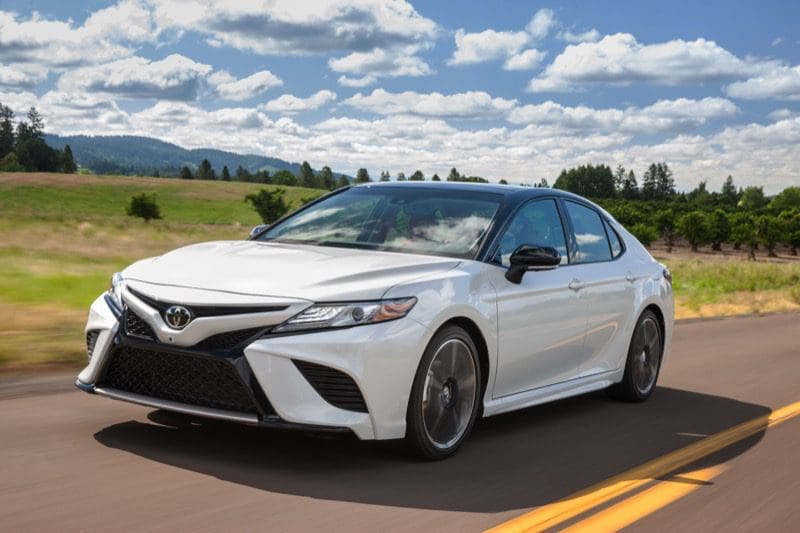 When you think Toyota Camry, the imagery that probably pops into your mind is that of a sensible transportation device. Truth be told, the Camry was always a suggestion of mine to friends who did not really care about cars. But there are some people out there looking for the proven, bulletproof reliability of a Camry coupled with some spice. The 2018 Camry XSE is their answer. As Toyota puts it, "The best-selling car in America … assembled in America, by Americans, for Americans." Car aficionados hate to admit it, but there are more engineering dollars put into the Toyota Camry than any Ferrari. For those looking for a midsize sedan without the worrisome glitches of, say, an Alfa Romeo Giulia, the Camry XSE makes a great case for being special within the confines of proven Toyota.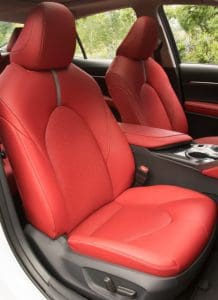 My tester wore a two-tone, strikingly gorgeous color combination of Midnight Black Metallic above the beltline and Wind Chill Pearl below the beltline. Opening up the door for the first time, it was shocking to see the reddest interior this side of a Maserati draped in cherry red Poltrona Frau leather. Anyone who popped open the door for a look could not believe it was a Camry. Toyota should be commended for taking boring out of the Camry color palette. We think this two-tone color combination scheme will catch on with other automakers (as it has with Mini). Luckily, if your vehicle did not leave the factory with the two-tone option, a good aftermarket retailer specializing in car wraps can easily transform the roof and pillars in a dark color. Bonus: Even though a good retailer will use quality vinyl, the product should last a long time as it will not get hit with much road debris or parking lot scuffs.
The engine is Toyota's 3.5-liter V6 that gives 301 horsepower —more than enough to chirp the tires. It is hooked up to a Lexus-like eight-speed automatic transmission that is smooth when it needs to be … which is most of the time. The driver gets to keep an eye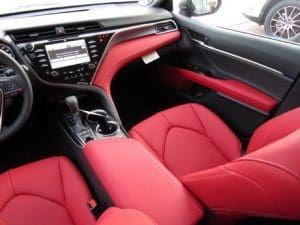 on what is going on through three interlinked displays. There is an eight-inch multifunction display in the center console, a seven-inch display in the instrument cluster, and finally a heads-up display designed to help keep your eyes on the road. The Entune 3.0 system features navigation out of the box with automatic updates for map data. One app that customers will be excited about is Remote Connect, which can remote start the Camry from afar. Additionally, the aftermarket can add this feature to your current ride using DroneMobile or Viper SmartStart. To pull it off in the Toyota, the vehicle has a WiFi connection and gateway. Users can take advantage of Toyota WiFi Connect, which allows up to five mobile devices to piggyback to the Toyota system through a 4G connection. This way, your smartphone data plan can take a break, and there is typically better reception on the open road with a larger antenna.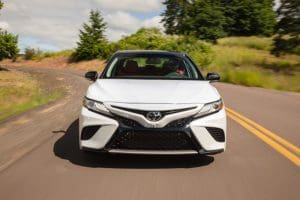 It is a Camry being sold to families, so safety is still one of the primary selling features of the vehicle. Toyota is making its Safety Sense suite standard across all models in the lineup. It includes a pre-collision system with pedestrian protection, dynamic radar cruise control (which did work well in NYC traffic), lane departure alert, and automatic high beams. My XSE also included blind spot monitoring and rear cross traffic alert that watches your six before you back out of a parking space. If the sensors anticipate impending doom, the brakes are applied automatically.
The JBL audio system does not disappoint. The nine-speaker configuration does include a subwoofer that you can actually see do excursion tricks if someone slams one of the side doors. Bassheads need not apply, but at least it is a worthy attempt from the manufacturer. We also liked the bird's-eye view camera when doing tight maneuvers. Overall, you would be hard pressed to find a vehicle with so many good options, coupled with a reliability pedigree second to none.