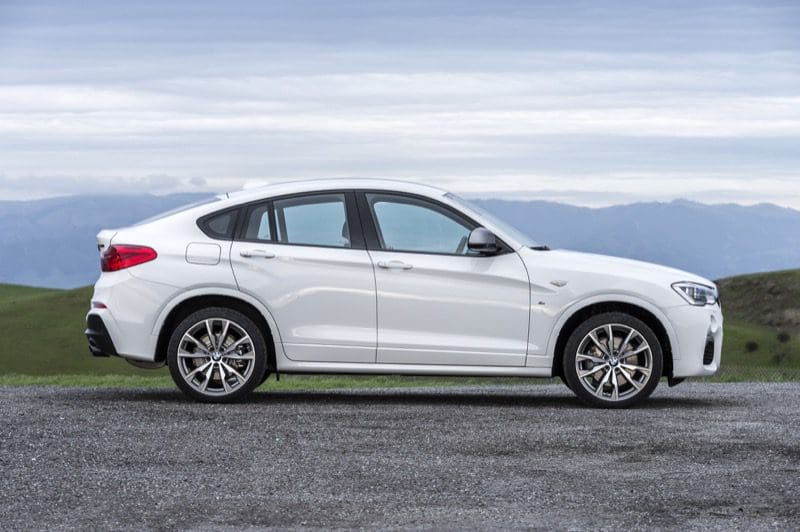 The auto manufacturers seem to have come up with a new vehicle class. SUVs are wildly popular, but some folks are looking for looks and performance with their utility. So, the strategy has been to slope the rear roofline for a swoopy look without encroaching too much on cargo-hauling ability, then add a more potent engine than the regular SUV counterpart. The result is the "hybrid" sports-car SUV. BMW took this formula, applied it to the mundane BMW X3, and came up with the X4 M40i. In the engine bay, BMW dropped in the 3.0 liter TwinPower Turbo inline 6-cylinder engine. By the way, you can also get a sportier version of the X1 called the X2, as well as a swoopy X5 known as the X6. These swoopy Sport Activity Vehicles are becoming so popular that BMW is offering them in every size. After all, you still have plenty of room for cargo with better looks and driving dynamics.
Right next to the shifter are three hard buttons for BMW driving dynamics. It is handy to use them on the fly. We usually would toggle between the Comfort and Sport + settings — which turns the vehicle from Dr. Jekyll to Mr. Hyde! When Sport + is engaged, the shifts are extremely firm, the shock absorber dampers tighten up like a Pilates instructor, and the crackle and pops you get when you let off the gas are just short of a bowl of Rice Krispies with freshly added milk. The vehicle truly delivers the BMW M experience you would usually associate with an M3 to a practical people- and stuff-hauler.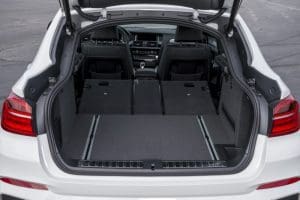 One thing that needs no improvement are the M Sport brakes with Dynamic Brake Control. Not only do the calipers look gorgeous set against the 20-inch M wheels, but they bite hard with virtually no fade. Runflat tires are standard, and the Bridgestone rubber does a good job of conveying the driving experience. One complaint about runflat tires in general is their lack of longevity. I could not test this, but it seems the technology is getting better every year. However, there is still room to tuck a small spare tire in the cargo hold if you choose (this is so non-M models can carry a space-saver spare). But why would you want to when it would be the perfect place to add aftermarket amplification and digital signal processors?!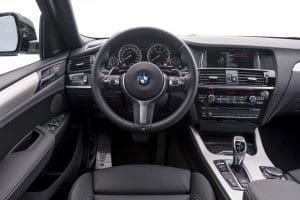 The Harman Kardon surround sound unit is pretty good, but it could use the help of an aftermarket subwoofer system. The X4 has plenty of room to facilitate its installation. The head unit is both touchscreen or controlled by the center console puck device that features a touchpad for "squiggle recognition." You can enter a navigation address by doodling the letters onto the face of the puck. It is a cool parlor trick, but not as cool as the Gesture Control. If you put your index finger in front of the radio and make little clockwise circles, the volume will get louder. Making a peace sign with your fingers sends you to the next radio station in your favorites. It is probably easier to reach for the steering wheel buttons, but it is a cool option to play with.
The interior of my tester was well finished with aluminum trimwork finished in a specific BMW rhombus pattern. It is set off by the anthracite headliner roof. It is these little touches that make a vehicle special, and they can be added in the aftermarket if your current ride does not have them.
The BMW X4 M40i makes a strong case for a sports car masquerading as an SUV. There are some folks who find this class of vehicle to be a compromise, but for those in climates with snow, there is probably no better vehicle for having your cake and eating it too! For those in urban environments where parking is at a premium, having two vehicles is virtually impossible. The X4 M40i makes a strong case for two vehicles in one.