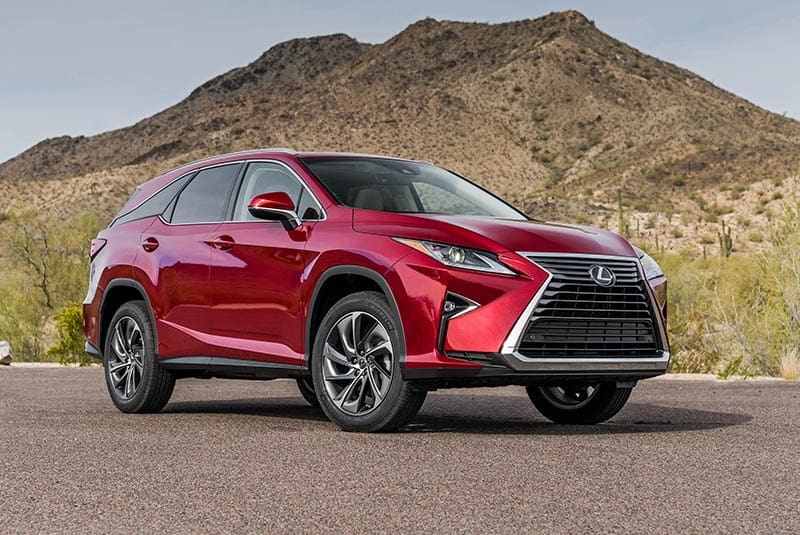 The Lexus RX series made its way to the United States 20 years ago. In that time, it has become Lexus' venerable workhorse and sales icon. Most people would agree that it created the luxury SUV category known in the industry as the soft-roader. Instead of a rough-and-tumble, body-on-frame chassis, the Lexus SUV sits on a unibody chassis. This makes a lot of sense for the way we typically use our SUVs. Although the obstacle-bashing capabilities of a Land Rover are sometimes welcome, Americans typically use these vehicles to traverse puddles in the shopping mall parking lot. As such, the sophistication and lack of NVH (noise, vibration and harshness) coupled to all-wheel-drive makes them perfect for most buyers. They can get you up your driveway in a snowstorm but remain quiet and luxurious on a freeway long haul. This made the RX series a runaway sales success. There was only one thing missing: the ability of the SUV to carry more than five passengers.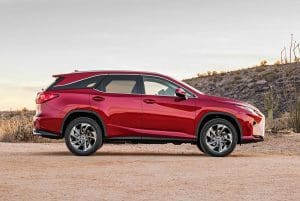 Enter the RX 350L. This extended version offers a third-row seat. There are options for a second row of captain's chairs with seating for six, or a second-row bench seat with seating for seven. Cooper Ericksen, Lexus VP of Marketing, notes, "The RX has been the top-selling luxury SUV in the U.S. for more than 20 years. We're excited to offer the next evolution of the iconic crossover in two flavors: the V-6 RX 350L and the powerful multistage RX 450h hybrid." My test unit featured the traditional gasoline engine, but the hybrid also makes a strong case for itself as the battery pack does not encroach on cargo space. Moreover, my tester delivered a decent 21 mpg over the course of a week, which is impressive for an SUV with a lot of people- and cargo-carrying ability.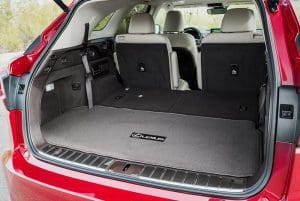 The power-fold third-row seat makes swapping people for cargo easy. The only minor problem I experienced is the button location for the power third row. There are actually two sets of buttons: in the hatch area and the second row – which is great. However, my daughter accidentally pressed the second-row buttons when she had access to them for a split second. This set off a warning alarm in the cabin. It took five minutes to figure out where it was coming from. Lexus wants the second-row seats fully upright or stowed away before driving off. All the system needs is a visual cue in the instrument cluster display versus a disconcerting beeping. But that display happens to be a 4.2-inch crystal-clear unit. For additional screen real estate, buyers have the option of adding a heads-up display.
The rest of the interior oozes Lexus quality. The switchgear feels like it will withstand hundreds of thousands of miles of use. It looks great and classy. The new Lexus spindle grill also looks good but does not look like it can survive a typical parallel-parking mishap. As such, I would check out an aftermarket brush guard to protect that intricate spindle grill. Also, if the RX will be taking the road less traveled, some paint protection can make sense in the sensitive areas. A package is available that provides protection from 3M for $429, but more coverage would be useful.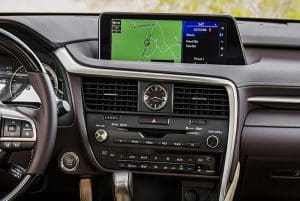 The RX features a 12.3-inch split-screen multimedia system. It uses a joystick rather than touch, which some may not like. It would be nice if Lexus gave the option of both. The Mark Levinson audio system is very nice. It features 15 speakers and 835 watts of power. But there is always room for more sub-bass, and an aftermarket subwoofer system can be neatly tucked into a corner of the cargo hold. Unlike the Toyota Highlander, the Lexus adds some safety features a la carte or as part of a package. The Blind Spot Monitoring with Rear-Cross Traffic Braking and the panoramic bird's-eye view Park Assist are awesome. But for a luxury vehicle, Lexus should throw this in. No worries if your model did not come with it. These technologies can be added at your local mobile enhancement specialist.
The Lexus RX 350L adds more room to an already popular package and gives consumers a choice. It certainly will pave the way for more RX sales that will probably have the RX being a Toyota sales workhorse for the next 20 years!