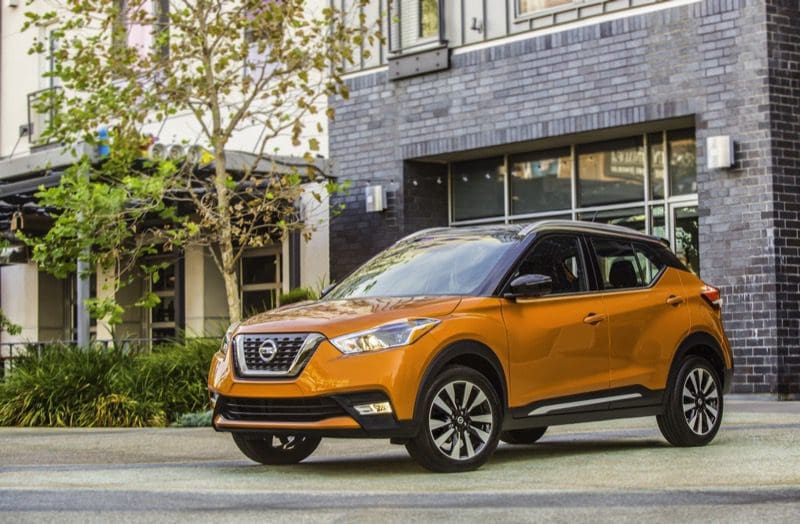 SUVs are all the rage, even with the younger set. But you can't sell an uncool three-row SUV to a recent college graduate for a few reasons. First and foremost, It's the same vehicle their parents drive.  Secondly, the price of a typical three-row SUV has exploded. A Ford Explorer Limited starts at $43,000. But Generation Z doesn't need all that space. Plus, they want some "cool factor." Nissan had a small SUV called the Juke that filled this slot, but its looks were a bit too unorthodox to please those just looking for a smaller, reasonably priced SUV. The Kicks is the answer wrapped up in one of the most easily customizable packages offered today.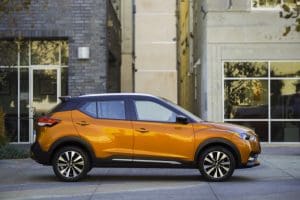 The Kicks has a good-looking body based on the Nissan Versa platform. The small SUV is only offered with front wheel drive … and that may be a deal breaker for some. But how many people are taking their cute-utes off-road anyway? Even if the powertrain is not particularly hardcore, the price came in at $23,000 for my fully loaded tester! This includes a 7-inch touchscreen display, Apple CarPlay and Android Auto, SiriusXM, heated seats and even remote start. However, the Kicks is still ripe for customization.
Dan Mohnke, a senior vice president of Nissan in the U.S., notes, "This emerging CUV class is exploding with new entries for a very good reason. The combination of flexible utility and high value is ideal for active, urban new vehicle buyers. Where the new Nissan Kicks stands out is with its bold style, personal technology, value and fuel economy of 33 mpg combined."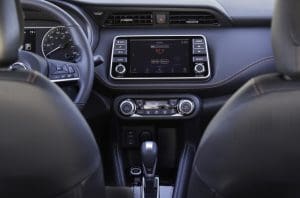 With a price this low, I didn't expect a full suite of electronic driver aids and safety features. However, the Kicks delivers, with standard automatic emergency braking on all models. The better models feature blind spot warning and rear cross traffic alert when pulling out of a spot. Everyone will love Nissan's Intelligent Around View Monitor, which uses four on-board cameras to present a virtual composite 360-degree, bird's-eye view of the Kicks. The system sounds an alert when it detects objects moving toward the vehicle. The aftermarket can also install similar technology on your current ride by adding four cameras to the front bumper, rear bumper and side-view mirrors. Through a process called stitching, it joins all four images on the same screen. This helps ensure that you will never smack into a curb, scrape up a wheel or inadvertently take out an air dam. Get with your local mobile electronics retailer for a similar solution for your current ride.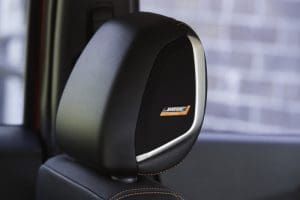 The Bose audio system uses some unconventional technology. The system uses eight speakers, including what Bose calls two UltraNearfield speakers in the driver's headrest using PersonalSpace technology. According to Bose, the system works with signal processing to wrap the driver in 360 degrees of sound for a greater sense of depth and immersion. Overall, the soundstage from the driver's seat is very convincing. However, things fall apart in the passenger seat because there are no speakers in the passenger headrest. If you value your significant other's listening experience, a visit to a mobile electronics retailer can enhance it. That would also be a good time to add a subwoofer in the relatively roomy cargo hold.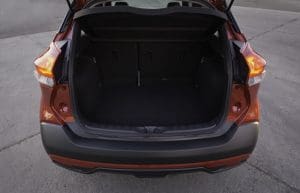 The Kicks offers customization like few other vehicles from the factory, with a segment of accessories available from the Nissan Color Studio. The trendy thing to do now is to change the color of the roof to set it off from the rest of the vehicle. The Kicks offers aftermarket side mirror caps, door handle covers, rear bumper accents, a front lip, air vents, a rearview mirror cover and sill plates that the owner can mix-and-match. It is a cool way to accessorize with factory-built with parts that fit securely but may require the help of a specialist for those who might be a little timid. Of course, with graphic vinyl accents, the aftermarket can elevate personalization even further. We can't wait to see the first Kicks taken to the extreme! The small SUV is a perfect platform for someone who wants to customize their first new car with the help of a specialist.