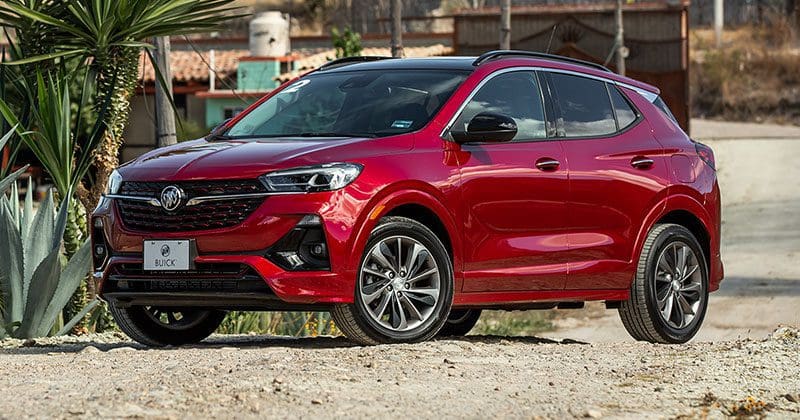 The original Buick Encore, Buick's entry-level CUV that shares its underpinnings with the Chevy Trax, has proven very successful. They are two popular CUV choices, but Buick wanted something a little bigger to compete with lower-priced CUV imports such as the Mazda CX-5. So they invented the Encore GX, which is a totally different vehicle than the original Encore. It rides on its own platform and uses new GM engines to power it. Moreover, it proved comfortable and easy to use.
It might not be the best CUV for those looking for something sporty, but if you're looking for comfort, it is perfect. This would be the CUV I would recommend for my parents — especially since the infotainment system and programming the navigation proved easy!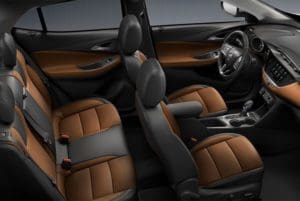 "As we look to the future of Buick, the Encore GX positions us strongly as a consideration for those who want to purchase small or compact SUVs," said Duncan Aldred, vice president, Global Buick and GMC. Today, almost 90 percent of U.S. Buick sales come from SUVs. That's a far cry from the days of LeSabres and Regals of yore.
As the Buick buying demographic tends to skew toward the more mature buyer, we welcomed the Encore GX safety suite. Encore GX's new standard safety and driver assistance features include Front Pedestrian Braking, Automatic Emergency Braking, Forward Collision Alert and Lane Keep Assist with Lane Departure Warning. It will also offer the Enclave's innovative Rear Camera Mirror, which provides a wide, less obstructed rear view while parking and driving, and High Definition Surround Vision camera system. What's really cool is that most of these technologies are available in the aftermarket if you have an older vehicle and want to integrate today's latest safety tech.
Infotainment Abounds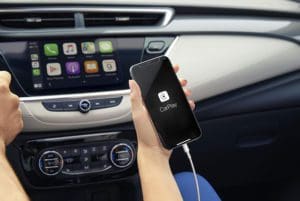 The Encore GX has the latest in infotainment and connectivity, such as Apple CarPlay, Android Auto, wireless Qi charging and Bluetooth pairing that allows two phones to be paired simultaneously. The Encore GX will support SiriusXM's next generation audio entertainment platform 360L. It combines satellite and streaming to deliver more channels, plus access to both live and on-demand shows and music performances. This gives drivers and their passengers more control over what they listen to — and the tech improves listeners' ability to easily discover more content across SiriusXM. 360L is also now available in the aftermarket.
Big Block Power, HaHa!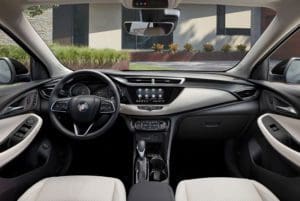 On the engine front, the Encore GX is a little different. Rather than keep the CUV tradition with a typical four-cylinder engine, the Encore GX goes small with a turbocharged three-cylinder. There is a "small block" coming in at 1.2 liters, and the "big block" is enlarged to 1.3 liters. It was cool was to see an engine bay where working on the engine would be a breeze. After all, we are talking about an engine size that would be comfortable in motorcycles! My tester had the "big block" and delivered 155 horsepower and 174 ft-lbs. of torque — powerful enough for any normal circumstance. The fuel economy is decent at 31 mpg combined, and my results were the same as GM's predictions. The Encore GX is available in front-wheel drive or all-wheel drive. The front-wheel drive models use a CVT transmission, and the AWD models use a traditional nine-speed automatic transmission.
Unexpected Easter Eggs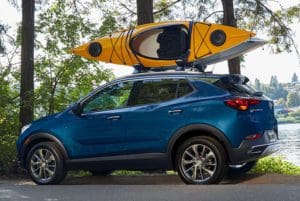 Unexpected niceties on the interior include QuietTuning, which helps minimize road noise inside the vehicle. Leather-appointed seats, a heated steering wheel and an ionizing air filter that you can control from the infotainment system round out the package. The Encore's front seat can also fold flat in case you want to haul a kayak or other large object. Extra tech niceties include an HD Surround Vision Camera that makes parking a breeze. It automatically stitched together an overhead view of the Encore GX on the infotainment screen. Adaptive Cruise Control was also on board, and its functions appeared in the optional heads-up display.
Overall, the Encore GX is really worth a look if you are in the market for a smaller-sized SUV. The Buick brand might not be on the radar for many shopping this red-hot segment, but this vehicle is quiet, comfortable and features cutting-edge tech. Its ease-of-use makes it worth checking out. Mine stickered at just under $35K.