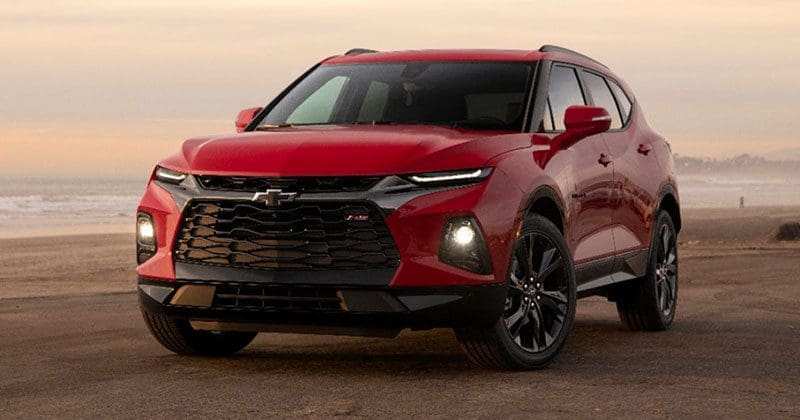 When I read about the return of the Chevrolet Blazer, I was very excited. After all, 20 years ago I owned a Blazer that became the canvas for a high-end competition audio system. Before the SUV craze, the Blazer proved to be the perfect vehicle choice for someone looking for practicality with a touch of cool.
The new Blazer follows suit. Just check out that center console that mimics the one from the Chevrolet Camaro. You know you are not in a traditional CUV. That's cool!
Dial-In Temperature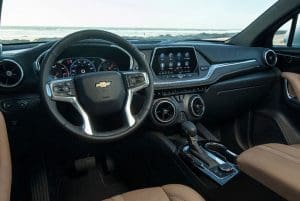 As you look across the dashboard for the temperature controls, you'll notice there are no traditional adjustments for them. Instead, you see a small temperature display just above the vent. The surround for the vent itself is the dial used to adjust the temperature. It is intuitive and removes a few up/down temperature buttons that could be confusing. Audi was one of the first automakers to introduce technology like this, on the TT, and we see it becoming more commonplace as manufacturers want to achieve a clean dashboard look.
As a bonus for those looking to customize their ride, this technology keeps the temperature display out of the infotainment unit. Of course, a good mobile electronics retailer can help you retain these functions even with an aftermarket replacement.
Looks Good Outside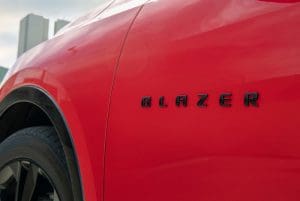 As Chevy states it, the all-new Blazer offers the boldest, most progressive expression of Chevrolet crossover design. It features a wide stance, tight proportions, high beltline and dramatic sculpting give to give it a toned, athletic appearance from all angles. My tester was in bright red called Red Hot by GM – typically not a color found on an SUV. That really made it stand out from the crowded segment. 18-inch wheels are standard on the Blazer, and you can grow them to up to 21 inches from the factory.
Four Cylinders Have Come a Long Way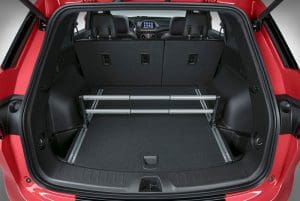 My tester featured the 2.0-liter turbo inline-four engine with intelligent start/stop. It was mated to a nine-speed automatic transmission. Although you could hear at the upper-end of the rev range that it was a four cylinder, it had more than enough power for everyday driving.
Upper models use the GM 3.6-liter engine, which would only be necessary if you are towing. If you are, a trailering package with Hitch Guidance and Hitch View technology is available on AWD models. If you do trailer and don't have a vehicle with the ability to see the hitch behind you, this tech rocks. You don't need to repeatedly exit the vehicle and walk back and forth from the trailer. Your local mobile electronics specialist can integrate a rear-view camera on older vehicles that are used for towing. It takes the guesswork out of lining everything up.
Common-Sense Infotainment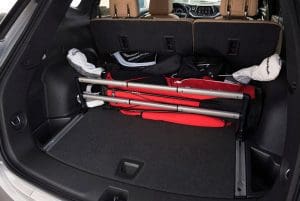 The Blazer sports the Chevrolet infotainment system with an 8-inch-diagonal color touchscreen. The system is intuitive to use, with logical buttons for audio, navigation and vehicle settings. Apple CarPlay and Android Auto are here, too.
My tester featured the Bose audio system, which was pretty decent. Although I am not typically a fan of Bose systems, this one is good enough for the average consumer. Those looking for better sound can consult with a specialist – and you will need one, as there is standard electronic active noise cancellation. There is an abundance of cargo area ripe for a subwoofer system. Higher-end models feature nooks and crannies for storage in the cargo hold. They would be perfect for tucking in aftermarket amplification. Upper-end models also include Qi wireless charging, but it can be easily added to lower-end models though the aftermarket.
Keeping it Safe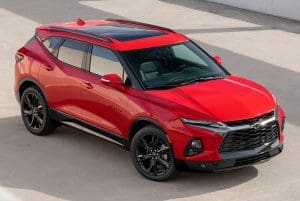 The Blazer features a lane change alert with a side blind zone alert. Those who want to step it up can get into the adaptive cruise control feature set, which includes forward automatic braking, forward collision alert and lane keeping assistance.
These packages can add up quickly, though. If you go all in with everything, you can start nearing $50K. We think the best move for the Blazer would to be look at one of the LT models. You'll get the look of something that is not the typical SUV and come in at a reasonable price point. Then you can add some features a la carte from the aftermarket.
The big decision would be to see if four-wheel-drive is necessary for the weather you are exposed to. But we do like that Chevy allows you to leave it in 2WD most of the time to increase fuel economy, just like in the old Blazer. The selector is located adjacent to the shifter.
In the world crowded with commonplace CUVs and SUVs, the Blazer splits the difference with a dash of style.