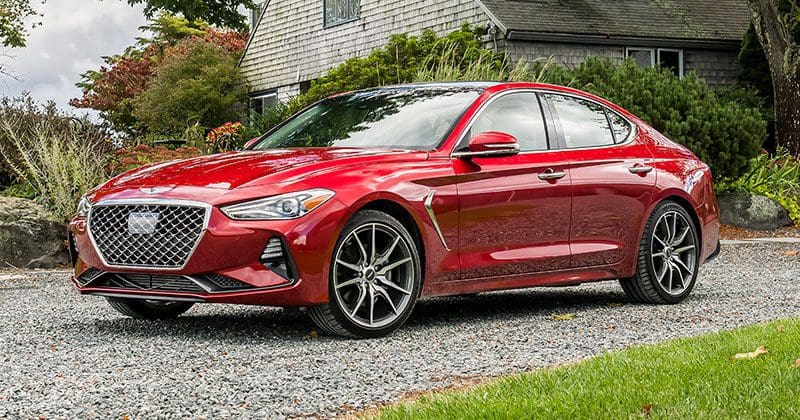 As the Genesis brand works to separate itself from the more plebian Hyundai brand, you'll start to see Hyundai dealerships with segregated areas for Genesis vehicles. For 2020, the Genesis offers three sedans: the G70, G80 and G90. Spending a week in the G70 showed how much sedans have grown in size the past few years. Even the G70, which is similar in size to today's Honda Accord, provided ample comfort for four passengers. I drove the RWD 2.0 Prestige model, which matches the sportiness of rear-wheel drive with some nice 19-inch wheels that help to set off the entry-level luxury cruiser.
Luxury Experience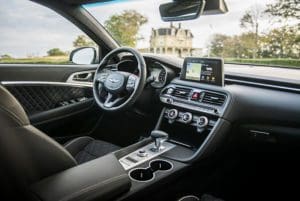 One slam of the door and you'll understand that you are far away from Hyundai vehicles of yore. Albert Biermann, president and head of vehicle performance of Genesis notes, "The foundation for any kind of car that performs well dynamically is an incredibly rigid platform. That translates not only to performance, but how it feels down the road as well as safety achievement levels."
The G70 has the lowest overall height and widest overall stance in its segment. I did hit my head on the doorframe getting into the car after jumping out of my SUV, but once I got used to the ingress, the G70 the door apertures were perfectly acceptable.
Biermann continues, "We used high-strength steel, aerospace-grade adhesives and strategic lightening with aluminum to create the ideal balance of stiffness, light weight and competitiveness. The proof is in how G70 handles on a spirited drive, whether that's early on a Sunday morning on a hilly country road or on a daily commute to the office."
More Than Adequate Power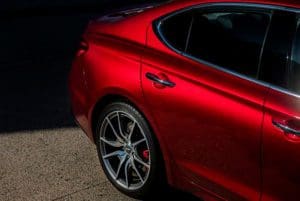 My engine was the smaller 2.0-liter turbocharged unit, featuring 252 horsepower and 260 lb-ft of torque. It was linked to an eight-speed transmission that shifted very smoothly. It's impressive to see a newer luxury manufacturer come into the game with powerplants comparable to the benchmark Lexus.
You can change the drive modes and quickly set it for "Sport" or "Comfort." One neat feature for those into audio is Active Sound Design. This offers drivers the ability to enhance the interior ambiance with a throatier engine sound. According to Genesis, the sound settings were created based on the science of harmony to produce bright, euphonious tones that pair well with all types of roads and driving conditions. Five available drive modes — Sport, Comfort, Smart, Eco and Custom — synchronize with the Active Sound Design profiles.
Interior Charm
The interior sure looks the part. The quilted seats look right out of a top-of-the-line Audi, and a Dinamica suede headliner, finished in black or gray, feels great to the touch. An 8-inch touchscreen is positioned on top of the center stack. Apple CarPlay and Android Auto are standard.
A Qi wireless charging pad is available in the center console. We appreciated the amber LED that came on to show that the phone was charging. Qi is a feature available in the aftermarket — it sure reduces clutter by not having a charging wire always getting tangled somewhere in the cabin.
Audio – Lexicon Sounds Good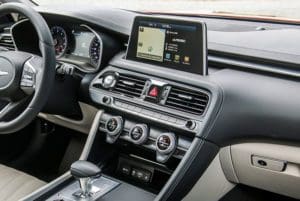 On the audio front, the G70 has a 15-speaker 660-watt Lexicon audio system. Genesis calls its surround sound system QuantumLogic. It does sound good. Small subwoofers are mounted under the seats, but they lack the authority of a true trunk-mounted sub with serious aftermarket amplification power behind it. A small sub under your butt just doesn't pack the wallop of bass installed by an aftermarket professional.
Safety and Advanced Driver Assistance Systems
On the safety front, the G70 offers advanced driver assistance systems such as Forward Collision-Avoidance Assist with Pedestrian Detection, Blind-Spot Collision Warning, Lane Keeping Assist and Driver Attention Warning. Genesis Connected Services makes stolen vehicle recovery standard. The technology keeps track of the vehicle via its WiFi connection. When the kids borrow your car, you can also keep an eye their location right on your smartphone. This tech is also available on aftermarket security systems and can be installed by a trusted mobile electronics specialist.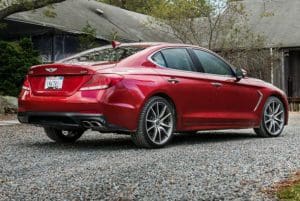 Similar to Hyundai, Genesis offers a very comprehensive warranty of five years/50,000 miles bumper-to-bumper coverage. Additionally, three years or 36,000 miles of scheduled maintenance is included with the purchase of a Genesis. They also hook you up with something usually reserved for top-end luxury brands: They come to you for service. With Service Valet, you can schedule service online or via the mobile app and have your vehicle picked up wherever and whenever you choose. You'll also receive a loaner vehicle and can select when and where your Genesis will be returned, all at your convenience.
The Genesis starts at $35,450. My tester with the Elite and Prestige packages rang up to $44,895. Still not cheap, but darn good considering the amenities you get. Well done, Genesis.