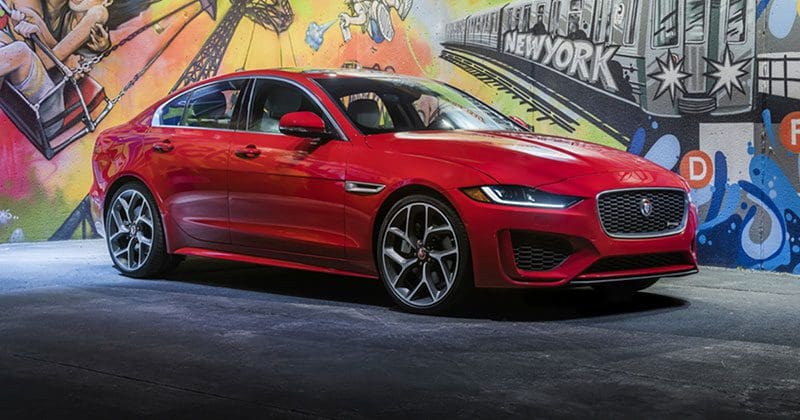 A smaller Jaguar sounds like a good idea to auto enthusiasts but consumers aren't really biting. Although the Jaguar XE has been out for a couple of years, it hasn't been a big seller for the brand. But the 2020 version offers some new looks and technologies that may attract more buyers. Moreover, there is something cool about having a vehicle not as commonplace as its benchmark competitor: the BMW 3-series. If you're in the market for a smaller luxury sedan, the prospect of telling your friends you own a Jaguar (at a reasonable price point) is a tempting proposition. Not that there's anything wrong with BMW, Mercedes or Audi. But sometimes it is cool to be different. The 2020 XE has an aura of classiness around it, and there are not many trolling around.
Hey, What is that?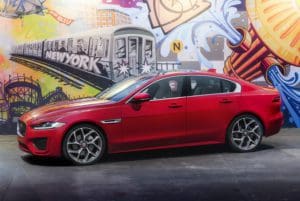 The exterior of the 2020 XE gives a more assertive appearance with new front and rear bumpers, a new grille design and premium all-LED headlights and taillights with distinctive LED signatures as standard equipment. The new lighting features a 'J' Blade DRL signature and auto high beam assist. This technology uses a forward-facing camera to detect oncoming traffic and is designed to automatically switch between the high and low beam. LED headlights make all the difference in making a vehicle look modern. In fact, some older vehicles have retrofit kits that can be installed by your local mobile electronics specialist. On the XE, this modification upgrades both the look of the vehicle and the performance of the lighting. The rest of the car was also tightened up.
Longtime Jaguar design guru Ian Callum notes, "The new Jaguar XE is all about building on the undeniable sporting proportions of the original car. We've given the car much bolder graphics and more visual width; planting it in a way which really illustrates its dynamic intent. The new XE is a wonderfully complete package with a very purposeful exterior matched to a beautifully crafted, sporty interior." We agree!
Engine Choices
The Jaguar XE has two four-cylinder powerplants available. I tried the 296-horsepower P300 version and it is not wanting for power. Even the base model will have enough punch for enthusiasts. For those who want to go all-out, there is a P300 R-Dynamic S AWD that will push the little sedan from 0-60 mph in 5.4 seconds.
Interior Tech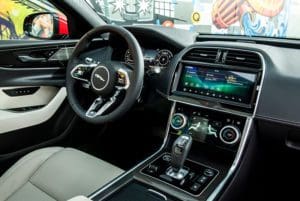 The XE uses two screens on the interior in addition to the large 12.3-inch driver information screen. There is an optional 10-inch upper touchscreen used in the Jaguar InControl Touch Pro Duo infotainment system – similar to the one found in the all-electric Jaguar I-PACE. This responsive, intuitive system uses a combination of upper and lower high-resolution touchscreens that are seamlessly integrated to one another, controlled through a combination of capacitive sensors and tactile physical controls to operate key vehicle functions.
Keep Your Head Up!
The XE has a new heads-up display available as part of the optional Technology Pack. It is designed to help drivers keep their eyes on the road by projecting key information such as navigation directions, speed, gear, incoming caller contact information and driver assistance system alerts directly into the driver's line of sight.
There is a rearview mirror that uses camera technology for an unobstructed view that was first seen on the flagship Cadillac CT6. The Jaguar ClearSight Rear View Mirror has a small toggle switch on the mirror that allows the driver to switch seamlessly between the standard mirror and the camera feed. Even when the rear windshield is obstructed by rear passengers, the driver has a clear view behind the vehicle. It works great for seeing around large items in the backseat or snow on the rear window. Jaguar did a great job of seamlessly integrating the camera into the roof-mounted shark fin antenna. The high-definition camera works in varying weather conditions with a protective lip and clever hydrophobic coating to repel water. This helps the camera lens to deliver a clear image. This rear-view mirror technology is now available in the aftermarket from Gentex. If you regularly carry cargo that obstructs your view, it is literally worth a look!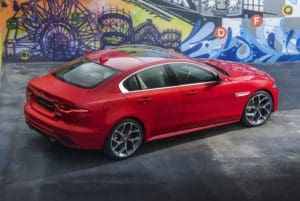 Connectivity has also been enhanced with the introduction of Jaguar's Smartphone Pack5. Both Apple CarPlay and Android Auto are included as standard equipment. The system mirrors the driver's smartphone on the dashboard HD touchscreen, allowing customers to access compatible apps quickly and conveniently while on the move. I could not spend enough time in the car to thoroughly test it, but the XE can learn your behaviors. The new Smart Settings feature uses artificial intelligence to learn the preferences of individual drivers. Using key fob and smartphone information, it's able to recognize who is using the car and automatically adjusts the seating and steering column position … that's normal. But over time, it learns individual climate control and music listening preferences, even cueing up the most popular phone contacts at different times. Like if you call your wife every evening when you leave work.
My tester came in at $47,000, which is slightly less than similarly equipped competitive models. If you can forgo features, the little Jag can be had for under $40K. If you want to dare to be a bit different and have a vehicle that exudes class, check out the Jaguar XE.