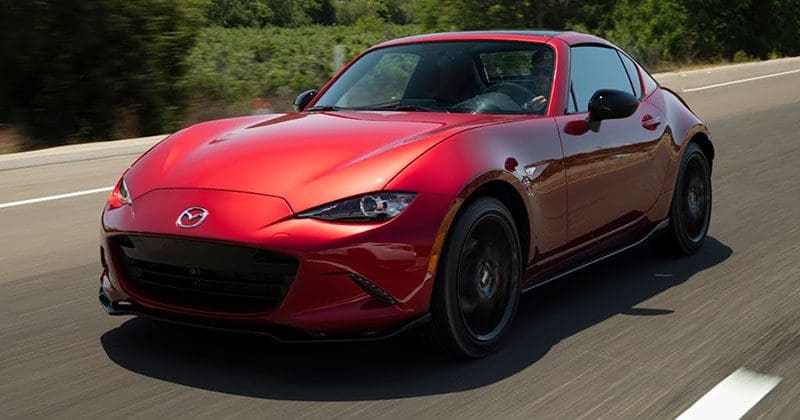 Truth be told, I love the Mazda Miata. I never thought I would own one, but too many other automotive journalists talked me into the platform as the perfect reasonably priced, open-air sports car. I am glad I listened to them years back and picked up a first-generation vehicle. It proved both super reliable and super fun. It needed a bit more power, but as anyone involved in the aftermarket modification industry knows, a project can get out of hand quickly. My Miata became a solid foundation for a turbocharger, suspension upgrade, bigger wheels and tires, and even a high-fidelity sound system. If you fast-forward to the current generation, the engine delivers 181 horsepower out of the 2.0-liter engine. My turbocharged 1.6-liter engine put out just over 200 horsepower. So, it was a bit more powerful, but it shows how far engine technology has come in 30 years. Moreover, you don't have the hassle of adding turbocharger (no small feat) unless you want to! The naturally aspirated mill revs to 7,500 rpm and the six-speed manual's short throws are a dream.
For some, the Miata's cloth top could be a deal breaker. It offers little security and although today's convertible tops are well engineered, fabric just can't beat metal. So, for those looking for the ultimate mature Miata, the MX-5 RF could be your answer. RF stands for Retractable Fastback. For the money, it is a phenomenal work of engineering. The top stows itself in 13 seconds and can be used at speeds up to 6 mph. This way, you can finish putting the top up or down as the stoplight turns green and you start to roll away. Mazda engineered extra sound-absorbing material in the top's headliner, front and middle roof panels, and even the rear wheel housings. This leads to a significantly quieter ride when the roof is closed. Although it isn't luxury-car quiet, it is certainly more than acceptable for your daily commute, where you can be assured the MX-5 RF will remain protected in the train station parking lot without the fabric top being slashed by some thug looking for your possessions.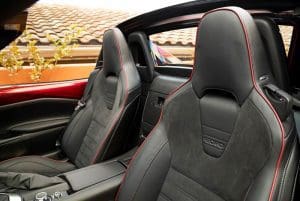 My tester was the Grand Touring model. It featured great-looking LED adaptive headlights and taillights. The motors and LEDs in the headlights adjust the light pattern depending on how fast you are driving. Heated seats were also on the menu, and it made me yearn for them in my own Miata. There is nothing more lovely than putting the top down on a day in the low 50s and having your backside pampered in warmth. Luckily, the aftermarket can help you add those heated seats if you have an older Miata without this seemingly essential feature that will allow for extended-season top-down use.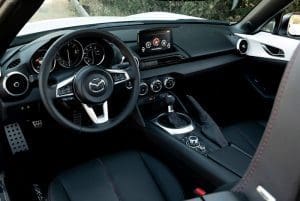 The Grand Touring models also come with a navigation system built into the 4.6-inch TFT display. Mazda was one of the original companies that allowed the driver to use either a control knob or a touchscreen to control the infotainment display. Unfortunately, entering navigation addresses via voice or display proved challenging. Luckily, Apple CarPlay and Android Auto are onboard to give you a better interface than what comes in the vehicle. Older Miatas can benefit from this technology available in new multimedia head units.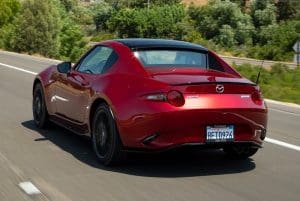 On something so diminutive, safety becomes something consumers are more willing to delve into. The MX-5 RF came with blind spot monitoring, rear cross-traffic alert, lane departure warning, and Smart City Brake Support. The SCBS unit uses a camera in front of the windshield to detect other vehicles and pedestrians. If it detects a high risk of impact, the system will prime the brakes so just the lightest touch from the operator will engage full braking power. The system will eventually default to automatic braking, but Mazda engineers are hoping the end user will be alert and engage the system. After all, this is a Miata and the driver should be engaged! I did like how Mazda has engineered the lane departure warning alerts. Instead of a beep, the stereo system alerts the driver by using the sound of a faux rumble strip. As we have all unintentionally drifted and hit one of these, that instantly recognizable sound alerts the driver to guide the vehicle back into its lane. Of course, if the subwoofer system had a bit more power, the rumble strips would be a better facsimile of the real thing. But, we are talking about a Miata, so a big subwoofer system isn't in the cards. A small one is absolutely possible!
The Mazda MX-5 RF adds a previously unavailable sophistication to the Miata platform. For those with a few more dollars, the aftermarket can take it even further. Who is going to be the first one to turbocharge one of these?