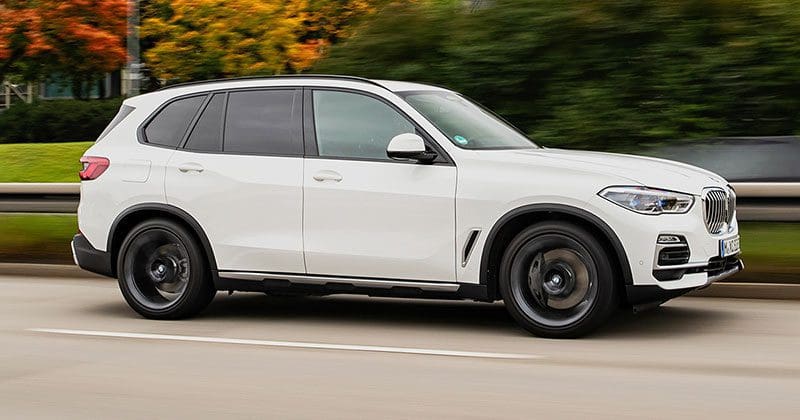 General Motors recently announced that it wants to eliminate passenger vehicles that produce tailpipe emissions by 2035 – less than 15 years from now. We all can agree that change can be good for the future of our planet. But a lot of consumers are not ready for an electric vehicle just yet. As tempting as a brand-new Tesla is, there is a certain segment of buyers, especially in the luxury segment, who do not want any range anxiety.
The BMW X5 xDrive45e is perfect for a customer who wants a luxury SUV experience and can use electricity for the first 30 miles of their commute, if they even need the gasoline engine at all. Let's face it: A lot of days, you probably don't even go 30 miles and you'll use no gasoline. Not only can you travel 30 miles on the battery pack alone, but the electric-only top speed is 84 mph. It is possible to never hear BMW's smooth six-cylinder gasoline powerplant ever come to life on a typical commute.
When the weekend comes and you want to take a lengthy road trip through the country, the BMW has its gasoline engine ready to take you as far as you need without any worry about electric charging stations. This BMW X5 is like the terrific but discontinued GM Volt, but in a far more luxurious SUV package Americans love and are familiar with.
HOV Envy
One cool thing about this BMW is your ability to get a special access sticker for the HOV lane (if applicable in your state). With the battery pack coupled to a 3.0 liter, six-cylinder traditional powerplant, the combined power is 389 horsepower and 443 ft-lbs of torque. The 0-60 run is reached in 5.3 seconds – faster than the last generation that used a four-cylinder engine.
The torque from the electric motor also does great for towing. It is pretty wild to see a BMW X5 from the factory with a trailer hitch rated for 7,200 pounds.
Electric or Gas – Your Choice!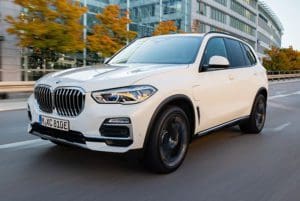 When you fire up the X5, you are greeted with silence. You can choose from three drive modes. The default Hybrid mode lets the vehicle's computers determine the most efficient mix of the battery pack and gasoline engine. If you topped off the battery pack overnight, you can choose Electric and use up the 30 miles of battery power. Finally, Sport mode wakes up the gasoline engine so you can have all of the horsepower from both powerplants.
One cool new piece of technology is that the transmission reads data from the Active Cruise Control system's radar sensor. So the transmission senses whether you'll be heading uphill or downhill and ensures that you are in the right gear.
Infotainment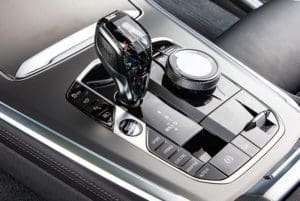 On the infotainment side, the X5 flexes two 12.3-inch screens, one behind the instrument cluster and the other in the center display. The center display uses BMW's iDrive system as well as touchscreen. You get to choose, based on which is easier for you. I found myself using a combination of both. iDrive can be easier when you're scrolling through a long list of SiriusXM channels.
The navigation system is purported to provide traffic information even on the roads less traveled. Upcoming traffic along the entire route is factored into the calculation of the expected arrival time. BMW also upgraded the points of interest (POIs). POIs along the route are described in detail, with reviews, opening times and photos. Sometimes it's better to use the native navigation system built into the vehicle, especially where there is spotty cell service. The aftermarket also has navigation head units that give the same level of traffic data and POI database BMW has for an older vehicle. This way, you don't have to be married to Apple Maps. However, Apple CarPlay and Android Auto are onboard if you wish to use them.
Cameras and Radar Sensors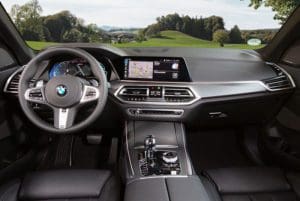 My tester had the optional Driving Assistance Professional Package. This includes Active Cruise Control with Stop & Go function. It can be used at speeds up to 130 mph and maintains the desired speed while taking the traffic situation into account and the selected distance to vehicles in front. The system is able to brake, stop the car and pull away again automatically after being stationary for up to 30 seconds, meaning greater comfort in stop-start traffic. Camera images and data from a front radar system are used for distance control.
Speaking of the camera, BMW has a really cool new technology usually only available in the aftermarket as a dashcam. The Drive Recorder uses the cameras of the various driver assistance systems to record video footage from the front and rear of the vehicle. When activated, the Drive Recorder shoots and stores up to 40 seconds of video. In the event of a collision, a period of up to 20 seconds around the moment of impact is automatically recorded and saved. This technology is also available in the aftermarket. It is nice to have a built-in solution from a mobile electronics specialist versus a portable one that never seems to be connected when you need it most.
The BMW X5 xDrive45e bridges the gap between electric and gasoline, SUV and sporty car, luxury cruiser and tow rig. Additionally, it flexes all the amenities new car drivers are looking for. It does not come cheap, at around $80,000 for my tester … but it does do everything well!