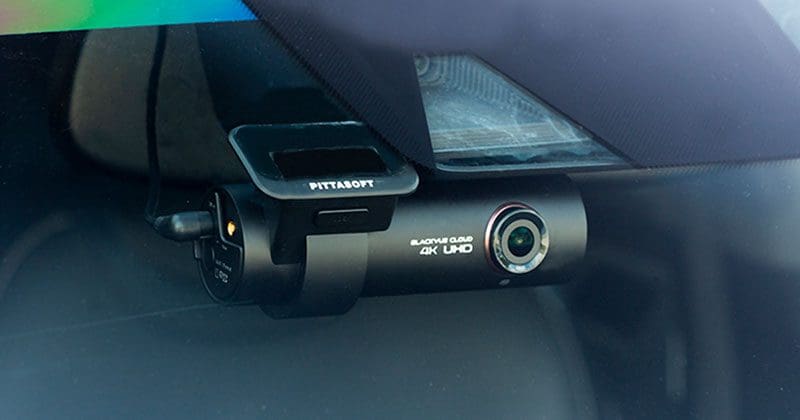 By now you know that having a dashcam in your car or truck is the best way to protect your self against fraud and false accusations in the event of an accident. As with any type of consumer electronics product, there are basic dashcams and models with advanced technologies. If you want to know what's going on around your vehicle, even when you're at home, in your office or on vacation, then you'll be interested in what these cloud-based technologies offer.
Wi-Fi Connectivity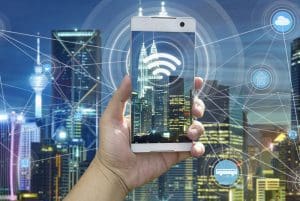 We've talked about dashcams in the past that forego the inclusion of an LCD screen in favor of Wi-Fi connectivity. In many of these cameras, the Wi-Fi connection is used to connect the camera to your smartphone and not specifically to the internet. Thanks to an application on your Apple iPhone or Android-based smartphone, you can connect directly to the camera and watch or download videos stored on the device. You can also adjust the camera settings in real time from the app on your phone, once again negating the need to remove the microSD card and go back and forth to a computer.
Connecting to your dashcam using Wi-Fi offers several benefits. First and foremost, you don't need a computer in order to access the video files. If you witness or are involved in an accident, you can download the video file to your smartphone right on the spot. The viewing software provided with cameras like the Momento M6 allow you to edit video clips right on your device and upload them to Facebook, Twitter or YouTube.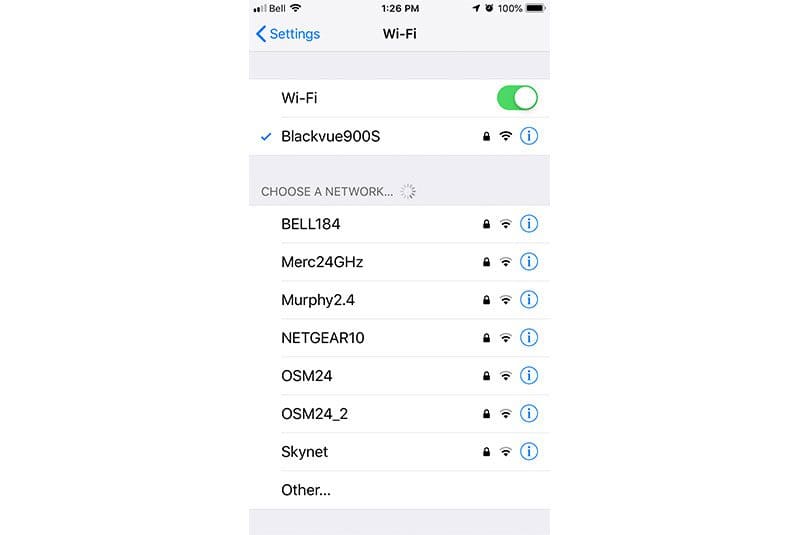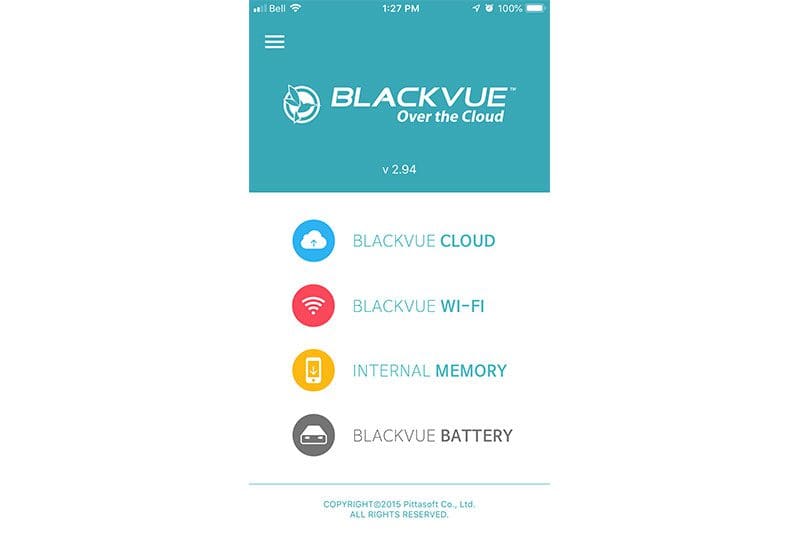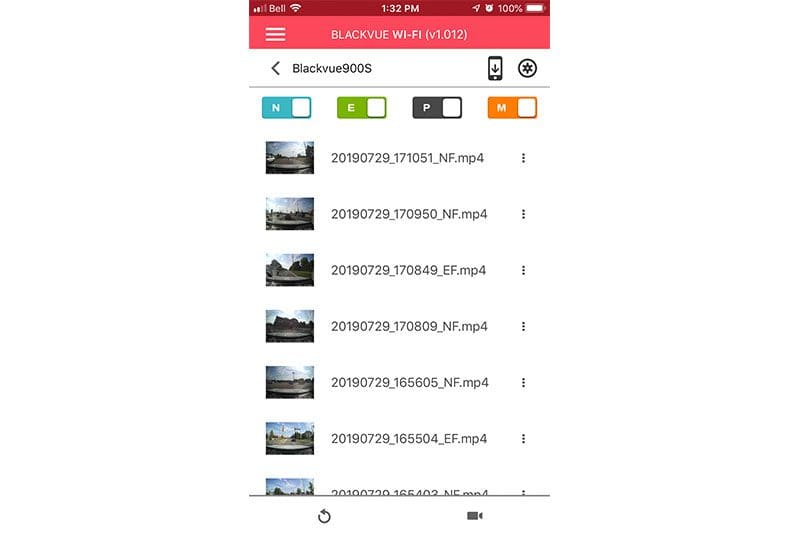 Once connected, you can view or download the videos stored on your dashcam right to your smartphone.
Cloud Connectivity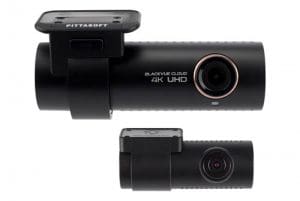 Some camera systems like the BlackVue DR900S-2CH include the ability to connect to the internet through a mobile router in your vehicle or your home Wi-Fi network for real-time remote access. Once your camera is connected to the Internet, you can access the camera from anywhere in the world to see what it sees. If you have a mobile hotspot, you can initiate two-way communication with the driver as he or she drives using the speaker and microphone built into the camera.
You have access to all the video files stored on your camera and you can download them for viewing or back them up to your cloud storage. You can even stream video to Facebook Live or YouTube Live if you have an Apple iPhone.
When your camera is in parking mode and connected to the cloud, you can configure the system to send an instant push notification to your phone if your camera system detects an event. The event can be triggered by the impact sensor or motion in the image.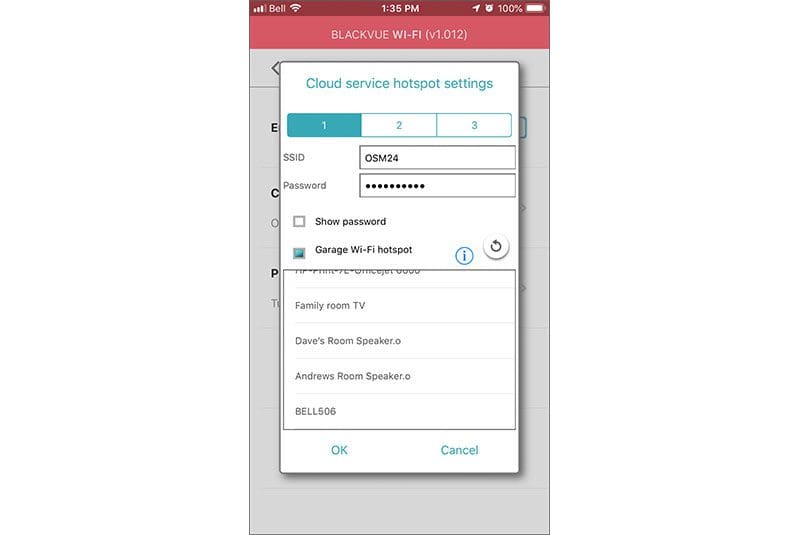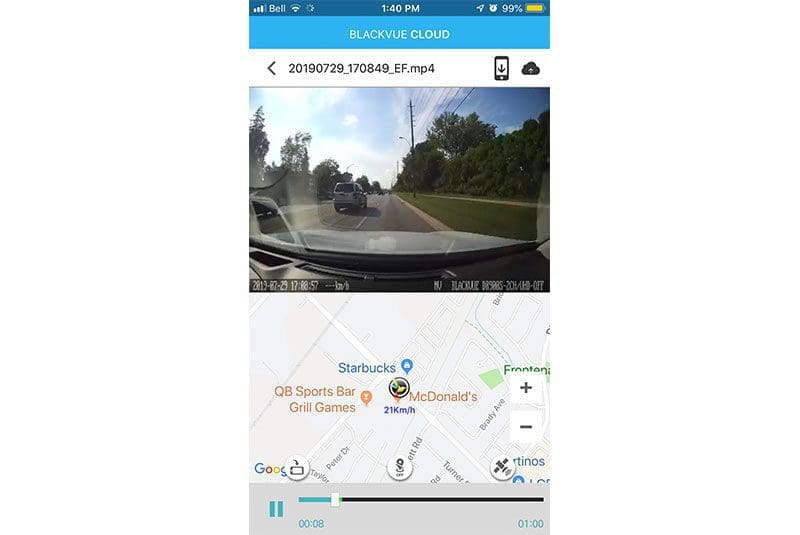 Vehicle Locating and Tracking Service
Because all of the dash cameras at these feature levels include a GPS receiver, you can check the location of your vehicle on a map. For business owners, BlackVue offers a corporate service called BlackVue Fleet Tracking. You can monitor the location of your vehicles in real time, view vehicle location history and stream live video from up to four cameras at once using the BlackVue Viewer Pro application on your Windows computer. Geographically based warnings are another handy feature to let management manage their assets.
Advanced Video Compression
Though not a benefit in terms of real-time safety, cameras like the BlackVue DR900S-2CH include the option for H.265 image compression. Where most cameras use the H.264 codec to compress the video data, the more advanced H.265 (also called High Efficiency Video Coding or HEVC) format allows for a reduction in file size by about 50% with no additional loss of detail. What does this mean to the owner of a dashcam that offers H.265? You can store almost twice as many video files on the microSD card. This is an important feature for cameras that record in 2K and 4K resolution.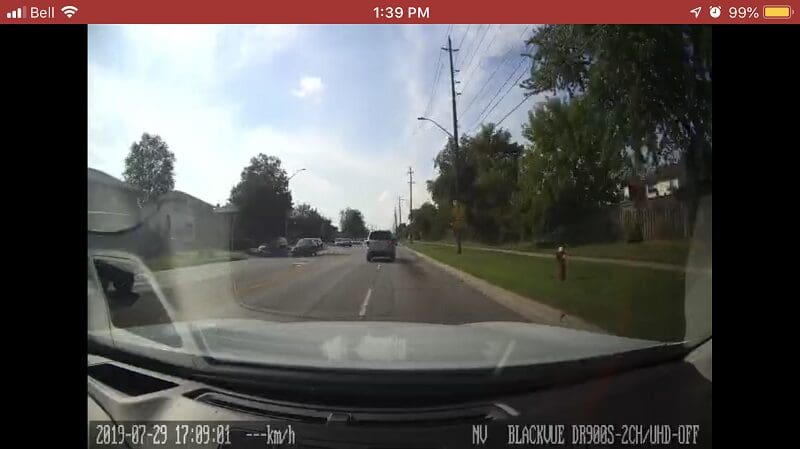 Advanced Dashcam Features and Technology
If you are in the market for a dashcam with advanced features like cloud connectivity and Wi-Fi, visit your local specialist mobile enhancement retailer today. They would be happy to show you what is available and arrange for their technicians to integrate one into your vehicle.