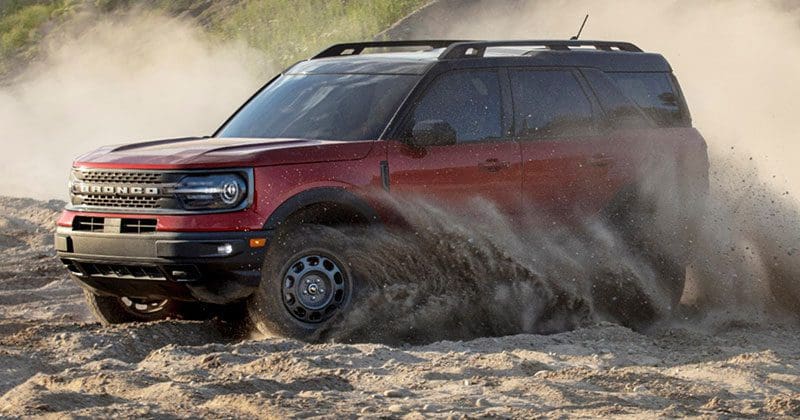 The new Ford Bronco is red hot. Ultra-hot. So much so, one customer sold his allocation for a new one on eBay for a reported $150,000. That's quite the markup for a vehicle that costs around $58,000. Only a select few Broncos have hit the streets, so most people haven't seen one in the flesh. But everyone who saw my tester said, "Wow, I like that new Bronco." Except it's the Bronco Sport, the smaller brother of the yet-to-be-released big Bronco.
It's unusual for vehicles to be launched in reverse, where the spin-off comes before the main show. The Bronco Sport SUV's design inspiration, including the "halo" circular lights, is directly linked to the all-new Bronco halo model – hence the general public's confusion at the gas station. It features those round headlamps, clean, flat bodysides and timeless proportions with the short front and rear overhangs required for off-road maneuvers.
Ford didn't paint the important areas exposed to off-road mayhem, so the vehicle is ready for almost anything the outdoors can throw at it. The Badlands series comes standard with 28.5-inch all-terrain tires on wheels that look like "steelies" (base model steel wheels). The tread was aggressive for a stock tire but still reasonably quiet on most roads.
'Toughness and Smarts'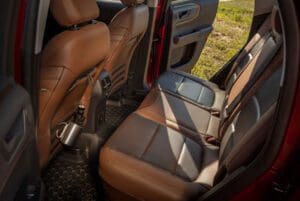 With the Bronco Sport offering standard 4×4 across the lineup, Bronco Sport lives up to its G.O.A.T. (Goes Over Any Terrain) heritage. In fact, a selector on the center console lets you choose the specific off-road mode you need for the terrain you're tackling. Ford says the Bronco Sport offers unsurpassed ground clearance, made-for-the-trails approach and departure angles, water fording abilities, obstacle protection and segment-first trail technologies.
Hau Thai-Tang, Ford's chief product development officer, says, "Bronco Sport has the toughness and smarts to help turn off-road novices into 4×4 pros. Bronco Sport embraces the needs of outdoor enthusiasts – every inch of it was designed and engineered with weekend adventurers in mind."
Owning the Off-road Experience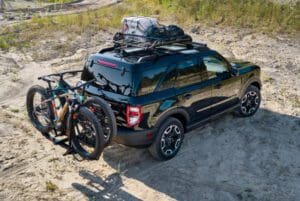 With off-road performance at its core, Bronco Sport provides solid performance with a twin-clutch rear-drive unit that functions similarly to a mechanical locking differential. The vehicle can send engine torque to either rear wheel, which is rare for this segment. Even if it does not rain especially hard, it's nice to know the Bronco Sport Badlands and First Edition can wade through up to 23.6 inches of water. The Bronco Sport suspension system includes uniquely tuned front struts with hydraulic rebound stops designed to provide a quieter, less jarring off-road experience.
Ford offers a safari-style roof and a cargo area high enough to hold a pair of 27.5-inch-wheel mountain bikes.
Once you hit the trail, you don't want to look back! You should be looking forward and Ford is happy to help you, with technology to help negotiate obstacles without a spotter. Ford took a page from Land Rover with the available front off-road camera with lens washer. The video feed is displayed on the center stack-mounted touchscreen. It provides good visibility of the trail ahead.
Plenty of Gutsy Power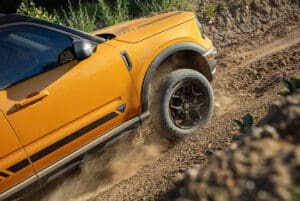 My Badlands tester was powered by the 2.0-liter EcoBoost engine. It is surprisingly gutsy, with 245 horsepower on tap. The Badlands edition has paddle shifters but most of the time I let the computer handle the shifting duties.
The Bronco Sport Badlands also makes getting clean almost as much fun as getting dirty. According to Ford, for painless post-adventure cleanups, the Badlands and First Edition offer washable rubber flooring throughout the cabin and cargo area, with easy-to-clean cloth seating surfaces and silicone-sealed control switches. To keep the tailgate party going, the Bronco Sport has a 400-watt inverter and liftgate floodlamps to illuminate your surroundings.
The CUV That Really Acts Like an SUV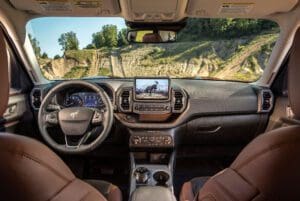 The Bronco Sport makes a lot of sense if you aren't sold on the wildly popular CUV class yet appreciate their size. Even though the Bronco Sport has off-road goodies and chops, it still has plenty of technology to keep you as informed and safe as a Ford Escape. The SYNC 3 system works well, and Apple CarPlay and Android Auto are on tap. For Amazon lovers, you can communicate with the Ford+Alexa app from the steering wheel — you can even do your Amazon shopping from the trail! The Ford Co-Pilot 360 ADAS system is built in, with Adaptive Cruise Control with Stop-and-Go and Lane-Centering.
My tester came in at just over $35K. So, if you're looking for something rugged but you aren't quite ready for a full-size Bronco or Wrangler, the Bronco Sport could be the perfect ticket!