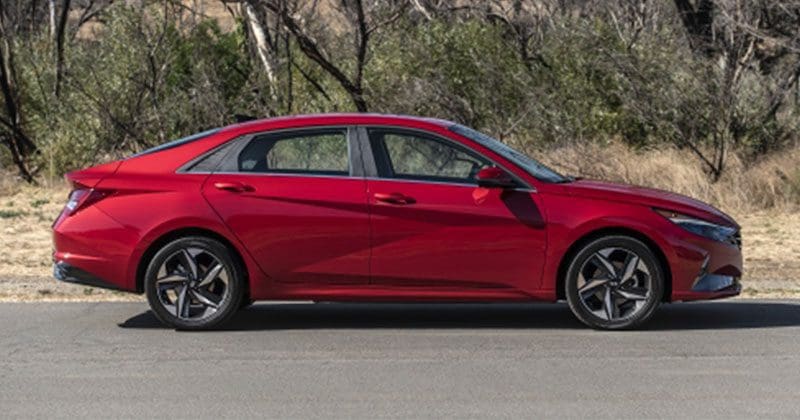 A lot of us would like a brand-new Tesla, and we know that making a comparison from a Tesla to a Hyundai Elantra is a big leap … or is it? Besides the powertrain differences, the infotainment tech in the Elantra can more than compete.
The redesigned 2021 Hyundai Elantra Limited has a new exterior design that is part of the company's "Parametric Dynamics" program. Distinct styling lines give the Elantra a pretty shape that looks larger and more luxurious than its $25,000 price would suggest.
Additionally, the interior could be considered even cooler than a Tesla Model 3. While the Tesla just has one large screen, Hyundai went the route similar to Mercedes and has two connected 10.25-inch displays that wrap around the driver like jet fighter. Although I tested the Limited model, hybrid and high-performance versions will also be available. We can easily see the value in the luxury offered by the Limited model.
José Muñoz, president of Hyundai North America notes, "While some manufacturers no longer see the value in the car side of the business, we're doubling down by offering an all-new model with both gas and hybrid powertrains. We've sold more than 3.4 million Elantras here in the U.S. and more than 13.8 million worldwide, and the new, captivating look is going to bring excitement to a whole new generation of buyers. Then once inside, they're going to love all of the progressive features."
Cockpit and Screen Setup in an Elantra? Yes!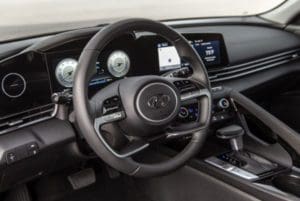 Hyundai describes the Elantra's interior as an immersive cocoon. It was designed to envelop the driver like an airplane cockpit. Low, wide structures go from the door all the way to the center console. The low, wide structure also provides ample room.
To keep the look of the two screens blended into the vehicle, we love what Hyundai did with the dash vents. They are slim and high-tech, going across the cockpit with a blended faux-metal surround and an LED strip that illuminates them. We could have been fooled into thinking we were in an entry-level Mercedes. The mood lighting is customizable with 64 colors.
Even the cupholders are engineered for the real world. They feature a user-changeable adjustment panel that allows for normal 12-ounce cups and sodas, or if you flip the panel around, they can accommodate 64-ounce bladder-busters some Americans love on road trips.
There is one strange interior element I couldn't figure out. To the left of the instrument cluster, the glass continues and illuminates something that looks like a clock or compass. But with no information. I couldn't figure it out, and Hyundai confirmed that it's just an illuminated design element. Just add some information to that part of the display and the Elantra interior would be darn near perfect for the class.
Wireless Car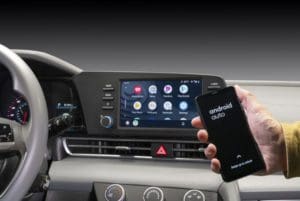 One cool tech feature of the Elantra is not having to remember to take smartphone cords along for the ride. The Elantra offers a Qi wireless charging station in the center console, along with wireless Apple CarPlay and wireless Android Auto. So just plop your phone on the console and it can communicate with the vehicle while charging, without fumbling with any cords.
These three features were first available in the aftermarket before they became standard OEM equipment. However, your local specialty mobile enhancement retailer can install wireless CarPlay or Android Auto in your current ride. Dual Bluetooth support is also available, so two devices can be paired at the same time — one for phone calls and one for streaming audio.
Safety First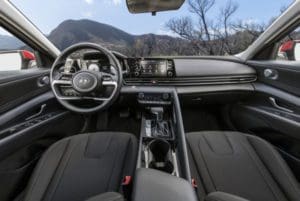 In addition to the usual safety tech, the Elantra also flexes Smart Cruise Control (SCC). It makes highway and long-distance driving more comfortable. Using a radar sensor mounted on the front grille, the SCC system maintains a set distance from the vehicle ahead in varied traffic conditions by automatically adjusting vehicle speed as needed. Highway Driving Assist (HAD) keeps the Elantra centered in its lane while keeping it a safe distance from the car it is following.
Finally, Parking Collision-Avoidance Assist – Reverse (PCA-R) helps detect pedestrians and obstacles with a rearview camera and ultrasonic sensors. The system can provide warnings and apply emergency braking to assist in collision avoidance. Your local mobile enhancement retailer can also integrate these backup systems into your current ride.
Bang-for-the-Buck Features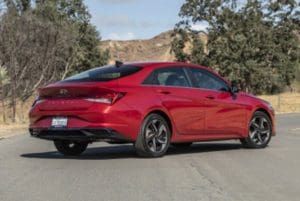 The Hyundai Elantra Limited offers impressive features and tech for the money. In fact, you don't even have to take a key along for the ride as long as you have your Android smartphone. Digital Key uses a dedicated mobile app, along with Near Field Communication (NFC) and Bluetooth Low Energy (BLE) technology, to allow a new Elantra to be unlocked, started and driven without a physical key. It's another feature that's available in the aftermarket for your current ride. Elantra's Digital Key also allows secure sharing of virtual keys with family and friends.
With a price around $25K and a strong warranty program, we wouldn't hesitate to suggest the Hyundai Elantra Limited for anyone who loves tech who's looking for a traditional car.