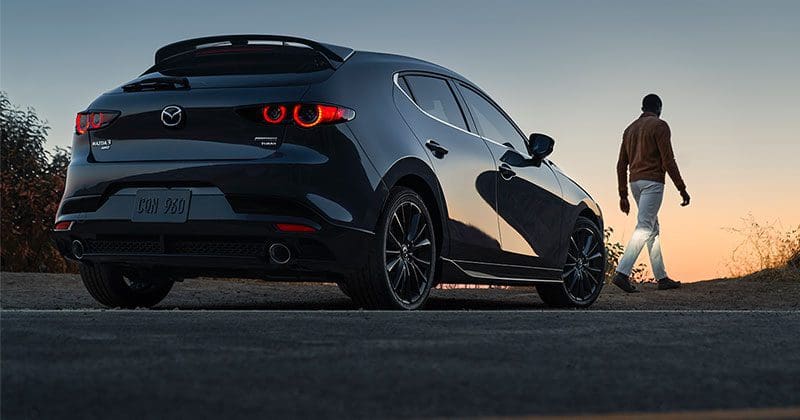 For those who love the idea of a "hot hatch," the VW Golf iterations, such as the GTI, Rabbit or Golf R, come to mind. If you aren't exactly enamored with German engineering yet still want something fun, but perhaps a step above a Civic, check out the 2021 Mazda3 hatchback. It has a cool look, a luxurious interior and some fun performance to boot.
Torquey! And a Smooth Operator!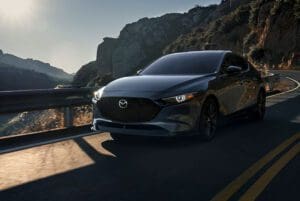 One advantage of the Mazda is its "big block" four-cylinder engine coupled to a turbocharger. It offers 227 horsepower and 310 lb-ft of torque. Although the acceleration is not rip-your-face-off, it is delivered in a smooth and mature manner. The engine is mated to a smooth-shifting six-speed automatic transmission. It can be shifted via paddles or by moving the gear selector to a gate. The powertrain package screams quality.
According to Mazda, part of what sets the Mazda3 apart is the development of its Dynamic Pressure Turbo system. This innovative technology accelerates exhaust gasses through a tiny inlet to quickly spool up its turbocharger at low RPM. This happens before opening a larger secondary passage to use throughout the engine's operational range. The result is an engine that comes on strong but does not suggest it has a big turbocharger that gives a sudden surge of power. It is smooth through the rev range. That makes the Mazda3 fun while hustling it through traffic.
SUV Replacement?
One very cool advantage of the Mazda3 is that you can get it with all-wheel drive without dramatically affecting the price. Mazda calls its version of AWD i-Activ. It distributes more torque to the rear wheels so when you're driving quickly, it feels composed. However, when you need more traction in the snow, it is available to you. It makes a good case for moving away from the ubiquitous CUVs and having something that is still practical, fun and easy to park.
Hey, What's Tugging at Me?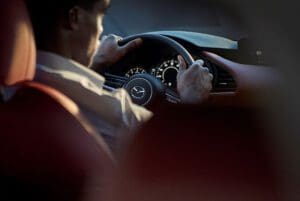 A new technology for Mazda is its adaptive cruise control feature called Traffic Jam Assist. It monitors the vehicles in front of you as well as the lines in the road. It provides steering inputs at speeds under 40 mph. The system is designed to keep the stress out of commutes, but it can be a little stressful when it starts beeping and tugging the wheel if you aren't prepared for it. On some rides, just hugging the traffic lines would result in beeping and tugging. Of course, the system can be turned off, but it should be a little less aggressive from the factory. This is one instance where aftermarket lane departure warning would prove superior, as it can be adjusted to only give visual/audible alerts.
My only other niggle with the Mazda3 was the electronic parking brake. It set itself on my driveway (or anywhere there was a slight incline) and engaged the rear brake when you wanted to take off. It is electronically overridden by further pressing the gas pedal but there are a few items that are best left being strictly mechanical. The emergency brake is one of them.
CarPlay, Android Auto, and Bose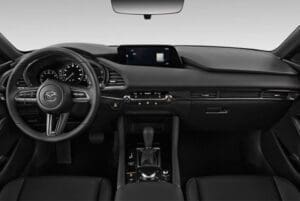 The Mazda3 features Apple CarPlay and Android Auto. But a surprise was the decent Bose audio sound system. Bose even upgraded the quality of the speaker grilles – they wouldn't look out of place in a Bentley. The system features 12 drivers, with midbass speakers cleverly engineered into the cowl for impressive bass response and keeping the stereo imaging toward the front of the car. All the features are intuitively accessible by using the Mazda Connect 8.8-inch large center display and controlled by the multi-function commander knob located near the shifter.
A Host of Niceties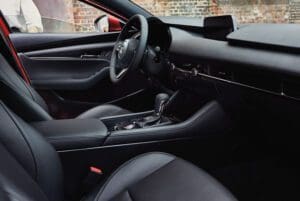 It's always impressive to find unexpected extras in a vehicle with a lower MSRP (it starts at under $30K). The Mazda3 hatchback has a nice Heads-Up Display to keep your eyes on the road, a heated leather-wrapped steering wheel, heated seats, a power moonroof, dual-zone climate control and an electronic glove box. Moreover, it is a fun, zippy alternative to the typical CUV that dominates our streets. Dare to be different!