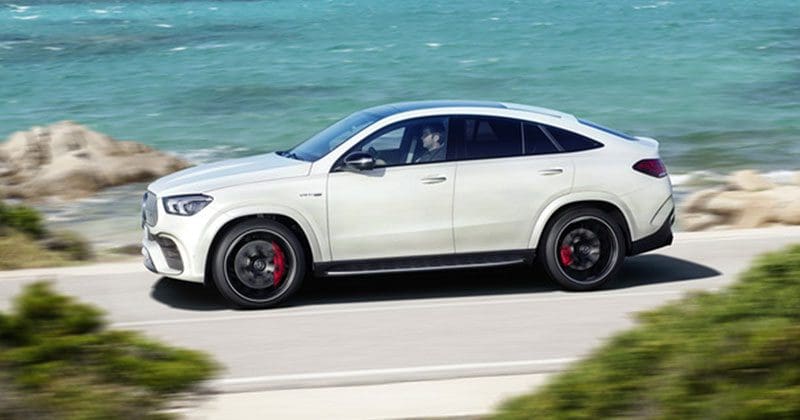 One very nice perk of reviewing vehicles is getting to drive a multitude of cars. Usually my wife is indifferent to what's in the driveway – her vice is shoes. But every once in a while a vehicle comes along that gets her to go "Dammmmn!" Her exact words were, "What is this – a spaceship or the Batmobile?"
The 2021 Mercedes AMG GLE 53 Coupe is a little of both. Although it does not have the off-road prowess of a traditional SUV, it still offers AMG Performance 4MATIC all-wheel-drive that can get you off the beaten path. Or at least conquer the divots of the strip mall to get to your dinner curbside pickup.
It also doesn't have the cargo capacity of a typical SUV, but then again, it doesn't have the looks of a typical SUV. Mercedes designers have done a great job setting off both the interior and exterior of this SUV-coupe. As one of my daughter's friends said: "That thing is lit!" As people are moving away from traditional performance coupes and sedans, the GLE 53 makes a great case for switching to an SUV-type vehicle while still getting a performance-enhanced ride.
Style and Grace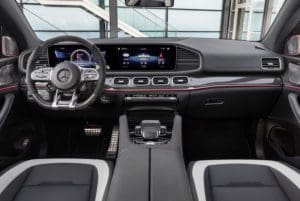 The GLE 53 Coupe rides on a 2.4-inch shorter wheelbase than its SUV sibling. That tightens up everything, but there is still plenty of room for luggage. Tobias Moers, CEO of Mercedes AMG, says, "The new GLE 53 Coupe adds even more style and elegance to our SUV family, together with hallmark AMG features such as the brand-specific radiator grille. The attractive coupe lines envelop sophisticated suspension technology and our powerful, efficient six-cylinder in-line engine with 48-volt technology. Both guarantee a thrilling driving experience in terms of longitudinal and lateral dynamics."
The special AMG-specific grille makes it look mean. The AMG side skirts and trunk lid spoiler are painted in the vehicle's body color. The flared wheel arches allow space for large wheels – 21-inch wheels with AMG lettering are fitted as standard. My tester had the optional 22-inch cross-spoked forged wheels in matte black. They showed off the silver-caliper high-performance brake system. This combo shows how "cool footwear" can really change the character of your ride. If you still like your vehicle but are looking for a new look, check out your local enhancement specialist who can help find new shoes for your whip.
Powerplants!
AMG threw a lot of technology at the engine bay. The gasoline engine is a turbocharged 3.0-liter inline six-cylinder engine that gives 429 horsepower and 384 lb-ft of torque. The gas engine is enhanced by two technological-wonder power adders. The EQ Boost starter-generator works as both an alternator and powerful electric motor. It sits between the engine and the transmission. EQ Boost delivers an  additional 21 horsepower and 184 lb-ft of torque for short bursts, and acts a generator for the 48-volt onboard electrical system.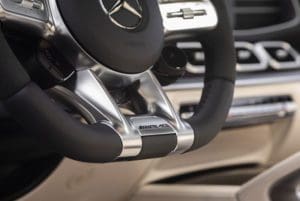 The engine also features an auxiliary electric compressor, which helps to "spool up" the turbocharger so that power is instantaneous: Its internal fan spools to 70,000 rpm in a third of a second, supplying 8 pounds of boost to either the exhaust-gas-driven turbocharger or directly to the engine.
An arsenal of computers helps the system develop maximum power while achieving decent fuel economy. The GLE 53 Coupe accelerates from zero to 60 mph in only 5.2 seconds and reaches an electronically limited top speed of 155 mph. For those who want to go all-out, the GLE 63 model gives just over 600 horsepower. Necessary? No. Expensive? Yes! But for those who want the ultimate….
Steering Wheelhouse!
The interior of the GLE is finished beautifully. Unique color highlights such as red contrast stitching and red seat belts contribute to a sporty ambience with an exclusive touch. The AMG seats in black MB-Tex/DINAMICA microfiber provide optimal lateral support and have an AMG-specific pattern with "AMG" badges in the front backrests. The microfiber treatment would look at home in a supercar and makes us wonder what aftermarket Alcantara touches could be done to our current rides.
We also really dug the new AMG steering wheel with integrated displays right on the wheel itself! As an option, innovative steering wheel buttons enhance the steering wheel with a round controller featuring an integrated display beneath the right-hand steering-wheel spoke, plus two vertically positioned color display buttons beneath the left-hand steering-wheel spoke. These enable AMG drive programs to be activated and conveniently controlled on the steering wheel. It is wild to see LCD displays that can control the exhaust note or ride height right on the wheel itself.
Infotainment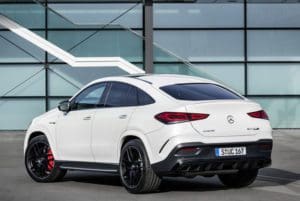 The infotainment system is like the one found in the Mercedes A-Class. It was so cool to see Mercedes debut its tip-top infotainment system in the least expensive model to lure youthful customers. The MBUX innovative control and display concept are standard equipment in the GLE 53 Coupe and offer numerous AMG-specific functions. With the Widescreen Cockpit, the instrument cluster and touchscreen display optically combine into one unit. Numerous functions can also be activated via the intelligent voice-operated control "Hey Mercedes."
The Burmeister audio system sounds the part and might benefit from a tweak for those who want to take it to the next level. The infotainment system also controls the AMG Active Ride Control that can raise or lower the car 2.2-inches.
The infotainment system can also be used to take the GLE to the track and share the data. The AMG Track Pace feature enables up to 80 vehicle-specific data points, as well as times on closed-off private racetracks to be recorded and analyzed in detail. Many of these values can be displayed on the Widescreen Cockpit or in the optional head-up display in real-time. After putting in some fast laps, the driver can use the data to analyze and improve their driving skills. We can think of no other fun way to spend a few hours. The downside is going through tires quickly. There will probably be few who use this feature but it is cool to discuss with your friends.
The GLE 53 Coupe has enough tech to be a discussion piece. The only downside is a price that closes in on $110K. Someone has to pay for all that engineering.