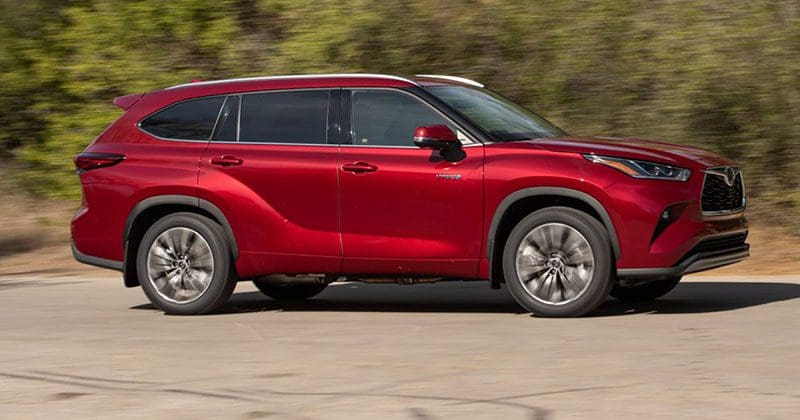 It keeps going up. We knew gasoline couldn't stay at a low price point forever, and now my family friends with three-row SUVs are asking, "Is there anything that has a third row that is also good on gas? I am sick of $60 fill-ups." Well, if your Acadia, Explorer or Durango has you down, Toyota might just have your answer in the new Highlander Hybrid.
I first had experience with this powertrain in the redesigned Sienna minivan, and I was very impressed. After all, how many minivan drivers are drag racing (or are even accelerating hard, stoplight to stoplight)? We think most people value the economy over the 0-60 time. But luckily with hybrid technology, the Highlander gets out of the hole and up to speed quickly.
Toyota will also offer the traditional V6. So if you think you're going to do some towing, then that's the way to go, with a towing capacity of up to 5,000 pounds. But for most users, the hybrid powertrain can take seven passengers comfortably, with lengthy travel times between rest areas.
Fuel Sippin'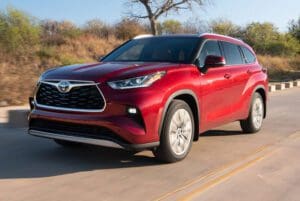 The Toyota Hybrid System in the 2021 Highlander Hybrid combines a high-efficiency, 2.5-liter, DOHC four-cylinder engine with two electric motors. A variable cooling system (electric water pump, electric thermostat) and a fully variable oil pump further enhance engine efficiency.
The bottom line is an eye opener for the efficiency-minded: 243 total system horsepower and up to an EPA-estimated 36 combined mpg. My all-wheel-drive tester did not disappoint with around 37 mpg overall after a nice highway trip. The hybrid is available in either front-wheel drive or all-wheel drive models.
Spread Out and Get Comfy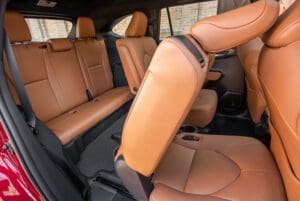 My Platinum model featured standard captain's chair second-row seating with the ability to put three smaller people in the third row. The large rear doors provide easy access, while versatile seat folding features make it easy to enter the third row.
Most importantly, the comfort of the people in steerage isn't compromised as it is in some vehicles. A standard three-zone climate control ensures an ample flow of warmed or cooled air.
With all seat rows in use, the Highlander still has 16 cubic feet of carrying space behind the third row — impressive for a vehicle with a hybrid powerplant. The battery pack is small enough to be installed under the rear seats, so it doesn't take up any cargo or passenger space. This means Highlander Hybrid drivers get all the benefits of a hybrid powertrain without sacrificing much-needed cargo capacity.
Score Like a Video Game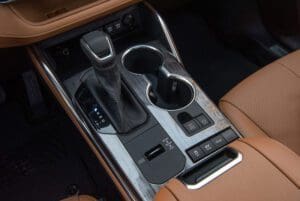 As on many modern vehicles, the Highlander Hybrid offers selectable Normal, Eco and Sport driving modes that let the driver choose the vehicle's performance personality. The bonus is the EV mode, which allows electric-only driving at low speeds for short distances. This can be a very helpful feature for those sensitive to engine fumes. You can get your car out of the garage in the morning without firing up the gas powerplant until you're down the block.
To make the hybrid Highlander score more fun points, it features a sequential shifting feature that mimics gears. The driver can "downshift" to increase the regenerative braking in steps. This way, if you're coming to a traffic light, you can maximize the amount of power going back into the battery pack. Toyota has also integrated an electronic driving coach to eke out the most miles for the least amount of fuel. An accelerator guide function makes economy driving a game. The Highlander suggests an acceleration level to the driver, according to the driving conditions, and the scoring function adds a measure of fun to otherwise unexciting economy driving. Rack up more "plants" to win at the pump!
As Safe as You Might Expect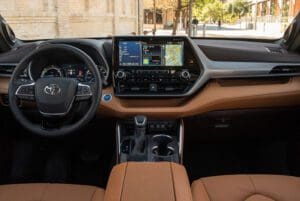 The Highlander Hybrid features Toyota's Safety Sense 2.5+ safety suite. Toyota's adaptive cruise control system is among the best on the market. JBL is onboard as it is in other Toyota products. The sound system features 11 speakers and Harman's Clari-Fi technology that gives compressed music from your smartphone new life with a sense of "air" and improved dynamics. Right at $50K, the Highlander Hybrid Platinum is an often-overlooked SUV for those who need one with a third row. But it offers all the luxury of its competitors with an incredible mpg number.