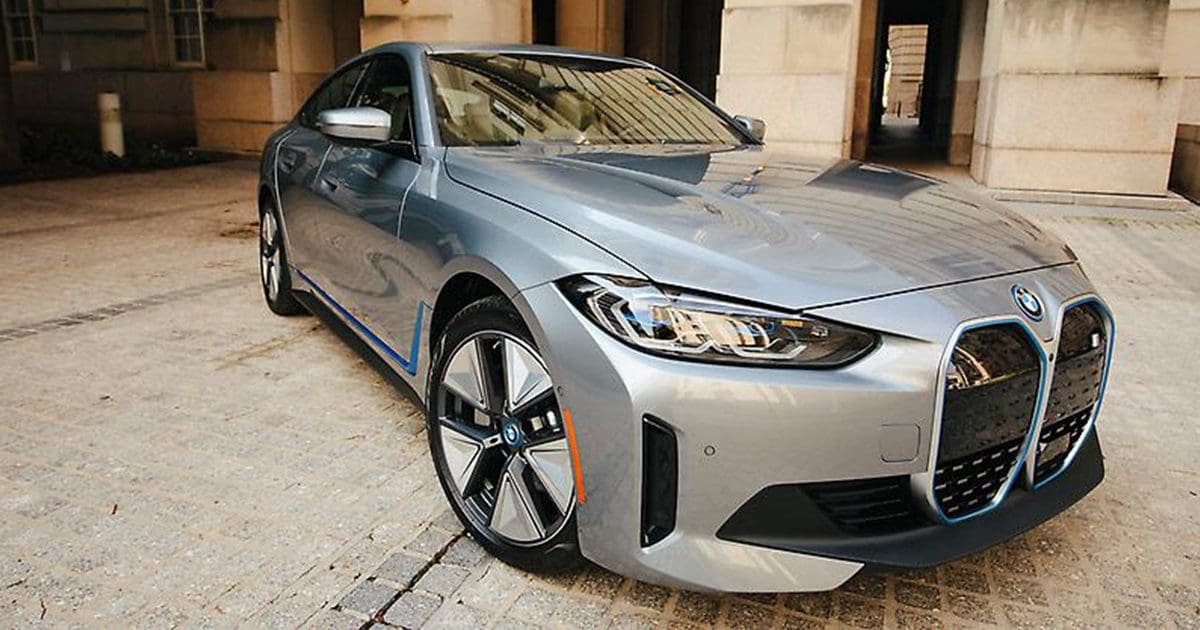 The BMW 4 Series has set itself apart from the more commonplace 3 Series with its swoopy hatchback-like styling. As a gasoline vehicle, it is good and performs similarly to the 3 Series. But what if you take the car and electrify it? Out goes the gasoline engine, and it is replaced with an electric motor and battery pack. Will it still work? Or do you get something that is even better? Well, the best thing about the eDrive40 is that since it is based on a traditional gasoline vehicle, it has the feel of a traditional gasoline vehicle – not a science experiment. For those who want to make the leap to electric but aren't quite ready for one large touchscreen dominating the center console, your ride has arrived.
Carded at the Door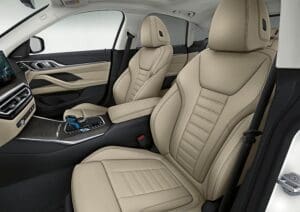 There is a new iDrive system in the i4 called iDrive 8. To take full advantage of the system, you scan a QR code that will link your phone to the BMW. Then it stores settings you like. Once your BMW ID has been established, you'll get a personalized greeting that includes a customized profile image. Then the exterior mirrors, navigation system, driver assistance functions, display layouts, shortcuts, favorites and infotainment system settings will be imported automatically. The customer can elect to save these personal settings to the BMW Cloud. This was done strategically to keep customers in the BMW brand. It is kind of like upgrading your phone and having your old settings and contacts imported from the cloud. You can hop into another BMW and have your settings! The only odd thing about my i4 tester is it did not have power seats or a power steering wheel (but it did have a heated steering wheel). This was done to reduce weight in the electric car. Otherwise, my tester was almost fully loaded.
Charge Her Up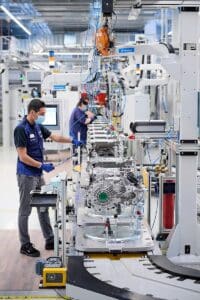 I tested the BMW with its included Level 1 charger and immediately saw that like most electric vehicles, it would not get the job done for normal use. So I switched over to a Level 2 charger and there were no issues. If you want to replenish energy fast while you are on the go, BMW has partnered with EVgo. If you go to an EVgo charging station, the BMW battery will swallow massive amounts of Level 3 charging using DC current. The BMW i4 can charge its high-voltage battery at up to 200 kW. When hooked up to a Level 3 high-power charging station, the i4 can take enough energy on board in just 10 minutes to increase range by 90 miles. Almost gas station quick. EVgo's public fast-charging network offers the convenience of charging at more than 800 fast-charging locations at retail and grocery stores, shopping malls, entertainment centers and other sites ideal for quick, 20- or 30-minute errands. You just need to be lucky that everything is working and no one else is using the charger.
One Big, Long Display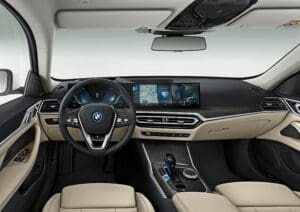 Similar to the large landscape display that first appeared on the Mercedes A-Class, the BMW features a beautifully curved display with a 12.3-inch information display and 14.9-inch control display that effectively merge into a single driver-focused unit. According to BMW, the anti-reflective glass used makes it possible to dispense with the customary binnacle for shielding the readouts from sunlight, giving the cockpit area a remarkably tidy and airy appearance. The hard and soft button controls for the audio system are top-notch. Album art appears as rich and detailed as if you had a vinyl collection in your dashboard. The audio isn't bad either. The Harman Kardon surround sound system features 16 speakers, a digital seven-channel amplifier and over 450 watts of audio power. Since you do not have to overcome any engine noise, it is ample for the job at hand, but we could always use more power!
Tirestarter!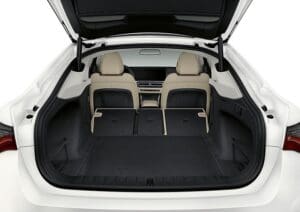 We all have had experiences with TPMS sensors. The i4 uses more sophisticated technology to monitor the tires. When you need a new set, the technician enters the date code and manufacturer. Then the i4 will even suggest tire pressures for when the car is packed with passengers and cargo and when it's just a person and their briefcase commuting to work. The system advises you of tire wear that is analyzed by pressures, temperature and wheel speed readings.
It Can Drive Itself
Ever have a tough time backing out of a spot? BMW's Back-Up Assistant to the rescue! The i4 memorizes the last 50 yards of your journey. The system is then able to reverse the vehicle, taking the same line it took while moving forward. The driver just needs to monitor the surroundings and gently apply the gas and brake pedals. The i4 eDrive40 is loaded with technology. Most importantly, it drives like a BMW. It feels normal. Most people would not recognize it as a full-electric until you spilled the beans. If the backordered Tesla Model 3 is not your style, the BMW i4 eDrive40 might be the ticket for a well-engineered electric car with features Tesla does not offer. With a starting price at $55K and my tester with nearly everything at $63K, take a serious look!