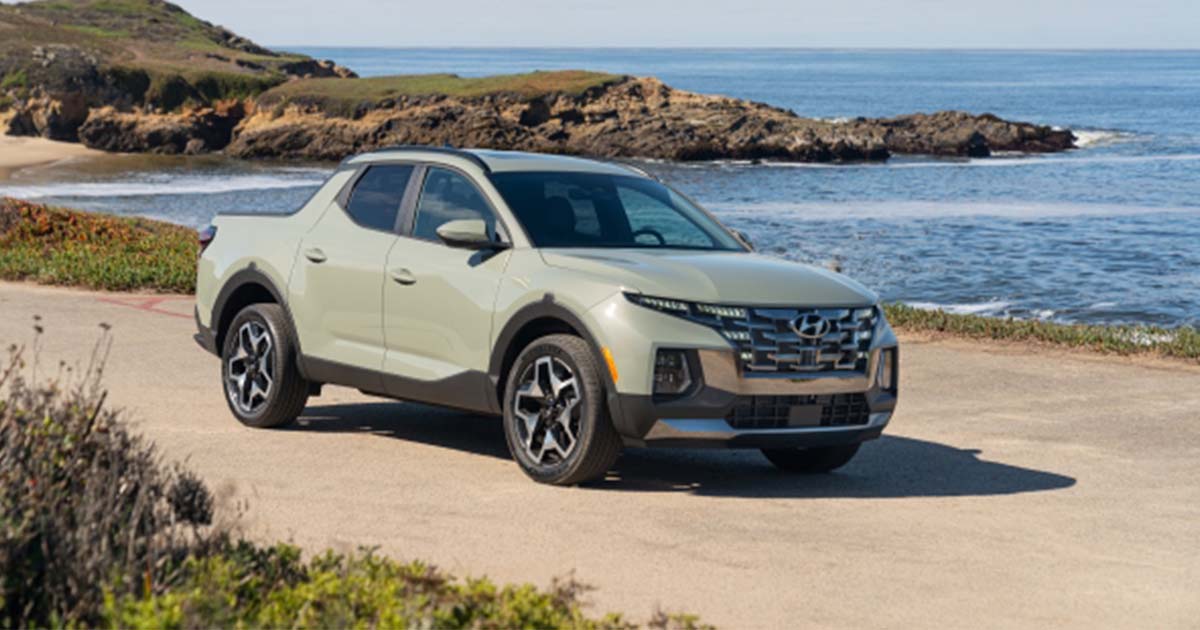 Americans love their trucks. The Ford F-150 is the best-selling vehicle in America. Ford originally held back on its smaller Ranger, thinking that it might cannibalize sales from the leader. But America's appetite for a vehicle with a bed is strong, leading Ford to recently introduce the Maverick, in addition to the mid-size Ranger, to get into the small-truck segment. We've seen vehicles like this in the past, with a five-passenger cabin coupled to a small bed, such as the Subaru Baja or Honda Ridgeline. For urban dwellers, these small trucks have just the right amount of utility while remaining reasonable to park.
Hyundai wanted in on the action on this segment too, especially since it just redesigned its Tucson platform and could easily transform it into a pickup. Meet the Santa Cruz. It may be a long way away from Santa Fe (both the city and the SUV), but it targets an often-neglected market segment and hits a home run doing it!
Looks the Part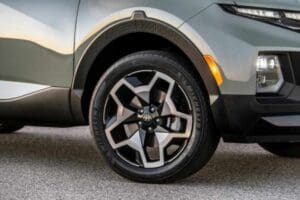 The Santa Cruz looks like a tough little truck. It's rare to get questioned at the gas station about a pickup, but that happened a few times during my experience with it. The 20-inch rims set off the look, and right above them is cladding designed to represent armor that really sets off the trucklet's unique look.
The functional open bed features secure, lockable in-bed storage, integrated corner bumper steps and a lockable tonneau cover. It's so refreshing to have a tonneau engineered from the factory that seamlessly glides out of the way. The interior has clever storage tricks, too, including a rear seat that can be hinged forward to expose cavernous storage (a perfect place for installing aftermarket car audio equipment).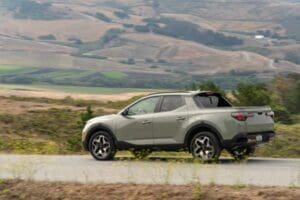 Jose Munoz, president of Hyundai North America sums it up: "Santa Cruz, with its bold styling, breaks open all-new segment territory, both for Hyundai and the industry as a whole. Open-bed flexibility coupled with closed-cabin security meets the changing everyday needs of its adventure-oriented buyers, while powerful and efficient engines and superb maneuverability ensure it is a pleasure to drive in urban or off-road environments. Our customers will wonder just how they managed before owning one."
After living with one for a week, I can see the usefulness of having an open bed … even just to haul smelly garbage to the dumpster!
Engine Choices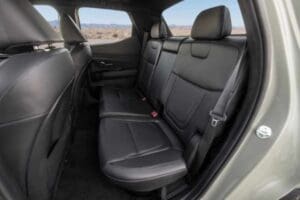 The Santa Cruz offers two engine choices: a naturally-aspirated 2.5-liter 4-cylinder engine and a turbocharged version. The standard engine is coupled to an eight-speed automatic transmission. The turbo mill, which mates to an eight-speed dual clutch automatic, or DCT, puts out 275 horsepower and 310 lb-ft of torque. It is not wanting for power! Paddle shifters are standard on the turbocharged engine. The only thing I noticed with the DCT is a brief pause between shifts in normal mode. It can be corrected by activating the Sport mode. The 2.5L Turbo AWD model boasts a generous 5,000 pounds of towing capability – impressive for a small rig.
Interior Tech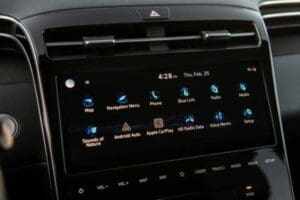 The premium center stack display features an edgeless infotainment screen appearance, with a large 10-inch screen. The center digital cluster display also measures 10 inches. Even though there are two screens and touch controls, I loved the row of hard buttons on the center console that activate the heated seats, ventilated seats or heated steering wheel. An eight-speaker Bose audio system does well, but aftermarket equipment can be easily integrated, especially with all that storage under the rear seats. Wireless Apple CarPlay and Android Auto are on board, along with Qi wireless charging.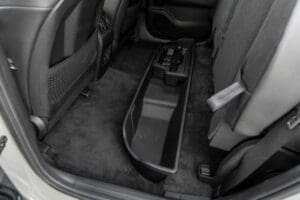 One thing I was missing was a setting for the memory seats until I dug a little deeper and learned about the Hyundai Digital Key feature. It works through a dedicated smartphone app. The Digital Key allows smartphones to control selected vehicle systems remotely. Users can lock and unlock the vehicle, activate the panic alert and start the engine. Digital Key allows owners to leave traditional keys at home and allows secure sharing of keys with family and friends. The system will automatically remember your preferred settings and recall them when you jump in for a ride.
The Sum Is Bigger than the Trucklet Size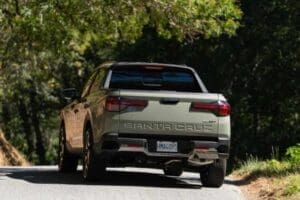 Santa Cruz was developed to be the ultimate Sport Adventure Vehicle, a moniker confirmed in Hyundai's early consumer research. The research found consumers, often living in urban environments, whose lifestyles include the need to escape to weekend adventures of all kinds. Many of these customers carry gear and equipment that is better suited to an open bed rather than a typical SUV.
This vehicle comes into the market on top of the versatility charts. The base model Santa Cruz starts at $25K, but Hyundai flexes its technology and safety muscles in the Limited model, which starts at under $40K. With a great warranty and complimentary maintenance, it's worth a strong look by anyone looking for a flexible vehicle.