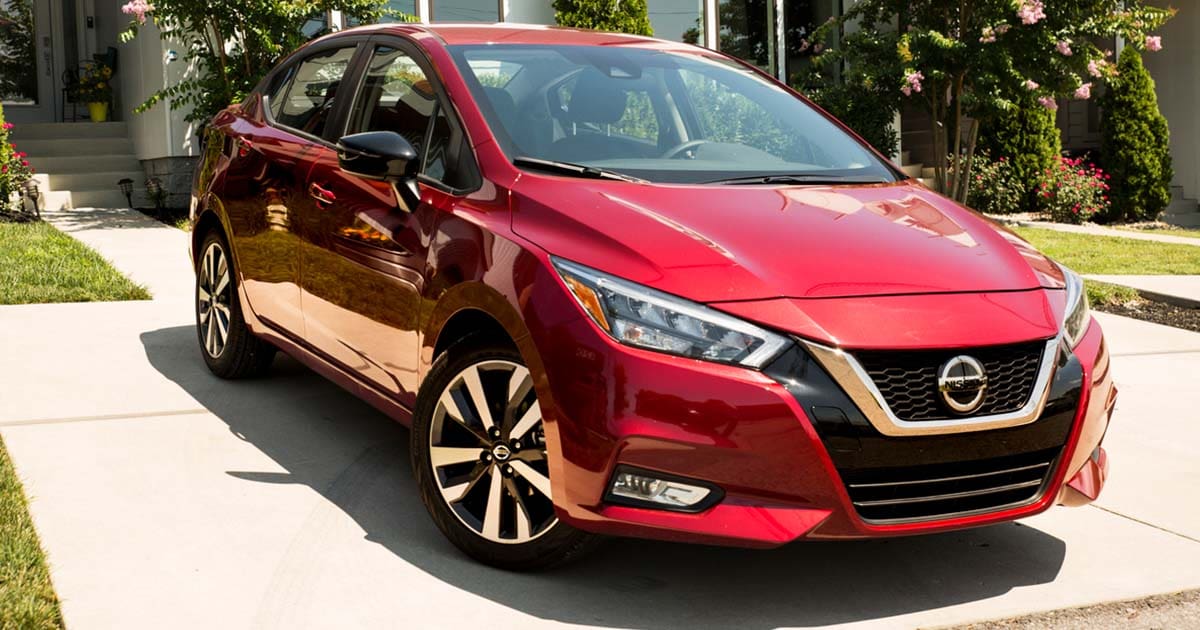 It's a tricky time to be shopping the in the used car market. Prices are so high, it's as if depreciation doesn't exist. The trend will eventually correct itself, but now we have some reasonably savvy used car shoppers saying to themselves, "What if I just buy an inexpensive new car? That way I have a strong warranty and no worries for years."
For those who've ever been stuck with exorbitant repair bills for vehicle electronic systems, a new car with a warranty offers peace of mind. But is there anything out there that has cutting-edge technology that won't break the bank?
Enter the Nissan Versa SR. I had a buddy who got burned on a malfunctioning transmission control module on a 10-year-old Chevy. He'd had enough of going to dealers and independent repair shops that couldn't diagnose the problem. It finally got fixed by an independent mechanic, but the whole thing had taken up too much of his time and patience. He traded it in for the Versa SR. You can get into a lesser Versa model for less money, but the SR features the tech we crave.
Like a Smaller Altima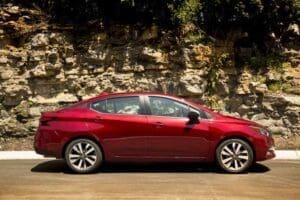 Nissan has had a winner with its Altima sedan, and this iteration of the Versa is patterned after it — elevating the Versa looks over its previous generation. The Versa shares numerous Altima styling cues, including that signature swoosh on the C-pillar and headlights with LED accents.
The echoes of Altima styling continue in the interior. According to Nissan, the interior offers signature elements found in Maxima and Altima, including the "Gliding Wing" instrument panel that expands the feel of the space through use of a light and sleek "wingspan." The effect of the design's spatial symmetry is an enhanced sense of togetherness. Although there are the hard plastics that you would expect on an entry-level sedan, the orange stitching on the SR model really classes up the interior. The seat fabrics look cool, and the rear seats are surprisingly comfortable — and there are USB outlets for front and rear passengers.
Interior Tech
The Versa has a 7.0-inch color display with touchscreen, Bluetooth and a 6-speaker audio system. The standard audio system will get you going, but if you are a music lover, better speakers, amplification and a subwoofer would be welcomed. Luckily, the SR includes NissanConnect, which integrates Apple CarPlay or Android Auto plus a subscription to SiriusXM to get you going. There are steering wheel controls with voice recognition. Remote start is included on the SR, along with the Nissan Intelligent Key that lets you lock and unlock without taking the fob out of your pocket.
Safety First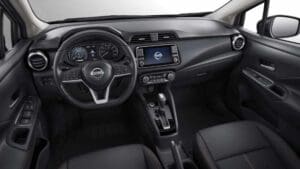 The Versa SR includes Nissan's Safety Shield 360. It features automatic emergency braking with pedestrian detection, lane departure warning, automatic reverse braking that helps you not back into objects, blind spot monitoring and the all-important intelligent cruise control that takes the burden off of commuting in traffic. That feature alone is sometimes worth the price of a brand-new vehicle. Not bad for an entry-level sedan.
Powertrain
The Versa SR features Nissan's 1.6-liter engine with 122 horsepower. It's coupled to an overhauled Nissan Xtronic CVT transmission. The new sub-planetary gear features revised D-step Logic Control for improved shift feel and responsiveness. The two together give you 32 mpg in the city and 40 on the highway. Not too bad for a non-hybrid vehicle loaded with features.
So, What's It Going to Cost Me?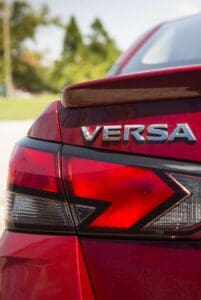 When you look at the cost of getting some vehicles repaired, especially when there are engine or transmission problems, a new vehicle starts looking very attractive. The Nissan Versa SR has most of the amenities, safety and convenience of a technologically advanced vehicle for the amazing price of $18,490.
Now, we don't advocate replacing vehicles often or thinking of them as disposable. But when you can get all this tech for less than $20K, with three years of bumper-to-bumper coverage and five years of powertrain coverage, the Versa SR gets very attractive. My friend was sold and remains very happy with his purchase.