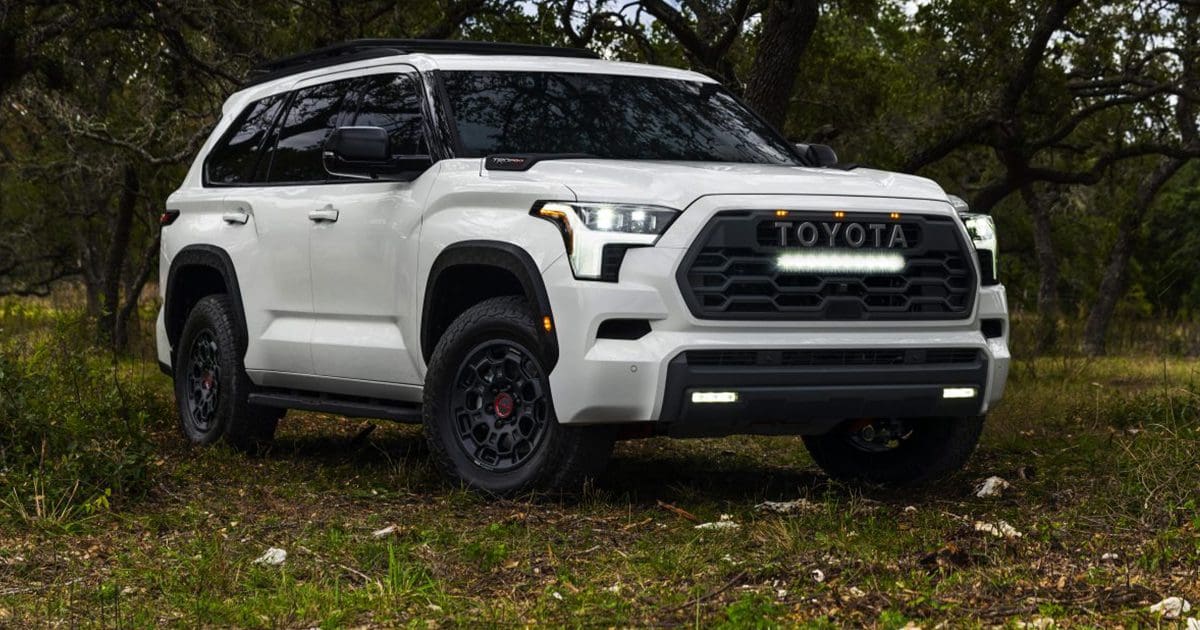 Toyota's Sequoia has always been a worthy competitor to Chevy's Tahoe and now Jeep's new Wagoneer. It flexes a nice interior coupled with Toyota reliability, and the mild hybrid system delivers 20 mpg, which is astounding for a large SUV.
Now, let's add aggressive wheels and off-road tires, a dual-tip exhaust, roof rack, LED lighting and other tasteful touches usually only available in the aftermarket. The result is the Sequoia TRD Pro Hybrid. Need to jump some curbs or ford some deep puddles on your way to day care pickup? No problem – the Sequoia TRD pro is ready for the task!
Loud and Proud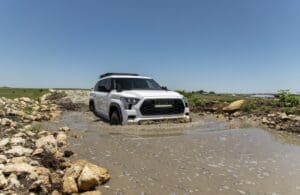 My tester showed up in the loudest shade of orange known to man, Solar Octane. Highlighters are more subdued. And my family loved it. At pickup, everyone wanted to check out the "big orange truck." According to Toyota, the TRD Pro is a great option for adventure-minded families who plan to get off the beaten path regularly.
TRD Pro is not just an off-roader though, as it is loaded with premium features such as standard second-row captain's chairs, TRD heated steering wheel and TRD accents on the seats and shift knob. TRD-tuned FOX internal bypass shocks offer a smooth on-road ride and full-on prowess when the trail gets rough. A ¼-inch aluminum TRD front skid plate gives you added trail protection, and Sequoia TRD Pro offers additional trail capability with a standard selectable locking rear differential, Multi-Terrain Select, CRAWL Control and Downhill Assist Control.
Light the Way!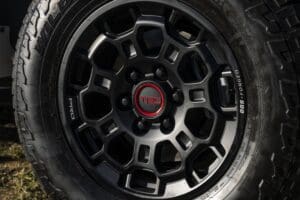 To enhance the old-school Tonka truck feel beyond the electric orange paint, the TRD Pro sports a heritage-inspired "TOYOTA" grille with an embedded TRD light bar and marker lights toward the top of the grille. The integrated LED lights are tied into the vehicle's lighting sensors so you don't accidentally blind oncoming traffic. The SUV is equipped with TRD Pro-specific black 18-inch alloy wheels with an increased offset to provide a wider stance. A dual TRD Pro exhaust tip provides added growl and visual appeal. One very cool interior touch is the large TOYOTA badge just above the glove compartment.
Multimedia, Supersized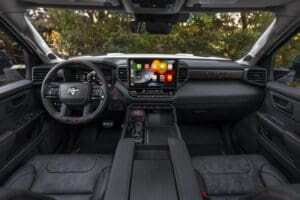 Sequoia shares its multimedia system with the new Tundra. With the large interior, you get a massive 14-inch touchscreen that controls the all-new Toyota Audio Multimedia system designed and engineered by Toyota's Texas-based Connected Technologies team. With new sight, touch and voice activation, the Toyota Audio Multimedia system offers an improved user experience. You can awaken the system by saying "Hey Toyota." The company is so confident in its speech recognition, a microphone icon appears in the lower left as soon as you access the navigation screen. They want you to tell the TRD Pro where you want to go! You have to press another button to access the keyboard that usually pops up first on most nav systems. The cloud-based native navigation system allows for real-time over-the-air updates for mapping and points of interest, with Google POI data integrated to ensure up-to-date search capability. It supports wireless Apple CarPlay and Android Auto.
Engine Tech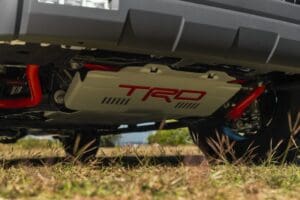 This third-generation Sequoia doesn't have a V-8 but rather a twin-turbo V-6 coupled to a mild hybrid powertrain. First unveiled on the Tundra, the powerplant produces 437 horsepower and 583 lb-ft of torque. The hybrid trick is the unique motor generator within the bell housing between the engine and the 10-speed automatic transmission. This design provides both maximum performance and efficiency. But you're still moving something rather large with off-road style tires. Getting 20 mpg overall was impressive considering the size of the rig. Towing is no problem for a beast that can pull 9,000 pounds. The motorized retractable tow mirrors make it easy.
Automatic Lookout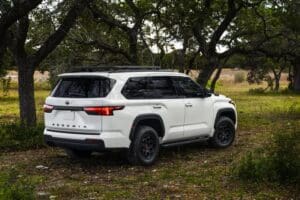 Another cool feature of the Sequoia is the integrated dash camera. It will automatically wake up and record if you stab the brakes or make an aggressive turn, so in the event of an accident, it's easy to submit evidence to your insurance company. If you're tackling some off-road terrain and want to capture the action, a large red "Action" button allows you to film continuously without the vehicle looking for G-force events to start rolling the camera. The data goes onto a 16GB SD card, or you can load it onto the Toyota app via the Sequoia's WiFi. The software is a little wonky from the WiFi, so it's probably easiest to use your home computer to grab the videos off the SD card.
All of Toyota's safety features are on this SUV, and we've discussed before how well the Dynamic Radar Cruise Control works. The Sequoia TRD Pro is not cheap, coming in at $80K. But if you need a three-row off-road-capable vehicle that can tow with reasonable fuel economy, the Sequoia TRD Pro is an excellent choice. Moreover, it looks the business!