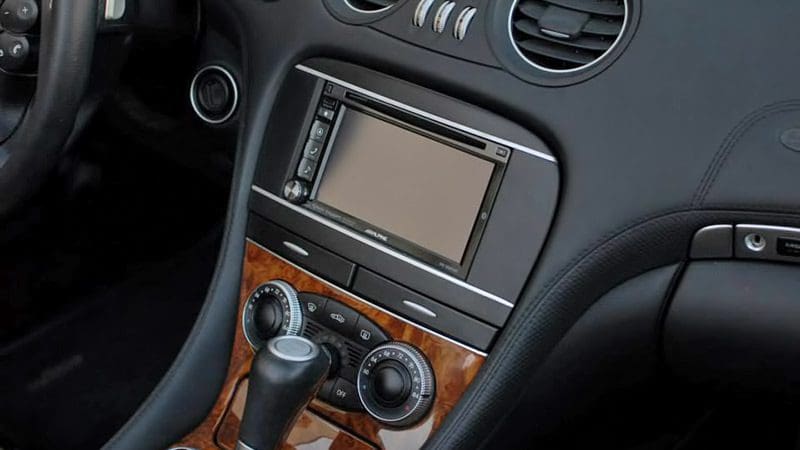 If you ask someone in the mobile electronics industry what "source unit integration" means, they'll probably tell you about making an aftermarket radio fit into the dash of a vehicle and allowing it to send audio to the speakers. For decades, this has been the extent of the task.
Physical Source Unit Integration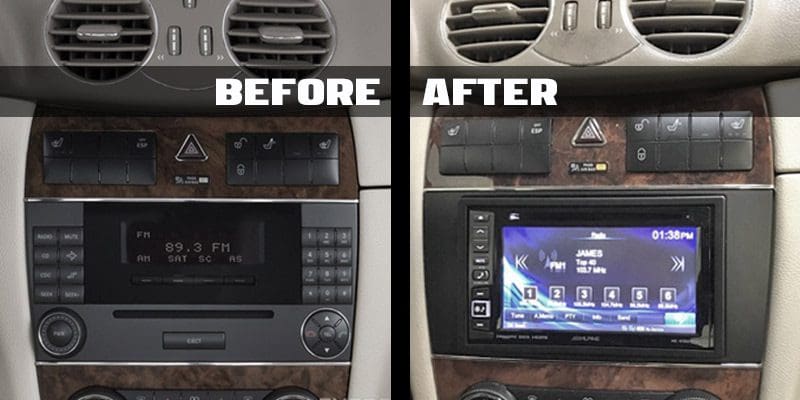 Mounting a new radio in the dash of most vehicles involves the purchase of a mounting kit. These kits are designed to accept a new radio and mount to the vehicle using factory fastener locations. Depending on the application, these kits can be as simple as a trim ring or set of panels for either side of the radio. In complex applications, the kit may include an entirely new trim panel and provisions to work with the factory climate controls, hazard switches, passenger airbag status displays and, of course, air vents.
Electrical Interface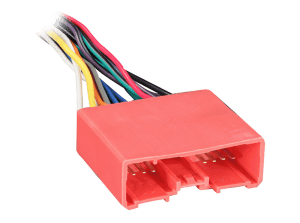 Even the simplest of radio installations requires a wire harness adapter. These adapters include a plug that is a direct connection to the factory radio wire harness. Your installer will connect the plug to your new radio to provide power, ground, accessory and speaker connections.
In some more-complex applications, an interface is required to change the signal coming out of the radio into something that will work with a factory amplifier. Vehicles with factory-installed Bose sound systems are a common example of vehicles that need more-elaborate interfaces.
A second challenge is vehicles that use data communication with the radio to perform simple functions. Many Chrysler radios require a CAN bus interface to provide an accessory output to turn on an aftermarket radio.
Function Integration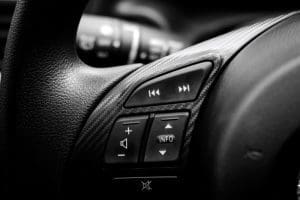 As far back as the early 1980s (and maybe further), automakers started including buttons on the steering wheel that would mimic the volume, source selection and tracking functions of those on the radio. These buttons allow the driver to keep his or her hands on the steering wheel while adjusting the audio system. Of course, any feature that promotes ease of use and safety is adopted quickly across the industry.
In the mid 1990s, aftermarket radio manufacturers added a data input connection on the back of their radios that would allow an external interface to translate commands from the factory steering wheel controls into messages that the radio could understand.
Advanced Vehicle Integration Solutions

As automakers evolve the functionality of their infotainment systems, the aftermarket has forged forward with ways to work with those features and technologies. Once climate controls, vehicle configuration settings and integrated entertainment solutions like Ford Sync, Chrysler Uconnect and OnStar became part of the "radio," upgrading factory source units became exceedingly difficult.
iDatalink in Montreal, Quebec, recognized this challenge and set to work on creating an interface solution that would allow compatible aftermarket source units to work with these new technologies. In 2015, iDatalink launched Maestro in partnership with Kenwood. Shortly after, Alpine, Pioneer and JVC soon adopted support for this vehicle integration technology.
What is iDatalink Maestro?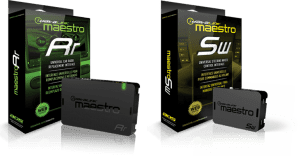 The iDatalink guys are best known for their remote car starter systems and data interface solutions. Their expertise in working with vehicle data networks translates directly to integration with infotainment systems. Maestro launched with two product solutions: a steering wheel control interface called the SW and a data interface called the RR. SW stands for steering wheel and RR for radio replacement. The SW product is pretty straightforward, while the RR is quite complex. Let's look at what RR offers.
Maestro RR – Radio Replacement Interface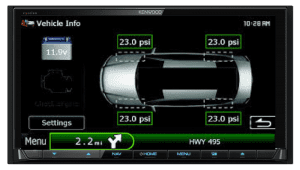 The Maestro RR is like a steering wheel interface on steroids. The system provides bidirectional communication with various vehicle functions. When an RR is used with a compatible aftermarket radio, factory entertainment systems like Sync and uConnect become part of the aftermarket radio. The driver can adjust vehicle settings, including keyless entry options, lighting controls, factory remote control functions, door lock functionality and more. The specific features and functions depend on the vehicle and the make and model of radio you choose.
The second part of the RR solution is integration with factory safety systems like parking sensors, collision avoidance systems, blind spot monitoring and cross-traffic alerts. The Maestro unit routes alerts from these systems through the factory-installed chime speaker. In some applications, the system directs alerts to an appropriate sound system speaker. Additional features include compatibility with factory backup camera systems and satellite radio receivers.
Additional Vehicle Information Features
Because the Maestro RR communicates with the vehicle on the CAN data network, it has access to a massive amount of information. The RR includes a vehicle information screen that shows battery voltage, tire pressure sensor information, door status and even diagnostic trouble codes (DTCs for short). In most applications, the system can clear DTC codes as well.
Maestro RR includes a Performance Gauges screen that will show information like vehicle speed, engine RPM, air intake temperature, turbo or supercharger boost pressure, fuel levels, and more. You can configure up to five gauges for display at any time. A new Track Pack feature will record 0–60 times, ¼-mile times and braking distance. The Track Pack stores the last five runs, so you can compare your driving style or changes to the vehicle.
Applications and Compatibility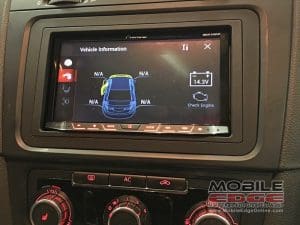 Keep in mind that, not every function we have mentioned is available for every vehicle. For example, if you don't have a factory-installed tire pressure monitoring system, your new radio certainly won't be able to display tire pressure information. Your local mobile enhancement retailer can help you choose a radio with the features and functions you want and let you know what compatibility is available from the Maestro RR.
Make Technology Work for You
If you have a vehicle that doesn't have Apple CarPlay or Android Auto, visit your local mobile enhancement retailer and ask about upgrading to the latest infotainment technologies. They can provide you with details on everything required to integrate that new source unit into your vehicle and, of course, let you know what bonus features and functions a Maestro RR offers.