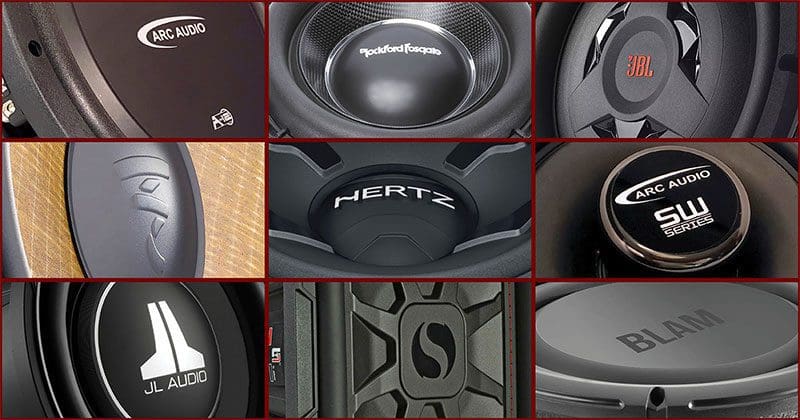 Shallow-mount car audio subwoofers were introduced more than a decade ago to allow installers to add great bass where space was limited. The first thin subwoofers were optimized for mounting depth, but many still required a large enclosure for good low-frequency output. The latest generation of low-profile subwoofers deliver bass that rivals some full-depth subwoofer options. Let's take a look at some of the popular thin subwoofer solutions and explain the difference between them and their full-depth counterparts.
What Is a Shallow-Mount Car Audio Subwoofer?
Historically, car audio subwoofers in the 10- and 12-inch diameter classes required 5 or 6 inches of mounting depth. This space was necessary because of the deep V-shape of the woofer cones and tall motor assemblies. It was physically impossible to fit one of these subwoofers behind the seat of a pickup truck because there were only 4 or so inches to the back wall of the cab.
One of the first popular shallow-mount subwoofers was from Pioneer. Their 12-inch sub needed only 3.25 inches of mounting depth and had a total height of 4 inches. These minimalist dimensions allowed installers to create a long, thin enclosure along the back wall of the vehicle to deliver impressive bass performance.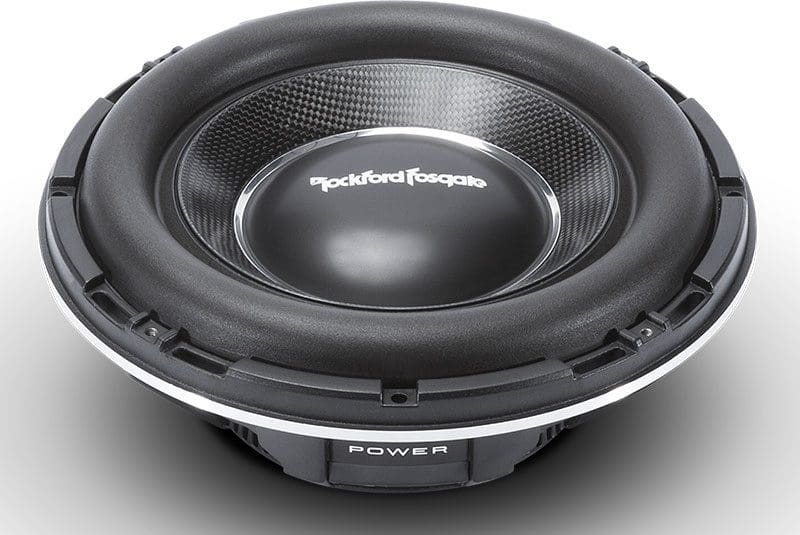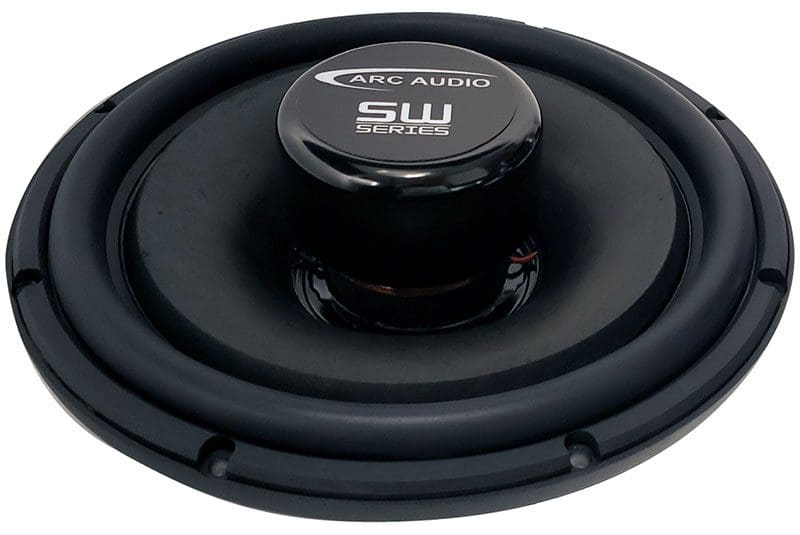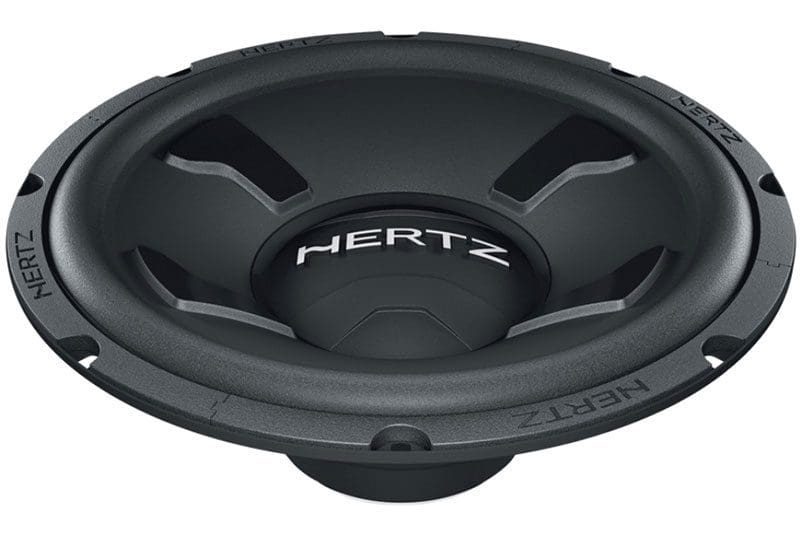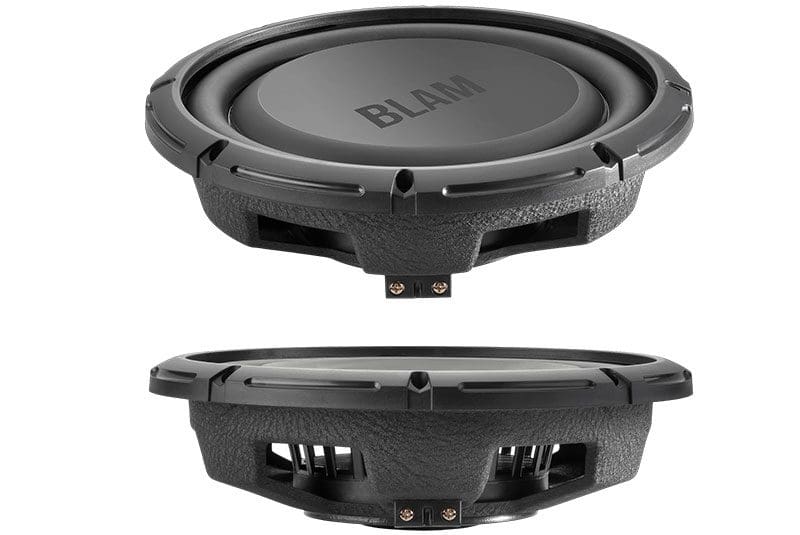 Busting Shallow Subwoofer Myths
We need to address some common misunderstandings about shallow subwoofers. Historically, shallow-mount subwoofers had very limited cone excursion capabilities. Xmax specifications of 5 to 7 millimeters were common. Thanks to advanced computer-aided design, the latest generation offers as much as 15 mm of one-way excursion to equal or better many full-depth options. This increased excursion capability, combined with large, high-temperature voice coil designs, allows shallow subs to play just as loudly as some similarly priced full-depth options.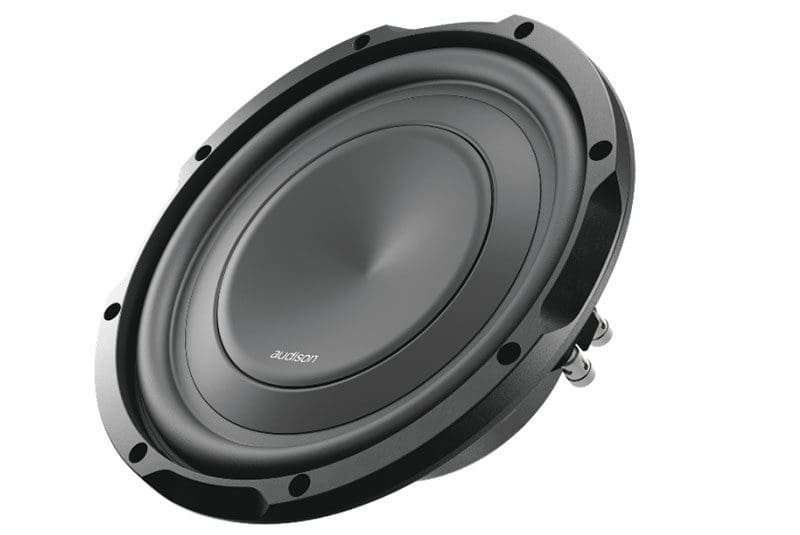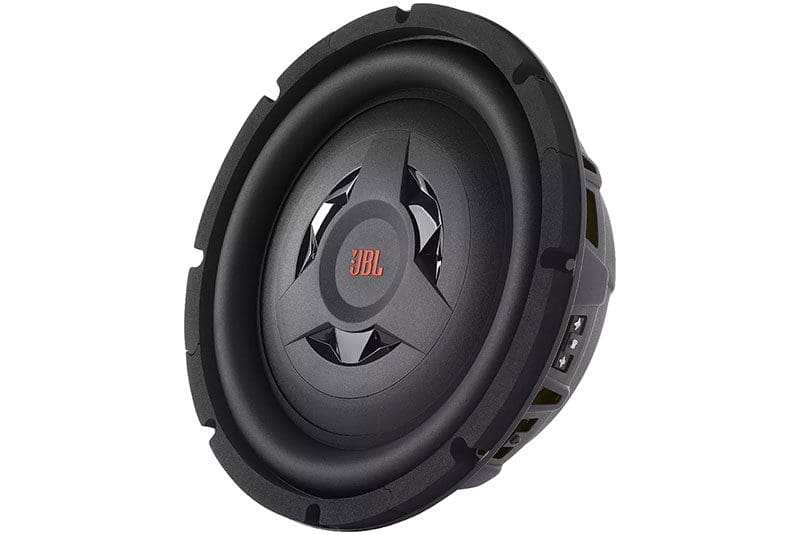 Many people say that shallow subwoofers are inefficient or don't offer the same low-frequency extension as a conventional full-depth driver. That might have been true for some of the first to market, but it's no longer accurate. When installed in an appropriate enclosure, shallow subwoofers can sound absolutely amazing. While some are designed to emphasize bass in the 40-60 Hz range, many can still get down into the bottom octave with impressive authority and output capability.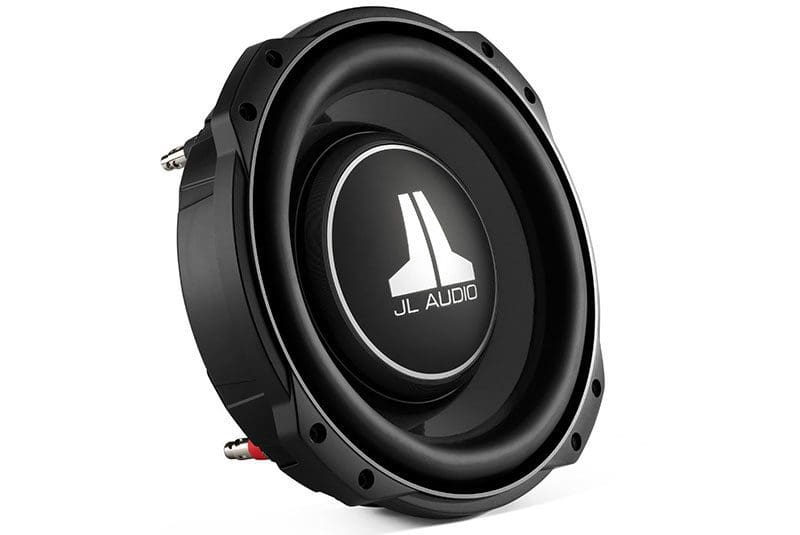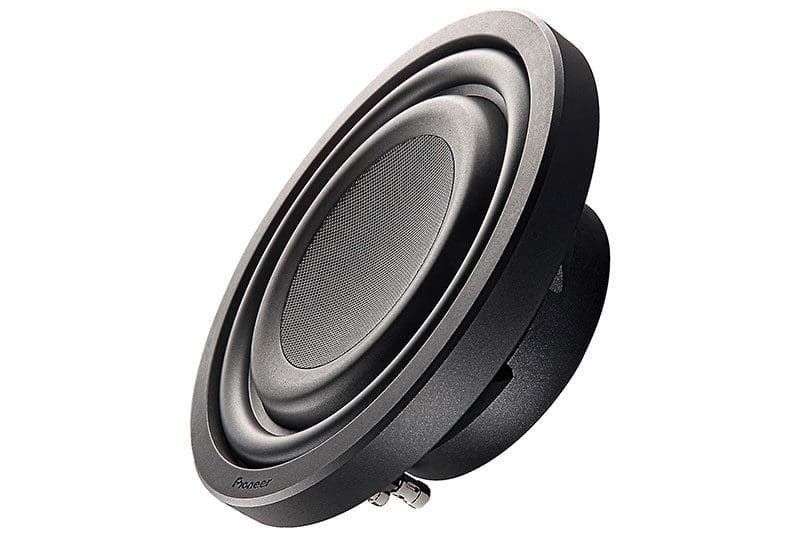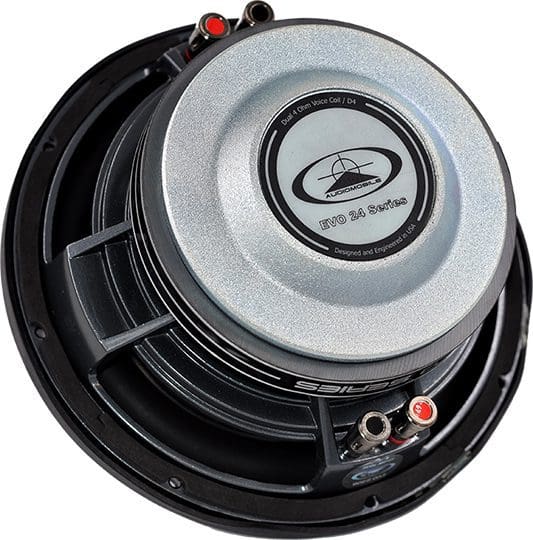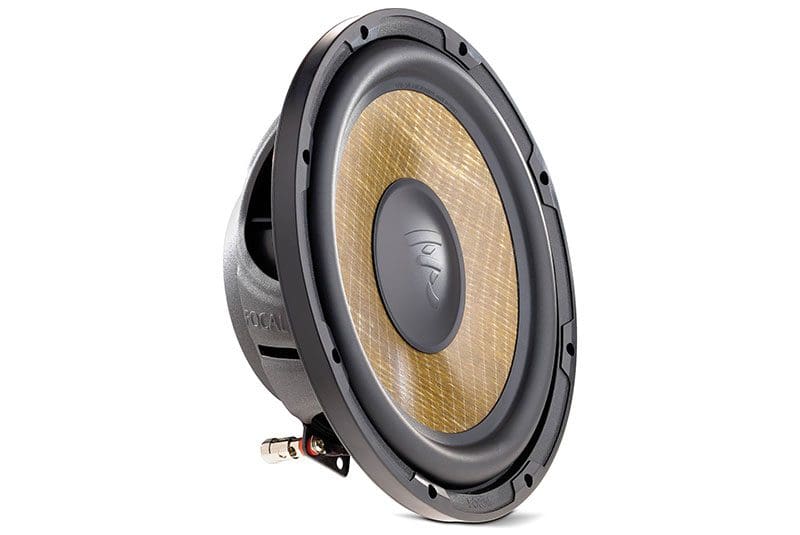 The Importance of Proper Enclosure Design
One issue that comes up with shallow-mount subwoofers is the space available to construct an enclosure. Every speaker of every size that will be playing audio below about 300 Hz requires a properly designed enclosure, or at least adequate air space behind the driver to function properly.
In terms of shallow subwoofers, it's easy to build an enclosure for four 10-inch subs that fits under or maybe behind the seat of a pickup truck. With that said, there's likely very limited air space for each driver. We recently wrote a detailed article on providing your subwoofers with the proper enclosure to function properly. You can find it here.
If you listen to rock music that doesn't need much output below 45 Hz, then lots of subs in a small space might be fine. However, there are many people who like extension down to 25 Hz or lower. For them, fewer subs in the same enclosure will deliver more low-frequency output. When combined with the typical transfer function of a car or truck, the increased deep bass output can make a system with a single sub in a vented enclosure play louder than multiple subs in a sealed design. It's your job to ensure that the retailer you partner with understands subwoofer enclosure design.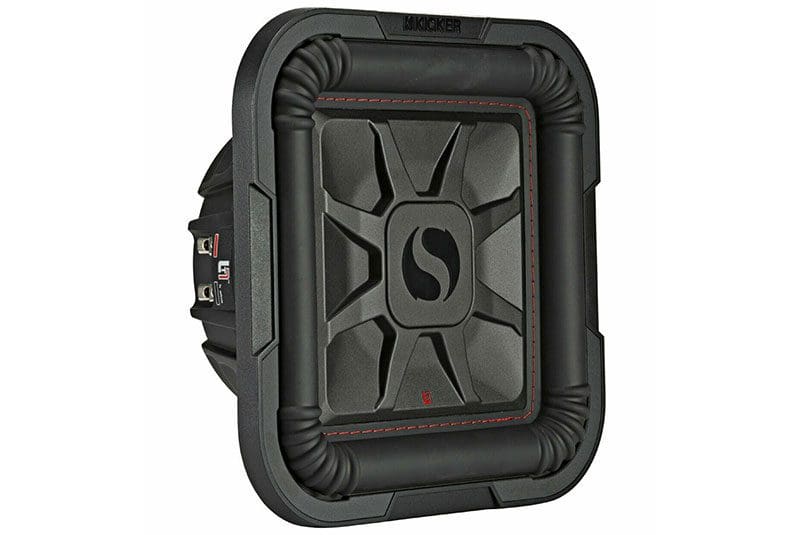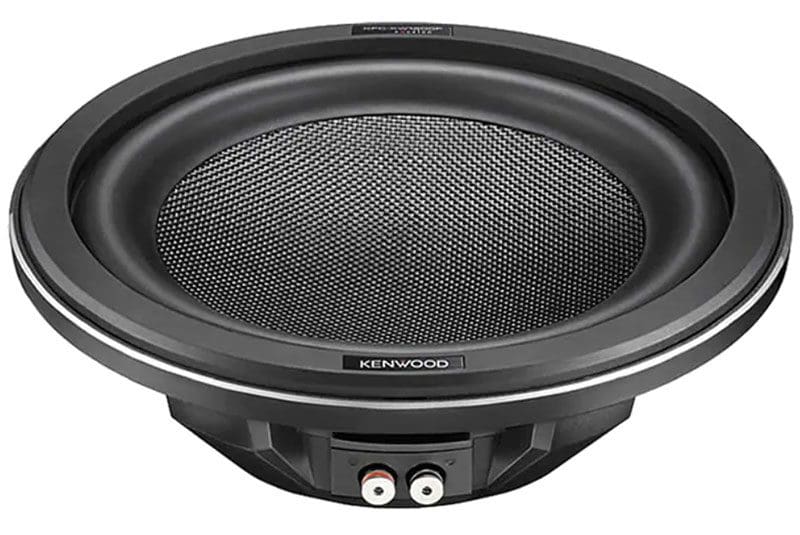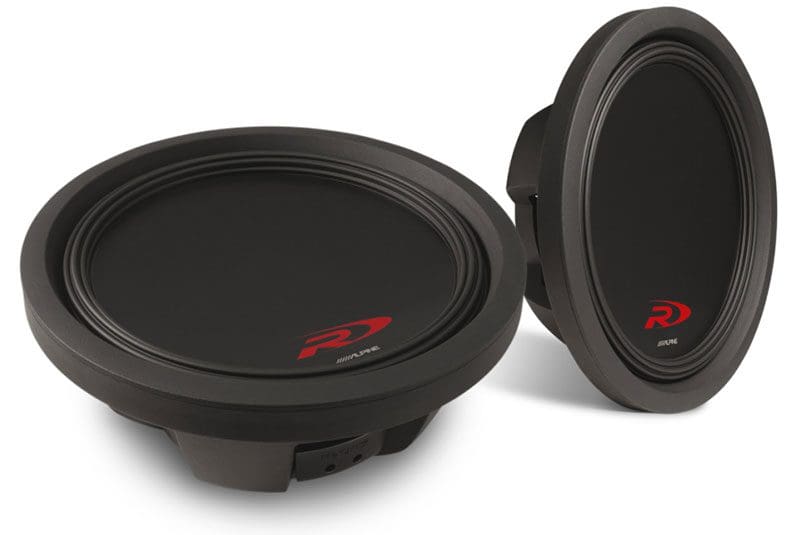 Is Output Directly Proportional to the Xmax Specification?
We've highlighted many shallow-mount subwoofer options in this article and included their Xmax specifications. For those who aren't familiar with this number, Xmax is the distance the woofer cone can move forward or backward from rest while the voice coil remains fully covered by the top plate.
With this stated, looking at this spec alone doesn't tell the whole story. The remainder of the Thiele-Small parameters need to be considered to determine the efficiency of the subwoofer and how deep it will play in a given enclosure. For example, cramming a 12-inch subwoofer with 15 mm of excursion capability into a 0.3-cubic-foot sealed enclosure won't play as low or perhaps as loudly as a 10-inch subwoofer with 12 mm of excursion capability in that application. Work with the product specialist and installer who are designing your audio system to ensure that the subwoofers they recommend will deliver the performance you expect.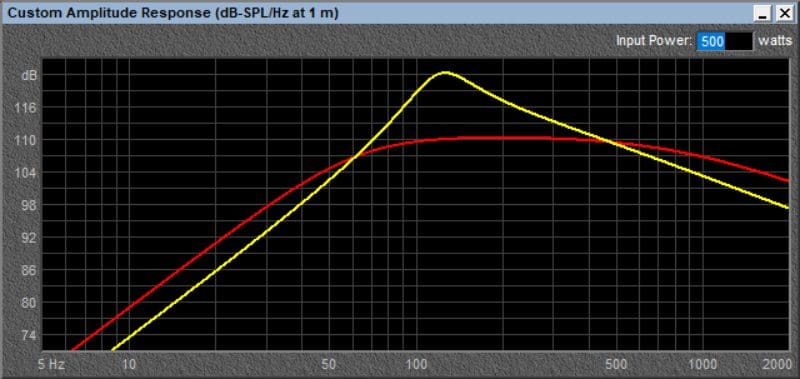 Shallow Subs Aren't Just for Trucks
While originally designed for under-seat and back-wall installations in trucks, creative installers have been making use of the compact dimensions of shallow subs to add bass to a number of different and unique locations. The inside of a spare tire is a great location for a thin subwoofer. Having an enclosure constructed from a combination of wood and fiberglass optimizes the available airspace. Best of all, this is usually wasted space in the vehicle, so you can easily carry all the cargo you need while enjoying your music with extension and impact.
If you have a two-seater or an exotic car, shallow subs are an installer's dream come true. A thin enclosure behind the seats or a custom enclosure in the footwell can add bass to these compact vehicles with impressive results.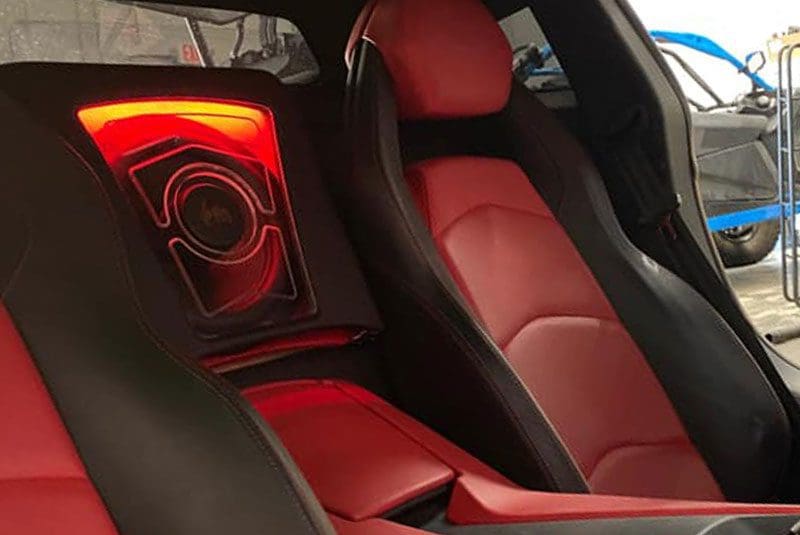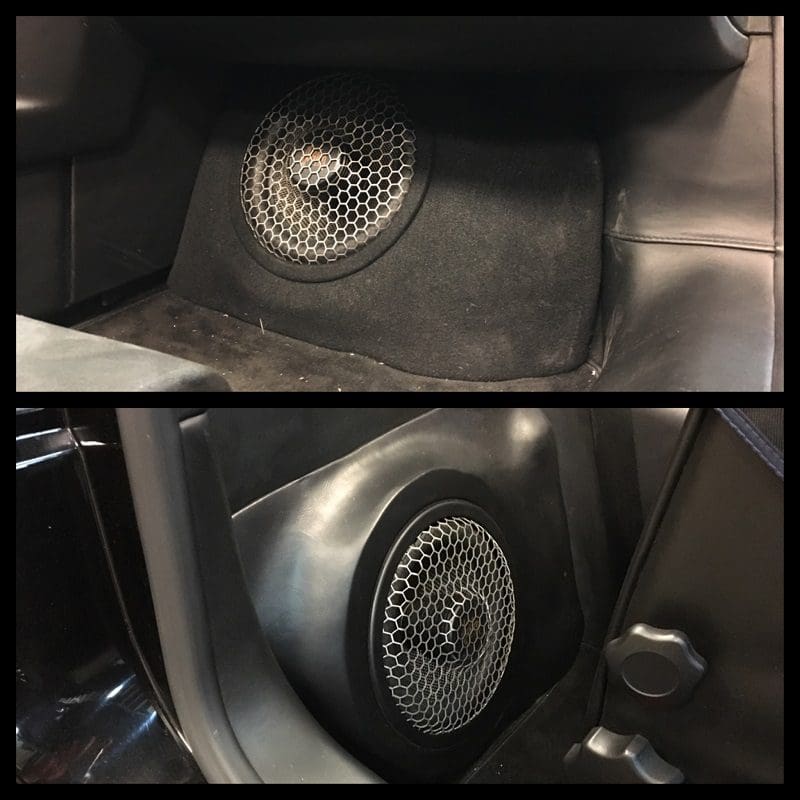 In sedans and coupes with smaller trunks, having an enclosure built that fits into the corner of the vehicle can look like an option from the factory while adding important bass output to the audio system.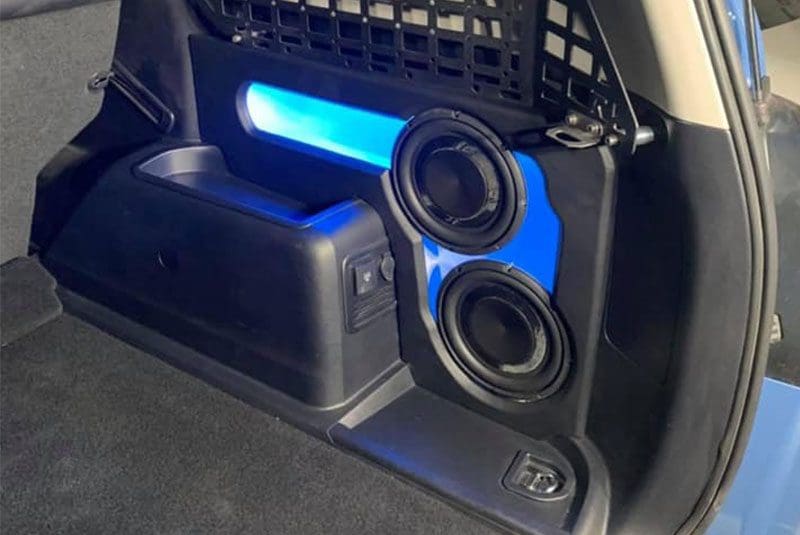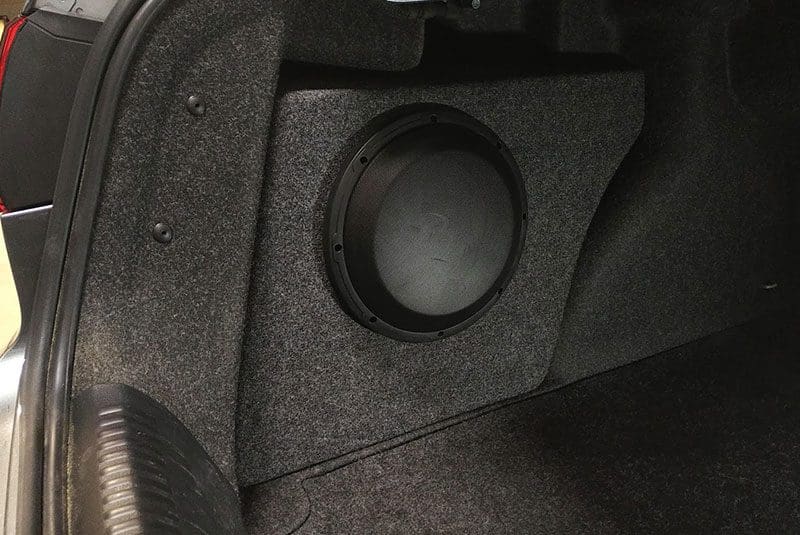 Of course, sometimes something low-profile is ideal. Your installation plan might require a solution that isn't hidden but doesn't take over the cargo area.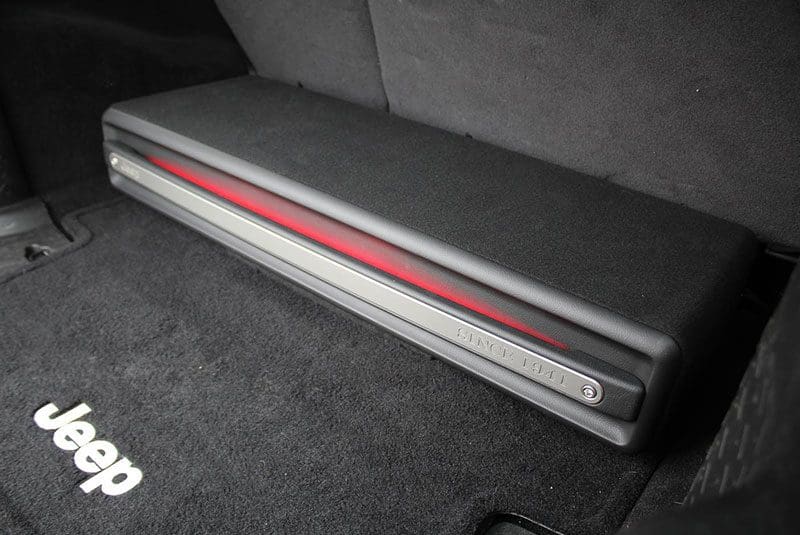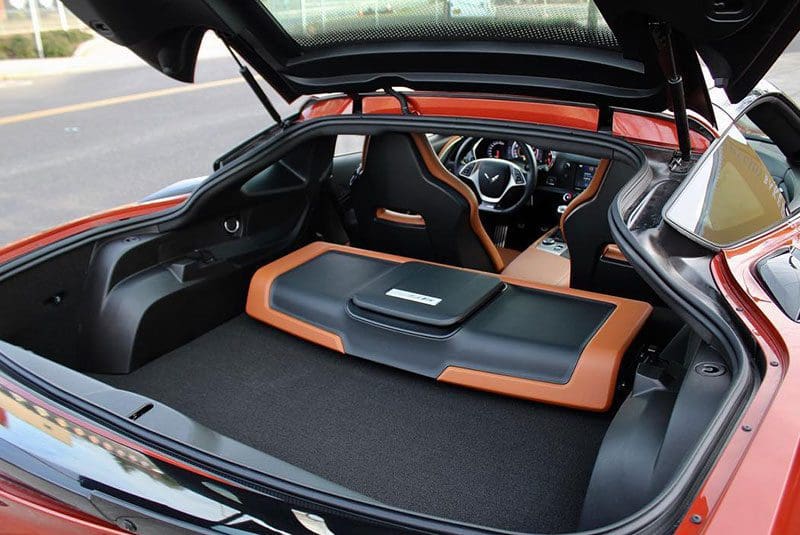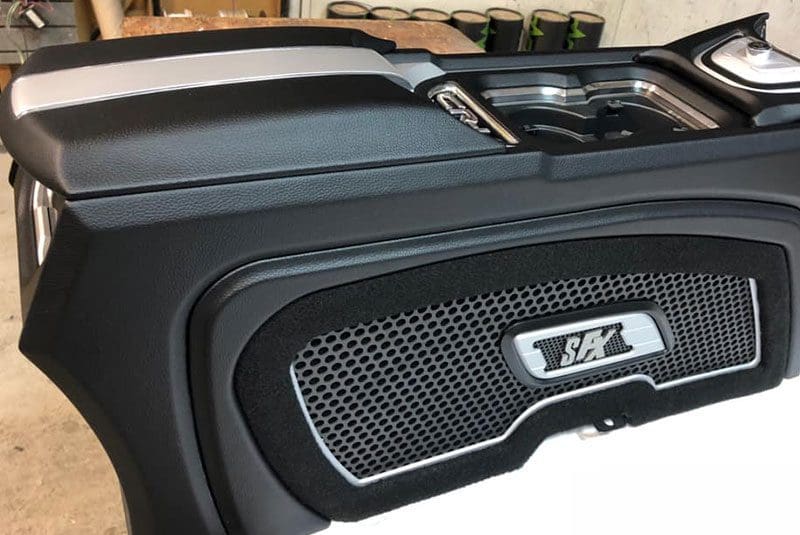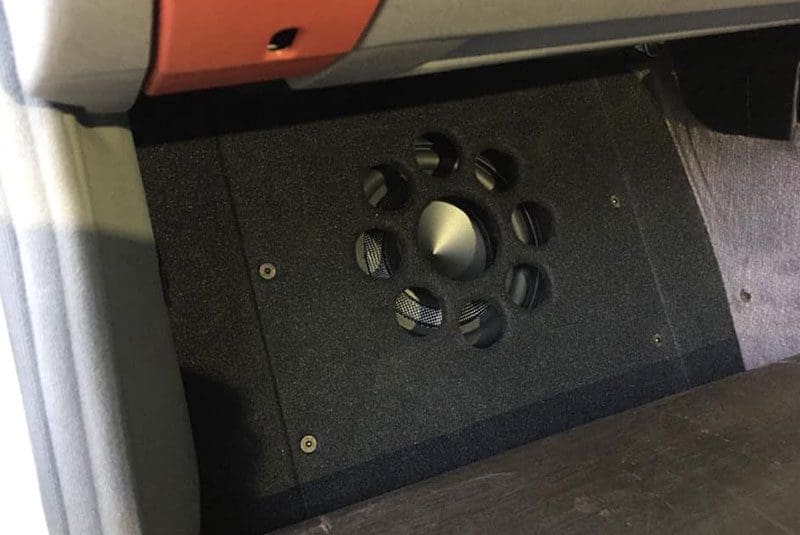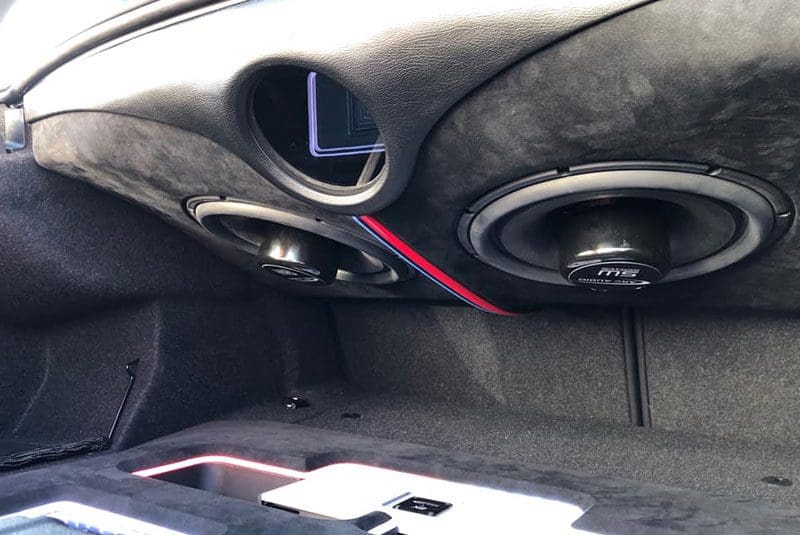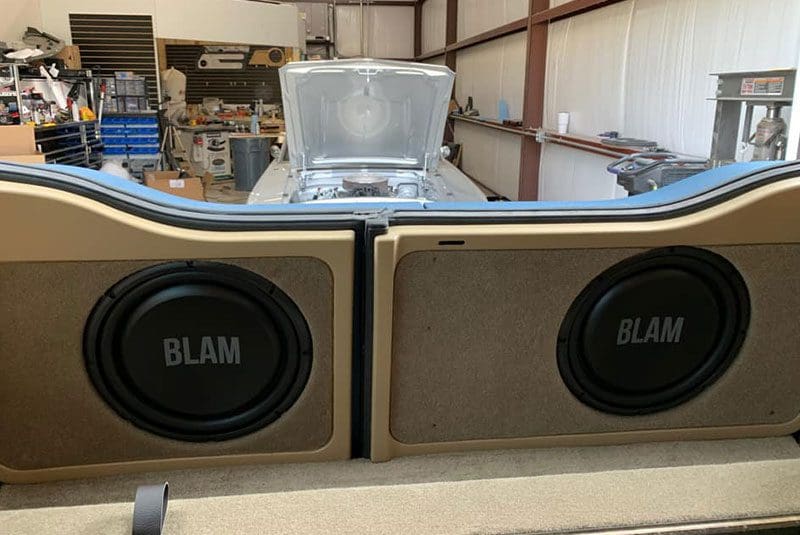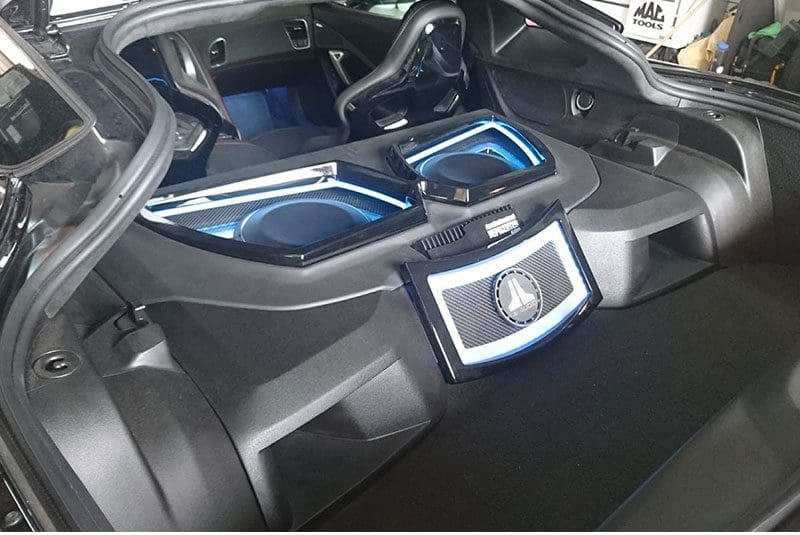 How Do They Make Subwoofers Shallower?
If you were to compare the components used in a shallow subwoofer and a conventional design, you'll see that all the same parts exist. There's a basket, magnet, top and bottom plates, a voice coil, spider, cone, surround and dust cap. The shape of each part is optimized to minimize the overall depth of the system while still allowing the cone to move forward and rearward linearly from its rest position. Many designs implement a W-shaped cone instead of the classic V-shape. This geometry allows the surround to be attached at a shallower depth and reduce the overall dimensions of the subwoofer.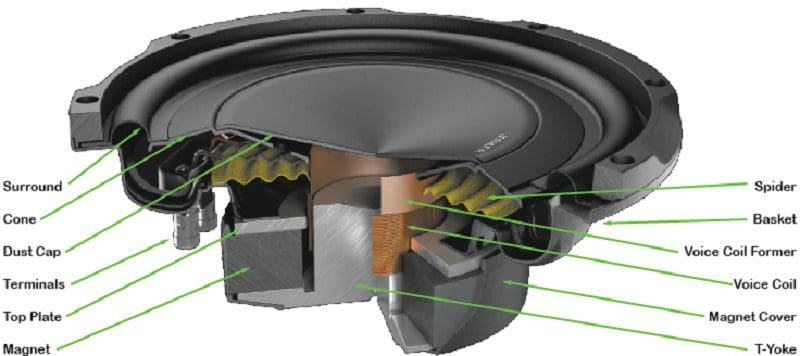 The difference between the slim subs and their conventional brothers is primarily in the height of the cone. Compared to conventional subwoofers, shallow-mount subwoofers use a cone with a much shallower V-shape. Another option is to create a cone designed with a W-shape that allows it to maintain rigidity while reducing depth. Most shallow subwoofers use a single ferrite magnet instead of double-stacked units. Some of the more proprietary designs use bespoke spider and voice coil designs that allow the spider to fit in the center of the assembly.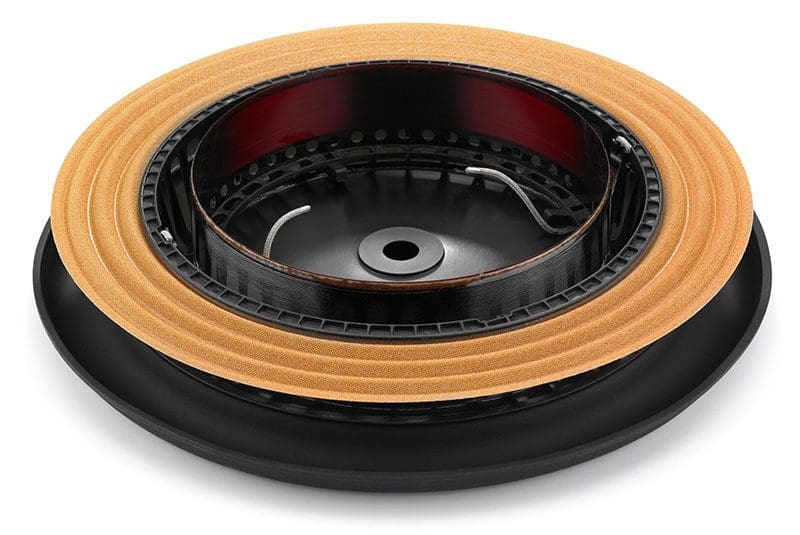 Performance-Enhancing Features Still Matter
Just as with full-depth drivers, the technologies and design elements that reduce distortion in a deep subwoofer will have the same benefits in a shallow design. For example, aluminum shorting rings reduce distortion by minimizing the creation of unwanted magnetic fields in the motor assembly. Another feature to watch for is flat spiders instead of cupped designs. Flat spiders offer more linear forward and rearward cone motion and a reduction in distortion. Copper caps on the T-yoke also reduce the overall inductance, allowing the driver to blend better with the midbass and midrange drivers in your vehicle. Ultimately, the goal of tight and accurate bass is the same for all of us: We want our music to sound as real as possible.
At the highest levels, shallow-mount subwoofers can't keep up with high-performance drivers like an ARC Audio Black, Rockford Fosgate Power T2, Hertz Mille Legend or a JL Audio W7. With that said, some of these full-size subwoofers require as much as 9.75 inches of mounting depth. As with anything, there's a trade-off. Thankfully, the latest generation of shallow subs can easily keep up with a set of front component speakers and deliver great low-frequency output without taking up all the cargo space in your vehicle.
If you're interested in added bass in a vehicle where space is limited, drop by a local specialty mobile enhancement retailer today to discuss the shallow-mount subwoofer options for your car or truck.