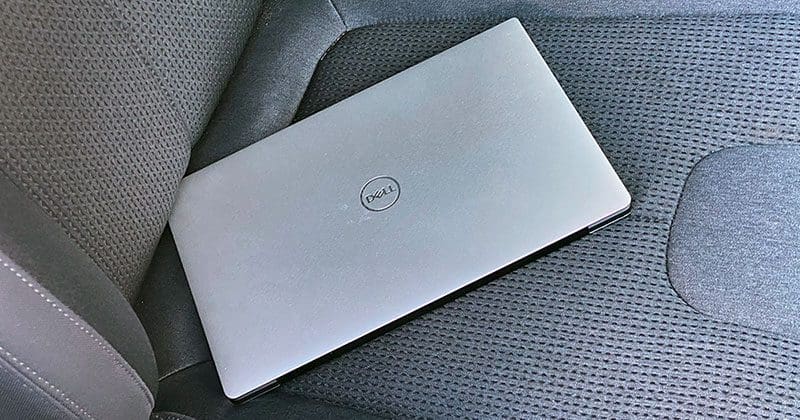 Whenever the media focus on vehicle theft statistics, it's a clear reminder that there's always the potential for someone to steal something from or vandalize or steal your vehicle. Let's take a look at why an aftermarket vehicle security system is a wise investment.
Preventing Vehicle Content Theft
Most crimes are based on an easy opportunity. If someone walks past your car and notices a laptop bag in the back seat, they're far more likely to check to see if the doors are locked or consider smashing a window than if nothing was visible. Thieves will watch parking lots to see who is hiding belongings in the trunk before leaving the vehicle. Your best protection is not to leave anything in the car.
If a thief decides they want to break into your car, one of the first things they'll look for is an LED from a security system like the Compustar CS697-A. This LED is typically installed on the dash or in the center console and lets a thief know that you've invested in added precautions to safeguard your belongings. They don't know whether the alarm has a shock sensor or a two-way paging system that will alert you to their tampering. Seeing this LED is a significant deterrent.
Choosing a security system with a shock sensor is a wise investment. If the thief decides the LED isn't enough of a deterrent, they might tap on or attempt to break a window. If your car is in a parking lot or your driveway, the impact required to get into the car is enough to set off the alarm and attract attention the thief won't want.
A multifunction sensor like the Compustar DAS-II includes dedicated glass-breakage protection that will let you know if someone tries to break a window.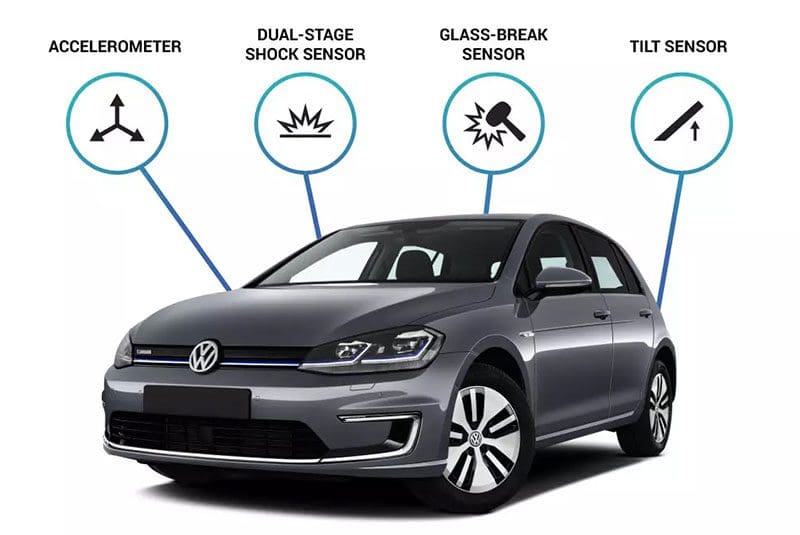 Protecting Your Vehicle Components
There's a constant stream of used wheels and tires for sale on Facebook Marketplace and Craigslist. Thieves can make anywhere from a few hundred to a few thousand dollars selling a full set. To steal your wheels, a thief will need to jack up the vehicle. The Compustar DAS-II has an integrated tilt sensor that will trigger the alarm when one corner of the vehicle is raised. Best of all, the sensor recalibrates itself each time the system is armed. This process ensures that you are protected when parking on a hill or a steeply angled driveway. We always recommend adding a set of wheel locks to make stealing your wheels more difficult. This warning applies especially to Jeeps with a spare tire mounted on the back of the vehicle.
As the value of rare metals has increased, so too has the scrap value of catalytic converters. Removing a catalytic converter from a car or truck requires the use of a saw, and most thieves use a cordless hacksaw or reciprocating saw. If they didn't have to jack up your vehicle to access the converter, the vibrations would trigger a properly calibrated shock sensor.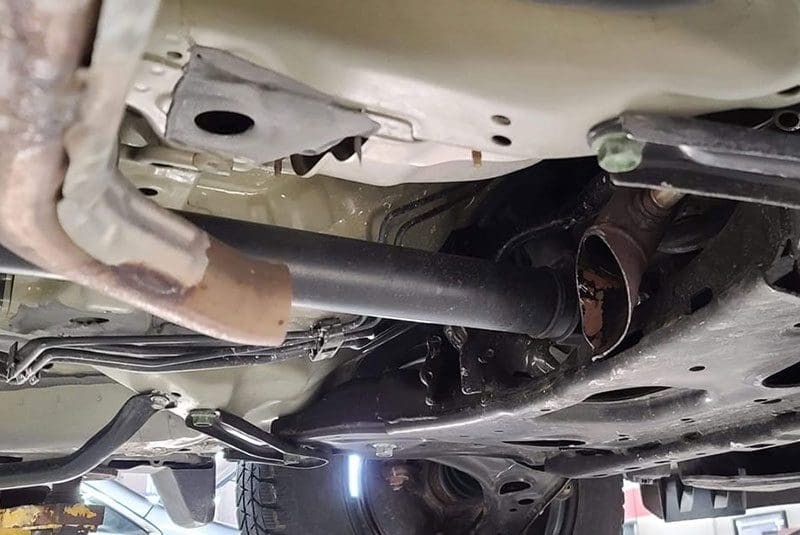 Ensure that You Have Communication
If the flashing LED and siren aren't enough to scare away a thief, then investing in a car alarm with a two-way remote control or a telematics system is a good idea. Two-way remote controls like the Compustar Prime T9 included in the CSX7905-A can beep when the alarm is triggered at distances up to 3,000 feet from the vehicle. You can check the LCD screen to know what zone set off the alarm and respond appropriately.
Another option is the Drone telematics system. The Drone uses a cellular-based communication system to send security alerts to your smartphone without any concern about range. You could be at your desk on the 20th floor of an office building, sitting on your couch in an apartment or working in the middle of a large factory complex – so long as your iPhone or Android smartphone has access to the internet, you'll receive notifications in a matter of seconds.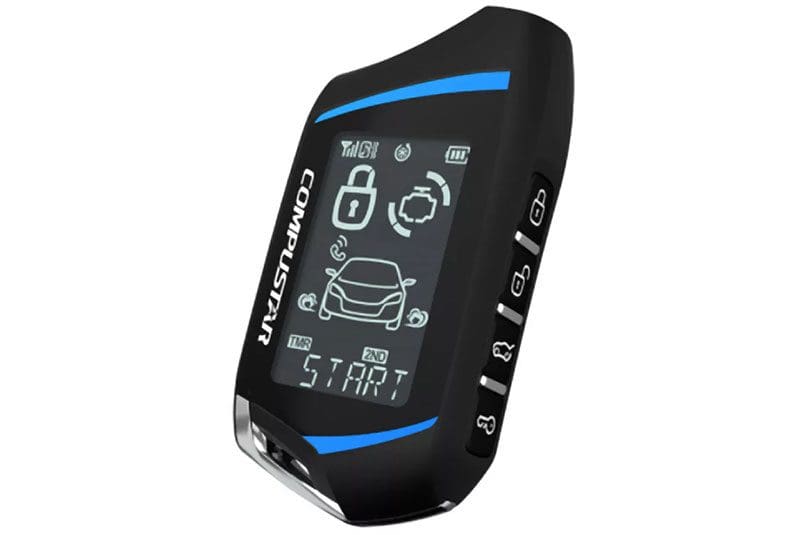 Did I Lock the Doors?
Have you ever noticed that even the smallest of distractions can derail an otherwise foolproof routine? What if you've arrived at home or work and someone is waiting there to talk to you? Hours later, you may wonder if you remembered to lock your vehicle. If you have a car alarm that's integrated with the vehicle locking system, all you have to do is press the lock button on your remote or tap the lock icon in the DroneMobile app and you're safe. The Drone system is particularly convenient when the thought of whether or not your car doors are locked arrives while you are cuddled up in bed.
Top Tips To Keep Your Vehicle Safe
Here are few things to remember if you want to keep your vehicle and its contents as safe as possible:
Always lock your vehicle.
Always set the parking brake.
Park in a well-illuminated area.
Never leave belongings, company access cards or loose change in your vehicle.
Invest in a high-quality car alarm with a shock sensor and LED.
Aftermarket car alarms like the Compustar CS582-A offer significantly more protection than the factory-installed security systems that come with most vehicles. Aside from all the security features, the long-range Prime G15 remotes that will let you lock the vehicle from inside your home are worth the upgrade. Think of all the hassle you can avoid with an insurance claim with this simple upgrade.
For more information about the vehicle security options available for your car or truck, visit your local Compustar dealer. You can find a shop near you using the Dealer Locator on the Compustar website.