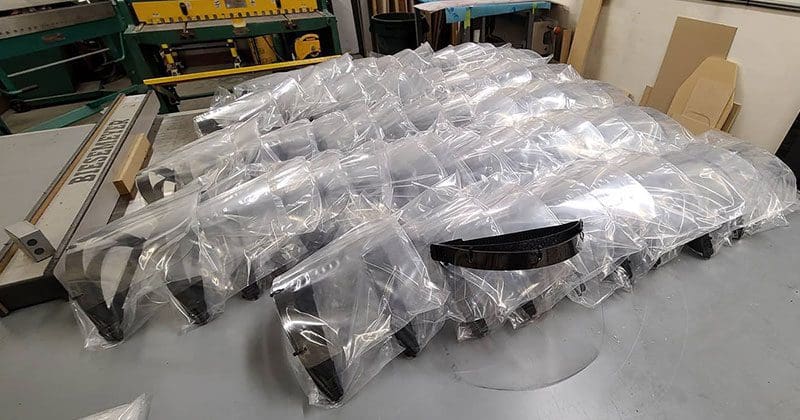 (Editor's Note: The original title of this article may have led people to believe that Car Audio Fabrication was responsible for this initiative.  This was not our intention.  Jeremy Katz and a multitude of other car audio retailers are responsible for the creating thousands of face shields all around the US and Canada.  We apologize for any confusion.)
Jeremy Katz and Evan Collins of JK Automotive Designs and JK Tapes in Stoneham, Massachusetts, knew that he would inevitably have to close the doors of his automotive fabrication shop to help control the spread of COVID-19. He saw a post on Facebook with a design for a 3D-printed face shield support band and decided to put his fabrication equipment to work.
Revised COVID-19 Face Shield Design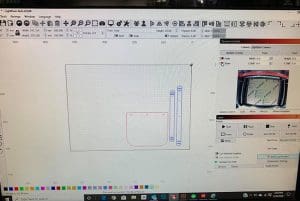 Jeremy started the first print job and saw that it would take five hours to print a single set of bands for a shield. Knowing that he could modify the design to work with his CNC laser, he stopped the print and started from scratch. The new design, now shared with dozens of mobile enhancement retailers across North America, can be cut and assembled in just a few minutes.
Jeremy called the plastic suppliers in his area and ordered all the 0.04-inch clear PETG plastic he could find, along with 0.0625-inch thick ABS plastic for the headband. Jeremy sourced ¾-inch elastic banding so users can adjust the shields to fit their heads comfortably.
With the material at the shop, he was able to make an awe-inspiring 450 shields in just a matter of days. Jeremy plans on distributing the shields to nearby hospitals.
Car Audio Industry Fabricators Join the Fight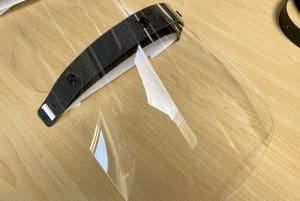 In the close-knit car audio community, many store owners talk to each other regularly to share ideas. Jeremy was talking with John Schwartz, the owner of Perfectionist Auto Sound and Security and co-owner of SoundShield in Alaska, and asked if he thought there was a need for these shields. John posted the question to one of the local Facebook COVID-19 support groups and in no time at all, the post had more than 1,000 likes and 300 comments. Everyone thought it was a great idea. Jeremy sent John the design the next morning so he could get started.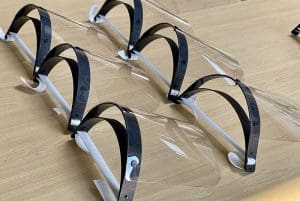 John doesn't have a big laser, so he sourced clear polycarbonate for the face shield and is cutting it with a shear, then trimming the corners with a router and template, and drilling the mounting holes by hand. The headbands are cut on his Glowforge and then assembled with the shield. As a true businessman, John keeps track of his productivity based on how many shields he can produce per song played on the shop radio. He figures it's 70 to 90 seconds per unit.
John asked that anyone who wants to contribute to the project contact him at the store. He's calculated a material cost of $150 for 40 shields. Of course, any donation goes a long way.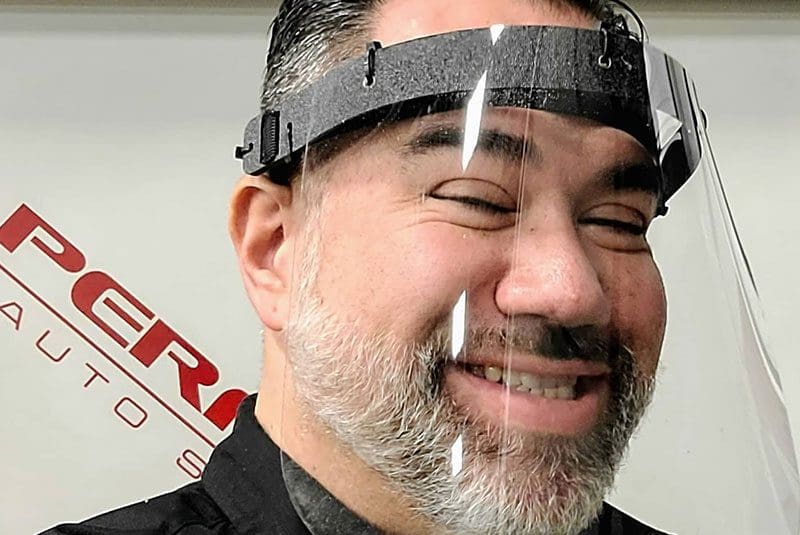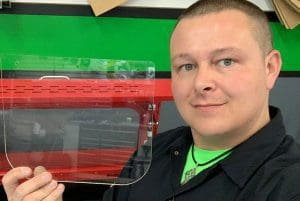 Many fabricators across Canada and the US have set to work building COVID-19 face shields. Adam Devine of Devine Concepts in Naples, Florida, has already made 150 shields and is waiting on additional materials to continue production. He asked that any of his friends, clients or suppliers who would like to contribute to the project contact him. You can purchase materials, and he'll continue to donate his time and equipment to production.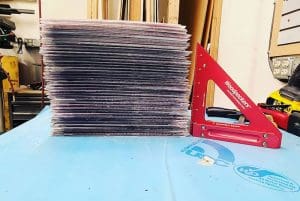 Milton Benavides of Speed of Sound Technologies in Milford, Connecticut, made a call to his local plastic supplier as soon as he caught wind of Jeremy's design. He told us he was able to secure seven sheets of the hard-to-find PETG plastic. So far, he's made more than 400 shields and plans on making more as soon as he can get more plastic. Milton mentioned that he had planned on becoming an EMT, so taking care of healthcare workers is near and dear to his heart.
People like Michael Abeita of Stealthworks in Phoenix, Arizona, and Zack Flynn of ILF Consulting in Las Vegas are sewing cotton masks to further assist in the fight.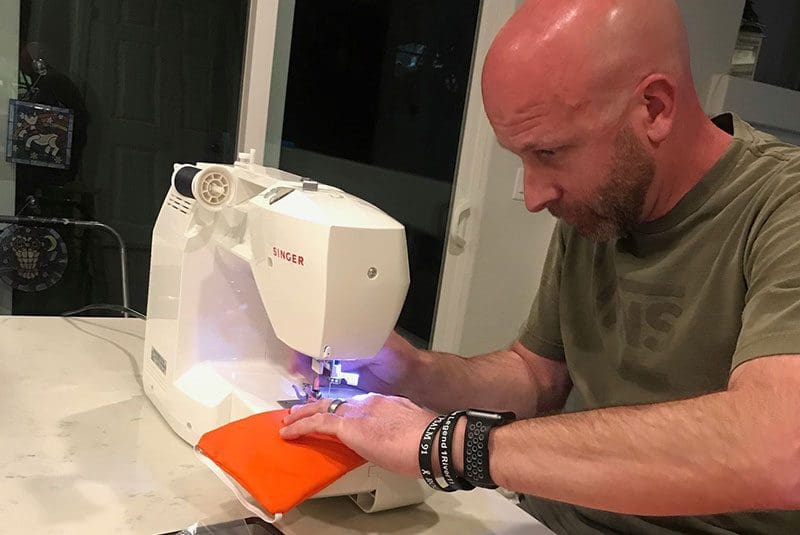 Here's our list of shops around North America that are contributing to this project:
Audio Express (of San Antonio) Performance Car Audio in San Antonio, Texas.
Auto Additions in Springfield, Illinois
Automotive Entertainment Huntington Beach in Huntington Beach, California
Avant Garde Design in Palm City, Florida
Certified Autosound and Security in Maple Ridge, British Columbia, Canada
Define Concepts in Orange, California
Devine Concepts in Naples, Florida
Extreme Audio in Mechanicsville and Midlothian, Virginia
JK Automotive Designs in Stoneham, Massachusetts
JML Audio in St. Louis, Missouri
Kingpin Car & Marine Audio in Las Vegas, Nevada
Liquid Trends in Modesto, California
Mobile Solutions in Tempe, Arizona
Perfectionist Auto Sound & Security in Anchorage, Alaska
Security & Sound Systems in Honolulu, Hawaii
Sound FX Home Theatre & Car Audio in Lewes, Delaware
Sound Wave Customs in Virginia Beach, Virginia
Soundz Plus in Napierville, Illinois
Speed of Sound Technologies in Milford, Connecticut
Sunshades Tint & Sound in Austin, Texas
Tri State Auto Accessories in Southaven, Mississippi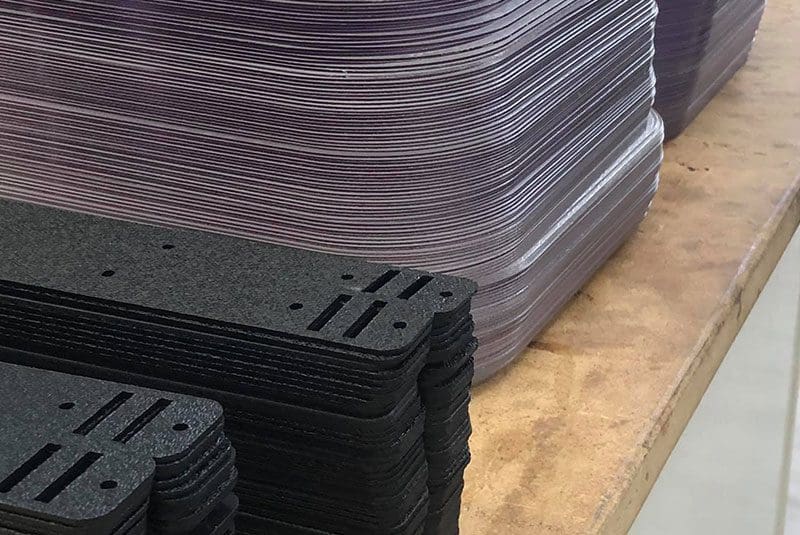 How Can You Help?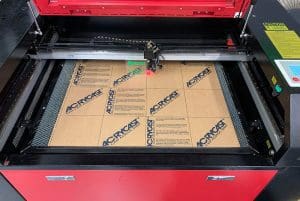 First and foremost, we ask that you stay home as much as humanly possible. If you must venture out for groceries or supplies, please practice social distancing. Remember, the 6-foot distance is just a guideline. The farther you can stay away from others, the better off we'll all be, and the sooner this crisis will pass.
Jeremy Katz has created a GoFundMe for this project. He will collect any donations and distribute the money to shops that can get all the supplies needed to make shields. That's the bottleneck in this process – finding the PETG plastic for the shields. Here is the link to the GoFundMe.com campaign.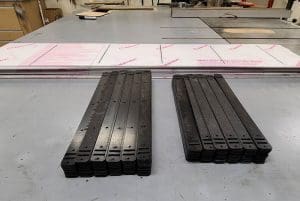 If you work for a plastic supplier and have 0.04 transparent PETG and 0.0625 ABS in stock, please reach out to one of the shops listed above. We'll be updating the list as more car audio specialists join in the production process.
If you own or have access to a CNC laser and would like to help, visit the JK Automotive Design or JK Tapes Facebook page to download the shield design and material list.
From everyone here at BestCarAudio.com, we want to extend our thanks and gratitude to all the mobile enhancement retailers who are making face shields to help stop the spread of COVID-19 and protect frontline medical and emergency staff.