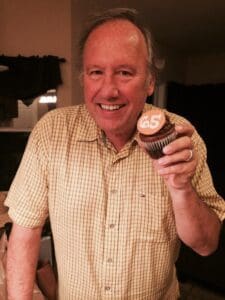 It's with great sadness that we share the news that car audio industry legend Larry Frederick passed away on March 2, 2023. Larry is best known for his work at Phoenix Gold, where he was the director of product development. Larry shared his experience and talent with Alpine USA, Elettromedia, Diamond Audio and Cerwin-Vega! Mobile. Most recently, Larry was president of Cicada Audio, a company that focused on audio upgrades for motorcycles and powersports vehicles.
Our founder, Mitch Schaffer, shared this about Larry: "I met Larry in the late '90s, and the experience changed the direction of my business. He taught me a great deal and was always willing to help out when we faced any challenges. He was the first person to stop and catch up at a trade show or industry event, and his no-nonsense attitude and great sense of humor were always an inspiration. The industry has lost a legend, and I have lost a friend and mentor. RIP Larry."
Our friend Marty Dean said, "Larry was one the Icons of 12v! In 1991 when I was a kid who knew nothing about car stereos, I met this loud, arrogant, funny and really the most engaging trainer I had ever seen. He seemingly knew everything! The 'tales' from the sales floor and 'It's not magic, it's physics' made me want to be all I could be in the car stereo world. We have been friends for 30 years. He will be missed every day!"
Former Retailer and Installer of the Year, Jon Kowanetz added: "Over 15 years ago, while attending my first of many of the infamous Arizona Audioholics meetings, this strange dude looked me dead in the eye and said, 'Get the Raspberry Chipotle wings … or you'll regret it!' If you knew Larry, then you know exactly how he said it, the look that was in his eyes and that he absolutely meant it! And it was that absolute confidence, brutal honesty and sincere intent to help others be their best that I'll always remember about him. If it weren't for those qualities, especially back then, Handcrafted wouldn't have been what it was and, hence, neither would I."
Dave Oakley from Andre's Electronic Experts in Kamloops, British Columbia, said, "We had him come do training for us when Andre took us to Scottsdale … did it for a nice steak and some wine.  We went to Italy with him with Trends back in '11. He was a good guy. I'm gonna miss him."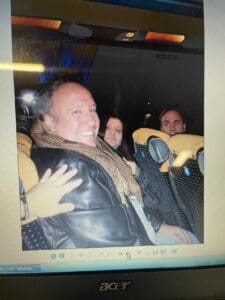 Moe Sabourin recalled connecting with Larry at a PG training: "Larry was telling us about when they designed the MS series amps. He said that they had hooked it up backward (- to +, + to -), and it still worked! When that happened, he said, 'Well if that's the case, any f'in moron could hook it up! Let's call it the Moron Series, or MS series!' I still laugh about that today."
Romesh Kulasegaram shared this story about Larry: "I knew of Larry 15 years before I actually met him while working at the Western Expo in Vancouver. We went to dinner at an upscale Japanese restaurant. The waiter was running through the different courses and presented sablefish. To paraphrase what happened, Larry interrupted the waiter to ask, in his typical booming delivery, "What the heck is sablefish?" The waiter replied that it was black cod. Without any hesitation, Larry answered back, "WHAT did you say!? Black WHAT?" Needless to say, the entire table was laughing and in stitches for minutes. This went on for the entire night and into the entire weekend. I'm still laughing about it now."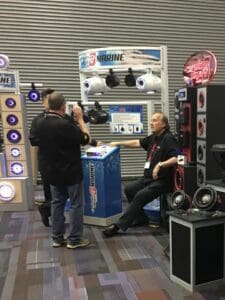 Larry was well known for his single-sentence tidbits of wisdom. Aaron Spencer recalled Larry saying, "You can't fix stupid. You can fix ugly, but you can't fix stupid." Aaron added that this phrase was repeated several times during an Audison bit One training in Chicago when discussing rear-fill speakers. 
Larry also had subtle comments about designing audio systems for both the driver and the passenger. Barry Shanz recalled that Larry's sentiments went something like "F. the passenger." Bryan Case added that another of Larry's famous lines was, "There is no magic, just physics!" Bryan remembered that Larry used to tell people that he'd been in the car audio industry since "back when the earth was cooling down."
Phil Nease said, "First time I met Larry was at a training event at Audio Concepts in Calgary in the late '80s. We had some lively discussions regarding shorting outputs while the amp is still playing and only needing a 4" for a center channel. After (the training) we went and played indoor paintball, and Larry ran through us like we were standing still. He killed all of us many times over. It was a great day."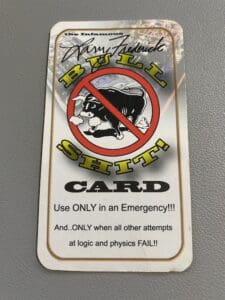 Many remember Larry's no-nonsense approach to business, technology and system design. Paul Pirro, chief strategy officer at Tint World, shared a photo of one of Larry's famous "B.S. Cards." Their purpose is self-explanatory.
All of us at BestCarAudio.com and our parent company, 1sixty8 media, send our sincerest condolences to Larry's family, friends, co-workers and the thousands of car audio enthusiasts he's interacted with over the decades. It's clear that his impact on the industry has left a lasting impression and that he'll never be forgotten.