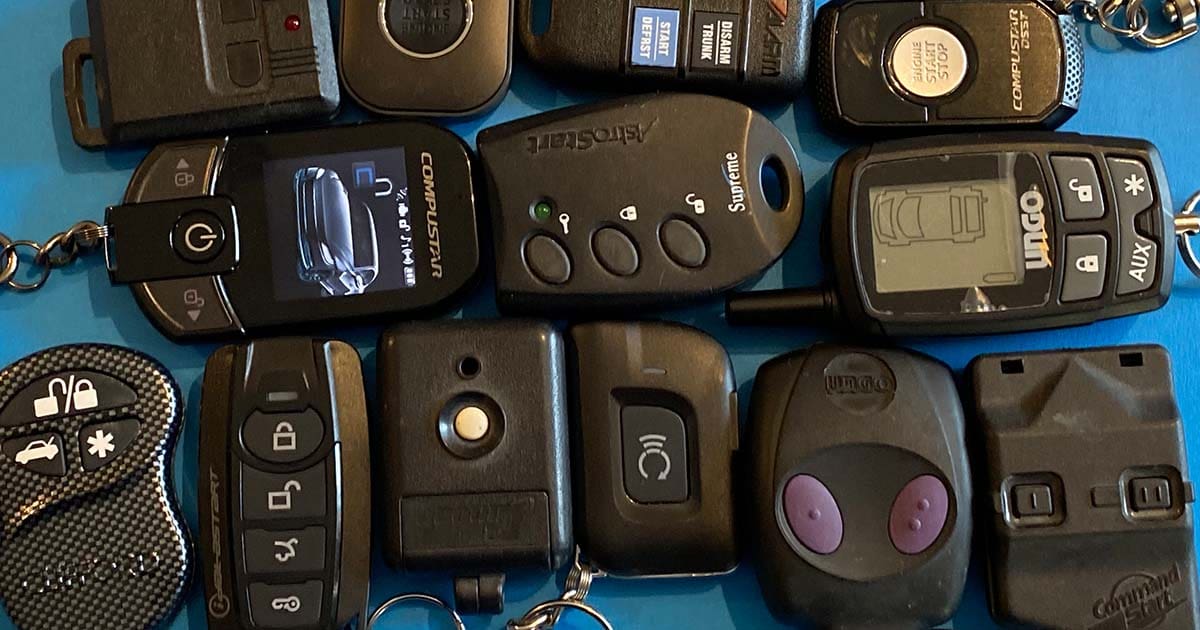 The very first car alarm I ever saw was installed on my neighbor's C3 Corvette. A small key switch had been installed in the fender with a cast aluminum cover. If he wanted to "secure" the vehicle, he'd lift the cover, insert a tubular lock key and give it a turn. Fast forward four decades, and now we have high-speed data communication systems that can talk to the computers in our vehicles to keep them safe. What a change! Let's look at how remote car starters, keyless entry systems and car alarm remotes have evolved over the years.
AM Remote Controls
If you purchased a car alarm in the '80s or '90s, the remote likely used low-power amplitude modulation (AM) signals to send elementary binary messages to the controller in the vehicle. These remotes rarely included more than four buttons and offered 100 to 200 feet of range under ideal conditions. The simple digital encoding chips used in later generations of these remotes could send commands with as many as 531,000 different codes to prevent other users in your area from transmitting the same signals. Many of these remotes used the 12V A23 battery that looked like a 2/3-size AAA cell. Even with lots of voltage, their range was terrible.
The primary issue with AM signal transmission techniques is that the technology doesn't offer much rejection to interference. For example, suppose you're sending a string of 1's and 0's that correlate to an unlock command. The amplitude modulation system changes signal strength to represent the two levels. If a noise source is present on the same frequency, it can easily drown out the lower-amplitude signals and prevent the message from arriving accurately.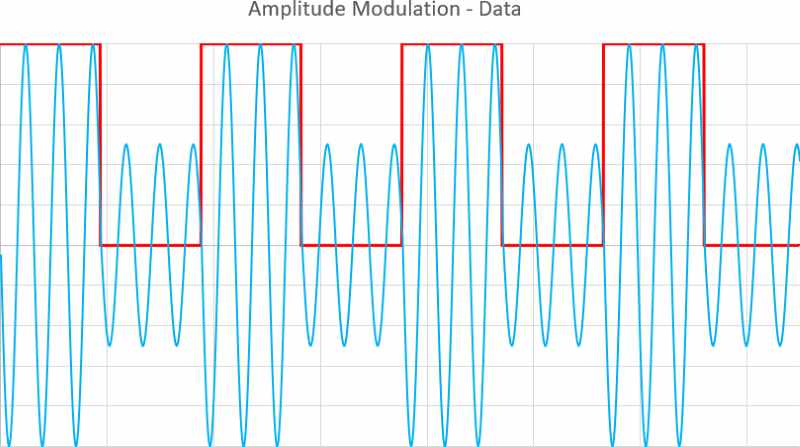 The chart above shows that the amplitude of the transmitted signal (in blue) is high when the data level (in red) is high. Conversely, when the data is low (representing a 0), the carrier frequency amplitude (level) decreases.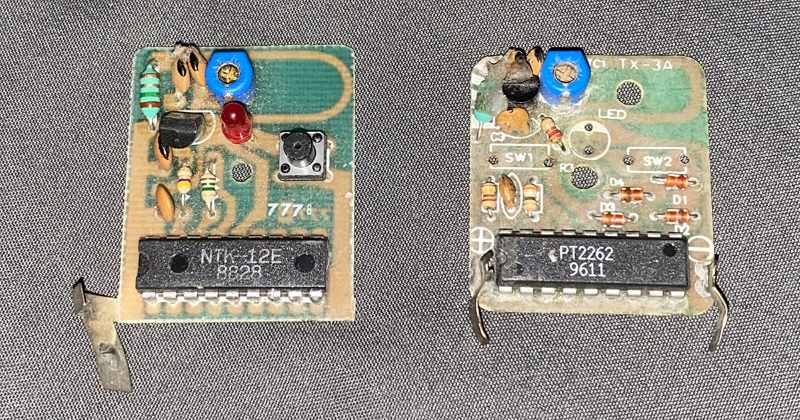 FM Remote Controls
You can hear a dramatic difference in the quality of audio delivered by frequency modulation (FM) radio compared with amplitude modulation. The ability of this modulation technique to reject noise interference is dramatically improved. AM changed amplitudes to denote different bits, and FM signals changed frequency. For example, a value of 1 could be at 433.100 MHz, and 0 could be at 433.050 MHz. The system toggles back and forth between the two. If there is interference, the presence of one frequency or the other isn't dramatically affected, so the receiver in the vehicle can still decode the command. FM transmission is used in most modern long-range remotes, and many brands offer models that provide up to 1 mile of range.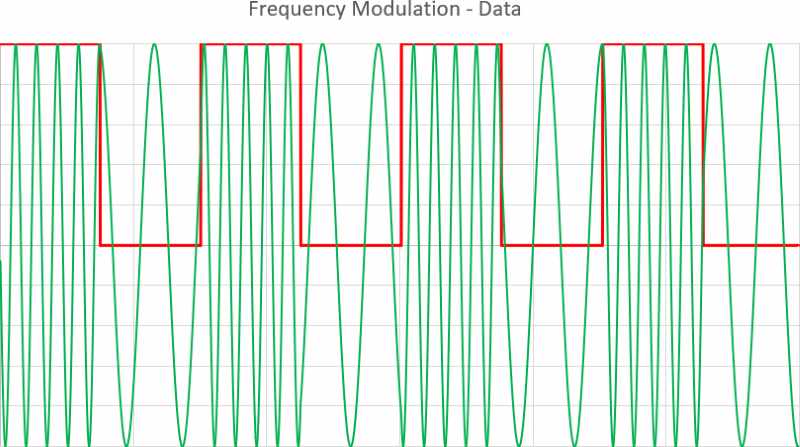 The chart above shows that the transmitted signal's frequency (in green) is high when the data level (in red) is high. When the data is low (representing a 0), the transmitted frequency decreases.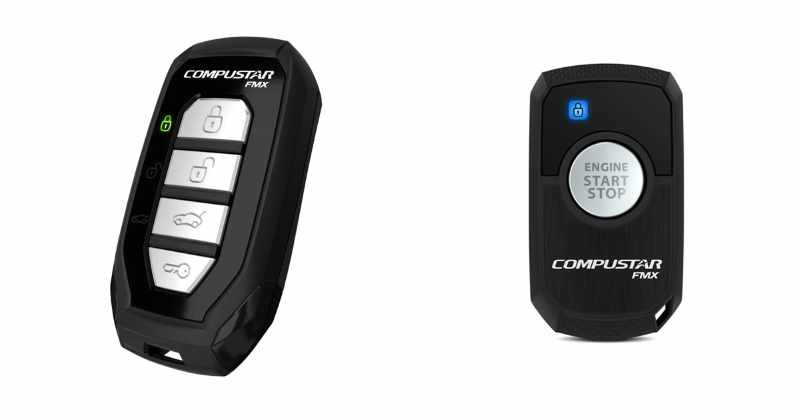 Modern remotes typically use a rolling code transmission method to dramatically increase security. Imagine if you press the button on the remote, and it sends a lock command followed by a pair of codes like 500 and 1,000. The receiver will know that the next code it receives should be a multiple of that code, such as 1,000 and 2,000. If it detects an unlock command with a code 450 and second of 900, it knows the message is from a different remote and ignores the message altogether. The multiplier is modulated by a second code, making it nearly impossible to predict the pattern. This isn't exactly how the system works, but it provides a general idea of the security features.
Frequency-Hopping Remote Technologies
Though it can be used with both AM and FM transmission techniques, a secondary noise-rejecting, range-improving technology called frequency-hopping spread spectrum (FHSS) is used with modern remotes. In this information transmission method, the carrier frequency changes during the transmission to reduce the chances of signal interference. Since this communication method relies on a microcontroller (computer chip) in the remote and receiver, the timing of the carrier frequency changes can be fine-tuned. Bluetooth radio communication (designed to replace RS-232 serial connections) uses adaptive frequency-hopping (AFH) spread spectrum communication. AFH will analyze the spectral content where it is being used and avoid channels (frequencies) that are already in heavy use. The longest-range remotes on the market use FHSS to provide up to 3 miles of range to ensure that you can lock, unlock and remote start your vehicle from deep inside a large office building, hospital or factory.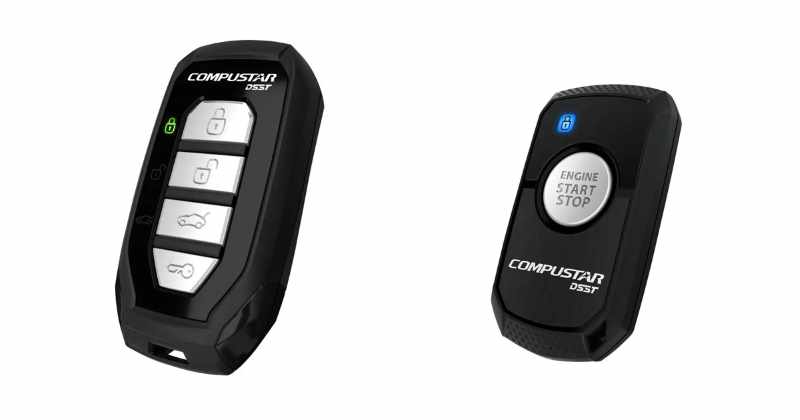 Computerized Remotes Add Functionality
On an older remote, buttons were assigned to single commands. For example, one button results in the transmission of the lock signal, another might tell the system to unlock, and a third could be remote start or trunk release. As the availability of small, cost-effective microcontrollers increased, the companies designing remote solutions could add the ability to send a different command if two buttons are pressed, or if a button is held for a few seconds. Now, a four-button remote could easily control dozens of functions, and the modern one-button remotes can handle, lock, unlock and remote start from a simple, intuitive interface.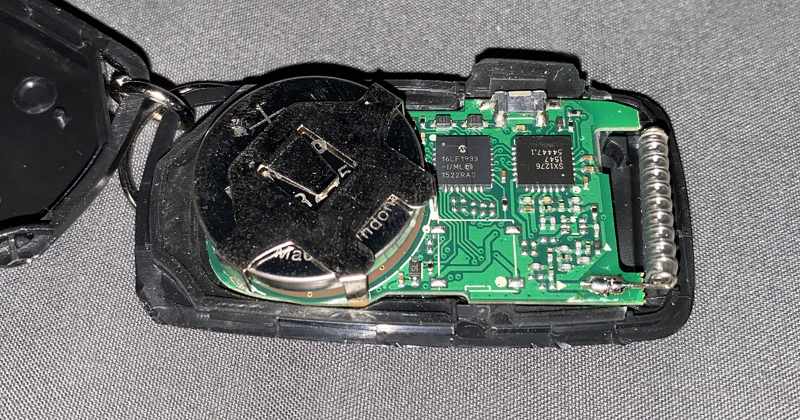 Two-Way Remotes Keep You in Touch
A fantastic advancement in communication came with the launch of two-way remote controls. Conventional one-way remotes transmit a signal or code. The receiver in the starter or security module in the vehicle will respond to the command once it captures the message. A two-way remote uses a pair of transceivers – one in the remote and one in the vehicle. Each of these can transmit or receive messages.
If you have a two-way remote with your car starter, you'll press a button on the remote to send a message to the vehicle. The vehicle will receive the message, execute the command, then transmit a confirmation signal back to the remote. Depending on the style of the two-way remote, it might beep and blink an LED, show an icon on an LCD screen or play a small animation on a dot-matrix display.
The benefit of two-way remotes is that you will always know if a command you've sent has been executed. For example, if you hear a noise outside in the middle of the night, you can press the lock button and know that your car, truck or SUV is secure. If you live in a large apartment or work in a big factory, warehouse or shopping mall, you can send a remote start command to the vehicle. Once the vehicle starts, you'll receive confirmation back on the remote. With a one-way remote, you might get outside to find the vehicle hadn't started. Some premium two-way remotes will also notify you if a security system has been triggered.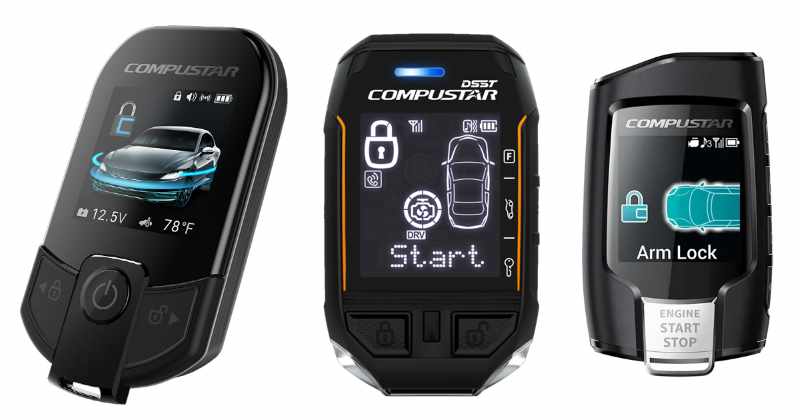 Smartphone Control Options
There are several options to use your smartphone with a remote starter, keyless entry system or car alarm. Depending on the brand you choose, there may be options to pair your smartphone directly to the controller in the vehicle to use Bluetooth. This method doesn't provide much range (maybe 75 to 100 feet under absolutely ideal conditions), but it means you don't need to carry anything extra on your keychain.
Another system allows you to pair your smartphone to an RF remote. You can use an app on the phone to send commands to the remote, then the remote will forward them to the vehicle. These systems are bidirectional, so the app will confirm when the command has been received and executed.
A cellular interface is the most popular way to use your smartphone to control a remote starter or security system. We call these telematic systems. These communication solutions use the data capabilities of your smartphone's cellular service or a Wi-Fi connection to send commands to a cellular radio receiver in the vehicle. The message travels from your phone to a cellular service provider, which sends the command to your car or truck. Once the command has been executed, a confirmation message is sent back to the phone using cellular data. The better solutions also have a website that allows users to log into a computer to send commands. For example, should you ever lock your keys and your phone in your vehicle, accessing the website on a computer or a friend's mobile phone can get things unlocked in seconds. There are monthly charges associated with these cellular-based solutions because they use third-party communication from cell phone companies.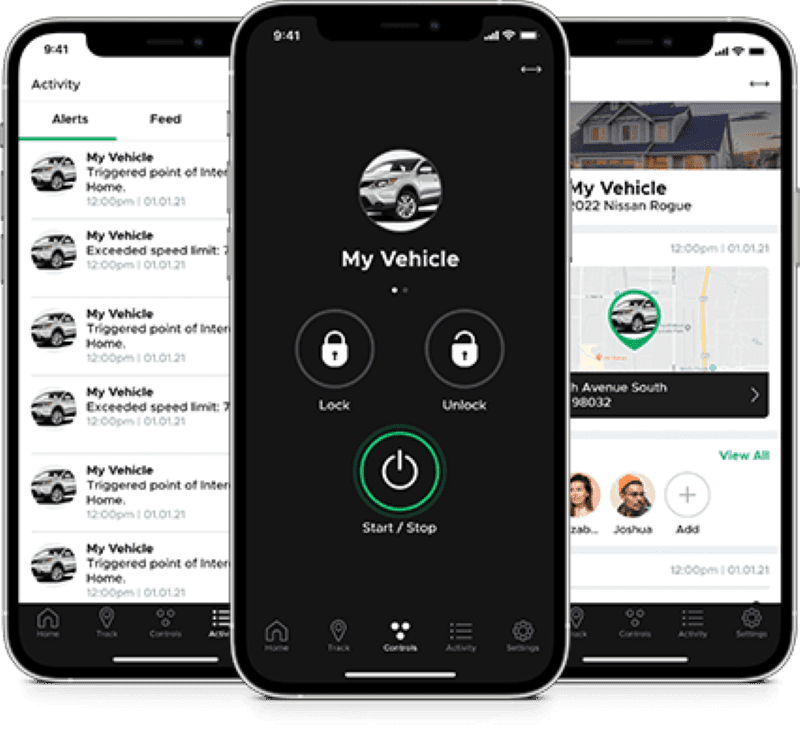 Your Smartphone as a Car Key
BMW, Tesla, Kia and Hyundai have vehicles that can communicate directly with your smartphone at short distances to act like a car key. These systems use near-field communication or Bluetooth Low Energy to establish short-range communication between the phone and the car. In essence, you can walk up to your car with your phone in your hand (or a compatible smartwatch on your wrist), and the vehicle will open when you pull on the door handle. Without the phone, everything remains locked.
Automobile manufacturers like BMW have taken this a step further. Placing your phone in a specific location in the center control allows it to act as the ignition key so that you can start the engine. Unfortunately, there aren't any aftermarket systems that use this technology yet.
Pick the Right Remote for your Convenience System
Whether you have a keyless entry system and door lock solenoids installed or a complete remote start and security system with smartphone connectivity, how you interface with these upgrades defines their reliability. Drop by your local specialty mobile enhancement retailer today to learn about the remote options available to keep your car or truck safe and make it more convenient and comfortable.