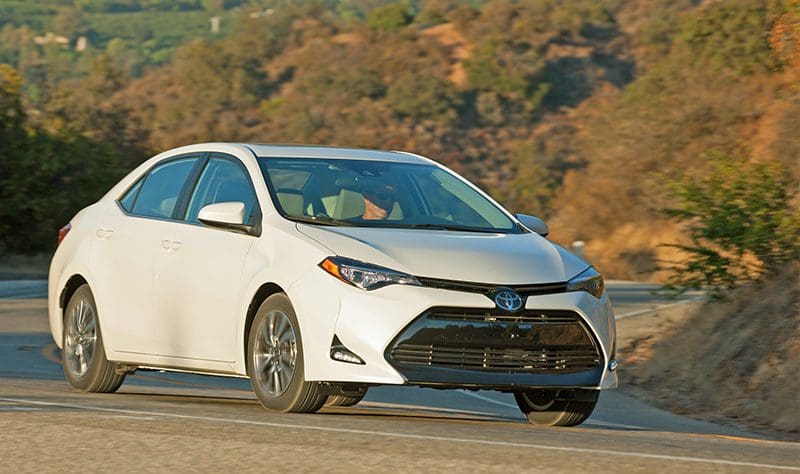 Is it possible to mix the word Corolla with automotive enthusiast? Of course! Although most people think of the Toyota Corolla as a basic transportation pod that gets good gas mileage, the SE gives enthusiasts something to smile about without breaking the bank – my tester base price came in at just over $21K, with some fun additions adding another $2,000 to the purchase price.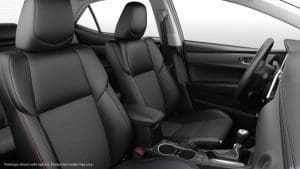 What makes the SE special? You get legendary Toyota quality (the Corolla does feel like it can last a few hundred thousand miles without major problems as long as you treat it to preventive maintenance), combined with an honest-to-goodness six-speed manual transmission. That means you get the fuel economy and reliability you were expecting with a dash of enthusiast fun. Your parents would be proud of the sage decision!
Speaking of economy, the Corolla with the six-speed is rated at 30 MPG combined, but even stepping on the gas to have a bit of fun, my tester still returned 34.5 MPG in both city and highway combined. Wow. For those who go with the automatic and are judicious with the go pedal, the Corolla will probably return even better numbers.
As part of the SE fun, the interior gets a nice blue or red treatment with mixed-fabric seats. Most interior panels are now soft-touch (some even feature stitching) and would look right at home in a Lexus from the early Obama administration. The wheels look decent enough with a black painted accent, but could use an upgrade.
On the performance side, my tester featured a TRD air filter for $80 and a very expensive TRD performance exhaust for $649. That did make the vehicle sound livelier without being on the obnoxious side, but enthusiasts might be better off shopping an aftermarket exhaust to save a few dollars and still kick it up a few decibels.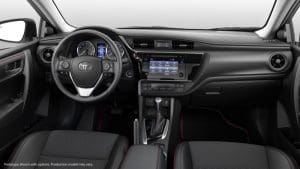 As far as decibels for the interior, the audio system is controlled by a 4.2" Color TFT multi-info display. The head unit is worth keeping, since it does give you a nicely finished volume knob and easy-to-operate controls combined with apps. However, the loudspeakers and audio quality could benefit from a knowledgeable aftermarket retailer. I would suggest a good set of component speakers with tweeters that can fit in the stock A-pillar mounting locations. An amplifier upgrade would be welcome – especially a four-channel amp. The front channels of the amp could power those component speakers, and the two rear channels could be bridged to power a small subwoofer in the trunk.
The rear seats can be folded down for larger objects, so there's no reason to take away the practicality of the trunk. If you want to really pound on the bass, feel free, though: The trunk space is there for a pair of 12" woofers in a custom enclosure.
On the safety front, the Corolla does come through with Toyota's pre-collision system with pedestrian protection and lane departure alert. If you have a Corolla that is a few years old, you should definitely look into upgrading to the latest technology. Many aftermarket manufacturers can add these important functions that many people think are only attainable in brand-new rides.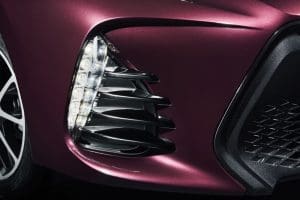 Nowadays, most lights have been swapped with LEDs that look and function great – another possibility for a Corolla built a few years ago.
Overall, the Corolla SE is a great vehicle with a few fun touches that move it away from the bland. A couple of audio tweaks and maybe some new rims and tint, and the Corolla SE will be a faithful vehicle that will entertain you for years to come.