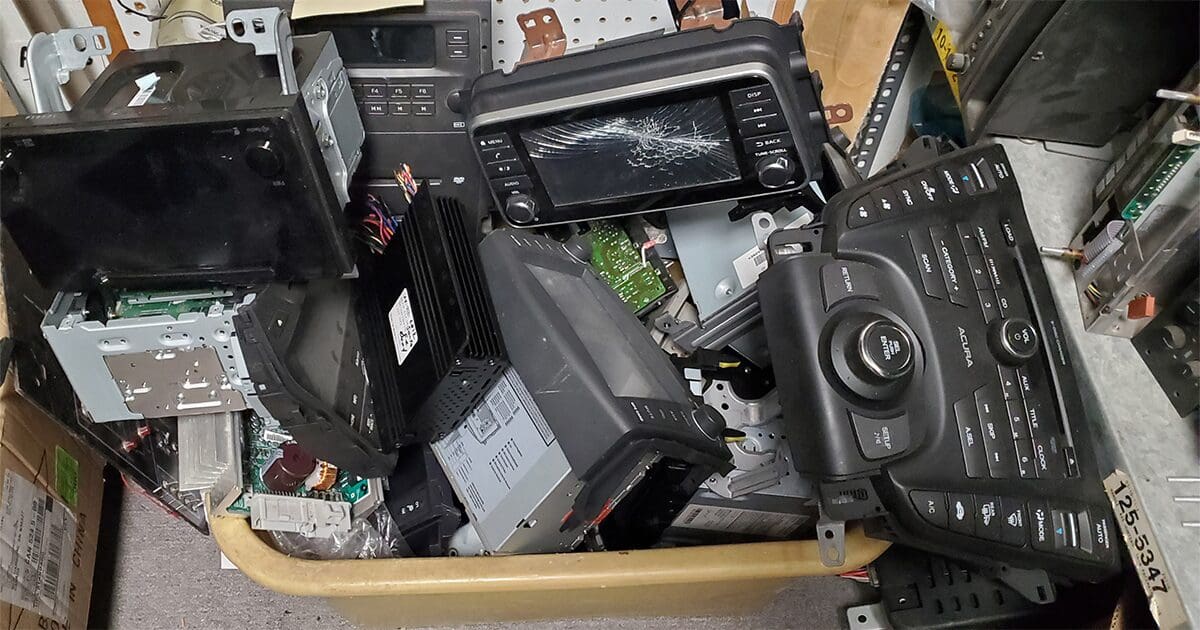 A few weeks ago, I was at Motron Automotive Electronics in London, Ontario, to return some vintage remote car starters I'd borrowed for an article. I was talking with Lee Campbell about the work the shop does. Aside from remote car starter installations and audio system upgrades, Motron specializes in finding solutions for vehicles where the factory-installed infotainment systems and radios have failed. It's one of the few shops I know of with a full-time service technician who can perform component-level repairs on these units.
Help! My Radio Stopped Working
If the radio in your car or truck isn't working, the first thing you should do is check the fuse in the fuse box. Your owner's manual will tell where to look for the fuse panel. For example, the radio fuse might be labeled multimedia, audio or stereo. You should also check for a secondary or tertiary fuse box that might contain a separate fuse for an amplifier. Always replace a blown fuse with an identical unit with the same current rating value. If the fuse blows again, something has been damaged and will need repair or replacement.
If replacing a fuse doesn't bring your sound system back to life, you have three options: go to the dealer, to a local mechanic or a reputable car stereo shop. In terms of timely and cost-efficient diagnosis, it's been our experience that a competent mobile electronics technician with excellent troubleshooting skills can usually get to the root of the problem faster than the other two options.

Broken Factory-Installed Radios and Amplifiers
It should be no surprise that some of the infotainment systems in modern vehicles are notoriously complicated. With integration that extends into the data network in many cars and trucks, even the slightest glitch can render these systems non-functional. Where this becomes a significant problem is that the cost of replacing a failed factory-installed source unit or amplifier can be extraordinarily expensive. Let's look at an example.
If you happen to have a 2013 Mercedes E-Series sedan and the radio dies, a refurbished unit goes for $3,000-3,500, plus a core charge. That's a serious chunk of change for a source unit that isn't overly impressive.

Two more affordable solutions can get the audio system back and running. First, you can choose an aftermarket double-DIN or floating-face multimedia receiver, along with a MOST25 interface that will send audio to the factory amp. Aside from letting you hear music again, the new source unit will likely include Apple CarPlay and Android Auto smartphone integration technologies. Almost all new multimedia receivers will play popular multimedia file formats from a USB memory stick. You can also have the shop add a backup camera to make parking and maneuvering safer. You are likely in the $1,200-2,000 range for something like this, depending on the features of the radio you choose.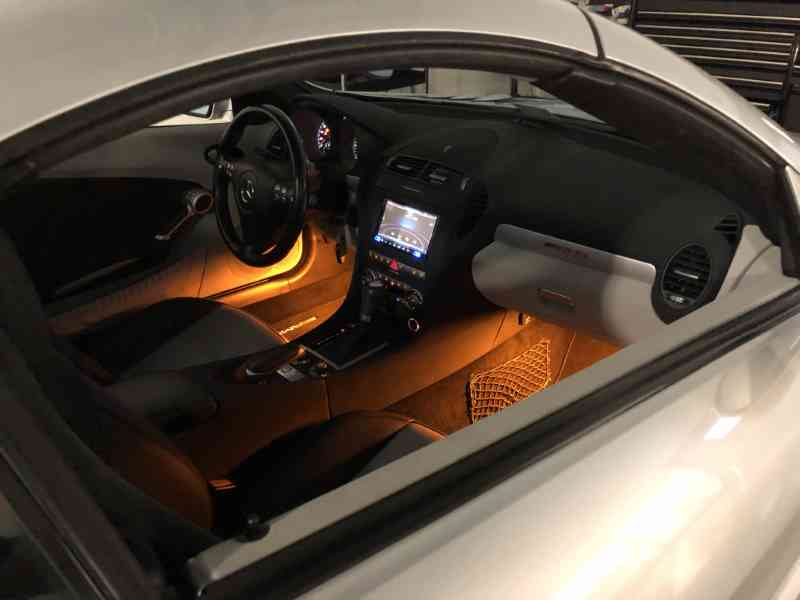 Alternatively, you can forego the expensive interface and add a multichannel amplifier to improve the audio system's sound. Many amplifiers provide more power to the speakers in the vehicle and even allow you to add a subwoofer. Choose an amplifier with an integrated digital signal processor. A properly trained technician can improve the sound produced by the existing speakers and tailor it to your listening preferences.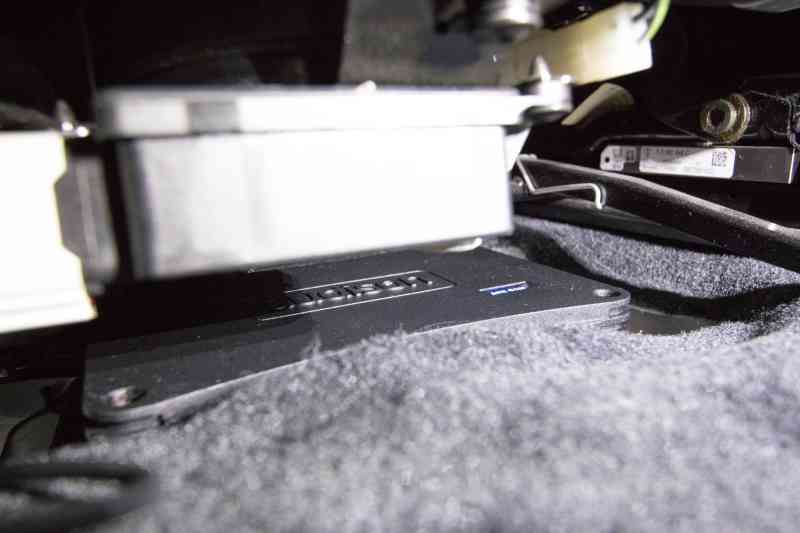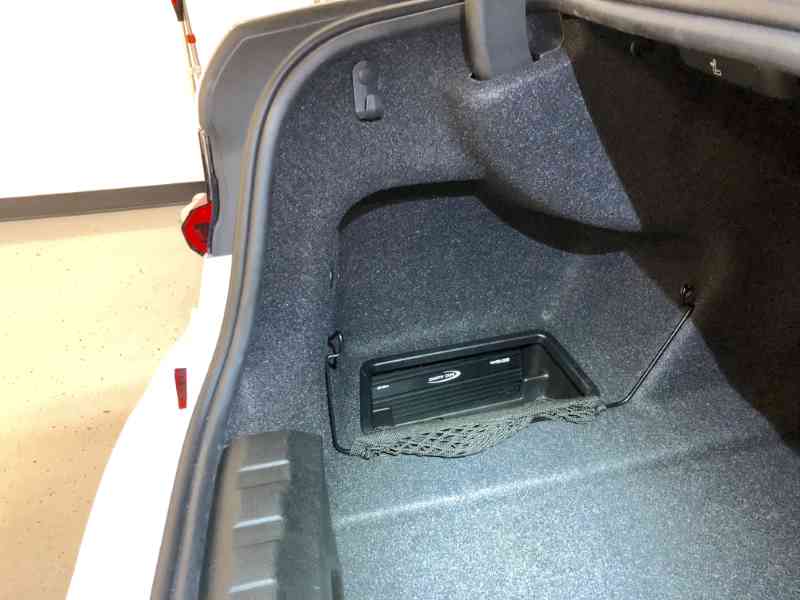 Chrysler, Dodge and Jeep Radio Failures
Other notorious platforms for radio failures are Chrysler, Dodge, Jeep vehicles and RAM trucks that have the RHR My Gig and RES receivers. It's easy to spend $300-500 to repair a touchscreen, display or CD mechanism, plus the cost of removal and re-installation. You're still stuck with a receiver without CarPlay and Android Auto – leaving it well behind the times.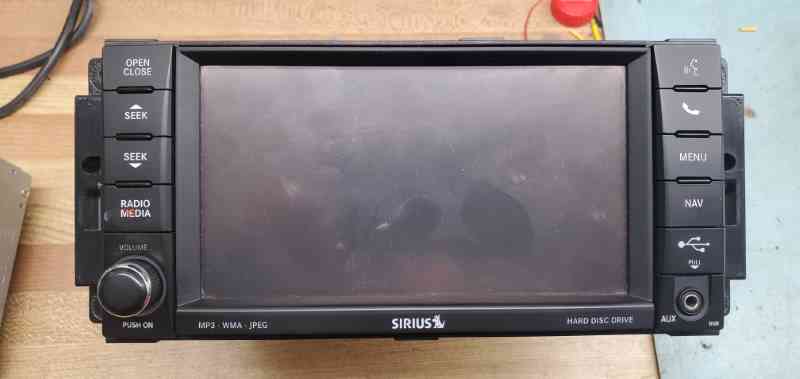 You can have a new Sony, Kenwood, JVC or Alpine radio installed for about the same money – with many more features and a brand-new warranty.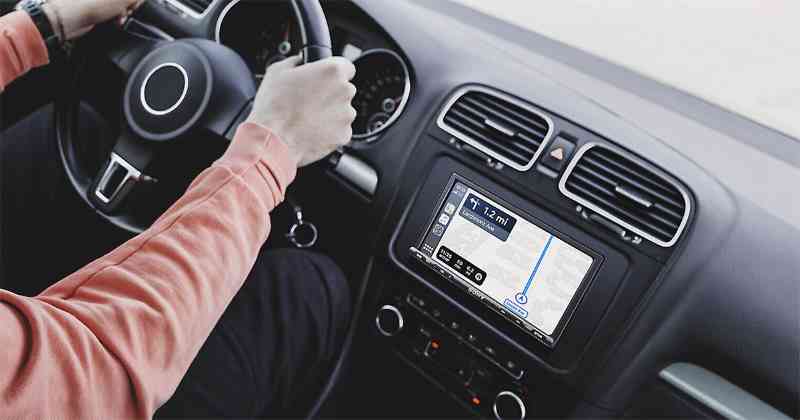 Some Factory Radios Just Break
Lee mentioned that Motron stocks parts for many recent radios, including a wide selection of touchscreens and CD mechanisms. In addition, their tech can often repair or refurbish a radio by combining parts from several units. This process can save clients thousands of dollars.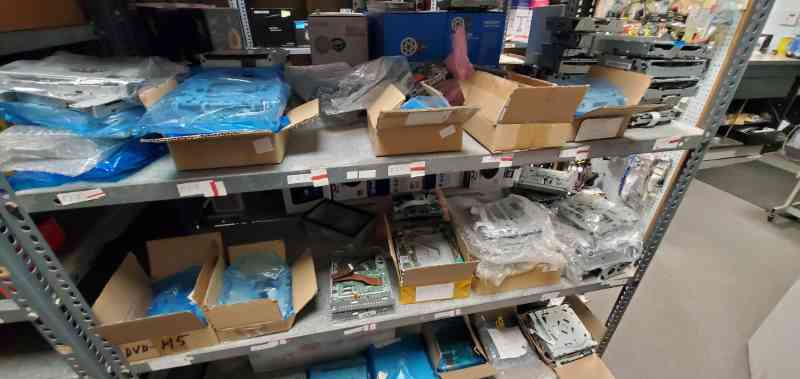 Lee mentioned that they have some regular projects that come through the door. For example, failed audio control modules (ACMs) are common in Ford F-150s, Focuses, Fiestas and Escapes. The shop can often get a replacement ACM and program it to the vehicle. Likewise, replacing CD mechanisms that have started to tick in Escapes is also commonplace.
The 5- and 8-inch radios in Dodge, Chrysler, RAM and Jeep vehicles seem to like to fail. In these vehicles, the most cost-effective solution is an aftermarket radio. Lee mentioned that he likes having the option of the Maestro RR integration on Kenwood and JVC radios, which gives clients access to vehicle information like tire pressure, parking sensors and instrument cluster information where applicable to the vehicle.
Factory-installed amplifiers in the GMC Avalanche and Acadia, along with the Buick Enclave, also seem to fail often. Installing an aftermarket four- or five-channel amplifier is a great solution here.
In any Northern states or Canadian provinces where salt is used on the road in winter, damage to amplifiers that are mounted under the driver or passenger seat is common after a few years. When these go, an aftermarket replacement is a good choice. Talk to the installer about relocating the replacement or raising it off of the carpet to help keep it dry. You may also want to invest in a set of vehicle-specific floor mats like the FloorLiners from WeatherTech. These mats can help keep water, dirt, sand and slush contained so that electronic modules under a seat won't be damaged.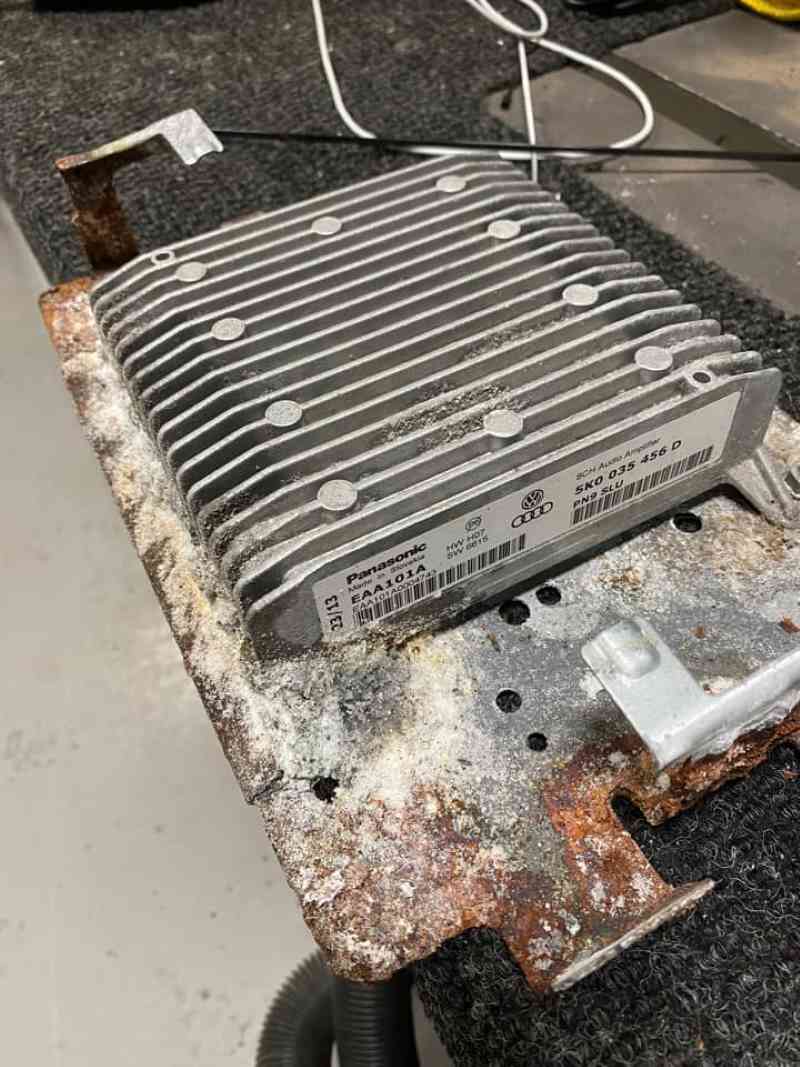 Backup Camera Failures
Backup cameras are another component that seems to fail frequently. If the image goes blurry or starts to turn white, water may have infiltrated the camera and affected the image sensor. In many cases, an aftermarket camera can be retrofitted into the vehicle to work with the factory display. This is a project some shops excel at, while others avoid it. The project will need to start with confirmation that the signal going to the infotainment system is composite video and not LVDS. There are no aftermarket LVDS cameras, except for vehicle-specific solutions from somewhere like Rock Auto. Nevertheless, it's worth asking your local specialty mobile enhancement retailer if they'd consider looking at the wiring to see if an aftermarket camera replacement is an option.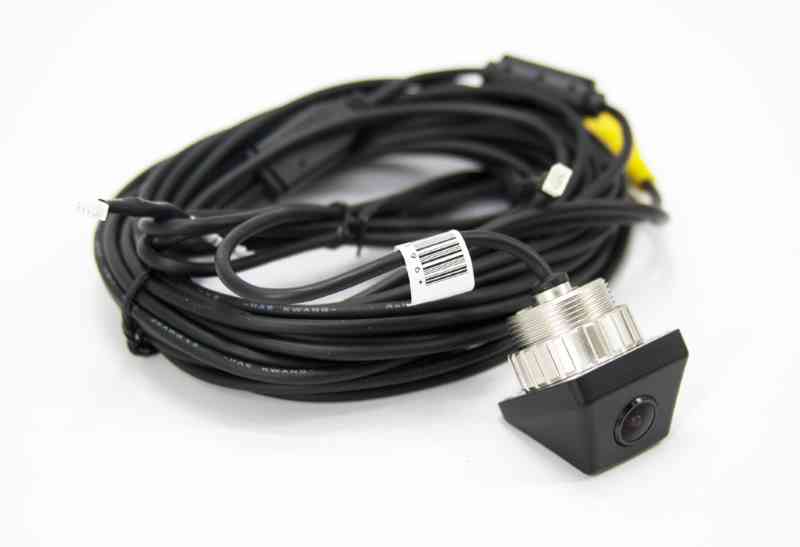 A Few Comments from the Experts
Lee mentioned that many customers come to Motron hoping that the problem with their stereo is just a "loose wire" or a "loose connector." We can say with confidence that this is rarely the case. The wire harnesses in most cars are impressively reliable, and almost all electrical connectors in vehicles have an integrated lock to keep them from backing out because of vibration. That said, rodents love to munch on the wiring in many new vehicles. If a harness has been damaged, it might be reparable.
I was chatting with Lou Norman at ENORMIS Mobile Specialties in Erie, Pennsylvania. The ENORMIS team excels at factory-installed audio system repairs and also delves into projects like door lock and fog light upgrades. They also specialize in instrument cluster, power window and door lock repairs, and battery drain diagnosis. Lou mentioned that it could take time to diagnose some of these problems. Though their technicians are better at troubleshooting automotive electrical and electronic systems than most dealers, it's not unreasonable to budget $1,000 as a minimum to bring some of these systems back to life. Remember, the technicians are looking for an issue and may test a dozen circuits and components before finding the culprit.
Upgrade That Broken Factory Stereo
If you're having problems with the factory-installed sound system in your car, truck or SUV, visit a specialty mobile enhancement retailer and talk to them about a replacement before going to the dealership. Whether it's a radio, amplifier or a set of speakers, you might find that brand-new aftermarket products are more affordable, sound better and offer new technologies and features.