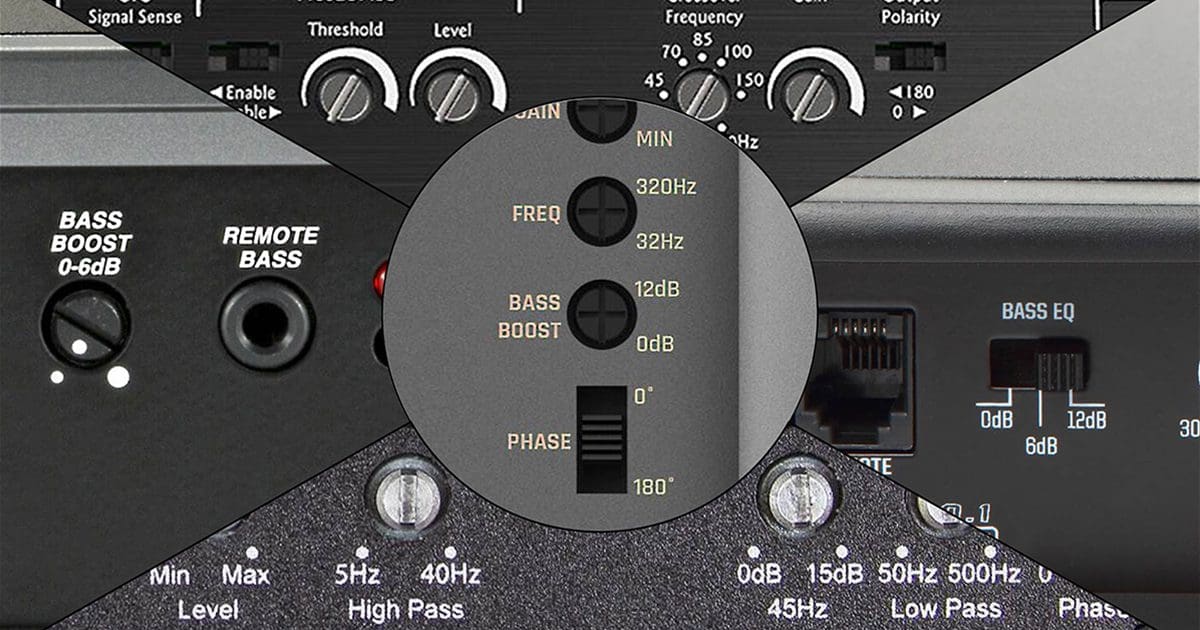 While few of us want a wall of subwoofers in our daily driver, there's no denying that a stereo system with solid bass reproduction is a lot of fun. We've looked at the importance of proper equalization when it comes to subwoofer systems in the past. So, what about the bass boost control that's found on almost all car audio subwoofer amplifiers? Does it improve system performance? Does it make your stereo system louder? Let's have a look at how the bass boost control functions, its benefits as well as any drawbacks.
When It Comes to Reproducing Music, What's Right?
If your goal for your car audio system is accurate music reproduction, your subwoofer system should deliver a smooth response from 20 hertz to about 70 hertz. Above that frequency, it should blend smoothly into the midbass speakers in the front of the vehicle, and be flat from about 125 hertz up to the limits of audibility. Some prefer to have the highest frequencies attenuated a little bit above 2,000 hertz for a little more of a laid-back sound presentation.
The amount of bass relative to the midrange and the attenuation of the highs is a personal preference. With that said, if someone is playing a piano, harp, contrabassoon or synthesizer, to be accurate, the system should reproduce all notes with the same amplitude. This is why the best home audio speakers have a nearly ruler-flat frequency response from below 30 hertz to above 20,000 hertz.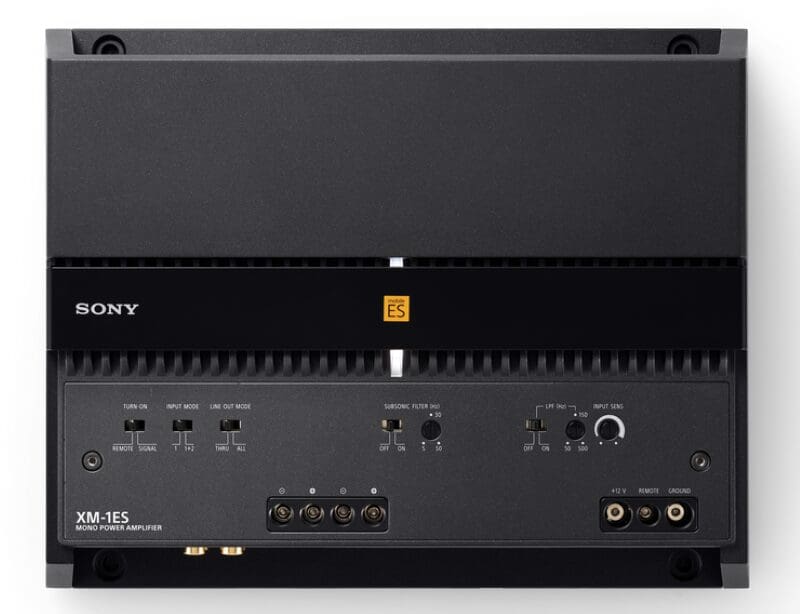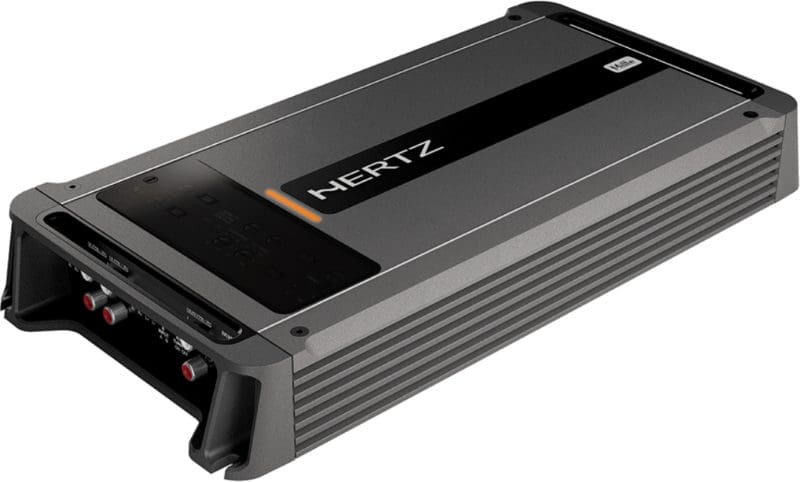 What Is a Bass Boost Control?
The bass boost control found on most car audio subwoofer amplifiers is effectively a single-band graphic equalizer. Typically centered around 40 to 45 hertz, the control allows your installer to increase the output of the amp around that frequency by as much as 18 dB in some cases. Unlike a proper equalizer, very few of these can attenuate (or subtract) output to help smooth any bumps in the system's response.
So, if you like lots of bass in your car audio system, does it make sense to turn up the bass control on your amp? Maybe not. If you like listening to your music at high volumes, you are limited by how much power your amplifier can produce and how much power your speaker can handle. Let's assume that you have enough subwoofers to keep up with the capabilities of a 1,000-watt amplifier. Assuming the speakers are wired as a 2-ohm load, that amp would produce about 44.7 volts RMS just before the amp started to distort. Your installer should have the sensitivity control on the amp set so that the amp will produce this output with the volume on your radio turned up all the way.
More importantly, the crossover and level of the amp powering the midbass or midrange speakers should be set so that they (at least try) to blend with the output of the subwoofers. For most "musical" systems, the bass should be 10 to 12 dB louder than the midrange. This is a fun calibration and will drown out road noise.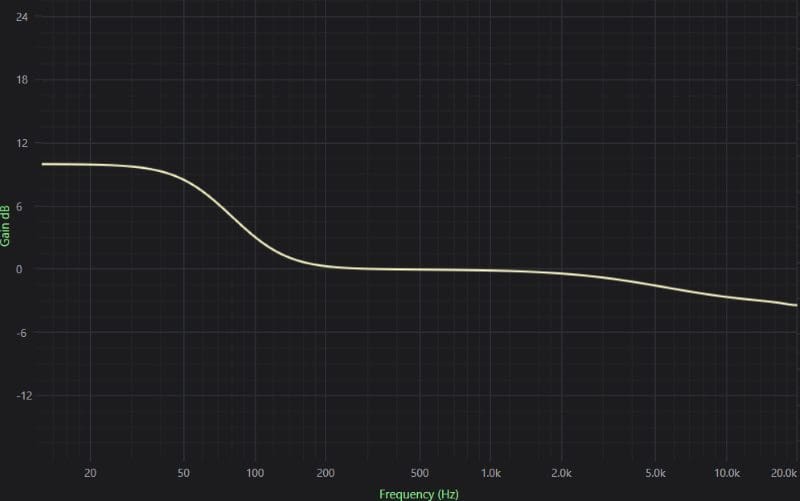 Let's say you've had your audio system configured by a professional, but the urge to turn up the bass boost feature overwhelms the instructions to leave things alone. You dial in 10 dB of boost at 45 Hz. Here's what your system would look like in terms of frequency response.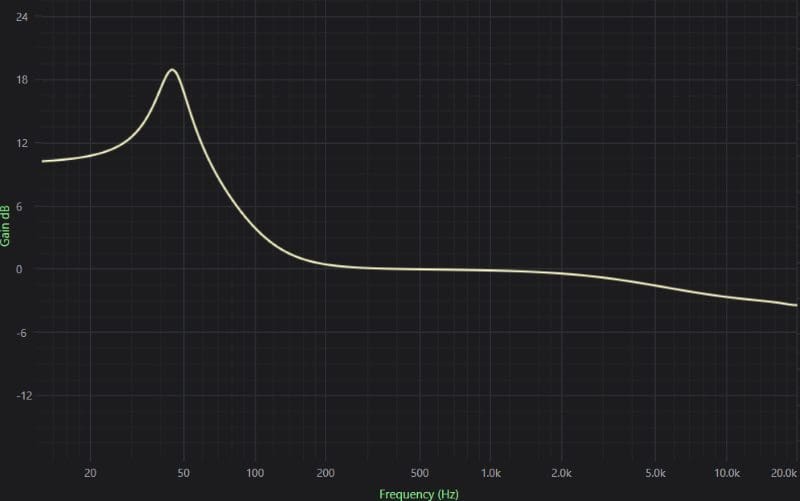 It's pretty easy to see that this response curve is anything but realistic. Frequencies around 45 hertz are almost 19 dB louder than the midrange. It might be fun for rattling windows and making the rearview mirror shake, but it won't sound very realistic.
There's a more significant problem, though. The gain setting on the amp won't be correct. Let's look at the original graph from the perspective of a subwoofer amp and a midrange amp.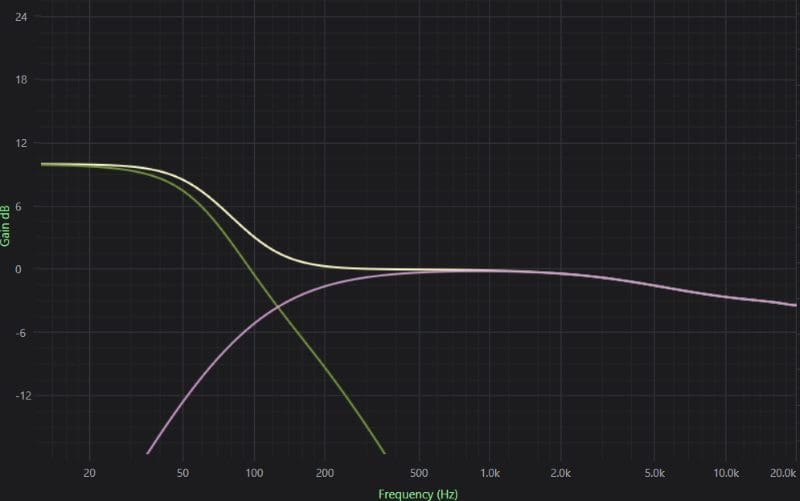 We can see that nothing really changes. The subwoofer amp reproduces the bass frequencies, and our midrange amp is handling everything else. If the system is adjusted correctly, the subwoofer amp should reach full power with the volume at full. Now let's add that 10 dB of boost at 45 Hz.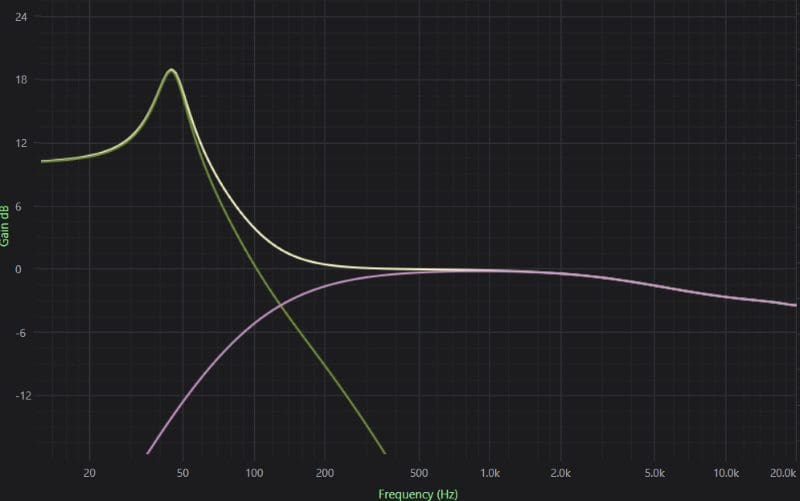 So, as long as the master volume is never turned up past the point at which it's 10 dB from maximum, the system will play just fine. This means that the low-frequency bass, midbass, midrange and high-frequency information will max out at 10 dB quieter than before.
If we want to be able to play the midrange speakers as loudly, we need to turn down the gain on the sub amp by 10 dB so that it doesn't clip when information around 45 Hz is playing. That makes sense, right? Well, the result would look something like this: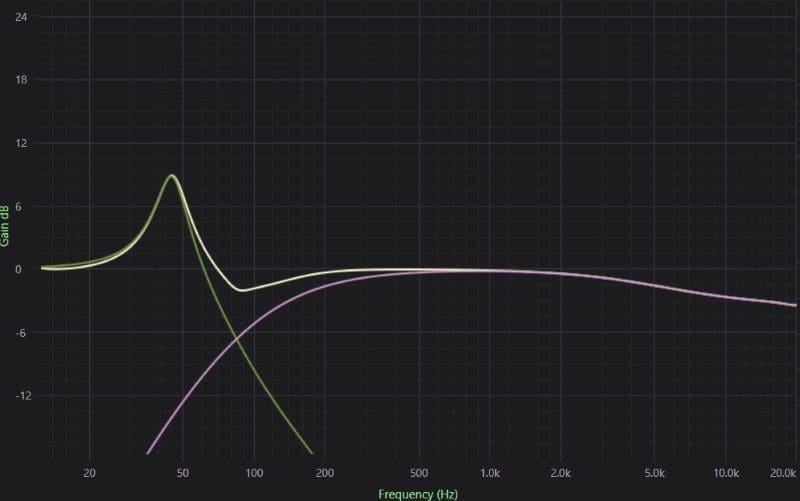 As you can see, now we've lost all our midbass, and the transition between the midrange and the subwoofer is extremely abrupt. Voices will lack warmth. Drums and bass guitars will sound thin. Very low-frequency information also won't be much fun. All of this comes at the expense of having more "boom" at 45 Hz. Imagine if you had an amp that could add 18 dB of boost? The system would sound even worse!
Why Do Subwoofer Amps Have Bass Boost Controls?
So, the logical question is, why do subwoofer amplifiers have bass boost controls? Well, back before we used dedicated amplifiers for our subwoofers and midrange speakers, many systems were designed with passive crossovers to handle audio frequency separation. We'd install inductors on the subwoofers to limit high-frequency information, and capacitors on the mids would block the bass. Before that, many systems didn't have subwoofers at all. We'd have 6×9 speakers in the rear parcel shelf and 6.5-inch speakers in the front doors or 4×6 speakers on the dash. Having a narrow-band bass equalizer on the amp let installers add some punch or kick to the music. Of course, it had to be done judiciously.
The world-famous Punch EQ from Rockford Fosgate was a great example of how important some equalization can be to the performance of an audio system. This famous processing started as the Frequency Energy by the late Jim Fosgate in 1973. The EQ circuit had a narrow-band bass EQ on the bottom and a high-frequency EQ on the top.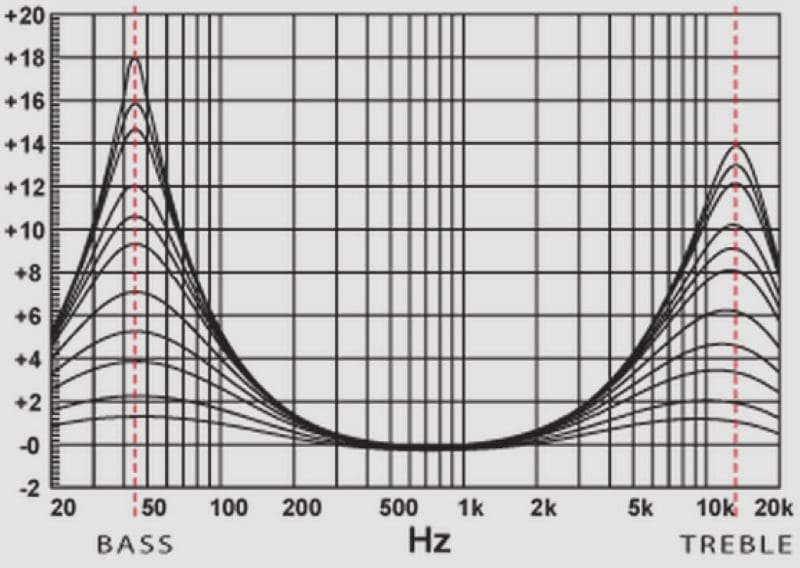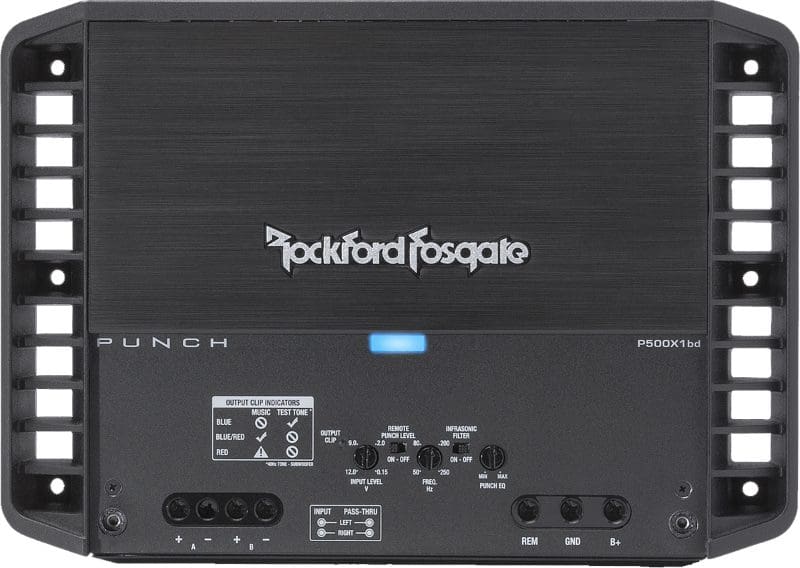 Is a Little Bit of Bass Boost OK?
What if you have a modern audio system with a small subwoofer? Can your installer dial in a little EQ to add some kick? Of course they can! That's where these controls really shine. If you have a subwoofer installed in an undersized enclosure, you can help it try to reproduce some of the frequencies that are lacking. It's a simplified form of system equalization.
Many higher-end subwoofer amplifiers have a frequency control on their bass boost circuit. You may want to add a little rumble down at 30 hertz or some kick in the chest up at 80 hertz. So long as the technician installing and configuring your system takes this bass boost into account when setting the gains on your amps, the system should perform just fine.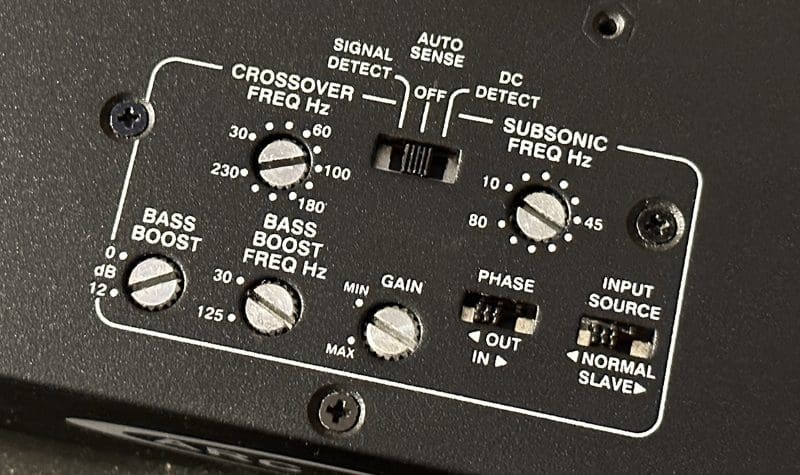 If you're feeling that the sound you're getting from the subwoofer system in your car or truck is inadequate, you should really go back to the shop that installed the system. Talk with the product specialist who designed the system and explain what you're experiencing. It may be as simple as having to adjust the settings on the amplifiers, source unit or digital signal processor. If some part of the project wasn't quantified properly before work began, you might need to switch to a more efficient bass reflex subwoofer enclosure or a more powerful amplifier and subwoofers with greater capabilities. Giving the bass boost knob on your amp a little twist without considering how it affects the rest of your system isn't recommended.