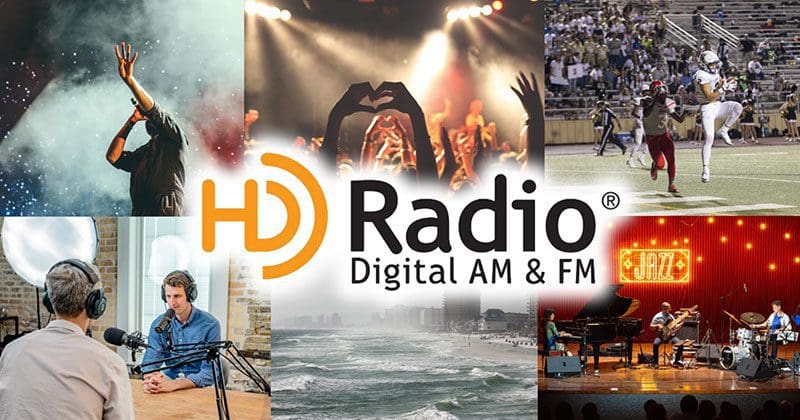 HD Radio is a broadcast technology that adds digitally encoded information to an analog AM or FM station. Where once you were limited to listening to, say, 101.1 in New York City, the broadcaster has added a news and talk channel as well as a sports channel to the same 101.1 MHz frequency. The best part is that HD Radio is completely free. If the tuner in your vehicle has this feature, you can make use of it without any activation or subscription costs.
How Does FM Radio Work?
Without getting too technical, each FM radio station in North America is assigned a specific range of frequencies it can use to broadcast its content. The limits for analog FM radio station frequencies are 88.1 to 107.9 MHz, and each station has 200 kHz of bandwidth to transmit both a mono and a stereo signal. The Federal Communications Commission (FCC) in the US and Industry Canada (IC) control the standards and handle licensing in their respective countries. As such, you can't just build a radio transmitter and start broadcasting a station from your basement.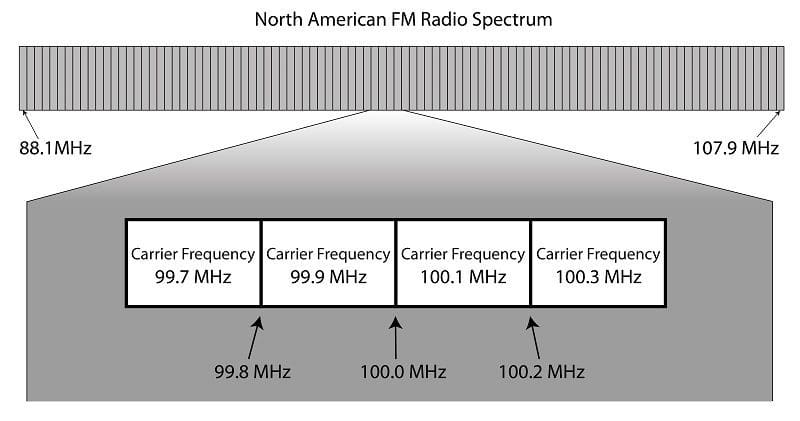 Technically, with 20 MHz of bandwidth, there is room for 100 stations within 88 and 108 MHz to simultaneously broadcast within the same area. In reality, few cities have that many radio stations. The FCC and IC see to it that radio station broadcast frequencies are spaced far enough apart so they don't overlap. Likewise, stations that broadcast on the same carrier frequency need a transmitter that is far enough away from a similar station so that the signals won't overlap within the target market.

Adding HD Radio Digital Information
When a broadcaster decides that it wants to transmit additional information using HD Radio, it is permitted to increase the bandwidth of its transmitted signal and send digital information. This technology is called an in-band on-channel (IBOC) digital radio. 

Because this signal is digital, it's much more resistant to noise. As such, stations rebroadcast their analog signal on HD1 – the first of the four available HD Radio stations available on a single carrier frequency. While the system does use a lossy compression algorithm to reduce bandwidth, most users report that the HD1 channel sounds better than the analog signal. 
Broadcasters can divide their available digital bandwidth however they choose. If they want the clearest, most detailed digital option for their main station, they may not broadcast anything other than HD1. In one example, HD1 is the main FM radio station and HD2 is a feed from an AM station owned by the same broadcaster. Talk radio and news-only broadcasts that require less overall bandwidth are also common uses for HD2 and HD3.
Compatible tuners are designed in a way that a failure to decode any of the digital radio stations results in the tuner dropping back to playing the analog audio signal. The technology also allows broadcasters to transmit station information, album and artist details and, in some instances, album or radio station artwork for display on a compatible receiving radio.
Currently, HD Radio signals are broadcast in the US, Canada and Mexico. XPERI Corp., the company that owns HD Radio, reports that India will be the next market to add HD Radio broadcasts.

Upgrade Your Vehicle with an HD Radio-Equipped Receiver
If your car or truck didn't come with an HD Radio-equipped receiver, drop by your local specialty mobile enhancement retailer to find out how you can upgrade your radio. Sony, Kenwood, Pioneer and Alpine offer solutions to provide a whole new world of entertainment to make your commute more enjoyable.