Holly Hill, FL – July 8, 2021 – iBEAM Vehicle Safety Systems by Metra Electronics® has two new commercial safety products in stock and shipping. A wireless 7-inch monitor and high-definition camera package, the TE-WMCE, and a 9-inch quad-view monitor, the TE-9VS-4. Both universal solutions feature heavy-duty construction and are designed for the demands of larger vehicles like commercial work vans, RVs, and more.
Wireless Digital Rearview Monitor and Camera System
The TE-WMCE is a wireless rearview system featuring a wide-angle, high-definition camera and 7-inch LCD screen monitor. It has a 90-meter/300-foot range that is ideal for larger vehicles where running wires may not be an efficient option. The monitor has a universal lip mount and connects to the included DC/cigarette socket power plug for an easy setup. The power plug has an on/off button for easy activation of the monitor.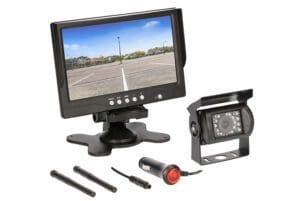 TE-WMCE Product Specifications:
Wireless HD camera and monitor kit
7-inch color LCD screen
90 m / 300 ft wireless range
DC socket for monitor power with on/off button for easy activation
Camera – Rated IP67
Camera visual angle – 70 degrees horizontal
Camera has IR LEDs for 0 lux minimum illumination at night
Commercial Multi-View 9-Inch Monitor
iBEAM's TE-9VS-4 is a 9-inch color LCD screen that shows up to four cameras simultaneously with multiple display layouts. It has a removable sun shade, a built-in speaker for camera audio, four 4-pin DIN camera input connectors, and includes a remote for easy operation. This monitor features heavy-duty construction with a tilting bracket mount that can be adjusted up to 30 degrees forward or backward for an optimal viewing angle.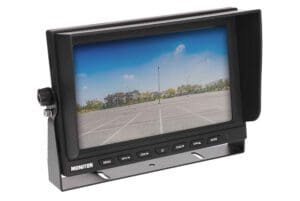 TE-9VS-4 Product Specifications:
9-inch color LCD screen
Heavy-duty tilting bracket mount
Displays 1 to 4 cameras simultaneously with multiple display layouts
(4) 4-pin DIN connectors
Includes remote
Built-in speaker for camera audio
These solutions are in stock now. Visit iBEAMusa.com for additional product information.
About Metra Electronics®

At Metra, 12volt installation and integration is our passion. We strive to continuously offer the highest quality products to meet the fluctuating technological challenges of the automotive world.  We actively listen to our customers' requests and invest resources in developing the highest quality dash kit and harness solutions. We make dash kits for more vehicle applications than anyone else in the world. That's why we've been known as "The Installer's Choice" ® for more than 70+ years. Our other brands include: Axxess®, T-SPEC®, The Install Bay®, Heise LED Lighting Systems®, iBEAM Vehicle Safety Systems®, Shuriken High Performance Batteries®, Raptor®, Ballistic®, AmmoTenna®, Metra PowerSports®, Saddle Tramp®, Metra Marine® and Daytona Lights™. Metra's expertise in connectivity solutions is also applied to its division of premium home theater and surveillance products, Metra Home Theater Group®.