Holly Hill, Fla. – November 23, 2021 – iBEAM Vehicle Safety Systems® by Metra Electronics® is now shipping new cameras and accessories launched at the 2021 SEMA Show. Two new tailgate handle cameras designed to fit older model Dodge Dakota or Chevrolet C/K pickup trucks provide an OE-style replacement handle with a high-quality backup camera. iBEAM is also now shipping a new universal micro camera that can be used to add a side, front, or rear-view camera to almost any vehicle. A new universal mount is also available for mounting iBEAM's square-style cameras to the interior rear window. These are just a few of the many new safety solutions introduced from iBEAM at the 2021 SEMA Show.
Tailgate Handle Cameras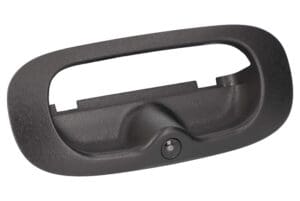 iBEAM's new TE-DDTG replacement tailgate handle camera is designed to fit 2005-2011 Dodge Dakota trucks and the TE-GMPU is designed to fit Chevrolet's 1988-2002 C/K pickup trucks, providing a modern upgrade for older models. Both tailgate handle cameras are rated IP69 and have a resolution of 400 TV lines with a high-quality sensor for nighttime viewing.
TE-DDTG and TE-GMPU Product Specifications
Resolution: 400 TV lines
Field of view: 186° diagonal, 150° horizontal, 112° vertical
Minimum illumination: 0.1 lux
IP69
Selectable parking lines
26 feet of extension cable
3-year limited warranty
Universal Micro Camera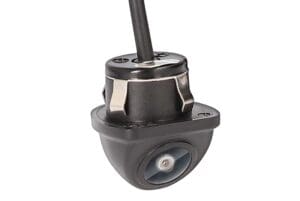 The TE-MIPI from iBEAM is a small but impressive camera with a resolution of 800 TV lines. This is a 55-degree fixed angled camera and the image can be mirrored or rotated for vertically or horizontally mounted cameras placed on side-view mirrors, front or rear bumpers, or almost any other location. It has an optional parking lines feature when used as a reverse camera or can be independently triggered. A hole saw and wiring harness are included.
TE-MIPI Product Specifications
Resolution: 800 TV lines
Viewing angle: 188° diagonal, 155° horizontal, 113° vertical
IP69K
Switchable mirror/normal image
Ability to trigger parking lines separately from camera power
Vertical image switching for different camera mounting positions
Hole saw included
3-year limited warranty
Universal Interior Rear Window Mount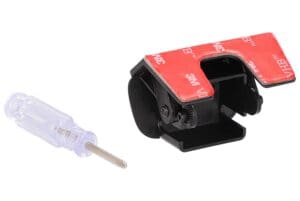 iBEAM is making it easier for installers to mount an interior rearview camera without drilling holes. The new TE-ISCMB is a universal mount that works with all of iBEAM's square-style cameras. It attaches to the rear window with 3M® double-sided tape and includes mounting hardware.
These new products are now shipping from Metra Electronics and all of iBEAM's new solutions launched at SEMA can be seen online at iBEAMusa.com.
About Metra Electronics®

At Metra, 12volt installation and integration is our passion. We strive to continuously offer the highest quality products to meet the fluctuating technological challenges of the automotive world. We actively listen to our customers' requests and invest resources in developing the highest quality dash kit and harness solutions. We make dash kits for more vehicle applications than anyone else in the world. That's why we've been known as "The Installer's Choice" ® for more than 75 years. Our other brands include: Axxess®, T-SPEC®, The Install Bay®, Heise LED Lighting Systems®, iBEAM Vehicle Safety Systems®, Shuriken High Performance Batteries®, Raptor®, Ballistic®, AmmoTenna®, Metra PowerSports®, Saddle Tramp®, Metra Marine® and Daytona Lights®. Metra's expertise in connectivity solutions is also applied to its division of premium AV and surveillance products from MetraAV™.