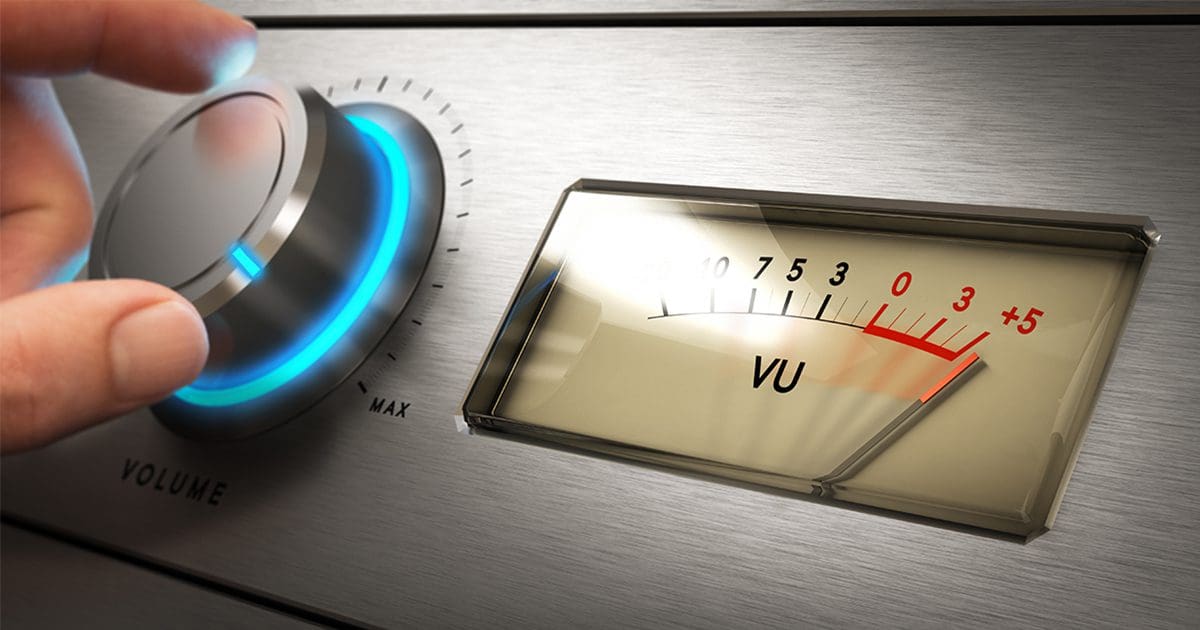 Two factors limit how loudly a car stereo system can play: how much power you have to drive the speakers in the system, and the maximum output capabilities of those speakers. We see a lot of amateur and poorly executed audio system installations that play good and loud when the volume on the radio is barely over a quarter of its maximum output capability. What does this mean in terms of system configuration? It indicates that the sensitivity controls on your amplifiers or integration processors haven't been configured properly. Why does it matter? Let's have a look!
Audio System Gain Structure
Gain control on a car audio amplifier exists for two reasons. First, it allows that amplifier to produce its maximum rated power with various input voltages. Suppose you had an old or inexpensive source unit that could only produce 1.5 volts of signal on the preamp outputs. In that case, a setting somewhere in the middle of the amplifier's sensitivity range might be appropriate. If you have a modern high-performance source unit that can produce 5 volts of output, you can likely drive the amp to full power with the gain control turned most of the way down.
The second purpose of the gain (or sensitivity) control is to balance the output of speakers in the system. If you have one amp for your subwoofers and a second amp for the front and rear speakers, the sensitivity controls can ensure that the system's balance of bass to midrange and high-frequency information is correct. This process can be tricky as it usually leaves some subwoofer amplifier power on the table or, if executed incorrectly, might cause the amp driving the midrange and high-frequency drivers to clip.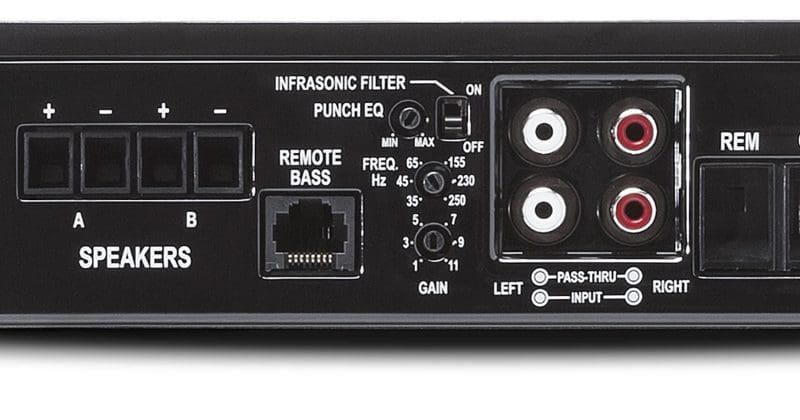 What Happens with Too Little or Too Much Gain?
To keep the conversation simple, let's consider a simple two-channel amplifier running a pair of full-range speakers. What happens if the gain on this amp is set too low? For context, the amp might be set to require 5 volts of input when the source unit can only produce 2 volts; the amp won't make all the power it's capable of producing. Assuming the source unit doesn't distort at full volume, that amp could be turned up a little bit so that it just reaches the point at which it clips the output signal when the recording level goes 0 dB FS.
At the other end of the spectrum, we have a condition where the amplifier gain is too high. It might be set to 0.5 volt when the source unit can produce 4 volts of output. What happens in this scenario? If the listener is paying attention, they should only be able to turn the radio up about three-quarters of the way to get the maximum power possible out of the amplifier. In most situations, listeners tend to continue cranking the volume well past when the amp clips, sending significant extra power to the speaker in the form of harmonics. Not only does this sound terrible, but it can damage small drivers.
There is a scenario where an amplifier should be set to have a little more gain that would be mathematically ideal. In a perfect world, assuming all music was recorded such that it reached the maximum allowable level on the recording media (which should be 0 dB FS), an amp should be set to clip with a test tone at this level. Unfortunately, and especially with older recordings, sometimes the recording level isn't all the way up. If the recording only reaches -5 dB FS, then we need more gain on the amp to play this music back at the loudest level possible from our amplifier. This scenario requires what's known as gain overlap. We set the amp gain a little higher than would be deemed perfect so that quiet recordings can still be played loudly.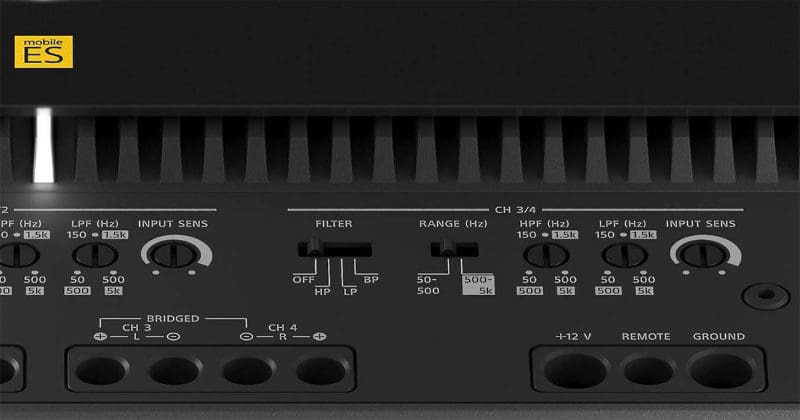 The Problem with Too Much Amplifier Gain
If you know what to listen for in terms of distortion from an amplifier, then having some gain overlap is OK. If you hear the amplifier clipping, you can (and should) turn the radio volume down until it stops. What happens in a case of having WAY too much gain? Amplifiers don't know the difference between background noise and an audio signal. If the volume on your radio is adjustable between 0 and 40, but the system is screaming loud at 20, then the gains are likely too high. In this scenario, the background noise produced by your radio and the noise in the input stage of your amplifier will likely be audible all the time. This noise will sound like hiss or static – similar to what you hear when tuned to a radio frequency where no signal exists.
If you can hear a hiss from your audio system and you can't turn the radio volume up to 37 or 38 (out of 40) and still have everything clear, then you need to go back to your installer and have the gain structure set properly. This hissing noise is also often called floor noise, background noise or fuzz. Any noise or distortion detracts from the listening experience, just as static or improper color or contrast adjustments on a video display would detract from watching a movie.
The secondary problem with having too much gain is that you have dramatically reduced the number of volume levels you have available. If you always listen loudly, perhaps this doesn't matter, but it's still a consideration. If your system makes as much power as possible with the volume halfway up, you might only have 20 volume levels instead of 38 or 39.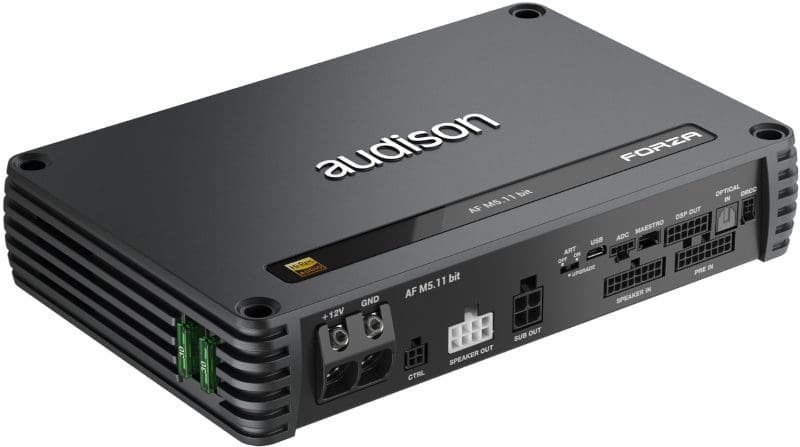 How To Know Your Car Audio System's Gains Are Set Correctly
If you've chosen high-quality amplifiers and a good source unit, you shouldn't hear much, if any, hiss from the sound system between tracks. If your audio system includes internet-brand bass-head amplifiers, high-efficiency PA speakers and things aren't set up properly, you'll likely be able to hear background noise at even moderate listening levels. Your installer can maximize the signal-to-noise-ratio capabilities of your system by setting things properly, but no configuration settings will overcome the poor performance of low-quality products.
When it's time to upgrade your car audio system to something that sounds amazing, works properly and doesn't add noise or distortion to your music, drop by a local specialty mobile enhancement retailer to find out what's available. You might find that high-quality products cost a little more, but at least you'll be investing in something that sounds good and can be part of your car audio system as it grows and improves.