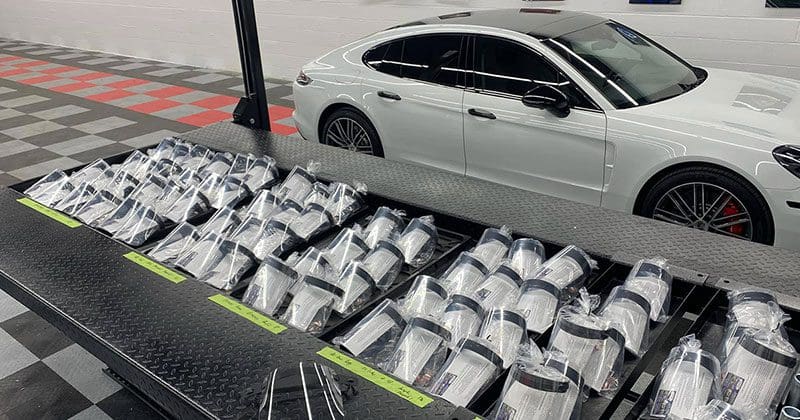 Josh Landau and the team at JML Audio of St. Louis have been producing protective face shields for emergency and frontline medical workers. When the Missouri government started discussing potential stay-at-home executive orders, Josh suspended normal operations at his World Class Vehicle Enhancement Center. He shifted the company resources to producing protective face shields while his team members helped with assembly and packaging from home to ensure proper social distancing.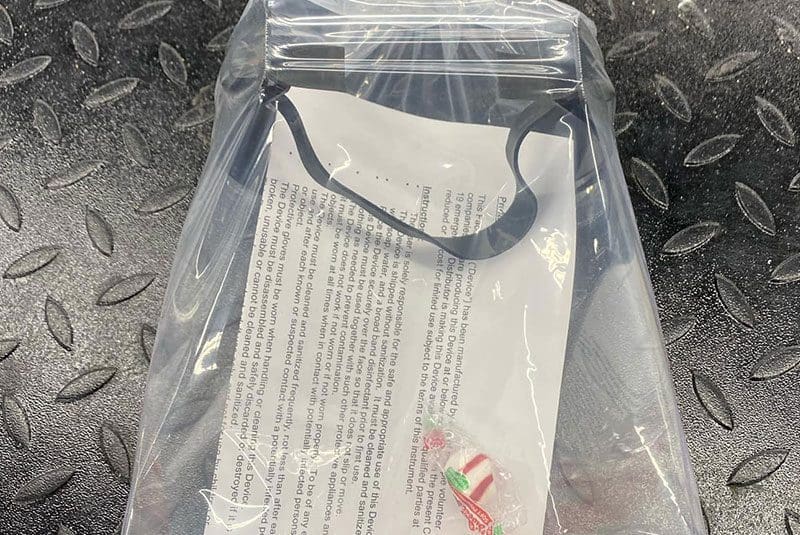 Meeting the Urgent Need for PPE (Personal Protective Equipment)
Josh didn't want to simply dabble in making shields as a make-work project for his team. To get as many shields into the hands of those who need them as quickly as possible, he implemented the same processes he uses to ensure that his client projects are executed efficiently and reliably. He started by calling on some resources to locate material and assist in the process.
Unlike disposable shields that use a foam band across the user's forehead, the design JML is delivering can be washed and sterilized easily so it can be worn again and again. 
Josh is coordinating shield requests with parts shipments to help accommodate requests from a variety of industries. Everyone from high-risk private citizens to hospital employees, police, EMTs and firefighters have made requests. Likewise, shields have been provided to dentists who're having to perform emergency work, as well as to ultrasound technicians. These professions require working in close proximity to the patient for extended periods. As of April 24, JML Audio of St. Louis had provided and donated over 1,000 protective face shields to 76 frontline organizations and high-risk individuals. all at absolutely no charge.
KSDK Channel 5 Story:
Ear Savers Make Face Masks Safer and More Comfortable
The staff at JML Audio of St. Louis is beginning to use their in-house CNC laser to start producing thousands of ear savers. These work with face masks to prevent the elastic from rubbing on the back of the wearer's ears while creating a tighter seal to the face. These ear savers are a blessing for anyone working eight- to twelve-hour shifts.
Josh mentioned that he had gotten a call from a local woman asking if she could pick up an ear saver for her mother-in-law. The woman explained that because her mother-in-law wears hearing aids in both ears, she had to choose between wearing a face mask or her hearing devices when going out for food or supplies. JML's solution allows her to do both without compromising safety.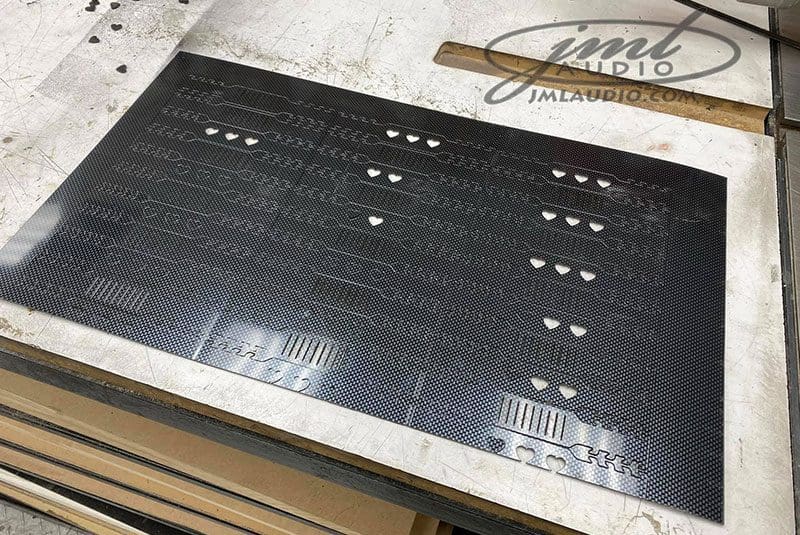 As a third-generation small-business owner, Josh believes in delivering world-class solutions and customer service in everything he and the JML team produce. His 23 years in business serving the St. Louis area are a testament to the success of that philosophy. Manufacturing protective face shields and ear savers is, in his opinion, the least he can do to give back to the community that has supported him and his team.
If you would like to acquire a protective face shield or ear saver, contact Josh by calling 314-324-5502. If you would like to support the efforts of the JML Audio team, please consider making a donation through their PayPal account.
You can learn more about the impressive world class vehicle enhancement services offered by JML Audio of St. Louis by visiting their website, their Facebook page or their YouTube channel.
From all of us at BestCarAudio.com, we'd like to thank everyone at JML Audio of St. Louis for their efforts to provide timely protection to the frontline workers who are keeping us healthy and safe.