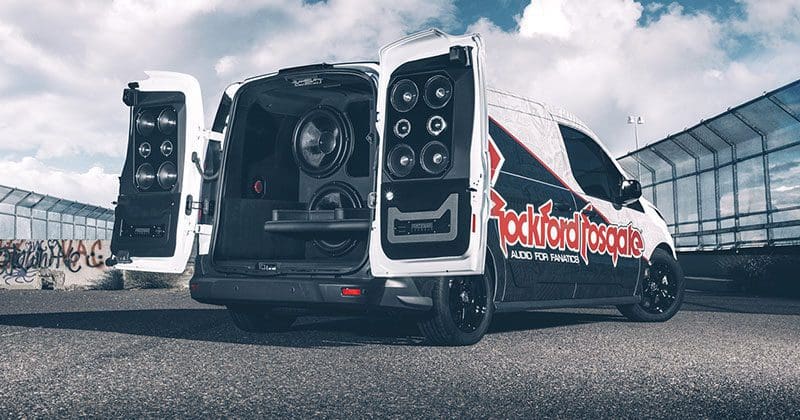 When it comes to choosing the right car audio amplifier for your subwoofers, one thing most consumers overlook is an examination of the efficiency specifications. Efficiency describes how much of the power drawn from the vehicle's electrical system is converted into power to drive a speaker. Low-efficiency amplifiers waste this power as heat. It doesn't matter whether you're adding an amp to your daily driver or choosing a solution for Sound Pressure Level (SPL) competitions – you want a solution that makes the most of your battery voltage.
Measuring Amplifier Efficiency
The BestCarAudio.com team has a lab dedicated to measuring car audio products. It's outfitted with multiple oscilloscopes, a signal generator, an audio distortion analyzer and several digital audio interfaces. We also have a load resistor bank that can handle up to 3,600 watts of power and a pair of 100-amp power supplies to feed the amplifiers we are testing.
When we test an amplifier, one of the specifications we record is its efficiency. We use precision shunt resistors to measure the current flowing into the amp accurately and a calibrated Fluke multimeter to measure the voltage at the amplifier's battery terminals. We use the D'Amore Engineering AMM-1 to measure power going to our load bank on the output side.
Calculating efficiency is easy with this information. First, we multiply the input current times the voltage to get the input power. If an amplifier is drawing 37.8 amps of current and there's 14.23 volts at the battery terminals, that's an input power draw of 538 watts. If that same amp were producing 400 watts of power, it would have an efficiency of about 74%. As a reference, this efficiency spec is a little on the low side. Eighty percent or higher is a good benchmark for a modern Class-D subwoofer amplifier at a 4-ohm load.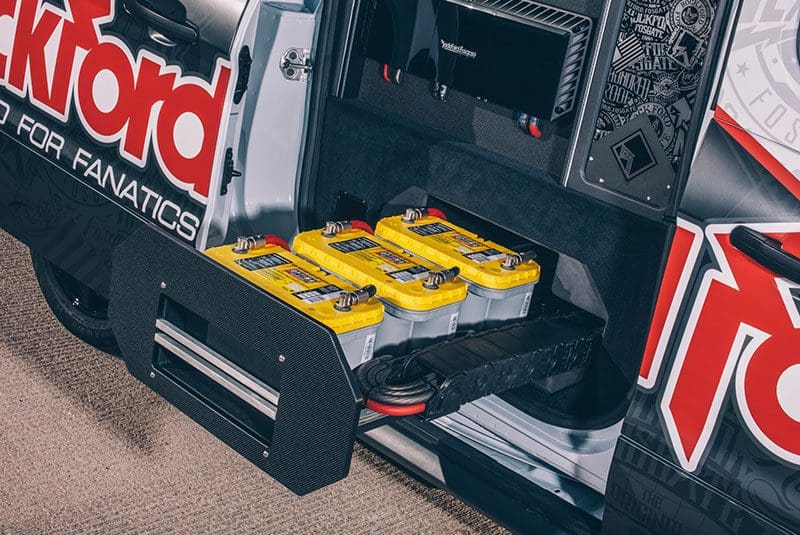 Efficiency vs. Load Impedance
When it comes to amplifier designs, we are limited by physics laws and, more specifically, Ohm's law. Power dissipation in an electronic device (transistor, MOSFET, inductor or resistor) is calculated by multiplying the square of the current flowing through the device by the device's resistance. If we have a 10-ohm resistor with 1 amp of current flowing through it, the resistor will dissipate 10 watts of power. If the current jumps to 2 amps, then the power dissipation leaps to 40 watts.
Think about all the components in the output stage of a car audio amplifier. Now think about how often you hear of people wanting to run their amplifiers at lower impedances to make more power. Lower load impedances dramatically increase the current required to drive the speakers. By way of a real-world example, let's look at the Rockford Fosgate T2500-1bdCP amplifier. This impressive car audio amplifier is rated to produce 1,500 watts into a 4-ohm load and 2,500 watts into a 2- or 1-ohm load. Rockford's website includes efficiency specifications for the majority of its amplifiers. The T2500-1bdCP has an efficiency of 81.9% at 4 ohms, 77.7% at 2 ohms and 64.% at 1 ohm.
This information should tell you that it's entirely illogical to run this amp at a 1-ohm load. It doesn't make any additional power yet requires more power from your battery. It requires 20% more current to do the same amount of work at 1 ohm as it does at 2 ohms. Limiting power production into lower load impedances is common in high-power car audio amplifiers that are designed to meet standards for reliability and longevity.

Correlating Efficiency to Current Draw
Let's look at an example of someone building a high-performance audio system designed to compete in an SPL contest. An SPL contest is a car audio event where vehicles compete to see whose stereo is loudest. Some of these audio systems can exceed the 180 dB barrier and are truly amazing. For the serious folks, these vehicles often have massive battery banks and multiple high-output alternators. It's not uncommon for a vehicle to have eight or more gigantic amplifiers with power production capabilities of 20,000 watts. You can correlate this kind of car audio to Top Fuel dragsters. Both are purpose-built machines capable of doing one thing extremely well.
Let's create a real-world example and look at how choosing the right combination of amplifiers can dramatically reduce the current draw requirements for a high-output audio system. Our goal will be to provide this audio system with 15,000 watts of power to drive speakers. The vehicle has enough room for a wide combination of subwoofer sizes, so we can mix and match driver options to provide the combination of amplifiers with a 4-ohm load or a 1-ohm load.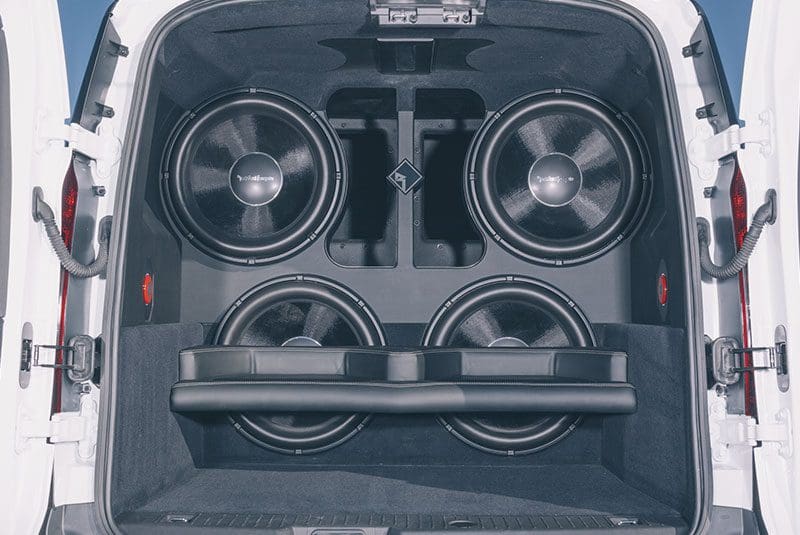 If we use six T2500-1bdCP amplifiers loaded to 1 ohm, we'll have our 15,000 watts. We could also use 10 of those amplifiers but run them at 4 ohms. It seems counterintuitive to use four extra amplifiers to get the same power that you could from six, right? Maybe not. Ten amplifiers connected to a 4-ohm load impedance would draw 1,308 amps of current. Six amplifiers loaded to 1 ohm would draw 1,660 amps to produce the same amount of power. The six amplifiers would run hotter, and you'll need more batteries and likely another alternator to keep up with this 27% increase in current draw.
If you can maintain almost 1,700 amps of current draw, reconfigure the system with 13 amps run into 4 ohms, and you'll have 19,500 watts for your speakers. I know, at $1,600 a pop, these amplifiers aren't inexpensive. With that said, neither are high-quality batteries, high-output alternators and low-resistance power cables. If you have to drive the vehicle, amplifiers weigh a lot less than batteries, alternators and wiring.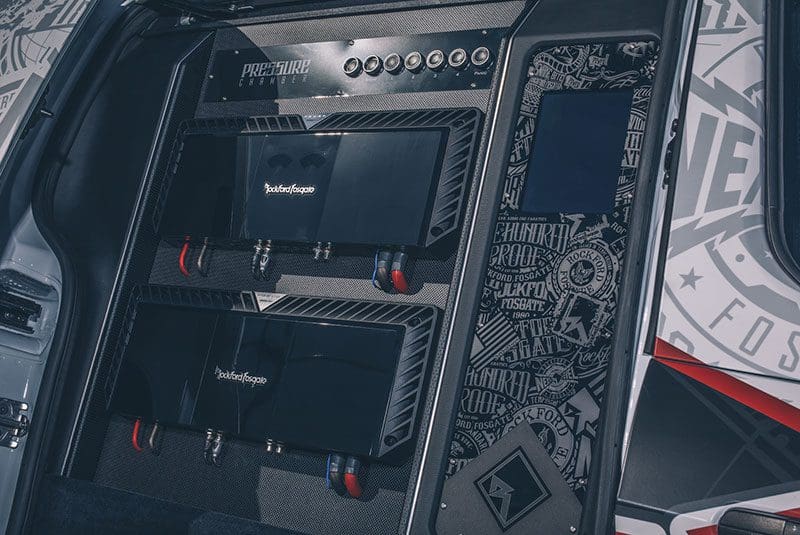 Design Your Car Audio System for Efficiency
There are dozens of ways you can improve the efficiency of your car audio system. From using a vented enclosure for your subwoofers instead of sealed to running your amplifiers at higher impedances – both of these examples will let you listen to your music at higher power levels while reducing the draw on your vehicle's electrical system. If you're a fan of Formula 1 racing, think about the thousands of ways they optimize those vehicles' efficiency to make the most of the 100 kg of fuel they are allowed and the 100 kg/hr flow limit. They spend millions of dollars each season to gain a tenth of a second per lap.
When it's time for a car audio upgrade, drop by your local specialty mobile enhancement retailer and talk with them about choosing a high-efficiency subwoofer amplifier to make your music sound amazing.